Trail of Tears Interview 2013
June 16, 2013 (via Skype)

The passing of one of gothic metal's most revered bands warrants an epic Viking send-off. And, oh my, does Trail of Tear's final album, Oscillation, deliver! The flames of wrath shoot skyward, while the dueling voices of Ronny Thorsen (harsh vocals) and Cathrine Paulsen (soprano vocals) beat at each other mercilessly. You can almost feel the heat of the flaming longship roaring through your speakers. Oscillation is a fitting final war cry for Trail of Tears.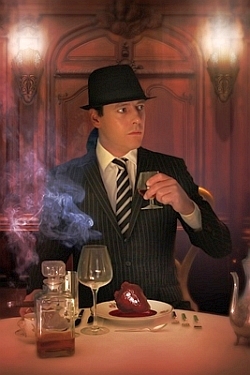 Sonic Cathedral's Robin Stryker sat down for a raw and candid interview with Ronny Thorsen, founding member and male vocalist for the Norwegian gothic metal band, Trail of Tears. Dive in for a closer look at Oscillation, Ronny's most random tour moments, hints about his new band, and much more!
Sonic Cathedral: A warm Sonic Cathedral welcome to Ronny Thorsen. Hello, Ronny! How are you today?
Ronny: I'm pretty good, thank you! It's just a lazy Sunday, with not much going on.
Sonic Cathedral: So, what is a lazy Sunday in the Thorsen household like?
Ronny: Well, you know, Sunday has always been kind of the day where I try to relax and recharge my batteries to prepare myself for the week to come. So I just usually watch movies, do some cooking, and maybe open a bottle of wine or something like that. Just relax, and chill out.
Sonic Cathedral: That sounds like a wonderful way to spend a Sunday! Trail of Tears' seventh and final album, Oscillation, was released on North America on June 11th. Would you give us a short introduction to the album?
Ronny: It has taken a long time to finish the album. I mean, we started it way back in 2010 or something, so it's been a really long process this time. The actual songwriting went pretty smooth, so that went pretty fast. That was not really the problem. I guess we can say that, in true Trail of Tears tradition, we did run into some problems in the studio with the recording aspect of the album and so on. That was perhaps more true than ever on this album.
It has taken a long time to complete it, but I'm really glad that it's actually out because, at some point, it was not really a 100% sure thing. So it's just like a relief that we actually managed to finish it and get it out there. For me, it's a very diverse album. We put 11 songs on it, and the limited edition has even a couple more songs. So, it's a diverse album. I think it has some of the softest things that we ever made, and it also has some of the most extreme things that we ever wrote, so it should have hopefully something for everyone there.
Sonic Cathedral: If I understand correctly, when you first began writing the album in 2010 and recording it in August-September 2011, it was not the intent that Oscillation would be the final Trail of Tears album; is that right?
Ronny: Yeah, that's right. A lot of things happened in the last year or last year-and-a-half, and it became clear to me after a while that it was going to be really difficult to save the band, pretty much because we couldn't agree on the most basic things for how to run the band and where to take it from here. So, all these things kind of just piled up. The result, we all know it now. But when we went into the actual recording session of the album, it was … at least not in my mind … it was not something that I was considering at the time. This is all something that has developed in the months that followed the album.
Sonic Cathedral: Going back and reading the lyrics now, many of them do seem like a farewell. Is that simply a coincidence, or maybe something that you didn't realize at the time?
Ronny: I think it's really easy to see now in hindsight, when you read the lyrics now, that there was perhaps a lot of frustration there that was more on a subconscious level. I think that maybe somehow these things were already there when we were writing the lyrics and the album in general. But when I read the lyrics today, it's not something like: "Oh yeah, that's what I thought at the time." It's not necessarily representative for how you read it now. But it is actually kind of ironic when you read the lyrics today; I agree on that. So, it's pretty obvious to me, when I read them now, that there were perhaps a little more frustration and anger there than what I would have liked to admit at the time. You're right about that, I think.
Sonic Cathedral: Fans who were fortunate enough to attend Metal Female Voices Fest <A> in October got to hear Trail of Tears perform "Eradicate". Did you play other tracks from Oscillation at the festival?
Ronny: Yeah, I think we actually played the title track as well, if I'm not mistaken.
Sonic Cathedral: For you personally, what are some of your favorite tracks off Oscillation?
Ronny: Well, right now, I would have to say that the title track is one that stands out for me as one of the strongest songs. I also like the opener ["Waves of Existence"] a lot, as well as a song called "Crimson Leads On The Trail Of Tears." So, if I would choose favorites, I would probably have to go with those three. But like I said, the album in general has a lot of diversity.
I know a lot of people out there (especially nowadays), they tend to listen to specific songs. You don't get many people nowadays who sit down and listen to an album from start to finish. But for me, that's what I would do to get the best out of the entire album -- listen to it from start to finish because it is all somewhat connected. It's always difficult for me to kind of pick out specific songs, but if I were to do that, I would probably have to go with those three. I think those are perhaps the three strongest, and also the ones that represent the band now in the best way.
Sonic Cathedral: For many years, I lived at the foothills of the starting point of the Trail of Tears, and have always been curious about why the band chose that name.
Ronny: Hmmmm, well, the name was actually brought to the table by our former guitar player, who was (at least at the time) … I haven't really had any contact with him for the last few years … but at least at the time, he was very into Native American history and culture. So he was the one who brought the name to the table. For us, at the time -- and you have to remember that we were just a bunch of kids back then -- so it wasn't like the name really held a deeper meaning for us personally. We were of course aware of the whole story with the Cherokees and the Trail of Tears, but the name for us didn't really hold any deeper meaning.
It is kind of interesting when you see the reactions we get even today from Native Americans. There are a lot of people who are extremely angry at us for choosing a name like that, but there are also those who feel honored and grateful for putting that thing on the map, so to speak. But we always try to explain to people that this was a name that came to the table of a bunch of teenagers pretty much. So, it's not a political thing for us. There is no agenda here for us; it's just a name we thought was fitting for the band at the time. So, that's pretty much it.
Sonic Cathedral: When you were still a naïve teenager, starting a band, where did you think Ronny Thorsen would be in 2013?
Ronny: Definitely not HERE. <laughs> At the time, we were super-stoked just to be able to make an album. When we signed the first record contract, we were just super-stoked about that, and things went pretty fast after that. We released the first album [Disclosure In Red] in 1998. Pretty much just after the album hit the streets, we were out on tour, and we actually toured pretty extensively for that album. I think we did three full tours in Europe and a lot of festivals, like we played at Dynamo Open Air in Holland, which was the biggest festival in Europe at the time.
So it went really fast after that, and things have pretty much just gone step-after-step after that. Before we knew it, we had a second album out, then a third album out, and then we were out on the road again. I think you don't PLAN any of these things when you first start out; you're just happy to make an album. The success of that album will determine whether you have a chance to make another one. We have been fortunate enough to make seven of them, so it's an amazing thing!
Sonic Cathedral: With your long and storied touring history, what is the strangest venue you've ever played in?
Ronny: Oh my God, I don't know. There are a few candidates to choose from, to put it like that! <laughs> I mean, we've played all kinds of hell-holes, whether it's in Europe or elsewhere. I remember, the second tour we did in Mexico there is a place that stands out. I think it was the first show of the second tour that we did, we played this really worn-out kind of bar. I mean, this place was just beat to hell, had a capacity of maybe 200 people, and there were 500 people outside who wanted to come in. You know, pretty much nothing worked. Like, basic electricity? Nothing worked. I was like: "Okay, am I going to survive this night, or am I going to be electrocuted?" <Robin laughs> There have been a few of those, actually.
There have been some places that, if they were in Norway, they would have had the police close the doors years ago. But some of those places are also some of the most fun places to play because you have absolutely NO expectations whatsoever. When you go into a place like that, you just think that everything will be terrible and fall apart, and you get positively surprised by some of those places. I think we always had the motto that a good band makes it work, no matter what, and I think that's a pretty healthy approach to things.
Sonic Cathedral: I know a couple of bands who have been booked -- and then banned -- from China gigs, but not any who have toured there extensively. What was touring in China like?
Ronny: It was a fantastic experience, at least for me personally! It was pretty much like touring on a different planet, more or less, because the minute we stepped off the plane, you just get completely overwhelmed by the cultural differences and the fact that there are so, so many people everywhere. It's like living in an ant farm or something. I don't know how to describe it, but it's really, really surreal.
If I'm not mistaken, I think that we were actually the first Norwegian band to do a proper tour there. I know a couple of other Norwegian bands who have played a show or two … you know, they played the typical Shanghai or Beijing. But we actually did eight or nine shows, so there were a lot of hours on the bullet trains and stuff. It was weird, but it was really cool because you could sense that the people there have been waiting for something like this for a long time. People there, they know their metal. They are really updated on things, but it's just a new phenomenon there -- to have western metal bands play there. It's a brand new thing, so I was completely honored to be able to do that. We had a blast!
Sonic Cathedral: Okay, now for the ugly bit … in January 2013, there was a rather acrimonious parting of the ways among band members, which played out on Facebook and news sites such as Blabbermouth. Did that break-up affect Oscillation's release?
Ronny: I think I would be an extremely bad liar if I tried to convince people that it didn't have an effect. Obviously, it did have an effect because the release of this album now is on completely different terms than what we planned. But I'm still completely baffled by this whole thing because I really don't see how Cathrine would benefit from this. I mean, it's her album too; it's her release as well. I just remember that I was out … that same night she posted this thing … I was celebrating my wife's birthday, so we went out to dinner. About halfway through the meal, my phone all of a sudden started going NUTS, and I had messages from pretty much all over the world. (We have been touring now for 15 years, so I've made friends all over the place.) People were like: "What the fuck is going on?!? We just read on Facebook that you quit the band." And I was like: "What's that?"
Sonic Cathedral: I did … when?!
Ronny: Yeah, it was like lightning from a blue sky … I had no clue whatsoever. But, you know, eventually I managed to get back home, logged on, and I saw what she wrote. Then our bass player called, and he was like: "What is going on?!" And I was like: "I REALLY don't know. I have no clue. I guess this was pretty much the last drop; she pretty much lost it now." So, I wrote my counter-statement, and what can I say? I think everybody, with both their eyes intact and an average amount of brain cells, will see how fucked up it is. But it is what it is.
That was pretty much the final nail in the coffin, I guess you can say. I realized in that moment that this band can't be saved anymore. Up until that point, it was never our intention to post any such thing. At that time, we had talked about releasing the album, and then going our separate ways because obviously there was already so much tension and problems within the band. But I was hoping that we could have settled it as adults. Like I said, to this day, I still don't understand what she tried to achieve with something like that. I guess, the only logical thing that I can come up with is that she tried to just hurt me on a personal level. That's the only logical explanation that I can come up with … and yeah, at least she succeeded with that. <sighs> It is what it is, and here we are.
Sonic Cathedral: I will admit that I was surprised and impressed that Massacre Records didn't pull the plug on releasing Oscillation after that announcement.
Ronny: You know, there is no automaticity with these things. And again, this just proves that the person we were talking about is absolutely out of touch with reality. When you're operating in a band on this level (so to speak), then you have to understand that your own personal problems or your own issues with something, that is not the only thing that has to be taken into consideration in such a situation. There are other people involved -- people who are working for the band, people who have been investing a lot of time and money in something. Then, to go pull something like that, it just shows a complete lack of respect and understanding towards anyone … except for yourself.
But I have to commend Massacre in this whole thing. I had a good talk with them shortly after she posted what she did, and we had a good creative talk about it. They said: "We definitely want to release the album. We believe in the album, and at least it should be a proper farewell gift to the fans." Most of the things … like the financial aspects of the whole thing … already had been covered by the band because, when we recorded the album, we were kind of in between labels, so we had to finance the entire thing ourselves. We pretty much licensed the album out to Massacre. So I think altogether it's not really a huge damage for them, at least financially. But they were equally saddened to hear about what happened, so of course they would have wanted a different outcome. But there's really not much I could do about that. I tried to save the album, and managed to do that at least. So I guess I should be happy about that.
Sonic Cathedral: Well, I'm glad that you did, because Oscillation is right up there among Trail of Tears' finest albums.
Ronny: I appreciate hearing that. I also think that some of the best material on this album rivals some of the best things that we've done in the past. For me, the album as a whole will always be a bit difficult to relate to and to listen to, for obvious reasons. But I do think that there is some really good music there, and I thought that people deserved to get the chance to hear it. So I'm glad we managed to get it out there, and come to an agreement with Massacre. They wanted to go for it. I think it's a proper and worthy ending, so to speak. Even if I wanted a different kind of ending, at least now it is an ending.
Sonic Cathedral: With the ending of Trail of Tears, comes a new chapter in the musical career of Ronny Thorsen. You've given a couple of hints about your new band, Viper Solfa. Although it's probably premature for details, can you tell us a bit more? We're dying to know!
Ronny: You know, I'm dying too! <laughs> If it was up to me, this thing would have already been properly announced with the line-up and everything. But we have some pretty well-known names in the line-up, and it's important for us that we get all the details nailed down and don't do anything prematurely. So, we want everyone to be on the same page for when we want to announce the line-up and everything like that. There are certain contracts involved because of certain members' involvement with other bands; there are managements involved; there are labels involved. And we need to get all these things pretty much sorted out before we can announce the line-up.
But what I can say is that we are writing material right now for what is to become our debut album, and things are going pretty well with that. We've already been to the studio to record some demos and some pre-productions. I am pretty much working with it all the time right now, so my main priority right now is to speed thing up a little bit. Hopefully, we can announce this whole thing as soon as possible. I think it's about time now. I think we now have about seven or eight songs that are close to finished, so we're working on some orchestrations right now and finishing up vocals and lyrics.
It will be … I think people should not expect a new Trail of Tears or a continuation of Trail of Tears. This is something totally different because that is what we all wanted -- a new start. We didn't want to kind of just overlap with what we had done before. We needed a fresh start, so it's going to be something completely different. But there will obviously be hints from things that we've done before with each member. It is substantially more extreme, but at the same time, we have some of the same elements. It is going to be highly orchestrated; it's going to be symphonic; and we have female vocals (obviously). So, it won't be a complete departure. People who have liked Trail of Tears, I think there will be plenty of things to enjoy for them as well. But like I said, it's pretty extreme stuff, so we'll see. Some people may find it too extreme, but it's going to be interesting to see. It's exciting times!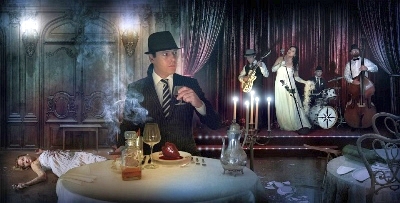 Sonic Cathedral: For your loyal Trail of Tears fans out there, what final words would you like to leave them with, Ronny?
Ronny: Well, I would just like to say that they have enriched my life a lot. I just want to say thank you for the years of support and for the opportunities that they have given us … and me, personally. I have been able to do things that I never imagined in my wildest dreams. I have traveled to places and corners of the world that I never thought I would be able to experience. We have made a lot of great music, we did a lot of great shows, and I've made lifetime friends in the process. I met my wife through this. So, it's pretty much shaped me into the person I am today. I am REALLY grateful for that. It has been a fantastic ride, and now, it is pretty much just time for another ride. Hopefully, we'll see everybody in what is to come.
Sonic Cathedral: Ronny, thank you so much for talking with me today. On behalf of Sonic Cathedral, thank you for being such a friend and supporter during our 14 years or so of existence.
Ronny: The same thing goes to you guys. It has been my pleasure to work with you guys, and meeting some of the staff. Having your support over the years has meant a lot, so it's been a pleasure.
Many thanks for Tom Hack at Massacre Records for making this interview possible!
Read Sonic Cathedral's review of Oscillation here.