March 11, 2013 (via Skype)
All it took was one run-through of the lyrics video of "Amber," and I was pretty well smitten with Tyranny of Hours, the symphonic metal newcomers from Portland, Oregon. Layered composition with elements of progressive metal and a smidgen of jazz flavoring? Check. Warm, smooth vocals? Yep, it's got that too. All in all, Tyranny of Hour's self-titled debut is a complex and thought-provoking album, without straying into the realm of annoying self-indulgence.
Sonic Cathedral's Robin Stryker sat down with Michelle Mattair (vocals) and Don Graham (guitars) for a rollicking chat about Tyranny of Hours, muscle cars, gee-tars, and everything in between! Dive in for an in-depth look.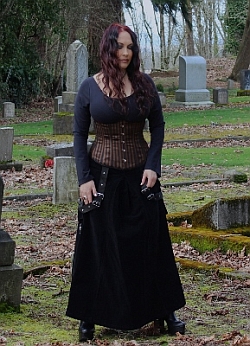 Robin: Michelle and Don, welcome to Sonic Cathedral! Would you start by introducing your band, and telling us a little bit about your debut album, which was released on April 5, 2013?
Don: Nice to meet you, Robin! This is Don Graham from Tyranny of Hours; I'm here with Michelle Mattair…[to Michelle] Can you?
Michelle: Thanks a lot! What was the second half of the question?
Robin: <laughs> Tell us about your new album, Tyranny of Hours.
Michelle: Well, it took a couple years to do. We just finished the record, actually, not more than three months ago in December. We did one live show as a sort of a kick-off in 2011. Other than that, we've just been working on trying to finalize the personnel in the band. The album is releasing April 5th, and we're working on getting the band tight so we can do live shows in the next few months … by this summer, July maybe.
Robin: What is the music scene like in in Portland? Based on my vast knowledge from watching the comedy series, Portlandia, it seems to be much more of a hipster/drum-circle kind of scene.
Don: Well, there's definitely no lack of that in Portland. You can see that just by going down to Waterfront Park in the summer, plenty of local busking and hipsters drumming in the park. As far as the music scene in Portland, there's a big blues scene. You'll find probably well over 100 bars in the area full of blues bands who interchange members and probably play five or six shows a week.
But there is a metal scene in Portland,and it's growing. A local promoter named Mike Thrasher, bought into a venue called the Hawthorne Theater. They are actually bringing through quite a number of metal bands, including symphonic metal bands like Epica and Symphony X. So there is an audience for it, because the shows pack out when it happens. There are also a few female-fronted metal bands just starting to come on the scene, like Lumus, Cry for Eden, and Tyranny of Hours.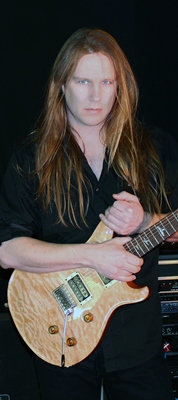 Robin: That's three more than we have here, so I'm more than a little bit jealous. <laughs> If someone were visiting Portland for the first time, what are some of highlights of the City of Roses?
Michelle: Portland has a lot of great bars and beers. First thing, find a good club that serves micro-brews -- which is EVERY nightclub in Portland.
Don was talking about the Hawthorne Theater… the Hawthorne District itself is soooo cool --lots of small places with great brews, excellent food, and a lot of music. So, just get down where the locals are. That's what Portland is all about, and it's a very walkable, livable city. You can walk anywhere or just hop the MAX, which is the rail or bus route, and get anywhere you want to. Lots to do and see,and a lot of outdoors stuff, too.
Don: One thing I would add to that, Robin, if you were coming to town and looking for a good night to come out and see music, there is something they do during the summer right in the Old Town district, where there are a lot of clubs a few blocks from each other, like Dante's, the Crystal Ballroom and the Roseland Theater. Sometimes you can buy a wristband, and just walk from bar to bar. So that can be pretty fun.
Michelle: Or you can get on a bus and go from bar to bar. That's pretty hilarious! The party bus … it'll stop at the nightclubs, and drunk people spill out. In good weather, the party sometimes ends up out on the sidewalk, and people bring their drinks out there.
Robin: Don, what is an electrical engineer at an aeronautics company doing as the axe-man for a metal band? How did you go from one to the other?
Don: Being the axe-man actually led me to the engineering career. I started playing at 15, and my equipment wasn't always the most top-of-the-line at the beginning, so I always had to do my own repairs, whether that be duct tape or soldering. <laughs>That kind of led me down the path of being interested in the technical side of things. And of course, I spent a lot of time in the audio engineering field after that, by default. In some of the bands we were in, it was like: "Hey, who knows how to run sound?" The default guy gets to twist the knobs from the stage.
Michelle: Later, he became a pro sound man. He worked for a local company called Cascade Sound. They're one of the biggest sound companies in the Northwest since the late '60s. He worked front-of-house for a few years.
Robin: How about you, Michelle? How did you come to music?
Michelle: I always loved music. My mom was into things like show tunes, orchestra stuff, and that sort of thing. So I grew up listening to everything -- Ben Hur and West Side Story, old MGM musicals -- really some fantastic stuff! So I just always loved it, and used to sing a lot when I was a kid. My grandpa, Gus Leathers, was a trombone player during the Big Band Era with the Paul Whiteman Band in Portland.
I played trumpet in sixth and seventh grade, and a little bit of piano. But my family couldn't afford to keep the piano, so unfortunately I didn't continue with it. When I was in college, I joined a jazz vocal group.
Robin: Yeah, but how does someone go from jazz and musicals to METAL?
Michelle: I think they're all related in a lot of ways. I mean, without blues, we wouldn't have come up with rock or metal. Also, I've always loved fusion, and Don does too. We both found we liked a lot of the same music, and it really inspires a lot of what we write. Our biggest influences are probably instrumental music, but lots of different styles of singers inspire me, too.
Don: I think we like music that, in one way or another, inspires some sort of a feeling in you. Some people get off of blues and the whole depressed thing, which doesn't do it for me. <all laugh> I like music you really have to listen to in detail to figure out what is going on. I think that's the whole thing with metal, especially symphonic metal. There is so much going on, and it's so dynamic and big and powerful.
Michelle: It's the drama of it. Yeah -- definitely.
Robin: Listening to Tyranny of Hours' lyrics, it seems apparent that someone really loves history and classic Greek mythology and perhaps Irish legends. Who is the lover of those topics?
Michelle: I'm the lyricist. I grew up loving history. Don and I are both related several hundred years back, actually -- Scots. A bit of what inspired mylyrics for this album came fromreading Tacitus, who wrote about his father-in-law the ancient Roman general, Agricola. Tacitus was a marvelous writer, so I … well, I didn't rip him off <laughs> -- but he gave me a lot of interesting ideas that worked really well with the music we do. I getideas from all kinds of places.
The one thing I purposely avoided, was moaningabout love gone wrong -- "oh, you hurt me" stuff. There are a lot of people who write that way and it's great. I mean, pop and rock were built on love songs, nothing wrong with that. I just didn't want to do that for Tyranny of Hours because it's already been done so much.
Robin: While I didn't understand one word of "A Breath With Peace" (and Google Translate wasn't the slightest bit helpful), it sure is beautiful. Would you tell us about the song?
Michelle: I originally wrote it asanotherverse for "The Warm". "You probably don't have time to go into all that…
Robin: Oh, tell me, tell me!
Michelle: Well, it draws from the same well as what inspired an original Star Trek episode, "Who Mourns for Adonais" where the crew finds the Greek god,Apollo on a lonely planet. It was really a touching storyof how the old gods sadly faded away from the Earth,when people didn't believe in them or need them anymore.
In "The Path That Lies Apart", which is the sister piece following "The Warm", an ancient Goddess sings: "I exist if you believe…" She knows. She's still powerful and defiant, but she acknowledges the era of gods is slowly passing into the realm of legend and magic.
We chose to leave "A Breath With Peace" as a small solo -- her own private prayer of hope andrebirth, even as she wonders how many seasons are left to her.Don's father translateditconceptually into Scots Gael, and the language is truly beautiful.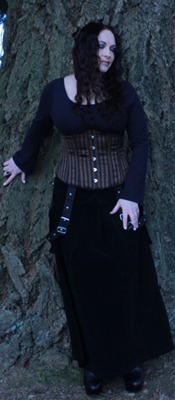 Robin: So there is still a member of the family who has kept the language alive?
Michelle: Don's dad was born and raised in the Outer Hebrides, northwest of Scotland, so Gaelic is his native tongue. He still speaks itwith family there.Don lived in Scotland, too, when he was little, when his parents lived in Edinburgh.
Robin: Don, I'd like to hear what your process is for composing, when there are heavily-orchestrated songs, instead of the typical guitar-bass-drums configuration.
Don: That's actually a good question. Most guitar players (and this actually includes myself) over the years tend to write songs by coming up with that new, nifty guitar riff, and it's like "oh, what a great riff!" You write the song, and then add drums to it and stuff. But I can't think of a single song on this album that came up that way. So it's kind of varied. Sometimes, I write the string sections and then go through a melody on a violin, then go through and layer that. And that would really lead to the way a song was written. That was probably 50 percent.
I'd say the other 50 percent was writing out "scratch" drums, because my compositions are very heavily based in the rhythms and making sure those are in place first. So, in general, I went in and did the rhythmic compositions first and then the leads -- not to say that leads were an afterthought, but I think they fit better when it's written that way.
Robin: If your house was on fire and you had to run in and save just one of your guitars, which would it be?
Don: My PRS Custom -- hands down! I've had it since 1999, bought it brand new. I actually have always wanted a blue one. I walked in with money to buy it, but they had a blonde one in there, so I bought that and still don't have the blue one. <laughs> So that one would be saved, along with our tube microphone, which I might go for first. <Michelle laughs>
Robin: Was one of those microphones the one that I saw a picture of, where your inner nerd couldn't resist the urge to take it apart and peek inside?
Don: Yeah, that was the one! That microphone is actually kind of special piece. At this point … well, at least at the point when we bought it … there were only five made in the world.
Robin: Whoa!
Don: It was made by a very well-known microphone restorer who does all the Telefunken and $21,000 microphones from Germany. He went out and started making his own components and then he put this offering together. <gasping voice> We took the plunge for it! We're still paying for that one.
Robin: When you guys aren't noodling around with music, what do you like doing?
Michelle: We haven't had time for anything else.
Don: Beer? <Michelle laughs>
Michelle: Yeah, we do drink beer.<laughs> We've actually been so busy until recently that we didn't even have time to clean things up around the house, so our blackberry bushes are taking over our landscaping. We finally got out yesterday for the first time because the weather was so nice. We used to go backpacking and even did some mountain climbing. But there just hasn't been time to do that, and we both work. So, between work and what we've been doing with the album, we just don't do a whole lot else.
Don: I restore classic muscle cars in my spare time, but that's been kind of slow. And then I blew up the motor for my Corvette the other day, so …
Robin: Is there a specific muscle car that you really go for, or do you like the beefy American classics in general?
Don: Actually, shortly after Michelle and I met, we were both driving 1966 Mustangs … mine was green; hers was red.
Michelle: We are both into muscle cars. When we met, we knew we were meant for each other because we were both into muscle cars and GEEtars. <laughs>
Don: So yeah, as far as what I've been into for the last decade has been the third generation Corvettes, from the late '60s through the mid-'70s.
Robin: When they still had the chrome bumpers?
Don: Yes, although mine doesn't have the chrome bumpers.
Robin: Hmm?
Don: I know. The one I have right now is the '76. They had just moved away from the chrome bumpers, and put the really weak motors in them, so I built a 500 horsepower motor and put it in there to make up for it. <all laugh>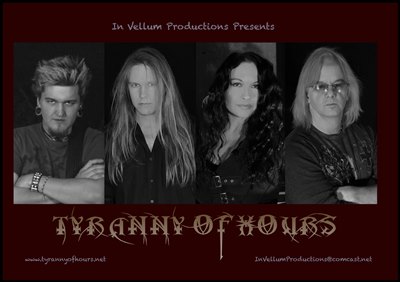 Robin: Getting back to the album, from the standpoint of lyrics, which of the songs really breathes for you, Michelle?
Michelle: Hmmmm, I'd have to really think about that …
Robin: I know it's a bit like asking …
Michelle: Which child you love the most? <laughs> I don't know that I have a favorite; it just really depends. "Legacy" is interesting because it is sort of like warning myself to not let things slip away before it's too late, although I could be talking with anyone. It's easy to be influenced with so much information available -- it's hard to settle on a path. You just sort of wander from thing to thing, and then one day you wake up, and the parade just kind of passed you by.
I think the internet actually can make it worse … information overload and too many choices. It's hard to trust yourself because there are so many gurus out there, so many people telling you how to "do this", "lose weight", "eat that", that it's kind of crazy.
One of the most autobiographical songs is"VainHope". It sounds like a love-gone-wrong song, and it's anything but. It's actually the one where I sound the most pissed off, and I was because I had just been told I was going to be laid off from my job. <laughs> It was handledpoorly by management, and it really burned me.
It's about still being there, but realizing they are looking right through you. You almost don't exist, they're just waiting for it to end, and more and more of my work was being taken away from me and farmed out to other people...it was kinda weird.
Don: I think that typifies the whole concept behind Tyranny of Hours and the album as well. Things pass, and you can't go back and make changes, which is kind of what "Amber" is a little bit about, too.
Michelle: Yeah, "Amber" was based on an historical figure from the 15th century who was betrayed, and died as a result of it. I always wondered whether the betrayer ever regretted what he'd done. "If only" is a concept everyone canrelate to -- it really is the saddest of all words. So I used the vehicle of this person and decided to write from his perspective as if he was still haunted by what he had done.
Robin: Out of curiosity, can you write when you're happy, or is it easier to write when you're in a heightened emotional state with feelings that need an outlet?
Michelle: I think when you're moved by something, you tend to write more passionately and evocatively, probably. I'm not saying you can't write when you're happy, because we've done that, too. I don't know. It's really hard to explain, and kind of depends on the song. If you want to write a powerful song, I think for that to come across, you need to be moved in a powerful way, or else it can be hard to make that come through.
But it's important for people to be able to take from songs and lyrics what they want to. If you read poetry-- it can be taken in many different ways. People get different things from music and poetry. It's a personal experience. I just hope they relate to the songs ina way that maybe will touch them somehow.
Robin: Don, on I, you do a lot of fiery guitar riffing. Which track do you find the most challenging to nail, when playing it straight through?
Don: Uhm, I suppose, maybe for a slightly different reason, the solo for "The Hapless Wand" is pretty intense. It's not so much even the chops. It's more because the rhythms I play over are so syncopated that it's hard to keep track of where I am, because I'm playing across the beat on a lot of it. If I'm off by even just a little bit, then I'm out of the bag on that one, and it's really hard to get back on track.
Some of the ones I wrote, when I started practicing them, I said: "I wonder if I'm going to be able to play this live?" But those mostly have reached the point where they are some of my more simple solos to play. So I guess I would still say "The Hapless Wand" is the toughest of them.
Michelle: Yeah, "The Hapless Wand" is interesting because it's a very fusion-oriented solo that I think, for people who are expecting a certain kind of style, it's an unexpected approach to the song. And I just love it! When he first did it, I was like: "Wow, you've got to keep that one!"
Don: There's actually a funny little story … not that it's so funny … but there is a little story behind that. When we first started working with Larry London as the drummer, we had just moved on from our original drummer, Russ Rosenbalm, who was more of a straight-ahead rock drummer. Parts of those were originally written with him in mind. So when Larry came along as sort of a session player at the beginning, we gave him some artistic license when we recorded these: "Hey, you're a great drummer. Change what you want, as long as it doesn't completely change everything."
On most of the tracks, he changed little bits and little pieces, and it was pretty much a no-brainer to go through and make some little tweaks that worked better with his drumming. However, the middle part of "The Hapless Wand" originally had a completely different section, and he changed it so much that I had to go in and completely re-write it. So, originally there was kind of a classical type of part in it, and that was the one piece he added that was completely over the top. But it came out much for the better!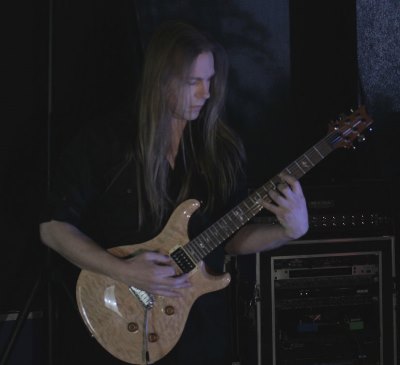 Robin: Well guys, we have about reached the end of our time together. What final words would you like to share with Sonic Cathedral readers?
Don: I would just say, thanks for the great welcome we've had into the family of the female-fronted rock world! There have been a lot of great people we've met, and we actually feel like we've been welcomed with open arms, instead of: "This is a competition. Get out of my way." It's been more like: "Welcome to the family!" I think Sonic Cathedral has been a big part of that, as well as you, Robin.
Michelle: Yeah, definitely!
Robin: Awww … thank you both for your kind words and for talking with Sonic Cathedral today! We can't wait to see how everything develops for Tyranny of Hours, when your album is released.
Michelle: Thank you, Robin.
Don: Thank you so much, Robin.
Read the 10/10 review of Tyranny of Hours here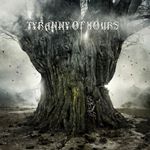 Photos by: Don Graham
Tyranny of Hours official website
Tyranny of Hours on Facebook
Tyranny of Hours on ReverbNation