People say that "old loves go to heaven." It's true. Visions of Atlantis frontwoman Maxi Nil is one of the very few people that I really love. And that love was born some years ago when I discovered her on a compilation album of a musical contest. Back then, she was still with her old band, and she was singing "I will be always a dreamer / Always fighting for more than I can have." And I was hooked on her voice and mostly on her lyrics. In that period of time, I had no idea about bands like Nightwish or Epica or Within Temptation, and I can't say that I was a "femme metal" fan. And to be more accurate: the bands I was listening to during that period of my life had nothing to do with female vocalists or gothic/symphonic/whatever metal. But I still remember very clearly that I was very impressed by Maxi's voice. The warmth of her voice made me listen to that song again and again. Ηοwever, I had no clue about band's name or the name of the vocalist. The years passed by, and one day (night, to be more accurate!) I "met" the girl who wrote and sang that song. Fate can play really weird games.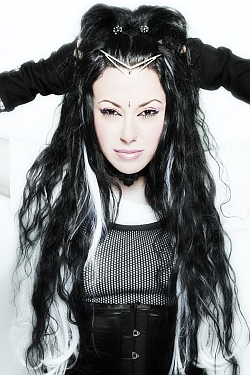 That is the story of my meeting with Maxi. In 2011, I finally met her in person in Athens. And that was the moment that I really understood one simple thing: Maxi was born to be an artist. A few days after our meeting, the recordings of Delta, her first album with Visions of Atlantis, started and her dream became true. She was finally a part of a "music" family, and she was really happy. If you want to know more about that extraordinary girl, keep reading.
Frozen Angel: Hi, Maxi! We're very happy at Sonic Cathedral to do another interview with Visions of Atlantis!
Maxi: Hello there! Me, too! Thank you for giving us the opportunity to share our news with our friends.
Frozen Angel: Are you currently working on any new songs?
Maxi: Actually, yes! We're almost finished with the preproduction, and we're entering the studio on the 20th of January.
Frozen Angel: What kind of things can we expect from the new album, and how does it compare to Delta? Do you plan to change something in your musical style on the following Visions of Atlantis album? Any new elements in your sound?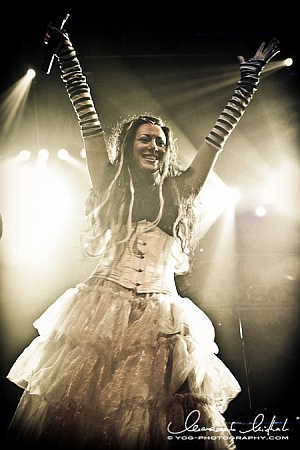 Maxi: As always, it will be a Visions of Atlantis album, but I think this time we're all pretty sure that it's going to be our best album ever. Heavy, catchy, and fully emotional. Listening to the preproduction it makes me wanna scream from happiness and excitement!! [Editor's Note: On January 24, after Maxi's interview took place, Visions of Atlantis announced that the title of their new album is Ethera.]
Frozen Angel: Can you give us any estimate of when it might be released?
Maxi: Probably in the beginning of Summer 2012.
Frozen Angel: Did you compose any songs for the new album?
Maxi: Yes, yes, and I'm super happy that the guys trusted me and gave me the chance to show what I can do. Till now I've composed 2 songs, and now I'm working on my vocals of the songs composed by our keyboardist Martin and our guitarist Chris.
Frozen Angel: Tell us about the first Visions of Atlantis DVD. Have you arranged the release date? Can you give us some more info?
Maxi: Sorry, I don't have any information about that. You will know when we know!
Frozen Angel: Do you have any tour plans?
Maxi: Touring is always in our plans but right now we're all focused on the recordings. We surely know that we will play many summer festivals.
Frozen Angel: What about the fan competitions on Visions of Atlantis's Facebook profile? Do you guys want more contact with your fans?
Maxi: The music industry is living through very difficult times the last 5 to 7 years, and by these competitions we want to show our gratefulness and respect to our fans who are still buying our albums. Thank you from the bottom of our hearts!
Frozen Angel: Do you have any side projects? Or any plans for a solo album? Give us some information about work apart from Visions of Atlantis.
Maxi: Before joining Visions of Atlantis, I had started a solo project which I had to put it on "standby mode" in order to focus on the band. Now I feel ready to continue working on it without meaning that I'm leaving Visions of Atlantis or stop caring. No way! I just feel more matured than ever and full of energy to do both. I can't say more at the moment. When the time comes, believe me, you will be from the first to know!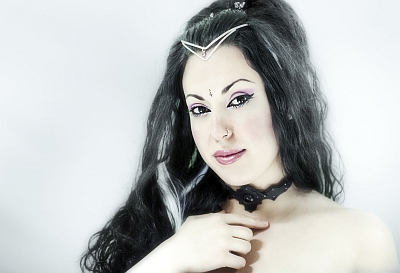 Frozen Angel: What is going on with the On Thorns I Lay album? You have said that it was recorded and you were searching for a label to release it. Any news about that?
Maxi: Unfortunately we haven't found a label yet, and since the band is not and won't be active anymore I personally can't do anything about it. I receive many messages from our fans asking me about the release or even complaining about not releasing a new album, but what can I do? I don't own a label! I hope one day this album will be released. That's all I can say at the moment.
Frozen Angel: Αfter touring all over the world for the first time, what are your impressions? Had you missed your home back then? Any "pros" and "cons" about being on the road with boys?
Maxi: From my first tour, I realized that THIS IS IT! This is what I want to do, and this is the way I want to live. Of course, I missed my hubby, my home, my parents, my friends, but they understand and I know that music and touring makes me feel whole. I need both my home and my "road" to be complete. About touring with boys, I can only find pros. Maybe it's because they are all amazing guys! I feel safe with them, and that's all I need when I'm away. Everything else comes naturally.
Frozen Angel: Which Visions of Atlantis show do you consider as "the best of your life" and why?
Maxi: Hmmm... That's a tough one. I can't choose a tour show, so I will choose a festival show. Hmmm... I would say that Masters of Rock 2011 was a blast! But then comes Wacken. Can I have two options? (laughs) These two shows are the best we had so far. The audience was extraordinary, and the whole organization was amazing! We felt like we were the kings and queen of the world!!
Frozen Angel: What was the weirdest fan reaction you have ever seen during Visions of Atlantis shows?
Maxi: It was at Metalfest, and a fan on the first row started crying and screaming the lyrics of a song I do not recall at the moment. Maybe it was "The Poem." I was so close to cry myself, so I stopped looking but I could still hear him. And another time when a fan grabbed my leg and started kissing my boots. I hope he is still alive 'cause these boots were not that clean! (laughs)
Frozen Angel: Has your life changed after your decision to join Visions of Atlantis? If so, in which ways?
Maxi: Joining Visions of Atlantis was one of the best decisions I've ever made in my life. In this band, I have the honor to work with great musicians and even greater people and be a part of a true family. We're able to travel the world and share our music with thousands of friends. I'm happy and full of energy, and this band has definitely a big role to that.
Frozen Angel: A few days ago, we entered 2012. What are your expectations for 2012?
Maxi: Well, I want my loved ones and I to be healthy and happy and be there for each other. As for music I want it all! I want to sell many thousands of CDs, I want to tour, I want to release my solo album. And as we say in Greece, "And then you woke up and realized you're just dreaming," but I don't care. We are made to dream and hope, and I will always do so till the end of my days.
Frozen Angel: Visions of Atlantis bassist Mario Lochert left the band last year. Are you guys planning to make auditions in order to find a new bass-player?
Maxi: Nope, we will be using a sample bass from now on. As Mr. Lochert used to say, "Less is more!"
Frozen Angel: A few months ago, Mario Plank (the male vocalist of Visions of Atlantis) announced that he was ill. Do you have any news about that?
Maxi: Well, there is nothing more to say. He was sick, and we had to cancel our European tour with Leaves' Eyes in order to keep him safe and strong for our co-headline show at MFVF 9, where we recorded our first live DVD. If you're asking me if he is still sick: No, he is not! (laughs)
Frozen Angel: You decided to do a cover of the song "Maria Magdalena." It is an 80's song. It is not very usual for a symphonic metal band to do such a cover song. What made you pick this song?
Maxi: We're all big fans of 80's music, and since we're all creatures of the night we though this song would be cool to cover.
Frozen Angel: You are the third frontwoman for VoA. Nicole and Melissa were classical trained vocalists. Your voice is more "rock". Was it a problem to sing old VoA songs that were written for classical trained vocalists?
Maxi: Actually, when the band asked me to join them, the first thing I told them was "I'm not a classical singer, so do you exactly want from me?" But they explained to me that they wanted to change and have a new sound. So I was in! Singing the old songs was no problem at all, since they have great melodies that I can easily make my own.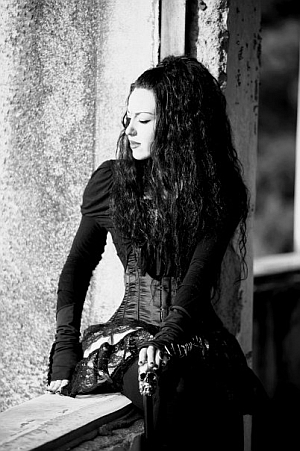 Frozen Angel: You have stated many times that a frontwoman should be able to sing correctly and not being a model. In our days, young girls form bands but they do not have the background and the talent to support a band. They care more about their appearance and less about their onstage performance. What are your thoughts on that?
Maxi: What I said is that many beautiful voices in the metal scene are not getting the attention they deserve from the labels because of their appearance, and this makes me sad. Now, about girls forming bands without being able to sing: Usually this is not happening. And if it is, everyone has the right to make music and everyone has the right not to listen to it. Usually, ready bands choose a good-looking girl in order to catch the attention. But if you take a look around, the bands that are really doing something in the music industry beside of having good-looking front ladies with really good voices, they play really good music.
Frozen Angel: Are there any performers (men or women) that you really admire? Do you have any idols?
Maxi: There so many performers I admire. I really can't choose a few to say.
Frozen Angel: You've been in the music scene for many years. In our days, many companies are closing and the music industry is in crisis. Do you believe that a musician could make a living? Is it possible to be a full-time artist and live from that in 2012?
Maxi: It is very difficult, but I'm still one of those dreamers that believe they will make it happen one day. But in order to make it happen, you have to risk all you have. Give up everything for music, and by saying everything I mean EVERYTHING.
Frozen Angel: Could you tell us a few things about your musical background?
Maxi: I was born in Athens, Greece, and my love for music was born in the age of 5. I took flute, guitar, and piano lessons, but I never succeeded because I was too bored to study. Then, at the age of 16, a friend convinced me to join a rock band as a singer. And then the story begins!!!! I started writing lyrics and songs, and until now I feel that this is the only thing I could ever do in my life.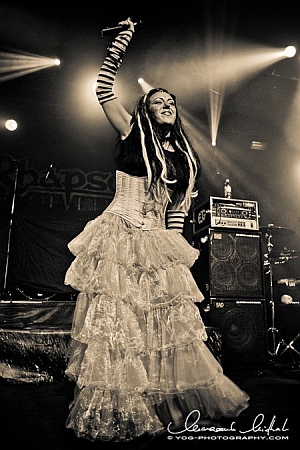 Frozen Angel: If you could support any band on a world tour, who would it be and why?
Maxi: Iron Maiden!!!! Why? Because it's Iron Maiden!!! (laughs)
Frozen Angel: Any last words for the readers of the Sonic Cathedral WebZine?
Maxi: As you all may know, our former singer Nicole Bogner passed away a few days ago. Words can't express my sorrow, since I knew her personally. Nicole, you will always live in our hearts and through your songs. May you rest in peace, my dear girl.
Frozen Angel: Thank you very much for the interview Maxi!
Maxi: Thank you, too!
Maxi's Myspace
Maxi's Facebook
VoA Myspace
VoA Facebook
VoA Youtube Channel