Nemesea Interview
Performed in November 2011


The Dutch alternative rockers, Nemesea (pronounced "nem-eh-see"), are a band that still get a lot of airtime at Maison de Stryker, four years after the release of their sophomore album, In Control. Their music is an appealing combination of heavy riffs and symphonic elements with pop sensibilities and electronic influences. Yet, they never quite reached the level of name-recognition that the quality of their music deserved. Puzzling, considering Nemesea was the first band to successfully fund an album through Sellaband, after raising $51,000 in fan donations. Well, that's about to change!
Nemesea is back with their third album, The Quiet Resistance … this time on the powerhouse label, Napalm Records. Sonic Cathedral's Robin Stryker chatted with vocalist/lyricist Manda about Nemesea's new album, the band's darkest days, mixing romance and music, and much more. Dive in to find out more!
Robin: Hello Manda, and welcome to Sonic Cathedral webzine! Let's jump right in with Nemesea's evocatively-named third album, The Quiet Resistance, which will hit shelves starting on November 18. What does the title mean?
Manda: Well, The Quiet Resistance stands for the resistance within you. Sometimes, you know something within your mind, but it's not possible or you don't dare to speak your mind. And that is the quiet resistance within you.
Robin: You seem very passionate about, for example, animal rights. What are the things that you resist?
Manda: Yeah, that is so true! I have a very deep love for animals, and I just cannot stand the things they go through … or the things that PEOPLE make them go through. That is something that I really hope to do something about one day in my life. (It takes a lot of money to do really good things for the animals.) I can cry when I look at something on television and it shows hurt animals.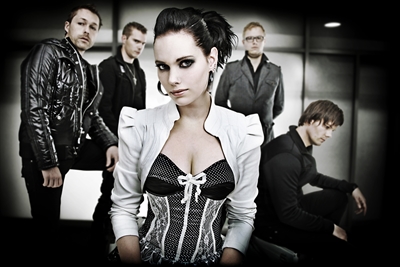 Robin: Before we get too much further, would you introduce us to Nemesea's other members, and give us an idea of what their personalities are like?
Manda: First of all, there is HJ the guitarist, and he also composes all the songs. He is also VERY passionate about music. He's very precise and wants everything to be correct, and that makes him someone who works passionately hard for what he loves to do.
Then we have Sonny the bass player. He's a really funny guy (laughs), and he's a very funky one also. He likes funky music, which makes the way he plays very interesting because we are a rock band. He can cook very well. He's a REALLY good cook.
And then we have Lasse, who joined Nemesea in 2009. He's our keyboard player, and is also into all the sound designing. He's a very … how do you say that? … well, you KNOW when Lasse enters the room. Let's say it like that. (laughs) He's really got a lot of energy, and that's a really good thing in music and for the band also.
The last one is Frank, who's been our drummer since almost a year now. He's still a little bit shy sometimes, but a really good drummer. So, that's it.
Robin: You and HJ have been both musical partners and in a relationship for nine or so years. What are the best parts about mixing love and music?
Manda: That you are always together. We share the same passion, and we share our biggest love -- not only for each other, but also for our music and our band. I had been in a relationship before HJ with someone who didn't do anything in music, and that's so HARD. Being so passionate about music, it's a big part of my life. When someone doesn't get that, it's just really hard to live with, I think. But we both understand how that feels. It's just amazing!
Robin: Are there any downsides to mixing your work and relationship?
Manda: Well, the only thing we cannot do together is to write music. That's when we really have to be separate from each other. He writes the music, I write the lyrics, and sometimes you have to come together to see if it fits. That's the thing that we can argue about quite well. (all laugh) Yeah, I don't think that is a downside to be honest. It's actually kind of cute. We really enjoy each other's company all day long in music, so it's all been great for the last couple of years.
Robin: I think you wrote all the lyrics for The Quiet Resistance; is that correct?
Manda: Yeah, except for the intro. That was Gerben Verhaar (laughs), that's a REALLY Dutch name with a "hach" sound in it. He wrote the lyrics for "The Quiet Resistance," which is also how we came up with the title of the album. The German song "Allein," I did write all the lyrics, but Heli [Reissenweber] looked at them to see if it was correct German.
Robin: I imagine that inspiration sometimes strikes at random times or in random places. How do you then capture the event or phrase or emotion to preserve it for when you are ready to sit down and write a song?
Manda: Inspiration comes from a lot of different things. Sometimes it's just a word, sometimes it's the song that is already there, sometimes it is a movie or a sentence or something that happens. It's all kinds of different things that bring words into my mind. Sometimes I already have a lyric, and it's easy to write the song. Of course, I always have to adjust because you have a melody line that has a certain rhythm.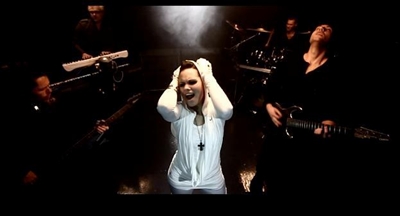 I always carry a bag with all kinds of stuff in it. There's always a pen and paper or my cellphone, so I can write something in my cellphone. Then I remember it. When I read the words, I relive the feeling I had at the moment I wrote those things down.
Robin: Nemesea's previous album, In Control, was released in 2007. What brought you back to the studio to record your third album?
Manda: After In Control, we had quite a difficult time. Everything went really well during the recording, and we raised the budget for this album by fundraising online [through Sellaband]. Everything went just great: we worked with really talented people (Tony Platt -- AC/DC, Iron Maiden an Ronald Prent -- Rammstein, Lacuna Coil), and we were pretty proud of that album! At a certain point … I cannot really say what went wrong … but everything just crumbled. We were sitting there with an album and no promotion, no … well, NOTHING, to be honest … it was just the album. We thought: "Well, big things are going to happen." But they didn't, so we were really down.
We had a couple of times that we decided to just quit the band. But every time we discussed it and thought about it, it all came back to that we didn't WANT to quit. We just want to continue. We LOVED doing what we did, and we just had to find a way to be happy again with what we were doing. So it took us some time to figure out which way to go.
We've always been writing stuff, so when we got in touch with Napalm Records, we already had an album written for the most part. That was a great opportunity to go work with them! So that's why it took us a few years. We were figuring out what we wanted, and it took us quite some time to finish the album also. We went into the studio at the beginning of the year. Now it's months later, and we're almost releasing it.
Robin: I was really quite stunned by some of the collaborations on The Quiet Resistance, including Charlotte Wessels (Delain) and Joost van den Broek (former keyboardist of After Forever). Would you tell us about how those collaborations came to be?
Manda: We toured a lot with After Forever, so we already knew Joost for quite a long time. HJ had been working with him on several projects, and they also did some writing things together. There was a connection between the both of them, so they decided to work for this album together also. Joost did the symphonics on the album, mastered it, also co-wrote a little bit, and helped HJ produce the album of course. But that was not hard to do because we knew him already quite well. Joost has always been very enthusiastic about Nemesea, so he was really looking forward to working together with us.
For Charlotte, we played with Delain a couple of times, and we've known them already a long time too. When "High Enough" was written, it was almost immediately clear that we needed her voice for that song because our voices match really good. Well, since they are also Dutch and we've played with them, it was also not too hard to just step up and ask her. She was really willing to cooperate.
The guys from Bulletproof Messenger, which is an American band, we know them from the Sellaband period. We really like their Linkin Park kinds of style. When we wrote "It's Over," it was a little bit the same … we immediately thought of that group to work with us on that song. We needed a strong male vocalist, so we asked Marcus [Klavan] to do the vocals and Matt [Litwin] to do some turntables.
The last one, the German singer Heli Reissenweber, we just sent him an email. We were looking for someone with the Rammstein sound in his voice, and Heli is of course the singer of a Rammstein cover band from Germany. So when we emailed him, he was really enthusiastic.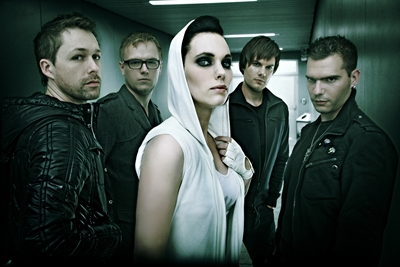 Robin: For many fans of Nemesea, the Rammstein-esque track "Allein" and your collaboration with Bulletproof Messenger will be quite a departure from what they heard on In Control. What were you going for with those tracks?
Manda: We like a lot of different styles of music. Sometimes you write a song, and it has a special vibe that's not necessarily a Nemesea sound. For "It's Over," it had a really nu-metal kind of sound -- maybe a little bit of a Linkin Park vibe -- and that's why we asked Matt and Marcus, because they are in a band that sounds a bit similar. Of course, after a while when you finish the songs, you start listening to them all, and keeping the ones that should be on the album. Even though "It's Over" is different from all our other songs, we had such a good feeling about the song, that we wanted it on the album. We know of course that it's totally different, but still, it's such a nice song that we wanted it on the album. It also represents a different kind of music that we like.
For "Allein," in the band, we all have different taste in music. We all love rock of course, but there are also some in the band who like funk, jazz and a lot of other styles of music. But the band that we ALL like is Rammstein. So when that song was coming to life, it was obvious that it should have a strong Rammstein sound, and we just thought: "Well, maybe it's nice to make kind of a tribute to Rammstein." Like if Rammstein and Nemesea were to play together, it would sound like this.
Robin: Well, I certainly like both "It's Over" and "Allein," but I've got to say that my favorite track is "Caught in the Middle." Is there a story behind the song?
Manda: Yeah, actually there is! "Caught in the middle" was the first lyric I wrote after the difficult period we went through. I felt like I was trapped in some negative spiral when facing the future. I felt so strongly that I would continue singing and continue playing with Nemesea. Even though I felt like I was trapped, at some point, I thought: "I have to fight!" I had to fight for the band and try to make sure that it went better. So I know what my dreams are, and I just have to follow my dreams. That's what the song says.
Robin: Some of the lucky Nemesea fans have already gotten to hear a few tracks from The Quiet Resistance during gigs that you had with The Gathering and Stream of Passion. What was their reaction to the new songs?
Manda: It's always really exciting to play new songs, and you wonder what the audience will think about the new songs. We did two or three gigs now with new songs, and the response has been really positive. So that was just amazing!
Robin: Is there any particular song that fans seem most enthusiastic about?
Manda: I think it's "Afterlife," but "Caught in the Middle" is also one that people really like. "Afterlife" has such a groove that people like to move on it during concerts.
Robin: Speaking of "Afterlife," Nemesea recently shot the video for it, and invited fans to come and participate in the shoot. Can you tell us a little bit more about it?
Manda: We shot the video a couple of weeks ago. We did of course first the playing with the band part, and then the acting part. In the video, there is this girl, and she is totally confused because the person she loves the most passed away. It's quite obvious that they can't be together in this life, and she's so desperate and looking for her everywhere. She's wasting her life by getting drunk and flirting with guys and just making a mess of her life. The message is that even if it may not work in this life, maybe it will in the next one.
You can find it on our website or on the Napalm Records YouTube page.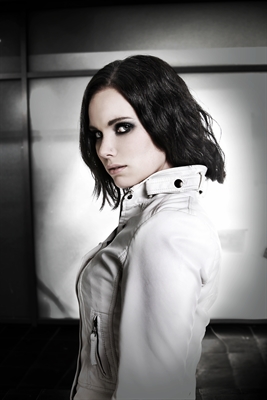 Robin: The video gave me the shivers! Will Nemesea be touring in 2012 to support The Quiet Resistance?
Manda: Yeah, of course, our booking agency is working on a tour. There is nothing certain yet, but a couple of shows are already confirmed. We really hope to tour at least Europe next year. Maybe we can tour elsewhere as support for bigger bands. That would be just great!
Robin: Our time has run out all too soon, Manda. What final words do you have for Nemesea's fans and for people who may have just discovered your band?
Manda: The Quiet Resistance is a really nice combination between our first two albums. We put all our soul and heart and passion in it, so you just have to check it out!
Robin: Manda, thank you so much for talking with me today! And a big "thank you" to Nathan Birk at Napalm Records, as well!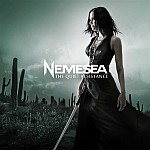 Nemesea Official site
Nemesea on Facebook
Nemesea on MySpace
Manda on Facebook