Leaves' Eyes Interview
by Robin Stryker September 21, 2011 (via Skype)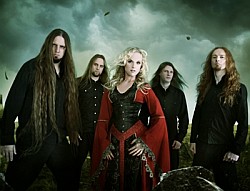 Leaves' Eyes is literally and figuratively a marriage between the Norwegian songstress Liv Kristine and the members of the German metal band Atrocity, which is headed up by Liv's husband, Alexander Krull. (See what I mean about marriage?) After three previous full-length albums and hundreds of tour dates, Leaves' Eyes released Meredead (2011 Napalm Records), an album that stretches the boundaries of what came before. Yes, it has the bombastic passages, folk touches, Nordic sagas and poetry that fans love. But Meredead also brings new elements to the mix -- heavier use of folk instruments, the first ever guitar battle, new vocal collaborations, and a haunting cover of Mike Oldfield's "To France."
Sonic Cathedral's Robin Stryker chatted with Liv and Alex about the making of Meredead, Viking longships, causes dear to their hearts, and much more. Dive in to learn more, and don't forget to check Leaves' Eyes website for tour news!
Robin: Hello, Liv and Alex, and welcome to Sonic Cathedral webzine! We're really happy to be here this morning. Jumping right in, you have described Meredead as the most diverse album to date. In your minds, what is the biggest departure from your previous works?
Alex: (laughs) Hmmm, I think the folk part is very prominent on that album, and I think there is a lot of variety, which we had before in the band already. But it's like cooking a spicy soup. (Liv is a very good expert in that, too.) To describe it in that way, people looking for a new meal cooked by Leaves' Eyes, you get it with Meredead.
Liv: I know I have excellent musicians, and every band member has his or her own musical mind, so everybody brings something into the band when it comes to musical interests and interpretations. As we started composing songs for Meredead, we were very open-minded. Njord had a great bombastic, classical sound to the album, and Vinland Saga was almost the same too. So we thought: "Okay, it's our fourth album. Let's just start composing with an open mind." After three or four songs, we saw in which direction our music was going. So it was a very exciting process, in which we were composing and recording and mixing. I hope that our fifth album will be just as interesting as Meredead. (laughs) But I'm sure it will be, because I have first-class musicians and great friends within the band.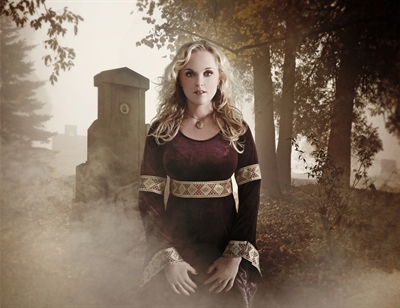 Robin: Let's talk a bit about composition. Meredead, more than any of the previous albums, has tremendous use of folk instruments and acoustic passages. How did you go about composing for unusual instruments -- like the uileann pipes and nyckelharpa (keyed fiddle) -- which use live performers?
Alex: Yeah, the nyckelharpa is a good example. What we were thinking while we were writing the songs was how to interpret it in an instrument like this because, from the beginning, it was really clear that we will not use ANY keys or synths. We wanted to have it organic, and we wanted to have a real person playing all the stuff. Also, the Irish pipes and the whistles, they are more often on Meredead than on Njord, for example. We were working with Christian Roch before, so we knew the way he would the play the songs … or rather, how we can get the best out of it. So it was great to have this experience. We also used the Lingua Mortis Orchestra, so I think the combination of the classical aspects and the symphonic parts of Leaves' Eyes -- and bringing together these folk elements and instruments into the music -- and the whole concept of the band, was a very natural process.
We were not thinking so much how it would sound or how we should have to play it, because it was something in our blood, in our minds and in our ambition before we started writing the songs. It was more the way how to record Meredead so that it sounds the best way it should be -- that you HEAR a very natural instrument playing on that record. I think for me, as a producer, it was very important to make the whole band sound very organic … the drums, the guitars and there are also a lot of acoustic guitars on that record … so that those things coming together are not disturbing. You know, if you have a lot of instruments, sometimes you have the problem that it's too much. We wanted a really good, balanced sound where you can hear everything.
Robin: Lest people think that the album is all a work of folk whimsy, Meredead also has the first Leaves' Eyes GUITAR BATTLE.
Alex: (laughs) That's true, yeah! When you hear the song "Sigrlinn," it was the idea to have a real bombastic track, something like we did with "Frøya's Theme" before. It was, I think, a longing of the guitar players also to have such a guitar battle inside. And I'm always pushing them because, in that kind of music where we're playing or in that field of music, there is not such a big focus for guitar soloing or for any soloing. But like you said before, we used the folk instruments, and they play solos or solo-inspired melodies -- like a lead guitar or something like that. We're a metal band, so the guitars should also play more leads in the music.
Like in "Kråkevisa," I love that too. You have a melody played by the nyckelharpa (a traditional Scandinavian instrument), and then the guitar plays along. It's fantastic! I think on "Nystev" it's also great to have all kinds of different instruments playing together the main melody. I think that's fantastic too.
Robin: Liv, if I understand correctly, Meredead's bonus track "Sorhleod" was the first song that you wrote entirely in Old English?
Liv: Yes, "Sorhleod" was actually the first song that Thorsten [Bauer], our guitarist, composed for Meredead. At that point in time, I had just been in my basement digging for Old English books. I had collected everything and was very eager to start studying again, since I finished my studies at the university in Old English eight years ago. So, I thought: "Okay, let's try and restudy it." At the same time, new songs kept coming from Thorsten, and I thought: "Okay, it's the right time to combine both things."
But I always let music speak for itself. So if I feel inspired by a song or by a certain instrument to sing in a certain language, I will do so. Even if I'm not a very good Gaelic speaker, if I had the feeling that this song is Irish-inspired, I would study Gaelic to do so. Music is always the thing that brings me the inspiration in that very moment to do what I do, when it comes to lyrics and vocals.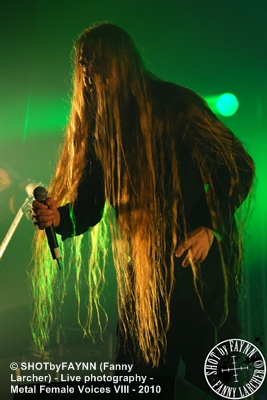 Robin: When inspiration comes to you, is it a feeling or picture or something else? How does the music speak to you, so that you know what a composition wants to become?
Liv: That's a good question. What comes first? I mean, it is both a picture and a feeling. This picture is often linked to colors, and I used to see that when I was very, very little. It is something that some people have, and I think it is a fantastic thing that colors come out of music ... I combine colors to music. But at the same time, there is an emotion as well. Yeah, I ALWAYS let the music speak for itself, so I never plan a concept or anything. It just comes with the music.
Robin: Do you find that, the longer you are away from Norway, the more you long for the stories, sights and legends of your childhood?
Liv: Well yes, there is truly something to it because, being 2000 kilometers away from my birthplace, of course I miss my home country. But for now, for this period in my life, Germany is the best place to be. Moreover, we are living in a nature safety area, so the only thing missing here is the fjord. (laughs) But every time I go to Norway, I buy heaps of books and get a lot of inspiration. I bring demos to Norway to listen to our songs up there, and get inspiration from nature and history. So Norway is still here in my heart, although we're 2000 kilometers away. I'm very happy where I am.
It's sometimes nice to see Norway from another perspective. If you move from somewhere and you live far away for quite a while, then you are able to see your home country from a different view. I think that's very interesting! When I was at school, I didn't think that the history of the Vikings was that interesting ... there was a lot of learning for tests and, you know. But nowadays, it's like I really enjoy opening up the books and studying things about the Vikings. Yeah, maybe it has to do with age. (laughs)
Alex: I think it's also cool for the guys because, of course, we LOVE those kinds of things.
Liv: I'm very glad they let me do what I want to do. (laughs)
Robin: Which of the dudes in Leaves' Eyes would make the best Viking raider?
Liv: (laughs) Actually, I think my husband [Alex] would be it, because he's got the longest hair now. (Alex laughs) Well, I watched my guys during the shooting of "Elegy," the video in which you see my guys rowing a Viking ship … at least that was the role they had. I was quite impressed. We needed some creams for their hands afterwards because they had been working out really hard, but they did a GOOD job. I actually gave my husband a Viking sword many years ago, which I found in the marketplace. It's still here, and sometimes my son is playing with it. So I have a couple of Vikings here around, actually.
Robin: Speaking of the guys in the band, you have some new members on Meredead -- a new guitarist, bassist and drummer. Would you tell us a little bit about the new members of the Leaves' Eyes family?
Liv: Well, Sander [van der Meer, guitars] is our Flying Dutchman. (laughs) He is actually spending more time in Germany than in his home country of Holland right now. He has become part of the family … he's melded into the family. To be honest, I wouldn't know how to do without him in the band because he is taking a lot responsibility for other things -- not only composing music and going on tour and playing shows. So it's good to have him around!
Roland [Navratil], our drummer, flies back and forth from Vienna, and our bassist, J.B. [van der Wal] is also a Flying Dutchman. We're like a big family, and there is often a glass of wine or an Indian meal at the end of the evening, sitting on the balcony watching the landscape. Yeah, I'm truly lucky to have these guys around! They are really good friends, everybody.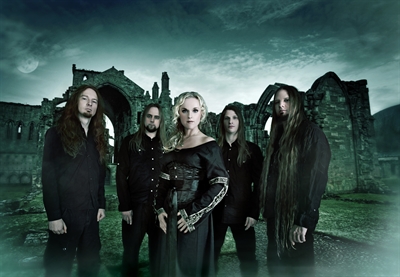 Robin: All the Leaves' Eyes musicians are also members of Atrocity. How does that work when, (for example) at the Heilig's Blechle festival, both bands are on the line-up with just one band between your performances?
Alex: (laughs) Yeah, sometimes we play even without any band between us.
Liv: Sometimes there is a direct double time.
Alex: That's quite hard to play two-and-a-half hours or even longer. It was cool that we could tell the promoter, "please put a band in between." (laughs) Yeah, how is it like? You can compare it a little bit, for example, to people going on as an actor in the theater and playing a double role. (Sometimes you have that kind of thing in a movie too.) You just change the clothes, and then you are on stage with the other band.
Of course, the music also turns into another direction. There is a clear line in between the two bands. Like with Leaves' Eyes, we would never play the kind of music we do with Atrocity, and the other way around. So there is a strict line in between the bands, which makes also the band members feel like not being on stage with just one big group or something. On a personal level, it's like that.
But for us … how do you say it? … it's always a big challenge to play a double show. I remember one time in Brazil, it was really brutal because the heat was so, so strong at that festival when we played. And we played with the two bands in a row. I don't know, it was feeling like 60 degrees [140 degrees Fahrenheit] or something like that. It nearly killed us. (laughs) Then we were speaking: "Okay, you think it's a good idea to play with two bands in a row?!?"
Robin: I'd love to hear more about the vocal collaborations on Meredead.
Alex: There's a little story behind each of the guest singers. I will start with Anette [Guldbrandsen] because she is a very good friend of ours, and an expert in Leaves' Eyes music I would say. She is also writing for a magazine in Norway, and is very into metal music since many, many years. She actually brought in some basic ideas -- for example, to play this Norwegian traditional stuff -- and she brought some ideas up when she was here visiting us in the studio. So, we were recording her and Liv together, and it was FANTASTIC! We said, "Come on, be a part of it, not just bringing up some cool ideas! It would be also very nice that you sing together." So that was a very cool thing to have Anette on the album with us. Also, she is a Norwegian girl, and Liv and her could sing together in Norwegian.
The way it was with Carmen [Elise Espenæs], Liv's sister, that was not the first cooperation we had together with her. She was already singing on the first Leaves' Eyes record Lovelorn on "Into Your Light," and then again on "Irish Rain" (Njord). So we thought: "Hey, it would be great to have Carmen also again on Meredead, and singing together also on stage" -- like we did now, when we had the chance to tour together. So that was a super-natural process, I would say, to have the sisters together again. (laughs)
With Maite [Itoiz] and John [Kelly of Elfenthal], yeah, that was very special actually.
Liv: We actually met them at the Metal Female Voices Festival in Belgium last year. Our roads just crossed with John and Maite. We were standing in front of each other, and it was some kind of magic moment. We just had a short talk and exchanged CDs and DVDs. The very next day, John called me on my cellphone and said that he was very happy to meet us. From that very moment, we decided to work together. I had composed "Tell-Tale [Eyes]," the ballad, for a male and female voice, and John was very happy when he heard the song. I asked him to join because he is also into different projects that have to do with saving nature and also taking care of nature -- because the next generation is coming, our children -- and "Tell-Tale" is a song about this. So John said: "It's perfect for me!"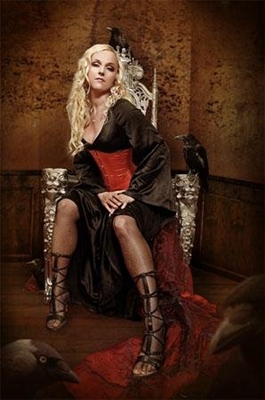 Maite is actually my favorite female singer. I've never, ever heard a female singer with such a voice like hers, and the knowledge she has is just amazing! I learned a lot from her. After she had recorded her vocals for "Étaín" and "Meredead," I actually recorded my own ones once again because I felt some kind of inspiration that I could do better in some things. So I'm very grateful to both Maite and John that our roads crossed that day in Belgium one year ago. We've seen each other and visited each other a couple of times, and I'm very happy to see them again in a couple weeks at the same festival.
Robin: A little birdie (named Lisa Middelhauve) hinted that Leaves' Eyes are planning something special for the upcoming Metal Female Voices Festival in October. If it won't spoil the surprise, what do you have planned?
Liv: Well, John will join us on "Tell-Tale." He will probably play the guitar and, of course, sing as well, and Maite will do "Étaín" and "Meredead." I HOPE that my sister will make it to do "Kråkevisa" and "Sigrlinn." I'm going to get myself a new dress, I think. (laughs) That's for all the ladies to know. But apart from that, I guess we will keep the rest as a secret.
Robin: Speaking of you and your sister Carmen being together on stage, you toured together for the first time back in April. What was that like?
Liv: That's right. We did perform together some years ago, but that was a solo show of mine. The tour we did in April was our first tour together. That was special, I can tell you! To stand next to my sister and perform in Norwegian, that was something very special. (pauses and clears throat) Yes, it was a very strong moment emotionally for both of us, so we took care that we didn't look each other straight into the eyes all the time because it was emotional. (laughs) And I'm really looking forward and hope there will be a possibility for Leaves' Eyes to tour with Midnattsol again. Everybody in both bands became very close friends, so I think this is going to happen again. I hope in the States … that would be amazing!
Alex: It's true. I think that it's also a FANTASTIC combination to have Midnattsol as a support for Leaves' Eyes ... that is a really great package, music-wise! There is the personal aspect, of course, with the two sisters and that we've all become very good friends. (I, of course, knew Midnattsol before [the tour] and produced their first album and so on.) But, I think the music is fitting perfectly to our own music.
Robin: Leaves' Eyes recently did two benefit concerts -- an acoustic gig at Greentunes (Berlin) and another acoustic show for a school. What was it about those causes that made you want to support them?
Liv: Greentunes in Berlin was very interesting because Bruno Kramm, the man behind Das Ich … Atrocity and Das Ich toured together and made an album (Die Liebe) together some years ago … he knows us personally and knows that almost everybody in Leaves' Eyes is a vegetarian. And Greentunes is exactly about that: saving nature, being a vegetarian, being vegan, changing your lifestyle, doing something for animals and for nature.
Alex: Animal rights, let's say.
Liv: Animal rights, yes. So we were very happy that Bruno Kramm was thinking about us. It was nice to see such an audience at that festival because it was also about politics. Of course, everybody has a political view -- also within Leaves' Eyes, although we don't sing about politics in our music. Well, "Tell-Tale" is one exception to this. (laughs) But Greentunes was very nice for us.
The other benefit, we did for Freie Schule Marbach … if I translate it directly, it's a private, free school in Marbach. It's actually the smallest private school in the whole of Germany, and we wanted to support it and do something for the children. I'm always trying to work actively for causes that have to do with children. Not only Marbach, but also things like Indian issues and other things I'm concerned about. As this little school in Marbach asked us to support them, there was a clear "yes" from our side. It was sold-out, and the school gathered a great amount of money and support from friends of the school and also fans and friends of Leaves' Eyes. So, this is something that is close to my heart. If I can support any cause which has to do with children, I will do that, and (of course) my guys will too.
Alex: I think for us it was very important. The capital of Germany is Berlin, and the [Greentunes] festival was a kind of musical and cultural coming together of different kinds of people -- like there were even cooks coming and people writing books about being a vegetarian and saving animals' lives. Also politicians from the Green Party have been there, PETA was there, and a lot of other animal rights institutions were coming there. And there were a lot of different styles of music, from metal to hip-hop … there was everybody! So that was a good start because they want to do this festival now around all Germany. They built it up, and we were the first band headlining this festival, even though we are not a political-inspired band or something like that. And with the school, it's also something that we wanted to give back to our community, here in our area.
Robin: Liv, may I get some clarification on the Indian issues that you also support?
Liv: We already went to India last year at the Indian Musical Conference in Goa, and I saw a lot of things that occupied my mind, when I arrived in safe and beautiful Germany afterwards, that made me start thinking. I have a couple of other family members also supporting children in India, so it was easy for me to join.
[Liv says goodbye, and leaves to pick up their son from school.]
Robin: Alex, what is coming up next for Leaves' Eyes, as far as tours?
Alex: (laughs) It's like I have to bite on my tongue because we have fantastic news! I cannot name the festival now, but we will do a great show in the summer time next year at a very big festival with our Viking ship again. Yes, and probably it will be the biggest show with the ship. We've done only a couple before, and that one we want to make special. There will be soon some news out for that event.
We will play some festivals here in Germany and in Europe, and we are also planning to come back as soon as possible to the United States to tour for the new album, Meredead. There are some ideas that we could come in the first half of the year 2012. Actually, we should have played already … I know that … but there were some, let's say, changes for us in the booking and all that. We have to plan this up-front always for the States very long before, and we scheduled that for 2012.
We also have the plan that we play in some countries that we didn't do before. It will be announced about Tunisia -- we're going to play there this October. Also we will try to get back to Asia. There are gigs scheduled, but not announced yet. (laughs) But, for sure, we're going to play there! Also some other parts of the world that we didn't play for a while -- like South America -- we have talks with promoters there. Also some countries in Europe that we didn't play on the last run, like Spain and Portugal and some parts in Eastern Europe. We'll try to go there again. So there are a lot of ideas and plannings, and we hope everything will work out.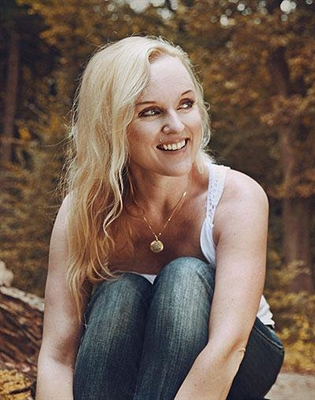 Robin: From what I've read, the creative juices are already flowing for a fifth Leaves' Eyes album. Recognizing that it is still very early, with Meredead having been released only a few months ago, where are you guys in the process of bringing another album to life?
Alex: It's a good question because, when we were quite finished with the album Meredead, our Melusine EP came out. I don't know if you heard about that already, but it's an EP we did actually as a very special single for a German magazine called Sonic Seducer. Now, the song is like a "live smasher" or something like that! We played that song on the tour together with Leaves' Eyes and Tarja, and it was one of the best songs EVERY night, I would say. We played it at the M'era Luna Festival in front of 21,000 or 25,000 people. I don't know exactly how many people have been there, but all the hands were up in the air and there was a lot of action going on in the audience. So that is quite inspiring for yourself to continue writing stuff, even if you just finished an album.
We are already writing some new song ideas, but these are lay-outs. They could be changed a lot until they will be released. So, we have some ideas in mind, also Liv is working on some new concepts for lyrics. I think there is just sometimes a period for a band, which is very good time to write new stuff. For us, it was when we came home from tour and playing festivals. Wow, that was really cool! We take this fantastic atmosphere from being on stage and being together with the audience, and we bring it into the studio … to have that same energy from live experiences as you do on tour … to put it on music. Yeah, so we are very pleased, and we are really looking forward to writing more stuff.
We take our time, of course, but we don't want to hesitate. There is no reason for that because Meredead is a fantastic album. But we don't want to have a big break again like we had before, when the DVD came in between Vinland Saga and Njord. That was too much time between, I think. Actually, if I look back now, okay one year after Vinland Saga, we had Legend Land. It's the mini album with five new songs … or was it six? I can't remember. (laughs) But for a full-length album, there was just too much time between Vinland Saga and Njord. We don't want to have this break again.
Robin: I am so thankful that you and Liv took time out to talk with Sonic Cathedral today. Do you have any final words or messages for your Leaves' Eyes fans.
Alex: Yes, of course. We are really thankful for the support we're getting from our fans. I'm not just saying that because musicians like to thank their fans and all that. No, I really mean that from my heart, or from our hearts. Like I said, when we are on tour, we are getting so much feedback because we are going out every night after the show to the merch stand -- talking to the fans and signing autographs. It's really, really … I cannot even describe it right. It's more than just a compliment you get or something. It's a big push for us to know that fans are so enthusiastic about our music. You know? Sometimes I can't believe what people say about our music, although we spend so much work into each of our records. We really hope people are satisfied, and also in the future, with our upcoming releases. And we want to return to the United States and Canada. As. Soon. As. We. Can. You can believe in one thing: that's on our list, on the very top, to being back in the States as soon as possible.
Robin: Well, we look forward to seeing Leaves' Eyes back in North America again soon, Alex. Again, thank you so much for talking with me today!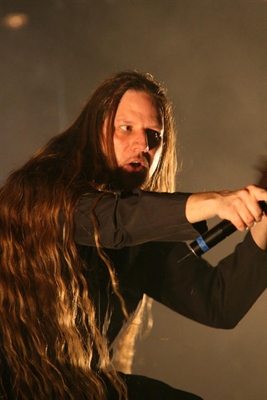 A warm "thank you" to Nathan Birk (Napalm Records), Sander van der Meer (Mastersound Entertainment) and Lisa Middelhauve (sex goddess) for making this interview possible!
Leaves' Eyes official site
Leaves' Eyes on Facebook
Liv Kristine official Facebook
Alexander Krull official Facebook