Skeptical Minds Interview
Performed in September 2011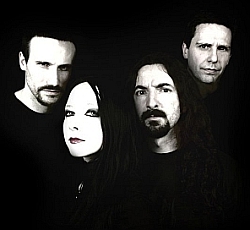 Skeptical Minds is not the typical female-fronted band. They don't want to be the "new Nightwish". They want to be Skeptical Minds. Period. Lead vocalist Karolina Pacan is actually a classically trained singer, but Skeptical Minds is not a symphonic metal band. They play industrial metal, and they really like that. It might be blasphemy to say this, but using opera singers in metal has almost become a cliché, and some bands prefer to experiment with their music and style. As for Karolina, she's a very unique kind of person and a great performer. She loves nature and mythology, and you can certainly call her a gothic girl. She is one of a kind!
Skeptical Minds released their new album Skepticalized last October. And even for a non-industrial metal fan like me, this album works perfectly! So, let's read carefully what the Spartan girl has to tell us.
Frozen Angel: Karolina, you are the latest "arrival" in the band. Could you tell us a little about the band and your history for those readers who are new to Skeptical Minds? How did you find the guys and how they persuaded you to join the band?
Karolina: We had a common friend (Stephane), who arranged our meeting in the Netherlands, because back then I was living in the Netherlands. We spent the whole day in Amsterdam, and I can tell you it was like we knew each other for years! The guys were so flabby and crazy! I have great memories from that day! I sang for them in the car. They were already convinced, but they wanted to have a normal practice just in case. After practice, they made their choice, and you know the rest.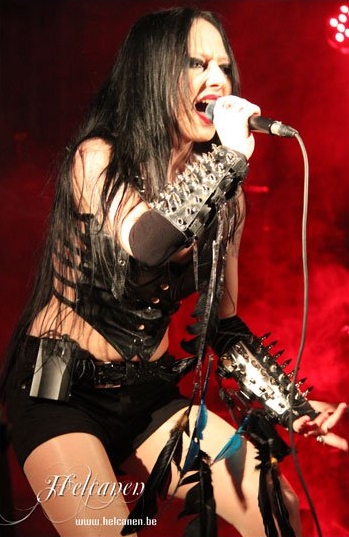 Frozen Angel: Your band is named "Skeptical Minds." Are you a skeptical kind of people?
Karolina: Of course, we don't believe in sweet promises. Things must be checked before we accept them. :) Every person, every thing has a visible side and an invisible one. The moon has a bright side and a dark side. We can say the same about human beings, too! That's what we promote on our songs.
Frozen Angel: Is the band based on any philosophy or idea?
Karolina: We don't consider that we have any philosophical message to give. We just like to explore and show some sides that people usually hide or don't like to share. They keep them as secrets, hidden forever. Things that nobody else knows apart from themselves. It's like exploring the dark side of people. Every human being has its own dark side. You can discover that side after years or when you loose your pink glasses.
Frozen Angel: The current line-up was established in 2008. But in some live videos, I saw that Catherine (cello) is missing in the recent shows. Did you make any changes in the current line-up?
Karolina: Yes we have a new band member. His name is Thomas, and he is our new cello player. Catherine left in the beginning of January. It was too difficult for her to combine Skeptical Minds' work, studies, and private life, and she preferred to stop than not do it completely and correctly. Then, we decided to hire Thomas (from Arkancelli) who played with Arkancelli on [our song] "Broken Dolls" in the studio, and he also appeared on stage with us at MFVF 2010. He is talented and already played two gigs with us.
Frozen Angel: Karolina, considering that you are a soprano singer, why did you choose to be part of a band like Skeptical Minds? They are not a symphonic metal band, so the music doesn't really allow for soprano vocals.
Karolina: Actually, Skeptical Minds gives me many possibilities to use my voice. From a deep chest voice like in "No Way Out" to a soft voice, like in "I Don't Believe." ;) In Skeptical Minds' compositions, you won't hear monotony. There is always something going on, and the possibilities and skills of the guys always impress me!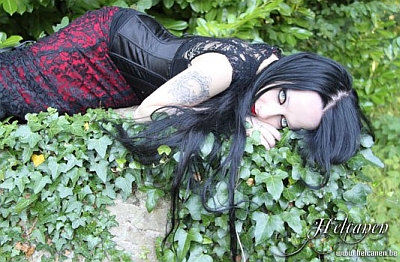 Frozen Angel: What about the title of your new album, Skepticalized? That word does not really exist. Does the band want to tell us something new by inventing a new word?
Karolina: Yes, this word didn't exist. Now, it does ;). Skeptizalized means "look deep if you want to see how things really look." Many of us pretend to be happy because that is what others expect from us. People think that they are alone, and with this we want to show them that there are many people like them! If you also try to look on the other side, the one that exists behind what everyone can see, then you are "skepticalized." ;)
Frozen Angel: Is Skepticalized a concept album?
Karolina: There is no link between song histories, but we always go from the white side to the darker one. And, each song shows things we keep hidden or things we could never share, even with our best friends. But, those things exist for real, and everybody, without any exceptions, has their hidden secrets. No one is really like the way we see him/her at first sight or during the seduction game.
Frozen Angel: When I listened to the new album for the first time, I thought that Skeptical Minds were entering a new era. The lyrics are deeper, the compositions are distinct, and the production is almost perfect. I think that the band is more mature and the new album brought some fresh "air." Do you agree with me?
Karolina: Of course, as time passes by, every band enters a new era. Every experience leaves a mark on each one of us. We grow older, we see things differently, so our lyrics are more mature, more about things we want to develop now, and perhaps we weren't ready for that before. About production, composition, and sound, being a self-produced band, you always learn new things and you apply them to your new material. It's natural. The more you improve, the more you change. There is an evolution, and what you hear today is the point we have reached now. In the future, what you will hear will be the reflection of the point we'll be at that moment. The music road is like your own life road: You learn, you apply, you try, you fail, you succeed, you put everything that you have inside yourself, and music will also follow the same kind of evolution of your life.
Frozen Angel: Michel (guitars) has stated that the style of the band is a mix of three main influences: electro-industrial loops, sharp metal guitar riffs, and a melodic female voice. You are not a typical female-fronted band; you are different. Was that the spirit when the band made its first steps, to be so different?
Karolina: In the beginning, we were supposed to be absolutely different. It was the mix of the three main influences of the three former members back in 2002. And, Skeptical Minds' sound and style was from the beginning a balance between those three influences, but without the will of being metal or industrial or a female voice band. Skeptical Minds didn't want any of those labels. But, Skeptical Minds is a mix of the three influences. ;) It's difficult and impossible to say that the band is characterized by only one of those three elements. It's an equilibrated combination of them. They are the foundations, and we always turn around them. All the rest, the arrangements for example, can change and you have no limits. But, the base will always stay the same: Electro-industrial metal riffs, and a female melodic voice. We never said we want to sound like this band or that band. Perhaps this is the reason that Skeptical Minds can have a different sound from the other female-fronted bands. ;) Of course, we have our own influences, and I think that the unusual combination of those three elements (electro-industrial loops, sharp metal guitar riffs, and a melodic female voice) makes us a different female-fronted band.
Frozen Angel: As I said, your music combines electro, rock, metal, and alternative elements, and results in songs that are unique and very appealing. How did you come up with this approach? Which bands/artists have inspired the band as a whole?
Karolina: I think a part of the response is in the previous answer. But, we never took one band as a reference. We took some elements from some electro-industrial bands and some metal bands and combined them in order to create our own ambiances. Our main influences were Rammstein, Rob Zombie, Nine Inch Nails, Kraftwerk, Belgian 80's electro, Depeche Mode, 80's heavy metal bands, "wock'n'woll" bands (like Mich always says), and Massive Attack. As you can see, they are bands that you cannot especially link to us by the first listening, but if you try to link them to us then you'll have a sort of Skeptical Minds stuff. ;)
Frozen Angel: What are generally the things that inspire you?
Karolina: Me personally? Ummm… Generally, people who are not afraid to speak their soul, people who have the courage to fight their fears and go until the end. I could say that many of your readers are real fighters. We are the heroes of our own lives because who else can change things but our own selves? Beside that, I really admire Nikos Kazantzakis (a famous Greek writer) and Nikos Xilouris (a famous Greek songwriter and singer) for their philosophy and their way of thinking. And, of course, Leonidas, the king of Sparta who went to fight along with his loyal army for freedom. I really admire the fact that they didn't stop, they didn't surrender. That's what inspires me a lot: a brave heart full of passion which fights for honor and justice!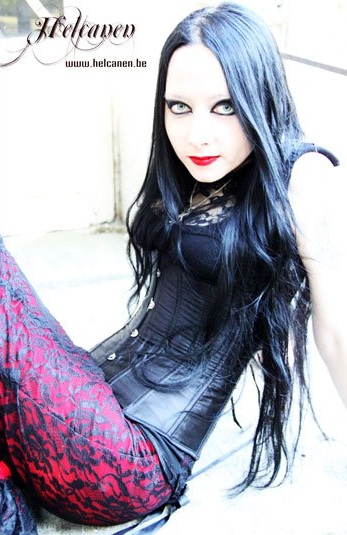 I can also say that Greek history and mythology inspires me a lot. I think that it's very important to know what happened in the past and where the things came from because in our modern world we run too quick in order to get money or fame, but let's take a break and have look to what our ancestors have done for us! You know how we call that? Wisdom! I don't say that – Athena (an ancient Greek goddess) does! Also, nature inspires me. Just take a look at a forest, how trees grow, how precise is this, how nature can put things in the right place, how everything fits incredibly.
Frozen Angel: Karolina, did you take part in the writing process for Skepticalized? If you did, which songs did you help write?
Karolina: Yes, I helped with lyrics. I wrote the lyrics to "Inertia," "Broken Dolls," "No Way Out," and "I Don't Believe." The music was composed by the guys (Mich, Pat, and Gaby).
Frozen Angel: As I had said earlier, I found the lyrics in the new Skeptical Minds album deeper and more meaningful. Who wrote the lyrics this time? What inspires your lyric writing for Skeptical Minds?
Karolina: We all had big part in writing. The guys knew what they wanted to talk about, and this is it. :) Inspiration came from everyday things, as I said before. We all grow up, we met new people, we communicate. We wrote these songs to show to people that they are not the only ones who have to deal with depression, sadness, and other bitter feelings.
Frozen Angel: Karolina, was this your first studio recording? Or, have you taken part in any other recording process?
Karolina: It was my first full-length album with Skeptical Minds. Besides that, I performed as a guest musician for the band Dark Wings Syndrome [from Portugal] and New Zealand's black metal band Beltane.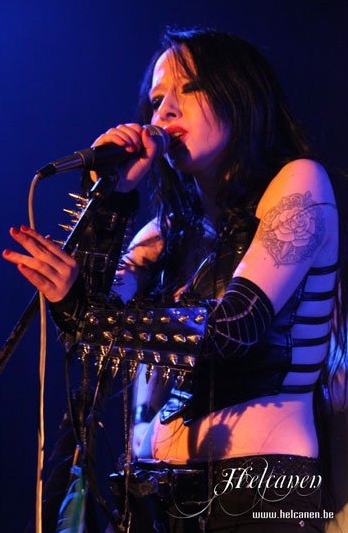 Frozen Angel: Were there any troubles during the recording sessions? Any misfortune?
Karolina: Not really. The only "negative" thing you have to deal with while you are in the studio is the stress (because you want to give your best).
Frozen Angel: Karolina, apart from a rock singer/electro performer, you are a soprano, too. When I checked your cover in Nightwish's "Sleepwalker," I was quite impressed! What about your soprano career? Have you ever considered taking part in an opera concert/show?
Karolina: Thank you for the compliment. I am glad you like it! Of course, I would love to take part in an opera show! Let's see what the future will bring!
Frozen Angel: Which new and old Skeptical Minds songs are your favourite ones?
Karolina: From the old ones, I really like "Skeleton Key." And from the new ones, I will pick "Inertia" and "Broken Dolls." But to be honest, every Skeptical Minds song has something special!
Frozen Angel: What kind of music do you like to listen to when you are at home? Why?
Karolina: Classical music, mostly. I am mad about Chopin, Bach, Mozart, and Hans Zimmer. I really like music from movies, too. It's really inspiring and makes my mind fly away. I guess you know music of Vangelis, right? Besides that, many times I listen to traditional Greek music. What I like in traditional Greek songs is their lyrics and mainly their great passion for life! The simplicity of words, and at the same time the richness of words! I am fascinated by Cretan poems, [including] Mantinades!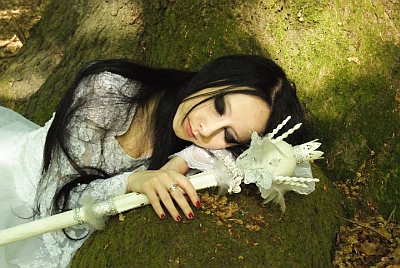 Frozen Angel: Tell us, are there any performers (men or women) that you really admire? Do you have any idols?
Karolina: Well, I don't have any idols, but I really like Anja Orthodox and Tarja Turunen.
Frozen Angel: Who have been some of your biggest influences, musically? Could you tell us a little bit about how you got into metal/rock music?
Karolina: Actually, my father introduced me to that kind of music. He was a guitar player in a heavy metal band. So, my metal experience came from him. Then, I got [albums by] Black Sabbath, Pink Floyd, Led Zeppelin, and Deep Purple, and this is how I got into metal music.
Frozen Angel: Skepticalized was recently released via Twilight Distribution. Congratulations! How does it feel to have it out for the public to purchase and listen to?
Karolina: Thank you. :) It makes me feel great! I know that many of our fans live far away, and now they can get our album easier. The fans are happy, and we are happy for them, of course!!!
Frozen Angel: You've played some shows to promote Skepticalized. How have fans responded so far?
Karolina: We got some very good feedback. We have received many compliments! It's nice to see how much the fans appreciate our work. Firstly, our new album was presented at Metal Female Voices Festival, and it was a big success. We had a signing session for the first time! It will bring back good memories for me, that's for sure!
Frozen Angel: Skeptical Minds have very loyal fans. Can you tell any fan reactions that impressed you, made you happy, or moved you? Any funny behind-the-scenes stories?
Karolina: In one of our first shows, after the gig a little girl came to me and she gave me a hug and she didn't let me go! My eyes were full of tears. I would never expect such a warm reaction! It was a beautiful experience! Hmmmm, and about the funny ones: I can recall many, but you must be there to see what really happens.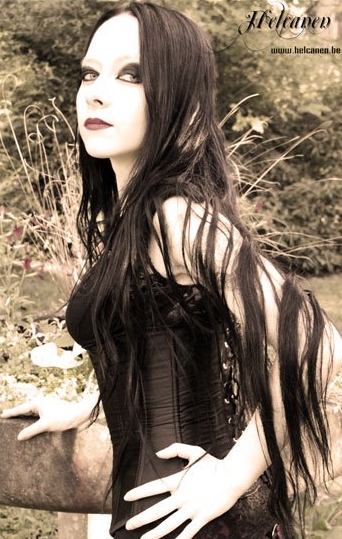 Frozen Angel: What plans does Skeptical Minds have for this year?
Karolina: After the release of the MFVF DVD, we have planned to do some more gigs in Belgium, and that's all for 2011. But for 2012, we have many surprises for you all. In 2012, we will be back with a new album and two other objects. I cannot tell you more details now except from the fact that we already work on it!
Frozen Angel: Recently, you wrote on your official Facebook page that you are interested in writing a book. That is amazing! Can you tell us a few things about that?
Karolina: Yes, this is true! Almost every day, I post encouraging words on my Facebook profile. I really like to make people feel happy. I believe in human beings. Every person is special, and everyone has their own personal legend. As a loyal follower of knight code, I decided to write a book in which I will talk about honor, dignity, courage, and passion. If in that way I can help people to smile and to deal with their own life, I will give my best in order to write that book.
Frozen Angel: If you could choose any band in the world to tour with, who would it be and why?
Karolina: I don't have any special preference. The most important thing for me would be the tour itself and not the line-up. The only thing that would really matter to me would be having a great time on tour with my bandmates and the other bands who would be on tour with us.
Frozen Angel: I've looked at some of your past tour dates, and you've played with bands such as Epica, Lacuna Coil, Apocalyptica, Edguy, Doro, and Moonspell. Is it difficult to play with metal bands whose style is different from yours? Why or why not?
Karolina: I was not there in all that gigs (some of them happened before I join the band), but from my experience, it is not difficult at all!!! It motivates me and makes me feel like Leonidas (an ancient Greek king) with his four soldiers in front of a huge army of people that they have to face. I'm just motivated to kick asses and have a good exchange with the audience. I want each gig to be a unique memory for the fans, for Skeptical Minds, and for me. And that's how I personally experience each gig! THIS IS SPARTAAA!!! This is what I have in my head before joining on stage! Do you know what we say? "A gig is a gig, the size (of the stage) doesn't matter."
Frozen Angel: And one last question, Karolina: Will your band come to rock out in Greece?
Karolina: To be honest, we really want to make it happen during 2012!! We already have good connections with some Greek bands who actually became our friends. We will try to plan some live shows along with them! Just be patient. I would personally like a lot to go to Greece, and I think the guys would love to come there, too. Do not forget that Mich is Greek! Also, we would love to go to Italy too. (Gab is from Italy!) We really want to tour all over the world because we are crazy and feel close to every human being.
Frozen Angel: Thanks very much for the interview! Is there anything you would like to say to fans and readers at Sonic Cathedral?
Karolina: A special thanks to those who had the courage to read every single word of this interview! Hope to meet you all during our live shows everywhere!!! And do not forget to watch your back!!!!!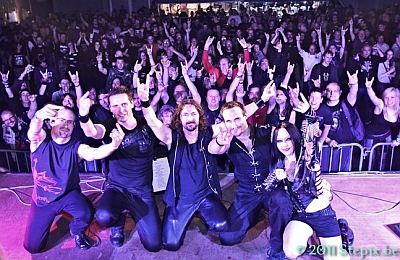 Extra special thanks to the following for use of their photos:
Helcanen Graphics
Stepix Belgium
Be sure to check out Karolina & Skeptical Minds at the links below:

Band Website
Band Facebook
Karolina vel Death Facebook
MySpace