Regardless of Me 2011 Interview
Performed via email in June 2011
If any female-fronted metal band has recently undergone a musical metamorphosis, that band would have to be Regardless Of Me. The Italian quartet had a gothic-friendly alternative metal sound on its 2009 debut album, The World Within. However, after numerous live shows to promote the first album, Regardless Of Me decided to shake things up. Keep Pamela Manzo's hypnotic melodies? Check. Speed things up? Check. Add death grunts, more aggressive riffs, and even more technicality? Double check! And now, all the experimenting has resulted in Regardless Of Me's second album, Pleasures and Fear, which was released in Europe at the end of May.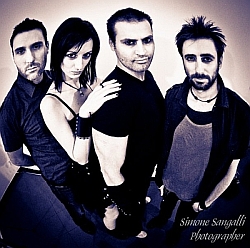 Sonic Cathedral staff writer Sara Letourneau recently talked with Emiliano Sicilia, who is Regardless Of Me's founder, guitarist, grunter, and main composer. The two discussed Pleasures and Fear, the band's shift in style, playing shows outside Italy, and even Madonna and Iron Maiden. Wait – what in the world do the Material Girl and one of the world's greatest heavy metal bands have to do with an up-and-coming melodic industrial death metal act? You'll have to read on to find that out!
Sara: Emiliano, first of all, congratulations on the release of Pleasures and Fear! How does it feel to finally have your second album out for the public to purchase and enjoy?
Emiliano: Hello, everybody! Well, we're so proud about this new record. I think we have a really powerful sound. This new album sounds completely different from the first, and I think you'll never be disappointed!
Sara: Your first album, The World Within, is more of a progressive gothic metal record. For Pleasures and Fear, your style has evolved to melodic progressive industrial death metal. What prompted you to make such a drastic shift in style?
Emiliano: I got to tell ya that when I write new songs, I try to do every time something fresh, something cool and aggressive. I don't wanna be bored in listening to my songs, so I need to change a little bit our music style. Most of the bands choose to slack off after their first full-length [album], but I chose a different path!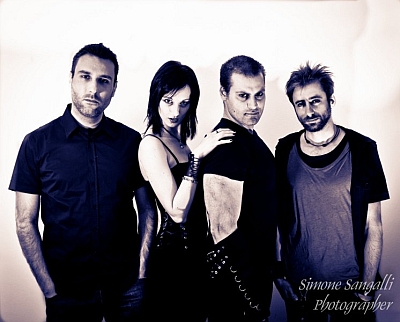 Sara: Let's go back to when you were first composing songs for the new album. Which track off Pleasures and Fear was the first one you wrote? At that time, did you feel that was the breakthrough you needed to achieve your new sound?
Emiliano: The first song I wrote about the new album was "Dispositions." In fact, you could notice that it looks similar to the first Regardless Of Me album. Then, I started writing new songs, trying to have a powerful sound. I'm always willing to experiment. I really like to improve my songwriting.
Sara: You do a considerable amount of grunting on Pleasures and Fear. Had you done any extreme vocals in the past? How did you feel about adding your "voice," so to speak, to the new Regardless Of Me songs?
Emiliano: This is the first time I recorded my growl vocal! I love to sing in this way, especially because I used to listen to extreme music all the time, from technical death to brutal and black metal. I think [the] growl vocal is something necessary to have a more aggressive sound.
Sara: Why did you choose Pleasures and Fear as the title? Sure, it's the name of the album's intro, but is there any significance besides that?
Emiliano: Of course! You could find the meaning watching the front cover. Pleasures And Fear means West against East. I love oriental philosophy, and all [of our] lyrics remind to that philosophy.
Sara: The first single off of Pleasures and Fear is your rendition of Madonna's "Frozen." Why did the band decide to cover this song? How did you want to make it different from the original?
Emiliano: We love Madonna, especially the Ray Of Light [album]. I think that, for our music style, "Frozen" is perfect. My dream is to play our cover version live with Madonna.
Sara: Regardless Of Me recently filmed a video for "Frozen." This is also the band's very first music video. Could you tell us about the video's concept and what it was like to make the video?
Emiliano: It's so nice to make a video clip! Well, we spent over 14 hours to make that video. It was really tiring, but now we're so satisfied about this, and we're getting so many nice comments online. Did you check it out? It's something like the Beauty and the Beast, Pamela against me. That's cool!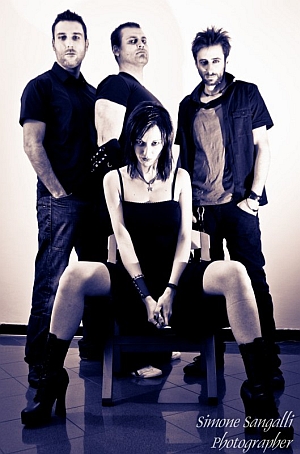 Sara: I have to commend you on the track "Under a Darkened Sky." It's so interesting and detailed! I hear something new every time I listen to it. What was your initial idea for the song when you started composing it? How long did it take you to write it?
Emiliano: Well, I don't' remember how long it took for that song. I wrote that song 'cause my intention was to demonstrate that Regardless Of Me are not a simply gothic metal band. We're so much more, and now you know it.
Sara: Lyrically, Regardless Of Me has concentrated on how society's constraints affect people and their everyday lives. Given the current world economy and other events like the numerous uprisings in Africa and the Middle East, do you think that your lyrical messages are even more important today than they were a couple years ago?
Emiliano: Well, you hit the nail on the head! I mean that the more you try to find the meaning, the more you will discover the truth: We're just souls driven by the fate. There's no escape. You could find the answers you need inside you, and not elsewhere.
Sara: You began playing the new songs early in 2011, well before Pleasures and Fear was recorded and released. How did audiences react? Were they surprised – or shocked – about the change in musical direction?
Emiliano: I was so curious about people's reaction, and I got to tell you that I was surprised, 'cause our fans love this music changing. I think the reason is that they love the more rock 'n roll sound and metal vocals!
Sara: Regardless Of Me also played a very important show in 2010. Your band first played in the United Kingdom at the renowned Bloodstock Open Air. How was that experience?
Emiliano: Bloodstock Open Air is one of the most important metal festivals in Europe, and we were honored to play there last summer. We were beside Fear Factory, Children Of Bodom, Amorphis, and Devin Townsend in the backstage. It was really cool, and the English people are soooo hot!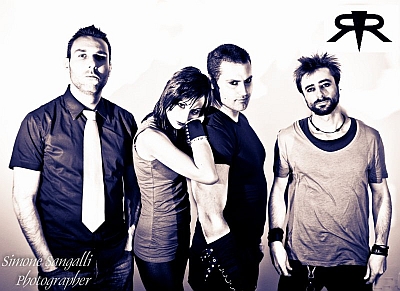 Sara: This year, you've playing in a number of countries: The Netherlands, Germany, the United Kingdom, and even Bosnia! And later this year, you're opening for Farseer on their Scottish tour. What would you say is the most rewarding aspect of playing outside your home country?
Emiliano: It's sad, but it's the truth. When we play outside Italy, it seems we're famous. People really love our music, and we usually play in front of so many fans. In Italy, it is different. Italians don't have a right music metal culture. They love cover bands. It's a shame. It's a shit. This is the reason why we play so many gigs in Europe and just only one in Italy.
Sara: This might be a tough question, but I'm curious: If you could pick any band that you'd love to open for, who would it be? And, why?
Emiliano: Ahahahahhahaha, I got the answer: IRON MAIDENNNNNNNNNNNNNNNNN! I grew up with Iron Maiden, and I love them!
Sara: What other plans does Regardless Of Me have for 2011? Are you planning any additional tours?
Emiliano: Of course, we will play in Scotland in October, then in Germany in November, and I think we will play in east Europe on next spring.
Sara: When we spoke last year, you had voiced your interest in playing in the United States. If you had the opportunity, would you still try to come over and play the new material?
Emiliano: Absolutely, yes. But, I need to have the right booking agency for USA, you know. It's a risk!
Sara: Grazie for speaking with us once again! What would you like to say to fans and to Sonic Cathedral's readers in parting?
Emiliano: Thank you too for this interview, keep supporting Regardless Of Me all the time, and don't miss our new record!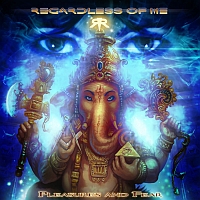 Many thanks to Emiliano for taking the time to talk with Sonic Cathedral again. Good luck to Regardless Of Me with Pleasures and Fear and all your touring plans to support it! All photos are courtesy of Simone Sangalli.
Check out Regardless of Me at the following Websites: