Max Levites of the Sonic Cathedral staff talks to Omega Lithium front woman Mya
Mortensen to pose a few questions in Interview conducted by email
Photos by Sonic Cathedral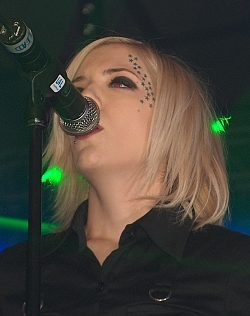 Max: Could you tell us a little about the band and your history for those readers who are new to Omega Lithium?
Mya: Omega lithium is an industrial gothic metal band coming from Croatia and two little towns called Umag and Pula. We are existing from 2007,but we seriously started working from 2008. A band with it's own view of the world today.
Max: You guys have already started working on your second album, and you've already posted some clips from the studio of the band recording the songs. What kind of things can we expect from the new album and how does it compare to Dreams in Formaline? Can you give us any estimate of when it might be released?
Mya: Well, the new album is pretty different from the last one. We have developed our selves as people and so the music became more serious. The album should be out somewhere around May this year. But we won't share details with You just yet, hehe.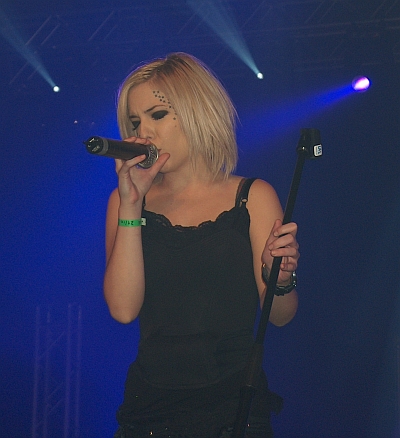 Max: You worked with Victor Love (of Dope Stars Inc. fame) on Dreams in Formaline. What did he bring to the table for the production of Dreams in Formaline and will you be working with him on the new album?
Mya: We had a great time working with Victor, he was a true friend and did a great job with the first album. On the second, we decided that we want to record in Horus studio that is in Hannover, Germany. Part of the instruments were recorded there, and the vocals in Slovenia, Ljubljana. The producer is Žare Pak who is amazing and has helped us a lot during this process.
Max: Lyrically, each song on Dreams in Formaline was its own story. Could you tell us a little about where you get your inspiration for these stories, and whether we might see something similar on the new record?
Mya: We all work together on the ideas for the songs, and we get the inspiration from everyday news, things that are happening all the time. Zoltan is the one that has the power to take all the ideas and finally write the lyrics.
Max: Omega Lithium played at the 2010 Metal Female Voices Fest. What was that experience like?
Mya: For us, it was one of the best concerts that we have had. Festival is amazing, starting from the crew to the audience and the whole concept. I hope that we will have the opportunity to experience it again.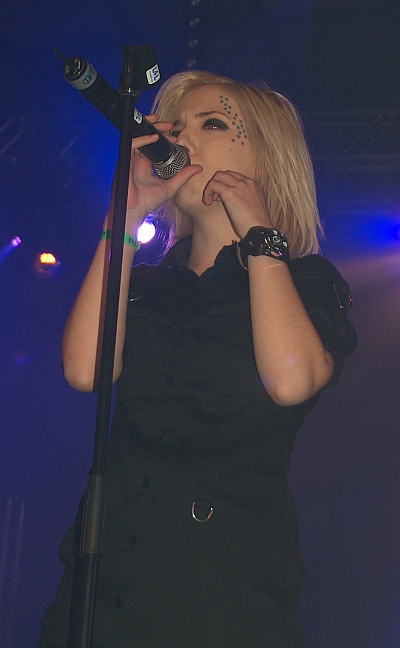 Max: Looking back at 2011, what were the highlights for the band? Are there any special plans for 2011?
Mya: We always have special plans, and always cooking something new. We are working on the whole new concept for this upcoming album and it will be fun. The highlights would be everything that has happened to us. I can't drag just few things out, because all this little parts and the big ones that we could call them highlights, made us the way we are now. And we are moving forward more mature in every way, especially musically.
Max: What are the chances of a tour outside of Europe in the near future?
Mya: We really hope for that to happen in the near future, but we cannot promise anything just yet. We have a lot of fans that we would like to visit, all around the world.
Max: Who have been some of your biggest influences, musically? Could you tell us a little bit about how you got into metal music?
Mya: I have been listening to metal music for almost my whole life. It actually started with my parents when I was very young and they were listening to rock music all the time. So I started mostly with rock and then moving on to more metal bands.
But the bands that made Omega Lithium the way we are, are mostly Rammstein, Nine Inch Nails, Type O Negative, Ministry, Laibach, and Pendulum.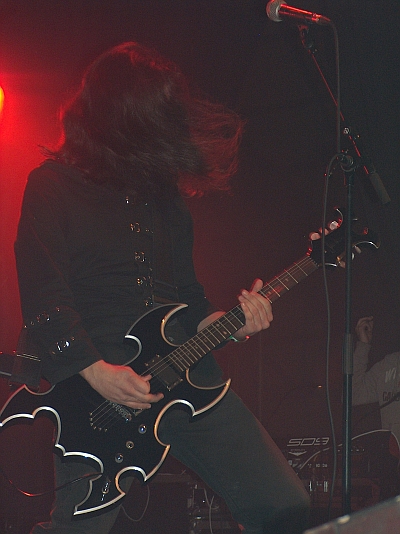 Max: If you could choose any band in the world to tour with, who would it be and why?
Mya: I think we would all probably choose Rammstein. As I said before, they are one of our biggest influences and we admire them for everything that they've become.
Max: In reviews of Dreams in Formaline, I often saw comparisons between Omega Lithium and bands such as Lacuna Coil, Rammstein, and Deathstars. What do you make of these comparisons?
Mya: Mostly there have been some comparisons with female metal fronted bands like Lacuna Coil or Nightwish, and I don't think that we have something incomon. The only thing is that they all have female singer, but other than that I don't think that we are typical gothic band, especially not because of my vocals.
Max: Any last words for the readers of the Sonic Cathedral webzine?
Mya: Hello to all the readers of the Sonic Cathedral webzine, we hope to see you somewhere on a gig!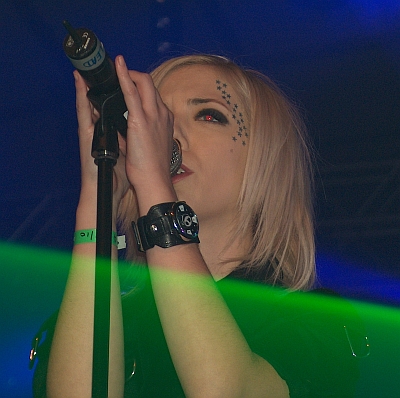 Max: I would like to thank you, on behalf of Sonic Cathedral, for taking time to do this interview. Good luck on the new album and we hope to see you on the road sometime soon!
Mya: Thank you for wanting to do an interview with Omega Lithium! Hope to see you too again.
Photos taken by Sonic Cathedral at the Metal Female Voices Festival - Belgium October 2010
Check Out Omega Lithium:
Website
Facebook
MySpace