Gothica Interview
By: Sam Grant

With: Alessandra Santovito - Lead Singer of Gothica

Interview Info

By: Sam Grant
With: Alessandra Santovito - Lead Singer of Gothica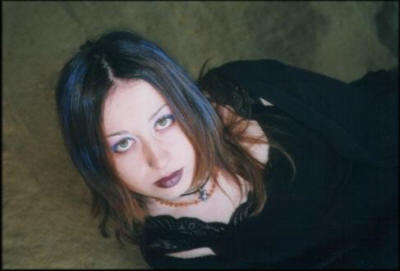 Sam: So, are you fed up with the Dead Can Dance comparisons yet?
Alessandra: Dead Can Dance have been important for our musical growth. We love their music but we are definitely fed up with this comparison because they aren't the unique band that inspired us, rather they sum up some of our favorite genres like the ethnic, medieval and classical ones.
Sam: Seeing as people can't help but make comparisons, if I were pushed, I'd say your music is slightly similar to Black Tape For A Blue Girl and Faith & The Muse, but it does seem pretty unique. What other bands would you personally compare your sound to?
Alessandra: Founding synonymies is subjective, often we have been fairly compared to bands that we didn't know. We don't like to compare ourselves to other bands as we are trying to create a personal sound. Indeed, it is a natural fact that we are affected by the genres that we prefer and a listener can find these influences in our albums.
Sam: Some people say that the name Gothica is misleading because your music is not along the lines of 'normal' Gothic music. I think it's the other way round – your music illustrates what Gothic is really about and most modern Gothic music is incorrectly named. Do you find the modern definition of the word Gothic to be misleading?
Alessandra: Gothic music incorporates bands completely different from each other into a unique category, some of them aren't at all Gothic, or are so only for their fashion, unfortunately very few bands are Gothic for cultural reasons. People, who say that our name is misleading, show their gaps, they aren't able to understand the reasons why we chose this name and its implications. Anyway, we don't care whether our music is considered Gothic or not. The name Gothica shows our love for many forms of art because in different periods of time and in different ways, the Gothic style involved different kinds of art such as painting, sculpture, architecture and literature. Gothic Revival opens the way to Romanticism with its devices such as the sublime of an abandoned country churchyard, of a Gothic cathedral, of a tempest, of an impracticable savage landscape, of a horror tale. The Gothic castle par excellence is not an ancient one but is Strawberry Hill, which is a small potpourri of strange and eccentric objects coming from all around the world. It was built as his residence by Horace Walpole, who wrote the manifesto of Gothic literature and the first recognized Gothic novel "The Castle of Otranto" in 1764. Our music, like this Gothic castle, is a mixture of various kind of arts and sonorities. It is like the joyful, moving fascination of a landscape; the tormenting sentiment springing from premature death: beauty that changes into horror for the imperturbable mysterious mechanism of the benign and severe nature; the sound of existence.
Sam: Tell us a little about yourself. Where did you grow up and what interested you when you were younger? Was there anything Gothic about your hometown?
Alessandra: I have ever had a great passion for art, music and the dark mysterious side of the world. I was born and grew up in the same city where I'm currently living, Vasto. Part of my family comes from Florence, so that I'm used visiting this splendid Renaissance city with its great museums and wonderful architectures.
Vasto is in the region of Abruzzo. This region is described in its savage aspect by the Gothic writer Ann Radcliff in "The Italian; or, The Confessional of the Black Penitents"(1797). In Abruzzo, which is a lovely area in the middle of Italy, there is the sea, the mountains, there are woods, lakes, castles, medieval villages and sanctuaries. Vasto is a nice historic city on the sea. It is not big, there is a beautiful coast with sand and reefs. There is a castle too near the monument of the patriot poet Gabriele Rossetti who was born here. He is the father of the poet painter Dante Gabriel and of the poetess Christina Georgina.
Sam: What kind of music were you listening to when you grew up? How important was music in your family? What got you interested in the operatic style of singing?
Alessandra: My brother and sisters enjoy playing music as amateurs. My mother likes very much the opera and since I was a child, I knew all the plots of the most famous operas and I enjoyed them very much. When I grew up, my taste changed a bit and I started singing in a metal band together with Roberto, but all the same I decided to study opera singing because it forms the voice. Now, I love very much performing in chamber concerts.
Sam: Did you have a religious upbringing? Is there any kind of belief system that has affected the way you think and write music?
Alessandra: Yes, I had a religious upbringing from which I learnt to respect people and their belief. Every ancient religion is a precious cultural heritage with its history, its great men and traditions, even though beyond all religious systems it is hidden the corruption and the falseness. At any rate, our music is spiritual but it doesn't refer to any particular system.
Sam: The title of your new album is the Cliff Of Suicide. If I'm correct, the cliff itself is in Vasto. Tell us a little bit about the place that became the title for the album.
Alessandra: "The Cliff of Suicide" talks about nature and suicide. We got our inspiration from a cliff here in Vasto. Nearby, there was a city in ancient times. Now there are only some sunken ruins. This place is wonderful for its natural beauties, two colors prevail: the blue of the sea, of the sky and the green of the fields. Yet, some persons committed suicide in this splendid place, during the years, producing a strange contrast. Each time that we visit or think about this place, its sunsets, its sea, deep an vast womb, we feel near to the imponderable, to the mystery of everyday life, to the supernatural, to the spirits of the dead. There, we have shot our video clip enclosed in the CD. We have tried to transmit the same "semplicity" and enchant of films like Lars Von Trier's or Wim Wenders', using the nature as set. The sea represent a fundamental concept in my lyrics. It is enchanting, mysterious, encircling and cold like death but at the same time it is vital, it is the cradle of all biological beings, of millenary civilizations. The sea is where I grew up.
Sam: Are there any other specific places that inspire and illustrate the Gothica sound?
Alessandra: Each experience that we have, everything we read, the world and the art that surround us, inspire us to create, we transform our suffering into music: sometimes, looking at our cities which trap us, I feel choked by suffering, hate and a sense of uselessness, these sentiments can be a source of inspiration together with the beauty of little things, of a meadow lit by the sun, of a cat walking on the sidewalk, of wonderful sunsets that color the sea of tawny mother of pearl when our coast becomes deserted and seagulls rest on the seashore and then disappear swallowed by the night while the sand becomes cold and the water, just before it becomes dark, is more transparent than ever.
Sam: What songs on the album do you enjoy the most?
Alessandra: "Nel Buio", "The Cliff of Suicide", "Cosmic Harmony", "The Monk", "Harmattan", "The Land Beyond", "Where the Lilies Fade".
Sam: How did you come into contact with the musicians you collaborated with on the album?
Alessandra: I met Claudio and Flavia during my concerts as soprano, while we met Alberto and Domenico in Gemelli studio where we recorded part of the album.
Sam: I love the picture on the electro version of the Cliff Of Suicide single. It has such power and energy. What can you tell us about it? Is it a good representation of the kind of art you enjoy?
Alessandra: We know a Japanese boy named Nega by internet. He has got a good creative mind, as you can notice visiting his web site: http://Darkwave-Designworks.com .He was eager to work with us and made the picture on the electro version, trying to show our love for the sublime of the nature, for the tempest and what it represents in a Shakespearean sense. He succeeded very well.
Sam: I see on the album some allusions to classical Gothic literature. Who are your favorite writers?
Alessandra: Dante Alighieri, William Shakespeare, Johann Wolfgang Goethe, Mary Shelley, Giacomo Leopardi, Edgar Allan Poe, Henry James, Guy de Maupassant, Oscar Wilde, Hermann Hesse, Virginia Woolf, Franz Kafka, George Orwell, Walter Pater, Luigi Antonelli, Luigi Pirandello, Sergio Corazzini, Silvina Ocampo, Jorge Luis Borges, Karen Blixen, Banana Yoshimoto...
Sam: The essence of your music on this album is more dark, somber and mysterious. Would you say you have a dark obsession? Why do you think the macabre holds such an interest for you and for many of us?
Alessandra: We don't sing only our melancholia but that of everybody, transforming this sad feeling in an art form. Often our music talks about the end of life because human existence's time is beaten by waiting for death. I feel a strong attraction towards this intrinsically revealing mystery, which involves everybody sooner or later. Death has always charmed us with its duplicity: is it a consoler harmony, an unspeakable void or indescribable sorrow? Thinking about death implies a deeper comprehension of life, of its value and "simple" treasures: nature, art, love. You can achieve a greater consciousness.
Sam: How would you say your sound has evolved since 1994 and the inception of Gothica?
Alessandra: It's important for us to improve our sound year after year in order to express our feelings, our art better. During the years, our sound has progressed very much. Some of the main changes are the orchestral arrangements and my way of singing.
Sam: How satisfying is it to make the music you want to make? You couldn't be swayed to make more popular music on a larger label if the price was right, could you?
Alessandra: Our music gives sense to our lives.
We would be glad to sign with a larger label only if we can go on our way without impositions.
Sam: There seems to be a big link between some of your songs and the themes inherent in Greek mythology. Is there anything about mythology that fascinates you?
Alessandra: I'm fascinated by the deep symbolic, topical meanings that you can find in Greek mythology. For instance, Penelope is waiting for Ulysses in the Odyssey by Homer, whereas my Penelope is waiting for death. If you go on in reading my poem and know in rough outline Homer's story, you will notice other parallelisms. But the most important thing is to go beyond the phrases and try to identify yourself with the figure of this woman, who is suffering because she knows that her destiny is already decided and that she can not escape from it. Penelope can only wait. As regards Proserpina, I feel not only charmed but spiritually near to this figure. Her labyrinth is our labyrinth, Proserpina is a victim of the ineluctability of life. The relationship between Proserpina and Nature is also interesting. Misanthropy is symbolized by Medusa in our homonymous song, this feeling hisses slowly, overshadows our minds, changes us into stones like this mythological subject.
Sam: You've said that you have an interest in things that are dark and supernatural. Have you ever been interested in witchcraft or similar arts?
Alessandra: I'm interested but only in a cultural point of view: I can't help but being enchanted by the numberless references to the woman as magic and evil that are present in art and literature.
Sam: How do you spend your time outside of Gothica? What interests you apart from music?
Alessandra: We love reading, enjoy art and cinema, visit cities and Italian medieval villages. We like to take long walks at the mountains and at the seaside especially at sunset or in Winter.
Sam: What developments can we expect from Gothica in the future? Where do you think you will go from here?
Alessandra: Time will tell.
Sam: Any final message for the Gothica fans at SC?
Alessandra:
We would like to thank all the people who have supported us in these years, all those who have written nice letters or messages on our guestbook and of course all the readers of Sonic Cathedral. For further information about Gothica you can visit our web site at
http://GothicaHomepage.cjb.net
.