Within Temptation – Hydra Release Events
Written by John Thornburgh, C., and Justin Boyer
Since it has been a while since Within Temptation last played the U.S., it came as a happy surprise when the band announced in January that they would host release parties for their new album Hydra in Los Angeles and New Jersey (near New York City). Three members of the Sonic Cathedral staff jumped at the opportunity (and more wished they could). Details of our adventures follow…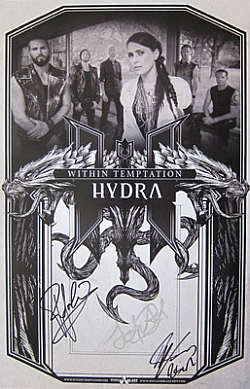 Los Angeles - The Joint (January 24, 2014)
John: I've crossed the ocean several times to see Within Temptation, so I was thrilled to learn that they would be on my side of the Atlantic. Driving to L.A. from San Diego was a no brainer.
The event was billed as a Nuclear Blast "Metal Night." The agenda included a pre-release Hydra listening party; the chance to meet Sharon, Robert, and Ruud; prizes and goodies; a metal DJ; and a "surprise." The venue was a classy looking bar near West Hollywood, called The Joint.
The surprise turned out to be an acoustic concert! Sharon, Robert, and Ruud started with a beautiful rendition of the new song "And We Run." This is possibly my favorite song on Hydra, and I felt privileged to be part of the first audience ever to hear it live! The acoustic version omitted Xzibit's rapping, but worked just fine that way. Next up was "Let Us Burn" (another of my Hydra favorites) and the first single "Paradise." On the latter Sharon sang both her lines and Tarja's (including the climatic vocalization) and sounded fabulous. The band then wrapped up their Hydra set with the new single, "The Whole World Is Watching," with Sharon again doing all the vocals. All four new songs sounded amazing and received a super enthusiastic response from the American crowd. Sharon, Robert, and Ruud were clearly touched. Sharon said that she wished she could put us all in a box to take out when she was feeling down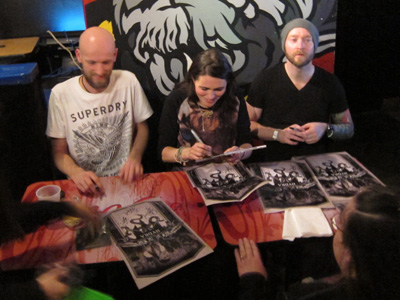 After the Hydra songs came two "oldies" – "Faster" from The Unforgiving and "What Have You Done" from The Heart of Everything. The audience joined in singing the latter, and again both songs sounded great.
At one point, Sharon apologized that she was sick with a sore throat, but you couldn't tell. She sounded exquisite and looked beautiful.
After the concert, the band moved to a signing table, and the audience lined up to say hi and get pictures or autographs. I have tremendous respect that Sharon, Robert, and Ruud extended the scheduled one-hour signing session to almost two hours so that they could meet everyone (even with Sharon being sick). As always, they were super friendly and down-to-earth, and it was fun to welcome them back to California and get a very cool signed Hydra poster (with band and artwork)
After that the party continued with the prizes and the DJ and a merch table with pre-release copies of Hydra. I think everyone who came had a fantastic time. Congratulations and thanks to Nuclear Blast USA for hosting such a successful event. And I certainly hope that this attention to the U.S. means that Within Temptation will soon be touring North America, after their upcoming European tour.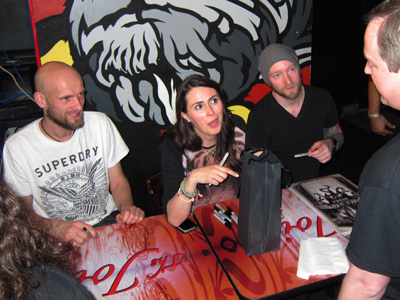 C: Count me as another WT fan who traveled a long way to get to The Joint on Friday night! After traveling on two buses and catching a ride the rest of the way with a fellow fan at a designated meeting place, we drove for another hour or so to get to L.A. Considering how long it had been since they'd last come to California, I wasn't going to miss out on a chance to meet the band and get my rare copy of "The Howling" single signed!
Once we arrived, there was some hanging out in the bar (and getting to meet WT guitarist Ruud), and then a little after the doors opened at 9 p.m., The Joint reverberated with enthusiastic cheers from the crowd, emphatically heralding the long-awaited return of Within Temptation to the West Coast after nearly 7 years (not having toured this side of the U.S. since 2007).
On either side of Sharon den Adel were Robert Westerholt and Ruud Jolie, armed with nothing more than their acoustic guitars, as Sharon's angelic vocals stood center stage. Yet Sharon was not without a weapon of her own (aside from that magnificent voice) – with a hot cup of tea by her side, Sharon nursed a sore throat as she proceeded to wow the audience with a brilliant vocal performance. At one point Sharon apologizes for her sore throat, to which someone in the audience yells out, "You sound amazing!"
The band played a 6-song set including 4 songs from the new album: "And we Run", "Let us Burn", "Paradise (What About Us?)", and "The Whole World is Watching". After giving a rousing rendition of the new songs, Sharon introduces "a not-so-oldie, but goodie": an acoustic version of "Faster", where Sharon simulates driving at the wheel during the chorus. The final song of the night is "What Have You Done?", where the audience heartily sings along.
Keep in mind that Sharon has a sore throat and can barely speak! She is noticeably sick when she addresses the crowd; yet she gives all she has to her singing voice, which shines. If this is how she sounds at less than 100%, one can only imagine her power when she's at full capacity! However, no listener was "shorted" by Sharon's illness; if anything, she went above and beyond to make sure everyone got a full show, as they would if she were well. This was my 3rd time seeing the band live, and she sounded just as stellar on this night as she did the other two times I saw a WT concert.
After the impromptu gig, the Hydra album blasted on the loudspeakers as fans received their Nuclear Blast goodie bags (which contained various posters, magazines, and other miscellaneous stuff). A line forms as fans wait to meet the band, who are signing autographs and taking pictures. For over two hours, the band shook hands and signed posters; making sure every single person in The Joint had an awesome experience. There were a lot of people: to give you an idea, I went to the merch table before the gig and was told if I came back afterwards, that there would be plenty there. When I did, nearly everything I wanted was completely sold out!
I have to take my hat off to Sharon – what a trooper she is! Many other people would have just retired back to their hotel rooms to properly recover; but even feeling so poorly, she still managed to hang in there to meet with fans and did not leave until everyone was done. WT has always been a band to go the extra mile for their fans, but situations such as this only hammers the point home even more. The fans certainly would have understood if Sharon didn't have a voice to sing, or if she had to decline meeting with fans. Yet she stuck it out and went out of her way to make sure everyone was having a good time. Since it cost no money to get in (or a low fee for those under 21), one cannot exactly say that fans "got their money's worth"; but if you want to count the time and effort (especially for those of us who traveled far to get there!), then we were indeed generously rewarded! And let's face it, getting to hear a surprise acoustic concert debuting 4 new songs is not something you can put a price tag on! Being a part of such a unique experience was priceless.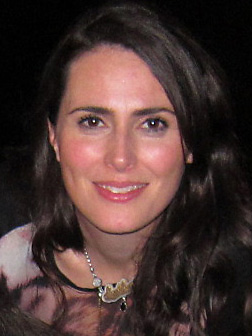 One can only hope that this will not be WT's only West Coast appearance, and that this good turnout of fans will prompt the band to return to the U.S. with a proper stage show, so that we can hear the new songs as they were written. But whether they are performing a complete show with all the props and full instrumentation, or stripped down to basics for an "unplugged" performance, WT is one of the best live bands to watch. The circumstances surrounding Sharon's condition did not compromise that reputation – in fact, it not only confirmed this, but boosted it a thousandfold!
*** Special thanks to Loana at Nuclear Blast; the staff at The Joint; Robin at Sonic Cathedral; and my fellow SC writer John Thornburgh for another amazing SC writers' meet-up! Thanks also to all the various writers and fellow fans we met throughout the night. And of course, extra-special thanks to Within Temptation themselves for coming all the way to the U.S. to share these brand-new songs with us for the first time!
New Jersey – Vintage Vinyl Records (January 27, 2014)
Justin: Clearly, the attendance at Vintage Vinyl Record's promotional event for the release of Within Temptation's Hydra proved that Within Temptation appeals to music listeners of any age. Every age demographic seemed to be represented, and there was a fevered excitement amongst fans that gathered at Vintage Vinyl Records several hours before the actual performance.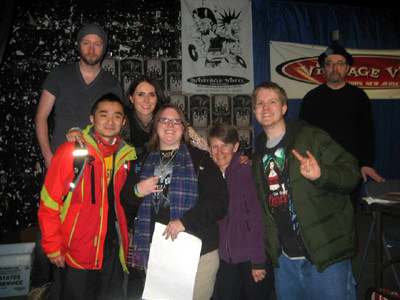 For several hours, my mom, my good friend Lauren, and I situated ourselves in the store approximately five hours before the event. Much to our surprise, other fans were gathered there as well. Many of them have a long, interesting history of attending Within Temptation's shows in either the US, and even Europe. One fan even brought high-quality photos that he had taken at the Elements show – the hallmark, fifteenth anniversary show for Within Temptation.

Ever since Nuclear Blast took Within Temptation under their wing, we are now beginning to see more attention being paid to America, thus fans in the states had the rare opportunity to attend a special PR event in either LA or in NJ. In my case, New Jersey happens to be in my neck of the woods, so that was the event I chose to attend.
As predicted, the turnout for the event was phenomenal. Based off my rough estimates, there appeared to be somewhere between one-hundred to one-hundred twenty people attending the event.
It was truly a commodious space for a band like Within Temptation to perform. There was no better place for any band, whose music pays homage to the musical styling of eighties classic rock, than a vintage record store.
As to be expected, Sharon den Adel (the very talented lead vocalist) and Ruud Jolie (the highly skilled guitar player) were the only members in attendance for the event. But, both of them combined their awesome musical energy to perform six acoustic pieces, three of which were from their newest album Hydra. The fact that this minimalistic form of performance can pack so much dynamite energy attests to the respective skills of both musicians.
After the performance, Sharon den Adel and Ruud Jolie conversed with fans, who waited patiently to get their mint-condition Hydra albums signed. Having met them before, I was not surprised by how friendly and down-to-Earth both Ruud and Sharon were. Even after two years, Ruud still recalled the vintage Star Wars figures I gave him, in exchange for backstage passes. Both of them paid genuine attention to each thing their fans were saying to them. I was especially floored, when Sharon agreed to have someone videotape both her and a dedicated fan sing fragments of the chorus from The Whole World is Watching – the band's most recent single.
Following the signing, both Ruud and Sharon took pictures with fans. Due to time constraints, Sharon and Ruud decided to take group photos with the remaining fans in line. This was a masterful plan, concocted by Loana the PR wizard from Nuclear Blast Records. None of the fans were disappointed by this decision, and there were no major discrepancies as a result all due to this kind of superb PR. Being a veteran of book signings and comic conventions, I was very, very impressed by the smooth operating of the whole event overall – all thanks to the very patient, hard-working store employees; the very exuberant and skilled PR team from Nuclear Blast, and the receptiveness and kindness that Within Temptation showers their fans with.
It is events like these that remind me why I have such an unwaning interest in Within Temptation's diverse music. The fans, and everyone that has ever listened to Within Temptation comes away with a changed perspective of how multifarious and damn transcendental music can be. If you've never attended a Within Temptation concert, you really must do yourself a favor, and experience a live performance from one of the more dynamic bands out in the music world.