Tarja Turunen
@Lyon FR (06/02/2014) & Vevey, CH (15/02/2014)
After more than two years, Tarja was finally back in Lyon as part of her promotion of her latest album Colours in the Dark. This time, she was once again playing in Le Transbordeur venue, and the band support was the French band Elyose, who not only opened all Tarja's concerts in France, but also in the Netherlands and in England.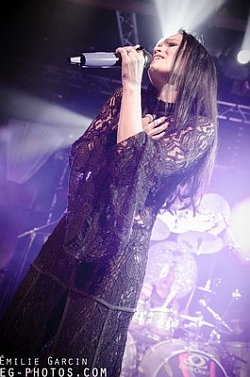 As said before, the opening band was Elyose. Coming from Paris, they play a kind of electro Metal with French lyrics and they've so far released one album called Theogyne. This tour was the final tour to promote it. I've never seen Elyose but had heard a lot about them before. They started their show at 8pm and seemed to be quite well welcomed by the audience even though people didn't move that much.
Vocalist Justine Daaé was quite dynamic and communicative with the audience, asking them to raise their hands while headbanging and going here and there on stage, near the other musicians of the band. Sadly the sound wasn't that good and we couldn't always hear her voice.
The musicians also enjoyed the large space of the stage to do lots of comings and goings, sometimes playing side by side. The last song played was "Théogyne", the powerful driving single of their album; on this occasion I could see more hands raised in the audience that looked more excited than at the beginning of the show.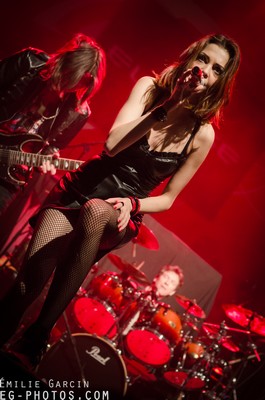 Generally speaking, Elyose had quite a professional performance, the members all headbanging at the same time for example: we could see that they had worked their performance before the tour. They even played two new songs called "De Guerre Lasse" and "Rédemption" from their upcoming album (still in progress). These songs sounded heavier than usual but still had a part of electro in them, which gave us a glimpse about what was expecting us. After a 30-minut concert, they gave place to Tarja Turunen who started her show 30 minutes later.
Setlist:
Intro
Le Libérateur
De guerre lasse
L'Orientale
Overload
Rédemption
Théogyne
At the beginning of the concert, a huge curtain was hung all along the stage and fell down after a beautiful instrumental introduction called "Deliverance", taken from Tarja's latest album. The musicians came one after the other: Max Liljia on cello, Alex Scholpp on guitar, Italian Anna Portalupi on bass, Christian Kretschmar on keyboards and stellar Mike Terrana on drums.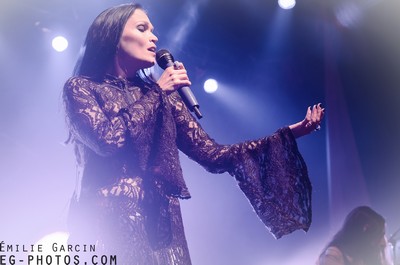 Finally Tarja appeared to wild applause, and started the concert with the song "In for a Kill" taken from her second album What Lies Beneath. I hadn't seen Tarja for almost two years, and had forgotten that she was so energetic on stage! She was often head banging and moving, and her sincerity was highly appreciable. She was obviously happy to be there, often thanking the audience which was probably even happier than her. Tarja was still true to form, singing high, clear and (of course) perfect notes. It's always impressive to hear her singing so high in a so comfortable way. The audience's acclamations were intensified each time that she reached a high note.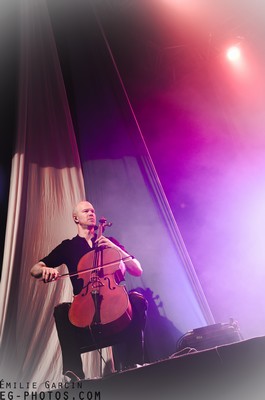 That night, Tarja played many of her most beautiful songs -in my opinion- such as "500 Letters", "Medusa" but also "Mystique Voyage" which is definitely my favorite song from her whole discography. The lights were always very well adapted to the different themes of her songs: from a deep blue for "Mystique Voyage" to various-colored lights for "Never Enough", they definitely helped us to dive deep into the atmosphere of every song.
Tarja briefly left the stage when "Never Enough" ended, giving way to her talented musicians. Then we had the pleasure to see them playing a nice instrumental part together. Mike Terrana was as usual a real beast, playing as if he was possessed and wowed the audience.
Most of her songs played that night were taken from her latest album Colours in the Dark. "I Walk Alone" from her first album was also played, predated by a nice speech from Tarja thanking her audience who made everything possible according to her." A few songs from her second album What Lies Beneath such as the excellent songs "Anteroom of Death" or "Die Alive" were also performed. The setlist was definitely well thought out, and I think that everybody found what they were looking for in it.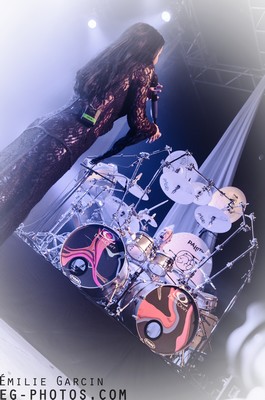 Speaking of fans, what a crowd! People enjoyed the concert so much that they just couldn't stop applauding Tarja at the end of her concert, asking for another song. Then and even though she had already played "Until my Last Breath" which was supposed to be the very last song of that night, she and her musicians re-appeared and played "Over the Hills and Far Away" as a second encore, and then left the stage for good under the ovations once again. A good way to end the concert which lasted a bit more than 1h30.
Setlist:
Deliverance
In for a Kill
500 Letters
Damned and Divine
Falling Awake
I Walk Alone
Anteroom of Death
Never Enough
Never Enough Band
Darkness
Die Alive
Mystique Voyage
Neverlight
Medusa
------
Victim of Ritual
Wish I Had an Angel
Until My Last Breath
------
Over the Hills and Far Away
I enjoyed so much this concert that a week later, I decided to go to Vevey in Switzerland in order to attend another one. The concert took place in a small venue called Rocking Chair, where I had been once for Epica in 2009. The concert was not sold out, but still there were many people and I found it very pleasant to be in a smaller venue: there could only be about 10 people in the first row, and this created an enjoyable proximity with the artists.
This time, the band support was not Elyose, but a symphonic female Metal band from Hungary called Sorronia, whom I had never heard of before, and who notably opened for Tarja in Spain and Portugal. They started their show with a really nice symphonic introduction, somehow reminding me of Epica. Then they all came to the stage and started playing.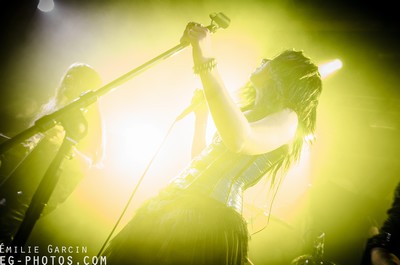 They apparently already had a little Swiss fan base since I had seen people coming for them only, offering presents to the singer before the show. Sadly the sound was not really good, and we could hardly hear the singer, as if the whole concert was played in instrumental actually.
Anyway, they seemed to enjoy the show. Vocalist Anna was introducing most of the songs by a little explanation about each of them. The whole band looked quite dynamic, head banging and exchanging smiles with the audience.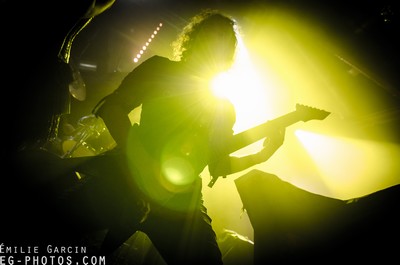 As said before, the sound was quite bad, but still from what I heard, I must say that Sorronia's music sounded pleasant, even though there was -in my opinion- nothing very original in it. Still I cheer them on; they're still quite young (Sorronia was created at the end of 2011), and with experience, they will probably gain in stature.
Setlist:
Intro
Fallen Angel
Lost in Failling
Enemy of Yourself
My Eternal Land
Leave it Behind
This is the End
Thirty minutes after their show and after the stage shift, it was Tarja's turn to enter the stage. The concert was globally like in Lyon but I enjoyed it even more, probably because there was more proximity with Tarja and her musicians. Indeed, since there were no barriers between the fans and the stage, she was nearer them, was often giving them her hands and was also offered a rose by one of her fans.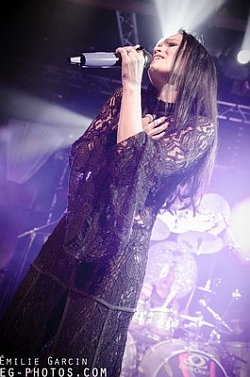 Tarja was once again acclaimed by the audience at her arrival and was as usual very energetic, head banging here and there and encouraging the audience to raise their hands all along the concert. The abiding ovations visibly warmed her heart, and she often thanked her fans using a few French words. Like in Lyon, there was a great chemistry between all the members and especially between Max (cello) and Alex (guitars) who often looked at each other while playing; Tarja also regularly went near her musicians to sing side by side with them and they were all obviously having fun together.
Since the stage was smaller than the one in Lyon, there was no place for the curtain nor for the backdrop; Mike Terrana's drums were situated behind Tarja instead of being at the right side of the stage and bassist Anna Portalupi had also no choice but to play at the end of the stage near Mike and behind keyboardist Christian. Sadly for her then, she wasn't that visible but Tarja invited her to come near her from time to time and she was also cheered up by the audience. Still, this organization was not disturbing, and to the contrary, people seemed to really appreciate this proximity.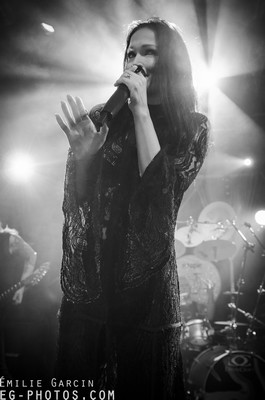 During the encore, Tarja was back in a different outfit and was hooded like on the cover of Colours in the Dark album. She performed "Victim of Ritual" and two more songs including "Wish I Had an Angel", which was the only song of Nightwish that she sang. This is a nice sign in my opinion since this shows that she's now able to attract people and to entertain them with her own compositions and songs.
The last song that was played was one of her driving single of her second album, "Until My Last Breath". On this occasion, guitarist Alex and bassist Anna came together around Tarja and together with the other members of the band, they finally they all ended the show under the acclamations of the audience.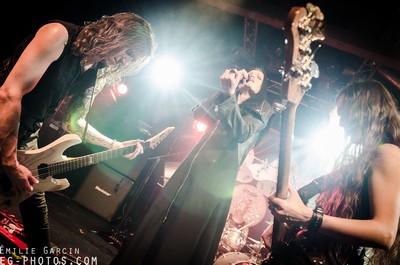 The setlist was globally the same as in Lyon; "Darkness" which had been played there was replaced by the ballad "Sing for Me" and there was not a second encore, probably because of the lack of time since the doors had opened 1h later than in Lyon. Anyway, it was obvious that Tarja enjoyed this concert as much as her fans, singing with sincerity and definitely having fun with the other members of her band. Hopefully she will be back soon. On top of this great performance, I want to add that as a photographer, very nice lights in both Lyon and Vevey were highly appreciated. Not only did this help to take nice photos, but this also highlighted every member of the band. The concert lasted 1h31, with encores included.
Setlist:
Deliverance
In for a Kill
500 Letters
Damned & Divine
Falling Awake
I Walk Alone
Anteroom of Death
Never Enough
Never Enough Band
Sing for Me
Die Alive
Mystique Voyage
Neverlight
Medusa
------
Victim of Ritual
Wish I Had an Angel
Until My Last Breath