Tuomas Holopainen - CD Review
Music Inspired by the Life and Times of Scrooge




CD Info
Album: Music Inspired by the Life and Times of Scrooge
Artist: Tuomas Holopainen
Genre: Symphonic/soundtrack/Celtic/folk
Label: Nuclear Blast
Tracks: 10
Total time: 54:18
Language: English
Rating: 10 of 10
Because the music of Nightwish has been peppered with numerous Disney references over the course of their career, it likely came as no surprise to anyone familiar with their music that Tuomas Holopainen's first solo venture would have something to do with Disney. But even for the most devout Nightwish fan who could have rightfully guessed this, they might not have predicted that his endeavors would be centered on one of the more minor characters in the Disney universe. In fact, the collective "what?" could probably be heard around the world when his solo project was announced: "An album based on Scrooge McDuck?!" Surely there must have been Nightwish fans out there who struggled with the inner conflict of wanting to support it, but also wondering if it would compromise the "metal" side of Nightwish.
After all, to most folks in or around Tuomas' age group (perhaps even to some who are younger), Scrooge McDuck is known more as the obscenely wealthy uncle in the Disney cartoon Duck Tales; so when many fans heard this news, the first thing that came to mind was probably the "woo-ooo" theme song, and visions of Scrooge diving into a pile of gold coins, thusly spitting them out like a fountain upon surfacing.
But it turns out that the character of Scrooge is much more than that; a series of comic books by Don Rosa tells of how Scrooge came into his vast fortune before he became the eccentric guardian to Huey, Dewey, and Louie. Those comics are what the album's material is based on, and where Tuomas became familiar with the character of Scrooge McDuck. So if anything, Tuomas had a lot to prove by challenging his listeners to forget everything they remembered about the wacky cartoon character from childhood, and see him in a way they hadn't before.
"Glasgow 1877" is where Scrooge's tale begins, on the eve of his 10th birthday. In his thick Scottish accent, Alan Reid (playing the role of Scrooge) informs us that Scrooge's father is taking his son back to the home of his ancestors, now abandoned but for the magnificent birds and rugged Scottish wilderness. We, as listeners, are instantly transported to the moors and lochs of 19th-century Glasgow by way of Troy Donockley's Uilleann pipes and some lovely chanting from vocalist Johanna Iivanainen, who plays the role of Scrooge's mother, Downy O'Drake. The orchestra is commanding yet subdued as we are swept into the world of fireside tales, and the beginning of a quest for adventure.
The second song, "Into the West", invokes more Celtic imagery with clapping and feet-tapping to the sounds of banjos; a festive tune reminiscent of a Scottish ceilidh. Coupled with the dramatics of the orchestra and Tuomas' piano playing, we feel the excitement and urgency of traveling to far-off places, while maintaining the comforting familiarity of home, family, and roots.
"Duel & Cloudscapes" is a dark piece that opens with the sound of rain and thunder, and ominous tones from the orchestra. More than any other track, this most reminded me of one that would be in a Disney movie. The mood is set, and it's one of fear and danger as Scrooge fights to save his clan. Even when the music turns more whimsical and light-hearted, there is still an underlying drama and tension. The dark and forlorn mood quickly returns, as the orchestra grows more bombastic before leaving us only with the longing cry of Troy's pipes.
"Dreamtime" beings with the eerie sound of the didgeridoo; building up to a repetitive melody that makes you feel as if you are trapped in a music box! Story-wise, this song signals the point in the Scrooge storyline where his journey takes him far from Scotland and all the way to Australia, where he is in search of gold but has a vision that will lead him to the gold rush in the Yukon. The song's core is this melody that repeats itself as the orchestra grows more intense. The song title almost seems to be misleading, as the music feels more what it must be like to be inside of a child's nightmare! Strange sounds, weird chanting, and the cadence of pounding drums, tapping out the same beat until the end.
The next track, "Cold Heart of the Klondike", is my personal favorite. It has the orchestral elements most befitting of a Nightwish song: the dramatic feel of choir and orchestra coming together. This brings us to the turning point of the tale: where Scrooge arrives in Dawson (a city in the Yukon) and meets Glittering Goldie O'Gilt, a music hall singer who captures Scrooge's heart and steals his gold! Upon learning of this betrayal, he forces her to work on his claim at White Agony Creek. The tale is told through the voice of Sonata Arctica vocalist Tony Kakko; I'm normally not a fan of Sonata, but something magical happens to Tony's voice when he sings music Tuomas has written. The orchestra is majestic and sweeping, Troy's pipes are singing, as the call of the wild flows through the music.
Tuomas' beautiful pianos open up "The Last Sled", and Scrooge shares his real motivation for success to the listener, while Johanna Kurkela introduces herself through the character of Goldie O'Gilt, repeating the same sentiment in her vocals: "It's ain't the gold itself, so much as finding the gold." You feel a loss as she sings farewell to White Agony Creek, and to Scrooge, who is off to find another rainbow's end. The two ill-fated lovers are parted, neither of them revealing their feelings to one another, as she remains behind in the Yukon, and Scrooge continues to seek his fortunes elsewhere. "Hold on to all that's dear to you", Johanna sings in her gentle, beautiful voice.
You'd think a song called "Goodbye, Papa" would be gloomy and depressing, but Tuomas plays a melody that lifts up the heart, although there is a sense of sadness just beneath the surface. We come to the part of Scrooge's story where he has returned to Scotland and realizes that it is not the home he left behind; he has changed too, and therefore does not find solace in his homecoming. He decides to leave Scotland for good and return to America; on the day of his departure, his father passes away, thus forever severing his ties to Scotland and leaving him free to pursue his future wherever he chooses to go. The music matches this; it's a song of dignity and triumph, not of sorrow and loss. Bidding farewell to a life well-lived, not mourning what can no longer be. Remembering happy times, not regretting missed opportunities. It is the figurative door closing so a window can open to let in sunlight and fresh air, and you can feel this in the music.
"To be Rich" opens with mournful strings and is a slow number through most of the three minutes of its duration. It's the shortest song on the album, but in regards to the Scrooge storyline it is the most poignant moment: Scrooge finally achieves his goal of becoming the richest duck in the world, but as a result it costs him his family, who turns his back on him for his greed and underhanded methods at gaining wealth. The mournful wails from the female singers only emphasize this point throughout the song. The lyrics tell of the regret Scrooge has over losing his loved ones, and realizing that being rich was not the most important thing after all.
Now we arrive at "A Lifetime of Adventure", the album's first single, and what I feel was an appropriate choice for a single. Lyrically, this encompasses the entire theme of the album. Musically, it's very much a "gateway" between what fans expect to hear from Tuomas in the Nightwish setting, and what other sorts of things Nightwish fans can expect to hear that is new to them. Tuomas' trademark "Nightwish style" can be felt all over this song, so it won't be too out-of-left-field for the average Nightwish fan looking to find out what this album's going to be all about. All of the orchestral/soundtrack elements are there, coupled with the voice of Johanna Kurkela, who stylistically resembles the tone and feel of Anette Olzon. There are also guitars and percussion on this track, so that is another common factor that sonically bridges the two worlds together. Think of all the bombastic qualities of Imaginaerum, but less of the metal aspects and more of the soundtrack ones. Lyrically, this is the point in Scrooge's story where he reunites with his family and shares with them his fortune and his "lifetime of adventure".
The final track, "Go Slowly Now, Sands of Time" brings us to the end of Scrooge's story. Upon reuniting with his family, he comes out of retirement and the lyrics of this song suggest that Scrooge wishes for time to pass slowly so that he can finally enjoy all he has earned, even though he knows he has so little time left. Troy's pipes usher in the midway point, and then Johanna's voice joins in towards the end on the chorus. A lovely closer to an incredible album.
Overall opinion: It's no secret that Disney is a huge influence on Tuomas, but if this album isn't proof that he should be writing Disney movie soundtracks, then I don't know what is! If you were to play this for someone who isn't a Nightwish fan or who isn't familiar with Tuomas' music at all, they might even be surprised to hear that Tuomas doesn't write film scores for Disney! It's clear that Tuomas knows the ins and outs of what such soundtracks consist of and has created one of his own, while leaving no doubt to his longtime listeners that this is his music. He's managed to pay homage to those films and soundtracks that inspired him, while still making this something uniquely his. You don't question for a moment when listening to this that it's Tuomas.
Yet at the same time, the world of Scrooge unfolds before your eyes through the music; you feel the exhilaration of discovery, you are drawn into the search for treasure just around the bend. The music is fraught with peril over the pitfalls of danger; anxiety grows as you are moved along through the unknown. Then there is a twinge of sadness and emptiness as the goal is reached and the journey has come to its end.
Just as with all of his music, Tuomas works hard to incorporate authenticity when weaving a tale through his songs when called for; so when you hear a track like "Glasgow 1877", you are going to hear all the Celtic influences: a narrator with a Scottish accent, Troy's pipes, Gaelic chanting, the whole bit. Tuomas never cuts corners when it comes to unfurling a musical landscape, so if the song is about life in Glasgow, you will walk away almost convinced that Tuomas is a native Scot! If the song is about mining for gold in the freezing depths of the Yukon, Tuomas will have you believing by the end of the tune that he was right there panning for gold alongside Scrooge.
Another aspect of Tuomas' songwriting is that you are so easily carried away to the world he creates that you not only feel that he has incorporated himself into the story, but that you have become a part of it as well, and not just following along. Very quickly that fine line is crossed, and before long you forget that this is an album based on a Disney cartoon character. You forget that the protagonist is named "Scrooge McDuck", and almost feel as if you're following the legend of a gallant, heroic Highland warrior, and not an animated duck!
One other important thing to mention is that you are wandering through all of this musical imagery, and many of these songs have no lyrics at all, or nothing more than just a few verses and some chanting. All of this scenery comes alive just through the music, and the fact that there aren't a lot of lyrics only gives this greater power. Considering that lyrical storytelling has been so much a cornerstone of the Nightwish style, it might actually come as a surprise to some that he lets the music do the talking and doesn't rely as heavily on lyric-writing, which many fans believe to be his strong suit.
However, when Tuomas does choose to incorporate lyrics, the voices he has chosen to convey his words do so with emotion, strength, and finesse. Alan Reid, Johanna Iivanainen, and Tony Kakko are all superb in their roles; but to me, the breakout star in Tuomas' musical production is Johanna Kurkela, whose simple but sweet vocals pack a powerful punch. I love Johanna's voice, and just as he has with every other singer he's worked with, Tuomas knows how to bring out the best in her as a vocalist. She's absolutely stellar on this album; it's almost as if she was born to be the voice of Glittering Goldie. While this is not the first time they have collaborated together musically, I hope the two of them will do something more together in the future; they make an interesting combination and the pairing is as golden as one of Scrooge's nuggets!
Really, the entire album is "golden"; to even say that, to me, is not even hitting close to the mark. One thing I have come to realize about Tuomas as a songwriter (from listening to his music for the better part of 13 years) is that he has this uncanny knack for taking musical or lyrical themes that seem impossible to pull off, or that other artists would shun altogether; yet he manages to produce a brilliant diamond from the rough each time. He has managed to accomplish things in his profession that some mainstream artists will never do, even if they had the talent to make it work, or the drive to want it.
Scrooge is a testament to the theme that Tuomas has revisited time and again in his lyrics: your imagination has no limits, and anything you dream can be made real, if you are brave enough to stand in the face of opposition and see it through, no matter how impossible those dreams may appear to everyone else. Certainly there had to be those who looked at Tuomas with incredulity when he expressed his desire to make an album about Scrooge McDuck, and perhaps some even went as far as to laugh at him and say it could never be done. Maybe some even thought he would fall flat on his face for such a risk. But this hasn't been the first time that Tuomas has gone against the odds in his career, and come out the other side with greater success than before.
If you really think about it, in many ways Tuomas' musical voyage could be likened to the pure-of-heart yet bold Disney character who is pitted against every cruel stepmother, wicked witch, and evil queen; yet still manages to maintain their goodness and win the happy ending for themselves. Who better to make an album than one whose childhood dreams were nurtured by the tales of Disney, and who went on to make those dreams a reality?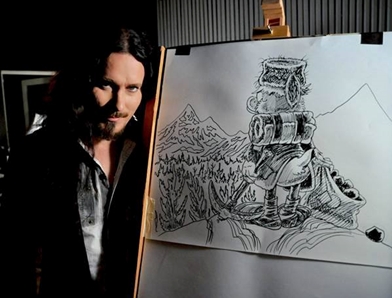 More information about The Life and Times of Scrooge can be found here.
Special thanks to Nuclear Blast USA
Extra-special thanks to Oceansouls of America