Interview with Charlotte Wessels of Delain
By John Thornburgh for Sonic Cathedral
March 9, 2013 in Lelystad, The Netherlands
Some Photos courtesy: Sandra Ludewig


Introduction: I was lucky to have the chance to sit with Delain vocalist Charlotte Wessels for Sonic Cathedral's first interview with Delain since the band revealed the delay of We Are the Others a little over a year ago. How times change. Read below for revelations about what really happened with Warner, and for details about all the good news since then: Delain signing with Napalm, the upcoming Interlude album, and the coming tours of Japan, South America, and North America. Plus, check out a few new Delain photos courtesy of the band…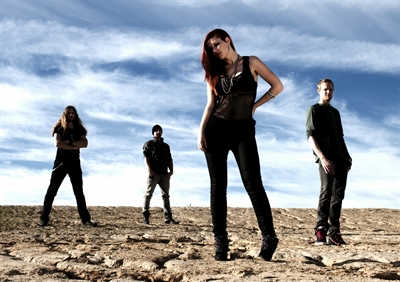 John: I guess it's been a little over a year since you broke the big news to Sonic Cathedral about the delay of We Are the Others.
Charlotte: Yes
John: And happily, lots of good things have happened since then. Why don't we start with Napalm. Can you tell us about how you ended up with that deal?
Charlotte: Well, it's been a long detour to them since the last conversation we had with Sonic Cathedral, because then we were just about to break the news to the outside world that the Delain/Warner marriage wasn't really working, and in the meantime we'd been signed back to CNR Music, which is a Dutch record label and owned by the same guy who used to own Roadrunner when it still existed. And we were really happy for that, because they made it possible that we could release We Are the Others. But that ended also, and now we are with Napalm. The guys at Napalm have kind of been stalking us forever, and we just had a really good feeling with them. When we were with Warner, they tried to see us as a big commercial artist, and they have a certain vision about how that should look, and how it should sound, etc. And with Napalm, we really had the feeling that they wanted us for us. And yeah, we met them some time ago, and they were also really cool guys, so we're really, really looking forward to this cooperation, and we are already seeing this cooperation with Interlude, the new special record that's coming out in May. Unfortunately, I had to seal the marriage with this broken arm (laughs), but I think I gave them something to remember for our first meeting.
John: You are pointing at your cast. How did that happen?
Charlotte: Napalm, their headquarters are based in Austria, and there is this small winter sports area very near the Napalm headquarters. So we come over on Friday to sign the deal and have our first talk about the future, but then we think why don't we stay over for the weekend and get to know each other a bit by going to do some winter sports, and Martijn [Westerholt] is actually a really good skier, and well you know they're Austrians so they are also really good skiers (laughs), and I recently started snowboarding, which I'm ok at, considering the fact that I recently started. But, yeah, we spent a good day skiing, and then after the Napalm guys left, I made a really silly fall. And I broke my arm. It wasn't that spectacular; I never broke anything before, and I thought it would be really spectacular, but it wasn't even such a hard fall. I just fell, and went to the hospital and then went to dinner and basically did everything that I usually do. So it's clumsy, but it's not like a big deal.
John: And it's black.
Charlotte: It's black, yeah. The guy in the hospital asked have you thought about what color you want the cast to be, and I said I want a black cast. And he said we also have pink and yellow. And it was like, no, that's not metal. He was like, ok (laughs).
John: I'm glad it's not slowing you down and glad you were not hurt more; that's scary.
Charlotte: No, no, it's not. I already got my next snowboarding trip planned in order not to get scared because a lot of people, they fall, they break something, and they never do it again.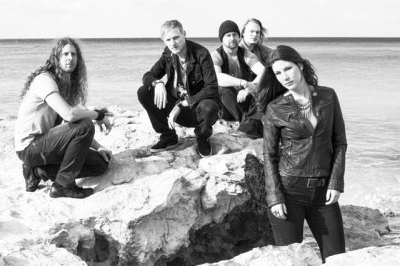 John: That's good. That's also good news for the fans that Napalm will support your artistic freedom; I think that was probably the biggest worry people had about what was going on with Warner.
Charlotte: Yes, yes. And although they didn't really need to worry about that because we are really stubborn as artists. But for us it has been really frustrating because when you work with a team of people, you would like if you all think in the same direction. The idea is that the management, the label, you support each other. When you work together, you get stronger from that, and achieve more. And I don't want to bash any of the people we worked with; we also worked with a lot of great people, that we will still see in the future. But yeah, at some point, you just feel like they are holding you back. It's not like we'd let them change us, but we had some moments before We Are the Others where we felt that instead of being pushed, we were rather swimming against the stream, you know, that's just frustrating if it takes too long.
John: Yeah, I can imagine, you probably feel too much like an Other.
Charlotte: Yes, exactly. It does in a lot of ways because it's not only what music are you making, but of course how you look, what kind of image do you want to portray. I don't know how many times I have heard during the process that it had to be sexy. I just get nauseous when I hear that kind of stuff. You know to some extent, I agree, I mean, we all want to look good in a picture, but when I hear marketing people say it should be sexy, I just –
John: You feel like more of a product than an artist at that point?
Charlotte: Exactly, exactly, and we had lots of fights. I remember the cases where they Photoshopped my legs like half the size, and I was like that's not my legs (laughs). I had to get into huge fights to get my own legs back. And this is what I mean when I say it kind of feels like swimming against the stream because in this time you could also be doing, you know, greater stuff, and instead you are arguing about how many inches my upper legs should be, and this is just silly.
John: Yes, that's crazy. But you ended up doing it your own way, is that fair to say?
Charlotte: Yes, yes, that's fair to say.
John: Were they pleasantly surprised that it was a big success?
Charlotte: I don't know actually. I mean maybe, maybe. But for us the question will always be, what would have happened if we didn't go to all the trouble and the album was released a year earlier because we lost a lot of time, a lot of time where we could tour, so for us it's kind of frustrating. We are so happy with We Are the Others as a record, but you know if it would have been marketed differently then maybe it would have been better?
John: Even bigger?
Charlotte: Yes, I think so. I hate saying this kind of thing because as a musician I want to just be occupied with the music, and with the artistic, creative stuff, but sometimes you just see things, like guys come on. I mean if an album gets delayed a year, that's not good. It really doesn't send the right message. But I really feel like we're making up for that now. And I'm really happy that we can do Interlude, the special record because I just feel like the potential of We Are the Others hasn't played out yet. And we made so much extra material, and we have so many cool live versions of the songs; I'm just really happy that we can put that out there. And for me this is really like the beginning of a new chapter. And I know I keep talking about it now, but just leave the rest of it behind us, move forward with a fresh new start.
John: Well I'm really looking forward to Interlude also; it sounds like a great collection. I think I'm especially looking forward to your first DVD, including Metal Female Voices Fest.
Charlotte: Yes.
John: You know I was there also and really enjoyed the show –
Charlotte: Cool.
John: So I think that's great to have as a souvenir.
Charlotte: Yes, yes, me too. It's a good memory.
John: And for all the people that weren't able to go, I think they'll probably really enjoy it.
Charlotte: Yeah, and we've got some material on there from the 71,000 Tons of Metal cruise as well. Not live material but a Delain Behind the Scenes movie. It's going to be really nice.
John: 71,000 Tons looked like a great experience.
Charlotte: Whew. That was really nice. The atmosphere, the people, the weather, the food, the drinks, the bands. We had a really good time.
John: That's cool. Who mostly were in the audience, was it people from all over the world, or mostly from the U.S.?
Charlotte: I think it was people from all over the world. We spoke to people from a lot of different places. Not really a lot of really young people there, like you see more young people on festivals, because of course a lot of teenagers don't have extra money to go on a cruise like that. But still, yeah, lots of people and lots of different people. What I like so much, this is a boat where people have normal cruises as well, and it's the same crew working there now. So you must imagine that there is metal music playing from the four-star diner to the breakfast buffet, and I asked the crew what do you think of this. And they said you guys are so much nicer than the normal cruise audience (laughs), because the normal cruise audience is used to us cleaning up behind them every second, and you guys are much more appreciative. Everybody was happy, even the boat crew guys.
John: That's good to hear. I always tell people I think that metalheads are actually nicer than the general population.
Charlotte: I don't know if they are nicer than the general population. I do think that they are definitely nicer than what the general population thinks of them. That's for sure. There is this kind of stigma about metalheads which I think is not completely, entirely true.
John: Agreed. So I guess 71,000 Tons of Metal was sort of your second time to play in the U.S. after ProgPower U.S.A. in Atlanta?
Charlotte: Yes.
John: And then you have another U.S. experience coming up in the Fall with Kamelot?
Charlotte: Yeah, I'm really looking forward to that one. That's going to be like the first like full-blown U.S. tour. Yeah, it's really exciting. And we've toured with Kamelot in Europe before, and it was a really good match. You just know when it's a good match, and we generally see that people who listen to Kamelot like our music, and vice versa, so we're really looking forward to doing the U.S. tour with them.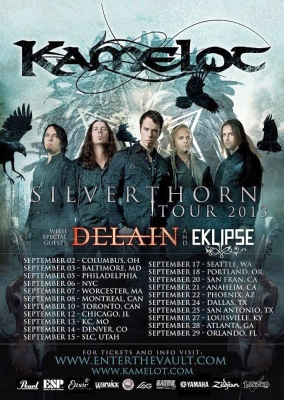 John: That's really great. How did it come about?
Charlotte: I just remember getting an email from Thomas [Youngblood] saying we're going on tour, you should come (laughs). And we're like, ok, let's see if we can make it happen, and we could. Sometimes it's as simple as that. Of course, we had good experience touring with them before, so they know what they are going to get when they ask us to join them on tour.
John: Cool. I've already bought my tickets for Anaheim.
Charlotte: Nice, nice.
John: Can't wait. I've seen you perform with Kamelot before. Do you know if you might join them on stage this time?
Charlotte: Um, I might. Of course, they always have their own singers with them. I don't know if they would ask me when I'm actually on tour with them. But yeah, maybe. I'd be up for it (laughs).
John: Well that would be fun.
Charlotte: Yeah.
John: So a little more about Interlude. What other than the videos excites you the most?
Charlotte: I'm really happy that there is some new material on there. There are two completely new songs, "Collars and Suits" and "Breathe on Me." They both have an interesting story to them. "Collars and Suits" is basically about the whole, you know, back and forth, label/management-changing chapter. You can kind of hear our frustration in the song. And the good thing about songs is in real life I would not lash out at any of them, because especially with Roadrunner, there were so many great people working with us and they got fired, and then of course you can get angry at the people who fired them, but what's the use. But in the song, at least (laughs), you can just go blehhh! So that's what we did (laughs). So that one's very much about the frustration about the guys on top. For them, you're just one band, but for you, it's your life.
John: Yes.
Charlotte: So, it's about that. And then you have "Breathe on Me," which is kind of a different story. It used to have sub-title, but I decided it was too much, but it is a good description of the song. It was "Breathe on Me: Things I Want to Do with Nick Cave." And it's actually a song about a star crush on Nick Cave. There's a lot of twisted references to Nick Cave songs. And I guess when people hear it, especially when Nick Cave fans hear it, they will get all of the little thingies out, so they can really dissect that one. And it's kind of a fun, sexy song.
John: Well that sounds like a good insight into your head (laughs).
Charlotte: Yes. I got tickets for his gig this year, when they're coming to Europe.
John: When will this be?
Charlotte: When is it? I don't know. I bought a couple of tickets, I bought System of a Down and then Nick Cave. I get the dates mixed up, but I think it's somewhere in the Fall.
John: Have you gotten to meet him before?
Charlotte: I had an opportunity once. There was this crazy story. My doctor, my regular doctor in my hometown, actually knows Nick Cave. And my doctor was going to the same gig as me with Grinderman, but then he had to go somewhere else, and then I was like, I don't want to. You know the thing when someone introduces you to somebody, it's all cool and nice, but I don't want to go all groupie on somebody and talk myself into a dressing room or whatever, I wouldn't like that. Also because he might not be waiting for somebody to just barge in.
John: Well someone will probably send him the song, so we'll see what happens, right?
Charlotte: Yeah. And also I generally love meeting, but there's like maybe two or three people I'd really be afraid to meet, because they're on such a high pedestal that I'm afraid that if I meet them they'll fall off. And then I'd be like, damn, such a shame I wrote a song about you (laughs).
John: That's a good point.
Charlotte: What if I meet him and he's like a complete douche. Anyway, I would like to meet him, but until now this is my reason for not taking any of the chances that I might have had to meet him because he's kind of up there for me.
John: Well, I hear what you're saying. I've been lucky that meeting you, you didn't fall off your pedestal.
Charlotte: Ok, good, I didn't know I was on there (laughs).
John: Let's stay on lyrics for a bit longer. I've noticed that for your song "I Want You" on We Are the Others, the lyrics have been getting some attention.
Charlotte: Yeah.
John: You have anything to say about the story of that song?
Charlotte: Well, I remember when I first had the idea of the song, I just had the chorus. And I really liked the chorus, and I liked the way it was kind of romantic, classical. But I like songs to have an edge, so I thought we're going to have this start out like really sweet, I want you, you're so nice and perfect, and then have it go way out of control and make it like the stalker bitch from hell, and then in the end of course she runs him over. And you know the last line "If I can't have you, no one will," that's kind of the clue (laughs).
John: Along with "How did that car get in the way?"
Charlotte: Yeah (laughs). I'm a big fat liar too because I don't even have driver's license, so if anybody thinks I would really run somebody over in a car, I couldn't even do it if I wanted to.
John: Unless it was a driver's test?
Charlotte: Yes, ooh, I actually did almost run somebody over in a driver's test, but that's a whole other story. For "I Want You," I just wanted it. And I remember that somewhere in the process somebody told me -- I don't know who, we've worked with so many people on We Are the Others – that you should get the twist out of the end, it is too much, people just want to hear a romantic song. But I was like no, no, this should be there. They just wanted it to be a love song, keep it being a love song, but the beginning was way too sweet for me not to have that thing in the end, it just belonged there. For me, that's the whole coolness of the lyrical idea.
John: I agree, it totally makes the song, and if that's an illustration of what Warner was trying to do, well then, let's be thankful (laughs).
Charlotte: I think that's the kind of thing they would say, yes, but I think they never even went as far as reading lyrics.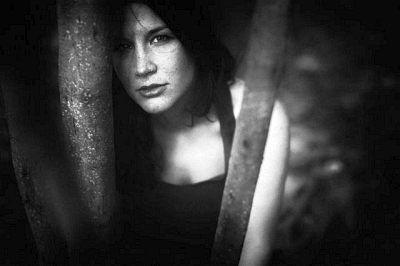 John: Another We Are the Others song where the lyrics have intrigued me is "Generation Me." It seems like an insightful commentary on social media, but do you think you're as hooked as everyone else?
Charlotte: Yes, I am. I definitely am. Actually I used to be much worse. Like some years ago I was crowned Twitter queen, no I was second, I came second. But it was like this big international thing, and I was tweeting like twenty times a day, and I had a lot of personal contact with everybody, and I would really tweet about everything, and I really liked it. But then we got into this time where people started asking when's the record coming out? And we had some problems, and I don't like people being negative on social media, like complaining all the time, and I didn't want to do that. So then I gradually shut up basically. So I've taken it back a step. At one point, I felt too much of a hypocrite to be saying everybody's cool, I'm so happy, blah blah blah, while it's not really true. And that was kind of an issue because people were used to me tweeting a lot and blogging a lot, and at one point I was just not in the mood any more. And when people expect it from you, it's very hard. I don't think I affected anybody personally, but still. It's something that you can get caught up in, and I noticed that. It's like a first-world problem, it's not that big a deal, although it's still so much emphasis on how you look, everybody's doing self-branding. I have an excuse for self-branding because as the singer of a band you know you should also promote yourself, blah blah blah. But even with myself I kinda dislike it, and I just generally dislike the fact that everybody makes this whole perfect image of themselves because at one point it's hard to keep up with the image you've created. My boyfriend laughs about it sometimes because I remember I put a picture of my little cast, and I was like smiling and going yeah! And then somebody said you always smile. And he was like pffft, you didn't see her when she just fell (laughs). Of course, that's true. It's just that I'm not going to say oh, look at me, I broke my arm, I'm so sad. There's no use for it. But yeah, the song is just – good luck in reporting all this back, I'm in my talking mood –
John: That's great.
Charlotte: Ok. Just good luck making it into a coherent story. But for "Generation Me," it was present enough in my mind to make lyrics out of it, but it's not like with "We Are the Others," that was really something that I had to get off my chest, because I seriously think it's a really, really big issue. "Generation Me" is something that I want to joke about, and maybe somebody will then think about it. You know there is a difference, you have problems and then you have problems.
John: Yes.
Charlotte: And I think the whole social media thing, some people are online like nine hours a day, so it serious. But I think this is the world we're heading for, so everybody should basically find the way themselves, trip or fall and try something different and let's see.
John: Yeah, I think we're all trying to find our way on this, it's new.
Charlotte: Exactly.
John: So it seems like the lyrics of "We Are the Others" have resonated with a lot of people too, do you feel that?
Charlotte: I'm really, really happy about that. This is something with previous records I have deliberately not done so much. I really stuck to writing only about my own feelings and emotions and stuff because I thought I can talk about this because I know it, and I'm not going to be a political or social activist or whatever because who am I to say such things. And I still think this. But on the other hand, at one point, I thought no you're just being scared, you're just being scared that people are not going to like that, or you're just being scared because maybe somebody's going to have another opinion than you, and if you really think that this is such an issue and if you really want to get it out, then you should just do it basically. And a big thing for me was that the Sophie Lancaster Foundation would agree and would like the idea. And they did, thank God. I was so happy about that. I remember calling them when I had just recorded the lyrics, and I got home, and I was like ok, now we've recorded it, now it's there you know. And I called them and I was like yeah, yeah, I'm Charlotte, I'm with this band, we're from Holland, can we sing about Sophie? And she was like oh, what's your name again? Charlotte. What's your band? Delain. And then there was this long silence, and then the girl, Stacey, from the Sophie Lancaster Foundation, she told me that she actually went to our last gig, so it was like a big coincidence. But she knew our band, and she liked us, and she really helped us a lot. She was a friend of Sophie's. And she was also in the video for "We Are the Others," she was holding Sophie's photo. And I don't know, the whole "We Are the Others" experience, the video and all the people collaborating in the video, all the people sending their pictures in on Facebook, I was just so happy that the word got out, you know, we saw a lot of people with Sophie Lancaster Foundation t-shirts and the bracelets at our gigs, so it's also so good to know because they are doing such great work and maybe people know them through us, so I was very happy about that.
(Reflects) In general, there's a lot of things that can use improvement in this world, and I think one of the biggest things is not even tolerating but accepting other people in all their differences. Tolerance I've always found a nasty word because that just means you can be there even though I don't like you. Acceptance is something very different. It's looking beyond the differences and finding the common ground of being human with all our flaws and whatnot. I saw that in Sophie's story, and it's such a good example of what's wrong with the world, what happened to Sophie. I still don't know the right way to talk about it, because I still think it's too big, but I think "We Are the Others" at least got people to sing about it, and that's a start.
John: It is. And hopefully you make them think about it, and maybe that'll make a difference.
Charlotte: That's enough you know. I mean no one's going to offer any solutions for a problem like that, but if anybody thinks twice then I'm very happy about that.
John: Yeah, that's got to be an important thing as an artist, to make people think.
Charlotte: Yeah.
John: So Interlude's going to have a couple of new songs, have you started thinking about another full album?
Charlotte: Yes, we're already working on it. Since the last one took a long time (laughs), we tried to be a little bit quicker this time. So I can be short on this answer, yes, we're working on a new album.
John: Do you have any comment on when we can expect the next album?
Charlotte: I'm not going to say that because it's too early in the process to make a good estimation and otherwise people will think it's delayed just because way back I told somebody that it was going to be out then. But we're working on it.
John: That's good to hear, and fair enough. Before I conclude is there any question you would like me to ask?
Charlotte: I could just tell you that I'm very happy with the general vibe of where we're going now. I mean, compared to the last conversation we had [with Sonic Cathedral], where everything was kind of hmmm (laughs), and now we just came back from 71,000 Tons, we're going to Japan next week, then the month after we're going to South America, then in September we're going to do the full-blown American tour, and then in May we've got Interlude coming out, which we're really happy about, and then we're already working on a new record, which I really trust is going well because once again, we've been talking about We Are the Others in a negative context a lot, but the album itself, the work we've done for the record, the things we've done as songwriters, the way we learned, even got to know each other better, we've got such a good ground to start working from now, and we already know this. We just had our first sessions. So I would just basically like to say that I'm happy (laughs). And we're just in a really good vibe and I'm really excited about everything that we're doing, even it's just playing in Lelystad, I mean it's not Japan, but it's still cool (laughs).
John: Well I'm really looking forward to the show tonight. And I was thinking if the last interview was maybe the band's darkest hour, this seems like the brightest to me.
Charlotte: Exactly, exactly. It's all good.

Delain's full list of upcoming shows, along with links to buy tickets, can be found here.
Delain's May release, Interlude, can be pre-ordered here.