Meden Agan Interview
Performed in person


Meden Agan. What can I say about this band? Sometimes it's pointless for me to talk about music. Music is a journey. We should all shut up, sit back, and enjoy. But what happens when an artist touches your soul so deeply that he or she leaves you speechless and with tears in your eyes? What happens when you get a record and keep listening to it every day for a whole year (sometimes four to five times a day) and you never get sick of it? What happens when musicians share the same vision with you? What happens when you follow a band on the road like a blind man (or woman)?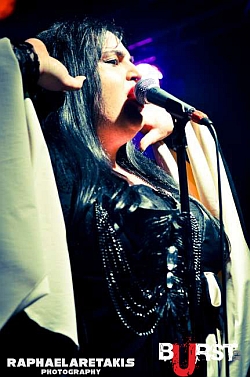 Meden Agan. Greek for "nothing in excess." Their name describes perfectly their vision. In 2012, we still have musicians with vision. In a world full of rockstars who use drugs, alcohol, and stuff like that to escape reality, we still have musicians who study every day in order to become better and better, musicians who are down to earth and just want to play music. Nothing more, and nothing less. They don't care about money, fame, or recognition. They just care about their vision.
In order to write down this interview that you will read, Meden Agan singer Iliana Tsakiraki and I spent endless days of talking, fighting, agreeing, and disagreeing. I still remember the first time I met her in Athens, Greece. I can't really explain why, but I immediately felt like it was meant to be. No, I am not in love with Iliana! I am in love with Meden Agan's art. In my opinion, they are not just "another symphonic metal band with a soprano vocalist." They have their very own style and their own identity. They have their own path, and they follow it. I personally believe that someday the whole world will talk about them.
This is not exactly an interview. This is more or less a conversation between the most loyal Meden Agan groupie and her idol. Enjoy!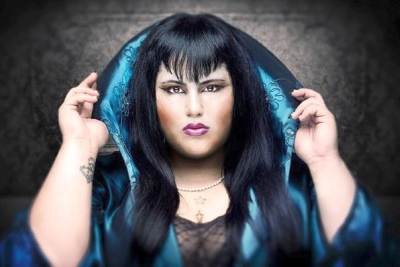 Frozen Angel: Welcome, Iliana! We are happy to have you here at Sonic Cathedral to talk about Meden Agan. Would you give us a quick introduction to the band?
Iliana: Thank you very much! It is always a pleasure to introduce Meden Agan to the world! Just for the record, Meden Agan are:
Diman – Guitars
Tolis – Keys
Aris – Bass / Vocals
Philip – Drums
And, of course, me on lead vocals!
Meden Agan was formed in November 2005 in Paris, France by Diman. Our first demo was released in April 2006 and received very good reviews and feedback. Our first full-length album, Illusions, was released in November 2007, and contained progressive metal songs with male vocals. After a 1-year hiatus as Diman returned to Greece, Meden Agan started working on new songs featuring a lyric leggero soprano vocalist – myself – and a new keyboardist. Soon, we released our first EP, which was called Nemesis – Promo 2010. This promo contained five progressive/symphonic metal songs with operatic vocals.
Frozen Angel: Meden Agan's second album, Erevos Aenaon, was released 1 year ago. What feedback have you gotten from the fans and press? Are you satisfied with the comments you got?
Iliana: Erevos Aenaon has received great feedback from the press, and we also gained much more fans. There was and still there is a very positive reaction from fans all over the world, and we are feeling very optimistic about our future. We hope we keep progressing like this.
Frozen Angel: Before you joined the band, Meden Agan had male vocals and a more power metal style. What is your opinion about the band's older stuff?
Iliana: The truth is that our sound has changed a lot since our first album. I respect Meden Agan's earlier work, but I prefer the second album as it is closer to my style and musical preferences. Anyway, I believe that the change in our music has been proven to be a good choice!
Frozen Angel: Erevos Aeanon is an ancient Greek phrase, and it means "eternal darkness." Also, Meden Agan is an ancient Greek phrase, and it means "nothing in excess." Does the band want to say something with that? Is this any kind of message to the fans about the roots of the band?
Iliana: The name of the band was Diman's idea. Diman is a big fan of ancient Greece, its history and culture like all of us. We really like that because someone who does not know a lot about Greek history will be motivated to explore it even by searching our name. That was the main reason we did not and will not change our name!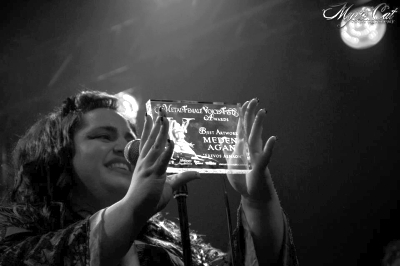 Frozen Angel: Erevos Aenaon was self-released. What made you guys choose to do it that way? Do you think that releasing an album without any help from a label is better than signing a contract?
Iliana: We had many suggestions, but none of them was fitting with our ambitions and plans. So, we decided to do all the work by ourselves, take our band to the next level, and then negotiate with a label maybe for our third album.
Frozen Angel: You chose Seth Siro Anton of Septicflesh to create the album's artwork, illustrations, and official promotional photoshoot. Were there any certain reasons for this choice?
Iliana: The main reason was this: We all love Seth's work. We believe he is one of the greatest artists in his field. We were kind of sure from the beginning that the result would be professional, and this decision was right. We thank him very much for everything! We even won a prize for "Best Artwork" at Metal Female Voices Fest this year, and this was certainly a justification of our choice!
Frozen Angel: Meden Agan played with Tarja in January and opened for Epica in Thessaloniki in May. Meden Agan have been quite lucky, don't you think?
Iliana: When you do not repeat yourself and keep working hard, you certainly become more well-known and create your own fanbase. After these steps, the organizers will prefer you. Those two amazing chances that we were given is some kind of justification for all the hard work we did until now.
Frozen Angel: It is not a secret that Tarja Turunen is your personal idol. How did you feel when you saw her backstage? Did you talk with her?
Iliana: I have said many times before that Tarja is one of my favorite singers. I will never stop supporting her and listening to her music. I sensed a feeling of great joy while I was listening her warming up her voice in the room next door. I will never forget these moments. We did not interact with her much because of the concert preparations, but after the show I talked with her musicians and we were congratulated for our work. I have to admit that [her drummer] Mike Terrana is a very friendly and humorous person!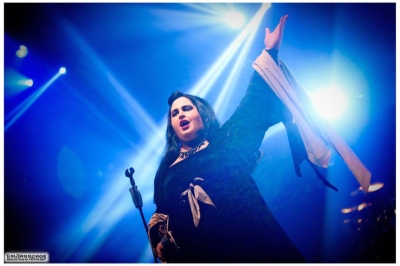 Frozen Angel: What about the show with Epica? I talked with the guys after the show, and I have to admit that they were quite thrilled with the Greek crowd and with you guys. They told me only positive things about you!
Iliana: Well, I knew that they like Greece! I have read many Epica interviews, and they always talk about our country with the kindest words! They were only a few meters away from the scene when we were onstage. They listened to all of our songs, and at the end of our set they congratulated us. Once again, we were all very proud, happy, and touched.
Frozen Angel: We have seen lately that in your live shows, you have a brand new drummer. This is not the guy that played the drums in the album, right? Could you give us some more information about him? Is he a new bandmate?
Iliana: Yes, he is our newest member. His name is Philip and also plays for a Greek grindcore band called One Of These Days. I think the time has come to announce it officially: Philip is a permament member of Meden Agan. We owe him a big "thank you" because when our last drummer Ploutarxos had to deal with some health problems, Philip filled in for him in a very small period of time. We did not have much time for rehearsals and stuff like that back then. Philip saved our asses with a last moment note, and finally we didn't have to cancel important gigs. He is a quite experienced drummer. He was a session drummer for Daylight Misery on their tour with Rotting Christ.
Frozen Angel: Iliana, to tell the truth, if had to characterize your musical style, I would say that you are a progressive band with soprano vocals and not a symphonic metal band. I believe this makes the difference between you and many other female-fronted bands. What do you have to say about your music style and the band's musical background?
Iliana: I am glad that you made this question! This is what we want to play. This is the right label to use in order to characterize our music style: progressive. Diman and Tolis are both well educated musicians with various music degrees. During the recordings of Erevos Aenaon, we kept in our minds that we wanted to keep the progressive style of the first Meden Agan album, Illusions, but with a more symphonic sound and operatic vocals.

Frozen Angel: It is not a secret that you participated on the last Septicflesh album, The Great Mass. Could you tell us a few words about that? How do you feel about this chance you were given?
Iliana: Seeing your name in one of the best albums of the year was like a dream to me. I was, I am, and I will be a huge Septicflesh fan. They are totally professionals, and I enjoyed every second of the recording process. I gained some incredible experience about how a band should work in a studio. In my humble opinion, [guitarist] Christos Antoniou is a great composer, Fotis Bernardo is the greatest Greek drummer, and Seth and Sotiris Vayanas also play important roles. I admire their cooperation. Their work is in a very high and different level! During the recordings of The Great Mass, I also met an amazing singer! Her name is Androniki Skoula, and she is the singer of Chaostar. We shared many experiences and thoughts at the studio. I really thank them for everything, and I believe it is my greatest achievement to have my name written on the masterpiece which is entitled The Great Mass. They deserve the best!
Frozen Angel: Earlier this year, Meden Agan shot and released their first official video clip for the song "All Seems Lost." In my opinion, this song is the band's "hit." Catchy guitars, breathtaking solo in the keys, impressive female vocals, and grandiose drumming. What made you choose this track?
Iliana: I totally agree with you! Like you said, ["All Seems Lost" is] our most popular and well-known [song]. We have noticed that, during our live shows, the crowd usually knows the lyrics and sing them along with me. It seems that the fans love it, so we gave it to them! Many fans and many colleagues advised us to make a video clip for this song!
Frozen Angel: Do you have any behind the scenes stories from the video-shooting to share with our readers?
Iliana: It was a lot of fun, and we enjoyed it immensely! However, the whole process was kind of difficult because of the location, the backline, and stuff like that. We had the wonderful chance to work with very experienced people, and we also learned some new things about the process. It was our first video clip ever! We did it! RawRec Productions, thank you!
Frozen Angel: Meden Agan's lyrics deal with very serious things like war, death, darkness, and politics. Is there a certain person who writes the lyrics, or do you all contribute to this process?
Iliana: Our lyrics were written by Aris, Diman, and our former drummer Ploutarxos. Each song has its own meaning and messages, and they all play their own part in this album.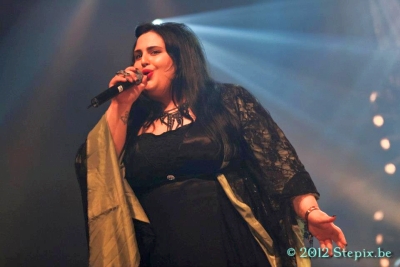 Frozen Angel: Recently, you wrote on the band's Facebook page that you are working on new songs, and the style of the new album will be in a more symphonic path. Is this true?
Iliana: Indeed. We decided to share our little "secret" with you all. To be honest, I have to admit that our new songs will contain a bit more symphonic elements. We played one new song during our show with Visions of Atlantis in Athens. It is called "Portrait Of Terror."
Frozen Angel: Do have any specific plans for the next album? Any tour plans?
Iliana: We have some tour plans in our minds, and we hope that we will be done with this before releasing our new album.
Frozen Angel: You just played at this year's Metal Female Voices Fest. This is a huge honor for an underground band from a small country like Greece. How did you feel about that? Were you extremely happy, stressed, or scared?
Iliana: I will be 100% honest with you: We were happier than ever! This is the best festival for bands like us. We met a lot of people there, and we had many special experiences for the first time in our lives. The crowd was totally awesome, and the atmosphere was great. We spent 3 days of our lives in heaven! For us, it was a dream come true and, of course, a huge honor.
Frozen Angel: Iliana, female-fronted metal is a certain subgenre of metal music. Nowadays, we have countless bands with beautiful singers who want to become successful and popular. And to tell the truth, this kind of music is quite popular among fans. I personally notice that the bands with the real talent are very few. Most frontwomen care more about their dresses and their hair onstage than their vocal performance. I have seen you live quite many times; and I have to say that, without jumping up and down and headbanging and doing stuff like that, your performance is stunning. You are very young, and still you can bring off so many emotions. I have seen fans crying while you are singing. How do you feel about this?
Iliana: I will tell you my opinion about this. I believe that in order to have a nice onstage performance, headbanging is the last thing you should care about. A good onstage performance comes with time and practice. We have one of the best crowds here in Greece, and their support is very satisfying. But, the most important thing of all is the music. A professional band should play live as good as on the record. Appearance has nothing to do with performance. They are two different things. Do you make the crowd scream? Do you make them want to headbang like crazy? Do you make them feel nice? Then, you got it.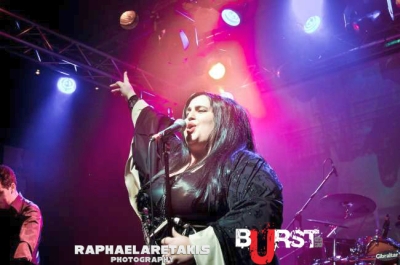 Frozen Angel: Do you believe that female-fronted metal is some kind of "fashion" in the metal scene and it will fade away sometime?
Iliana: No. I don't believe that any music style can be some kind of trend. Music is art; it can never be a fashion trend.
Frozen Angel: Thank you for the nice chat, Iliana. Any last words for our readers?
Iliana: Thank you very much for this interview. My message to everyone is: "Leave this word behind / Seek the outer boundaries of life / No more tears to hide / Feeling free to confide." [These are lyrics from "All Seems Lost."] See you on the road! ;-)