One Without Interview
Performed in June 2011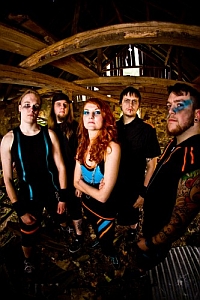 Most bands want to have as much control over their destinies as they possible can. Usually that doesn't happen – but in the case of the Swedish band One Without, they truly have taken charge of their sound and their future. Their second album, Sweet Relief, takes the brooding, death-metal-tinged alternative sound of One Without's debut, Thoughts of a Secluded Mind, and makes it louder and more dynamic and furious. One Without also chose to release Sweet Relief independently and for free. It was a risky choice, given the current state of the metal music industry. Yet, by deciding to leave their former label and go out on their own, One Without has managed to achieve considerable success.
Recently, Sonic Cathedral staff writer Sara Letourneau talked with two members of One Without: singer Catrin Feymark, and grunter/guitarist Kenny Boufadene. They talked about Sweet Relief, the band's musical evolution, the famous Gothenburg metal scene, and – as Kenny hints later on – how One Without is reaping the rewards of their gamble for independence. Read on to learn more!
Sara: Hello, One Without! Since this is our first interview with you for Sonic Cathedral, why don't you tell us about the band and how it got started.
Catrin & Kenny: Hello! One Without has been in existence since 2003 under some different member constellations. The only current original member is guitarist Joonas Niskanen, who also founded the band. In 2007, Kenny Boufadene joined the band, back then as a bassist, and in 2008 Catrin Feymark joined as the new vocalist of OW, the same year Kenny switched to playing guitars and started to growl. The current bass player Joni Kaartinen joined in 2011, and the final current member Oscar Nilsson joined as drummer only a few months ago in 2011. Since the release of Thoughts of a Secluded Mind, our debut album, which was released by Lifeforce Records in 2009, we have been touring with Evergrey, Katatonia, and The Genitorturers, shared stages with bands like Soulfly, Epica, Doro, Krypteria, Paradise Lost, Carpark North, and All Ends, performed at festivals, performed live in Swedish national radio, received tons of great reviews, and have been interviewed and featured in numerous magazines and radio shows all over the world.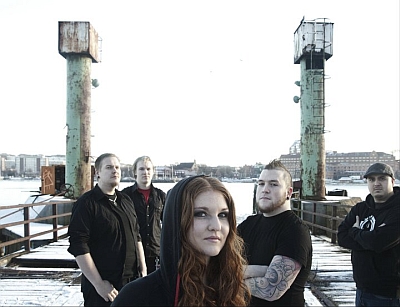 Sara: How would you describe your music? It has elements of hard rock, gothic, alternative, and death metal, but it doesn't stick with any one style.
Kenny: This one is a tricky one! It doesn't really matter what we say, people always find their own labels to put on bands. :) But we prefer to call our music "modern metal" as, like you said, we blend so many different styles. And when we make songs, we try not to make our music sound like "alternative" or "metal." We just do what feels right and what we ourselves want to hear.
Sara: How did you come up with the name "One Without"?
Catrin: The idea of the name "One Without" is to leave something untold to the listener. We want everyone to make their own meaning of the name, to fill in the blank.
Sara: Catrin, our readers often like to know how the female vocalists get into metal music. How did you start singing? And, what do you like so much about rock and metal that convinced you to sing in this genre?
Catrin: I have been singing my whole life, so that has always been a part of me. And I got into rock and metal the same way I think most people do, simply because I like it. I like that it's more extrovert and energetic than other genres, and I feel that metal and rock lyrics are often very deep and dares to pull tough topics to the surface. It's sad that to some people, it's still something awkward to be a girl and play in a metal/rock band. And that there is a genre named "female-fronted metal" is just unbelievable. I don't understand how you can label the music based on gender. Hopefully that will change, and we can all just be singers, bass players, drummers, and don't have to be labeled female singer/bass player/drummer and so on.
Sara: Kenny, I've always meant to ask grunters about their techniques, since grunting isn't actual singing. What exactly does a grunter do in order to, well, grunt? (laughs) Is it basically shouting and screaming? Or is there more to grunting than that?
Kenny: I would say it depends on the "grunter." :) Some people basically just seem to scream their lungs out, and others have great technique in order to make the sounds without hurting something. If you want to be able to "grunt" and build a career doing it, I believe you will at some point have to start thinking about your technique and how to develop it. It is actually in many ways similar to singing. You need to practice to be good and get a good range, think about your breathing and where you sing (stomach or throat) – and if it hurts, you are just doing it wrong! So to answer your question, no, you can't just scream and shout. There is a lot of technique involved! :)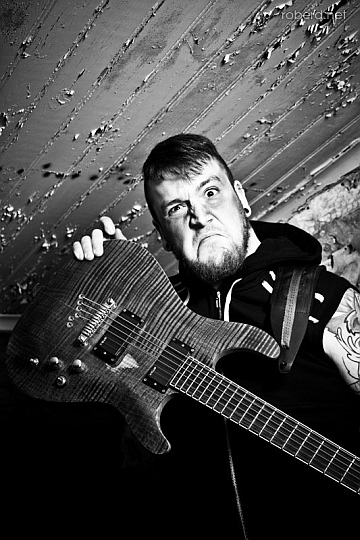 Sara: One Without's new album is called Sweet Relief. In your own words, how is Sweet Relief different from your debut album, Thoughts of a Secluded Mind?
Catrin: Sweet Relief is, to me, more direct, energetic, and modern than the debut, which in my opinion is darker and not as hopeful as the new album.
Kenny: We focused on making all the songs suited for live shows, as that is what we want to do, and to record them and mix it in a manner that would be as if we played it live. I think you can hear that, and that is likely why this album is more energetic than our debut.
Sara: Like with your debut album, Sweet Relief was mixed by Mattias Wänerstam and mastered by Dragan Tanaskovic. What about your previous experience with these talented men made you want to work with them again?
Kenny: Well, the result of their work on Thoughts of a Secluded Mind speaks for itself, I think, and since we were so happy with the result, we decided to play it safe and work with them again!
Sara: What are your favorite songs on Sweet Relief, and why?
Catrin: It varies, but today I would choose "A Bright New Insight." I like that it has a nice flow, and the lyrics has a special meaning to me. I wrote them right after someone I knew had passed away.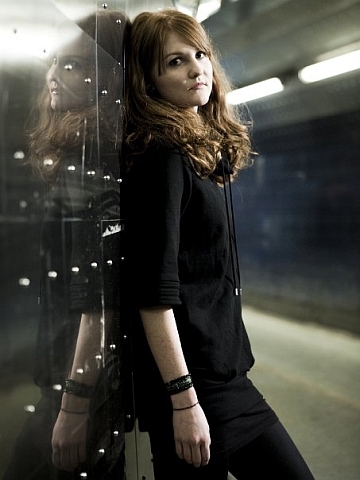 Kenny: That changes from day to day for me, too! I like all the songs. I think they all have some special moments to offer. But right now, I would say "Catatonic." There's just something about it that makes it stick, powerful yet vulnerable.
Sara: "Pretender" is the first single from Sweet Relief. What about this track made it "the one" to promote the new album?
Kenny: We all felt that it was a good song to represent the album since it has all the various moods we play right now, and of course the intro is pretty epic. ;)
Sara: You recently filmed a video for "Pretender." Tell us about the concept and what it was like to shoot the video.
Kenny: There's just something special about old buildings that are falling apart. We picked that specific house because it had a haunted feeling to it, and had a certain energy that fitted the song perfectly. It didn't make it worse that it was lying in the middle of a typical Swedish forest, which is in itself an attraction. We had a great time shooting the video and actually made a "Making of" [video] that is available at our YouTube channel!
Sara: The band chose to release Sweet Release on your own rather than through a record label – and to make Sweet Relief for free download on your own official site, while encouraging fans to purchase the album on iTunes or Amazon or donating money to the band. How successful has this decision been? And, how does it feel to be in charge of your own music?
Kenny: It feels great! So far, we have been receiving really good feedback from new and old fans about our concept, and they are really helping us get the word out! It has been highly appreciated, since it's still a pretty new way of thinking. The great part is that we have in the past weeks decided to start working with a label that will release the album physically worldwide on the 23rd of September, but this hasn't in any way changed our minds. They work in a way that goes in line with how we want to do things, and we are still the ones in charge of what we do and when we do things. It's great to see that there are still labels out there that are really interested in the bands and aren't afraid of thinking in new ways just to risk losing money!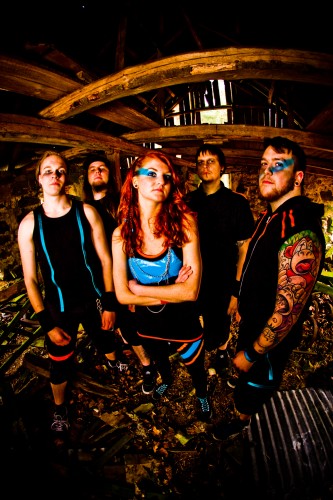 Sara: While listening to Sweet Relief, I noticed that some of the riffs and musical passages reminded me of Katatonia's music. Coincidentally, One Without played a couple shows with Katatonia last year. Is Katatonia one of your influences?
Kenny: Personally for myself, I would have to say absolutely. They have actually been for several years, and playing shows with them was one of the really big moments for us all. I hope we get to do it again!
Sara: Your band is from Gothenburg, Sweden, which is home to a host of other metal bands. How does it feel to live in an area known for metal music?
Kenny: Both good and bad. It's good because when people from other countries hear that we are from Gothenburg, they seem to feel more interested in checking us out, but it's bad in the simple way that playing metal music from Gothenburg also makes people expect a certain sound. And if it doesn't sound like what they expect, they might not give it any more chances. And the metal scene in Gothenburg (and Sweden) is very overcrowded right now, so it makes it very hard for new and upcoming band to be heard and seen.
Sara: Earlier this year, One Without released another single: a cover of Kent's "Om Du Var Här." Why did you decide to cover this song? And, what was it like to sing in your native language?
Catrin: We all listen to Kent, so we were very excited about the idea of making a cover of one of their songs. And "Om Du Var Här" was a good choice, because it's a strong song. At first, it was a bit odd for me to sing in Swedish in One Without, but I got used to it pretty fast. I'm glad we did a song in Swedish, because it's a nice language to sing in, so maybe there will be more of that. :)
Kenny: We simply decided to cover it because it's a great song and a great band, and we had a good idea of how to make it sound "One Without."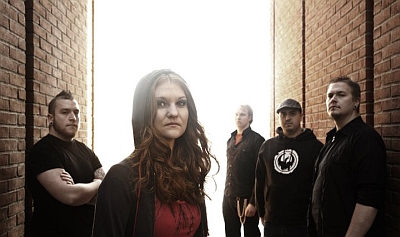 Sara: What's next for One Without? Any gigs or festivals on the horizon? Anything else interesting that you would like your fans to know about?
Kenny: Set your clocks on September 23rd! That's the worldwide release date for Sweet Relief as a physical edition, and we have plans of doing another video in the coming months! So keep your ears open.
Sara: Thanks very much for your time! Would you like to say anything to your fans and to our readers at Sonic Cathedral?
Kenny & Catrin: Thank YOU! :) If you guys haven't done it yet, you should go to our YouTube channel and watch the video for our first single, "Pretender." And, "like" our page at Facebook! Talk to us, send your questions, tell us who you are!
Thanks once again to Catrin and Kenny for taking the time to talk to us! We wish One Without the best of luck with your new record label and the upcoming worldwide release of Sweet Relief! Also, extra thanks to Kenny for helping to arrange the interview.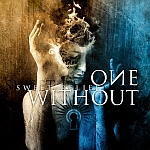 Check out One Without at the following websites: