The French Female Fronted Metal Scene is one of the hottest around with a plethora of top sounds to choose from. Sonic Cathedral's Doctor T caught up with la belle chanteuse française, Audrey Ebrotie de Diary of Destruction...to discuss this direction and the band's current and upcoming activities du Continent. And, most interestingly, the conversation was in English, as our poor Cajun scribe seems to have lost his French linguistic capabilities en raison des facteurs au-delà de son contrôle. But, he's working on it, so read on, et apprécier les images, eh...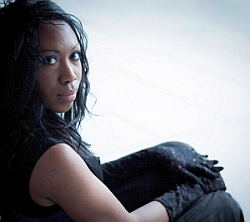 Doctor T: Could you speak a little about how the band came together?

Audrey Ebrotie: Anthony, Berengere and I created the band in November, 2007. Since, there was some change of line up, and our music evolved a lot. At the beginning, our music could be defined as being some symphonic and lyric metal with heavy riffs of guitar and bass, and dynamic drums. But we felt that we missed something. I left the band from February to December 2009 for personal reasons. I returned to Paris, where I'm born, and I took advantage of it to take some singing and screaming lessons with a professor whom I know well since my adolescence. When I came back into the band, we made some gigs, then we entered in studio to record our first EP Outside the Shade. We abandoned the idea to have keyboards in our music, so now we can say that our music is more powerful and row, closer to what we wish to share to our fans. The album will really be the consecration of all the work which we carried out since the beginning. Today, our music can be defined as being some heavy metal with neo metal, gothic and metal core influences.

Doctor T: How is the music developed, who does the music development, who does lyrics, and at they written originally in French or English?

Audrey Ebrotie: That's Anthony, our guitarist, who brings the bases, the guitar riffs, the structure, the spirit of the song ... Then, Johan, our drummer, places the drums part, then comes the bass part composed by Berengere, our bassist, and the singing and screaming parts in the end composed by me, as well as the lyrics. Everyone participates in the composition and brings his personal touch. The lyrics are originally written in English.
Doctor T: It's often interesting to hear how band members spend their time outside the music. Do you have other jobs, other interests and could you speak to those.

Audrey Ebrotie: Yes, we all have an other job:

- Johan is international liaison in a construction, joinery, materials, furnishing... company
- Berengere is assistant of communication in a company of ready-to-wear clothing
- Anthony is guitar teacher
- I'm saleswoman in a store of ready-to-wear clothing

Otherwise we all like cinema, to go to concerts, restaurants, to travel the world, to party !!! Anthony, Berengere and I are also fascinated by the medieval.

Doctor T: What music influences the members of the band, what do you listen to?

Audrey Ebrotie: We principally listen to metal core, neo metal and death melodic metal bands like Arch Enemy, Dark Tranquility, Killswitch Engage, In This Moment, Seether, Straight Line Stitch, In Flames, Dagoba, The Agonist, Drowning Pool, Trivium ....

Doctor T: Could you identify a theme to the DoD music, maybe classify it. Where would you position yourselves musically?

Audrey Ebrotie: The themes are often life, death, love, jealousy, destruction, hope, fear .... just human feelings, experiences. It's difficult to exactly position ourselves musically, but we can define our music as being some heavy metal with neo metal, gothic and metal core influences.

Doctor T: Could you talk a little about live performing. Where do you play live, who do you perform with, how do you feel about live performing?

Audrey Ebrotie: We are always at 100% when we play live, we give all we have to our public, as if it was the last time, and I think that people feel it, and that's why they appreciate our live performances. We often play in bars, and at festivals, with young bands like us, from France or Belgium. We played several times with AnachroniA for example, and we'll play soon with Skeptical Minds and Azylya at the rock eole festival in Belgium, last gig of our Tour. We love live performing, that's a great experience every time, we really have fun and take pleasure to meet our public and share with them.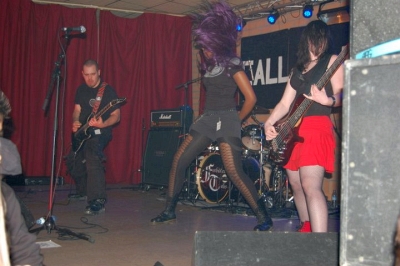 Doctor T: What are your goals musically, would you like to expand on live performing, expand on touring for instance or are you more comfortable with recording.

Audrey Ebrotie: Go farthest possible, and be able to live on it. Yes we like touring, and we would like very much to expand, maybe with album in preparation. We also like the recording, all the process of creation of a new cd, it is almost magic, how we search the best way to share with our fans, share a part of us.

Doctor T: France is producing an alarming number of strong female fronted bands and very good ones at that. Do you have any thoughts on why that is occurring at this time?

Audrey Ebrotie: Yes indeed, maybe that it is due to the success increasing of some very good European bands as Within Temptation, Epica, Delain, Nightwish, Kells , Whyzdom ...and many more.

Doctor T: DoD has some pretty dark themes on this CD, lyrically. What motivated that direction, how were those ideas developed and where did they originate.

Audrey Ebrotie: Yes, we often make me the remark lately. And indeed, that's my universe, my inspiration comes from a lot of things, my life, my friends' life, life generally, sometimes from movies, books, dreams or just my imagination and what the song inspires me by its tones, the feelings that it awakens in me. At first I look for the theme, a connecting thread, then I develop by creating a short story, which ends mostly by a message of hope, a light in the darkness.

Doctor T: What musical backgrounds, academic or otherwise, prepared the members of the band to get to this point. In other words, what's your musical backgrounds?

Audrey Ebrotie: For my part, I began in self-taught. I also took some lyric singing lessons during a few months. Otherwise, I especially learnt alone. And for the grunt too.
Berengere began the bass six years ago now. At first, she wanted to do covers of rock bands, in a self-taught way. No teacher but some methods as the bass of the beginners for example, but she has never had a physical teacher to learn. Johan began the drums when he was twelve years old in a music school during about seven years. It was a formation rather rock, jazz. Then, during the adolescence, he went to punk and metal music. Then he ended in self-taught. He more evolved by himself even as by the school lessons. But it is important to have the bases! Anthony was fan of punk / rock music and after a while, he wanted to make some music. He chose the guitar. Then he began to learn in self-taught too, seven years ago now. And four years ago, he began to be interested in the metal music by listening to the band Dark Tranquility. We have all been part of some amateur bands of metal or punk rock, or covers but which do not exist any more today.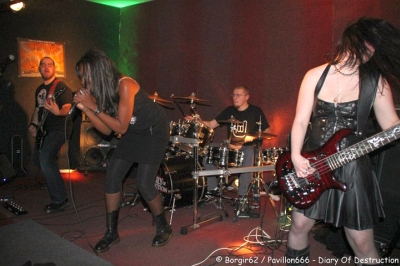 Doctor T: How do you see your music moving forward, are there areas you'd like to explore, directions, musically, lyrically, that you'd like to develop on future releases?

Audrey Ebrotie: Musically we are moving forward something more visceral and raw, and we are working hard on the future album so that it delivers strong emotions, and have more impact. We really dig towards this visceral side and on the melody. We are exploring diverse music style as neo metal, we are working a lot on how control every instrument to give the relief to the songs. Metal core too, and still that side gothic which we find in death melodic metal. Lyrically, We prefer not to lock ourselves into precise themes, I write according to the emotion, and my humor of moment.

Doctor T: Could you talk a little about the music scene in France in general and more specifically in your geographic area.

Audrey Ebrotie: I think that moves a lot at the moment, we have some really good bands which succeed and that really pleases. The French music scene is very rich, and that tempts to work more and more to impose us in France too, and why not somewhere else also...In the north of France more specifically, there are a lot of bands of different styles (symphonic, melodic, metal core, death, rock...), there are musical events everyday in the area. We have some festivals too, a lot in Belgium (that's not very far from Lille).

Doctor T: Any interest in performing on this side of the Atlantic? We don't get many European bands and I can't recall a French band yet. Sure like to see ya.

Audrey Ebrotie: Of course, it would be with a big pleasure! Thanks !

Doctor T: And thanks to Audrey for taking the time to speak with us. . . in English. Next time, nous parlerons en français.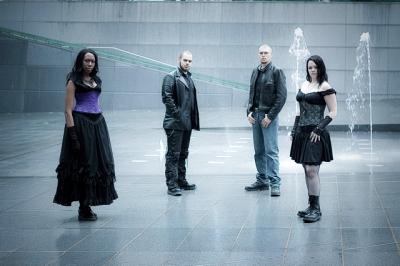 Some notable links for Diary of Destruction:

Facebook
MySpace
Website