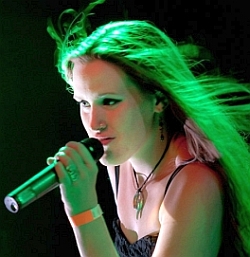 SonicCathedral's Doctor T spent some time with new Dutch Female Fronted Metal Band Magion to talk about their new production and the music scene in the Netherlands.
Doctor T: Magion is a relatively new band, can you speak to how the band came about, what was the process like?

David: I still remember that day like it was yesterday. We were rehearsing with a band called Cubic, together with Chris. When we finished, we went to the parking lot at Chris' house. I told him about a plan I had for quite some time to start a band in the style of Nightwish, which I loved at the time. When I asked him what he'd thought about that, he thought it'd be a great idea and we agreed to try some things out. We then got into the studio in that same week. The first parts of Greed were born in that week. Shortly thereafter, Chris got inspired so much that New Season came to be. This was in September 2005. A bit later, we started to recruit our first members. One of them was Walter, who I played in a band with earlier. After working with some other singers, Walter managed to convince us to give Myrthe an audition. We were positively surprised, and ever since she has been our goddess at the front of the stage.

Doctor T: Myrthe, we've talked a little about how you put together the lyrics and some of that is in the review posted recently. Could you talk a little about how you sync that up with the actual music? What is the process there, who do you work with most closely to develop a song in final form?

Myrthe: This is really a hard question because it's different for every song we write. Sometimes I have an idea right away when I first hear the music. I can hear the vocal melodies in my head and I start to work them out with some lalala's and oohs and aaahs. When I have an idea of what the melodies will be like I start working on the lyrics to go with them. Most of the times I already have tons of ideas of what the lyrics should be about. I always carry a notepad with me in my bag and I used to have an mp3 player with which I could record little melodies and bits of text. I always get my ideas in the most inconvenient places, so I needed a way to remember them. There is also a notepad lying besides my bed because sometimes ideas come to me when I'm fast asleep;). When I have the big lines finished I team up with Chris in his studio to record the vocals. We sometimes change things right there because he has a totally different take on it. We also come up with choir pieces and harmonies in his studio. The lyrics are all me though, nobody is allowed to touch them;)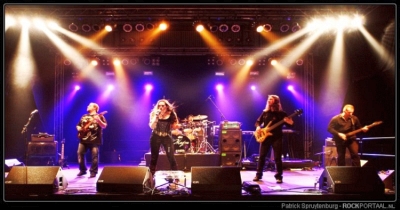 Doctor T: What are some of the musical influences of people in the band. Who do you each listen to?

Menno: Oof! How much space do we get? My bandmembers are telling me I am not allowed to answer this question, it'd take too long ;) I just wanna say basswise John Deacon from Queen is my hero, and in the metal scene I am a huge Dan Swanö fan.

David: I am into all kinds of metal. Well, Nightwish obviously was the core inspiration for this band. As a drummer, I really get inspiration from Derek Roddy, Nicholas Barker, Mike Mangini.

Arjen: I am mainly inspired by neoclassical guitar players like Yngwie Malmsteen, Jason Becker, Vinnie Moore, Paul Gilbert. My favorite bands are Iron Maiden, Slayer, Death, Morbid Angel and lately Symphony X. I am pretty selective when it comes to naming my top favorites.

Myrthe: K3, Mary Poppins, Kinderen voor Kinderen… no seriously; Tori Amos. Tarja Turunen, Floor Jansen, Emilie Autumn, Peter Gabriel and Loreena Mckennitt.

Doctor T: I talked a little to Myrthe about the Gothic scene and how it tends to be stronger in the Netherlands than in other places. Any other members of the band have some ideas about that?

David: Good question! I wish we had a definitive answer! Maybe it is because we don't have a lot of space here, and many bands write music at home rather than while jamming for this reason. It's easier to write these orchestral pieces at home rather than while jamming, because there are many elements that need to connect.

Myrthe: It rains a lot here! Maybe that turns everyone depressive J Tears of sadness and gloom!

Arjen: …And together we search for comfort by trying to be creative musically...Damn good question it is and very hard to answer indeed!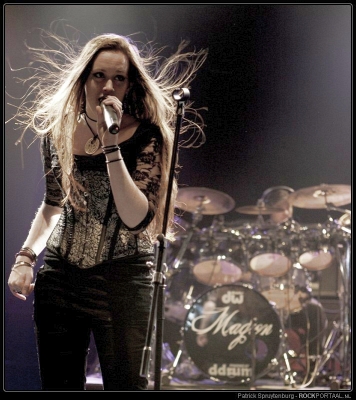 Doctor T: Female fronted metal is not a terribly strong direction in the US although there certainly is interest in foreign groups. I wonder why Western Europe seems to be taking the lead in this genre?

David: Maybe it is because The Netherlands in particular and Western Europe in general is quite liberal and more women dare to take command of the stage. Strong women here;)

Arjen: Yeah, maybe it's because we're more feministic over here, haha!! Nowadays women are much more appreciated in metal and therefore able to seriously develop and express themselves; which is a good thing! Years ago the metal scene was dominated by men and it lacked the charming female influences.

Doctor T: You seem to be doing some live performing. Could you talk about that, who do you like to work with and why?

Menno: Well, there are two things here: are we playing with bands that are a good fit for our fans when it comes to the musical direction, and are the bands nice to hang out with during the gigs? We have really enjoyed opening for Epica, and are looking forward to some gigs we will do with ReVamp soon!

David: When we played with Delain, the guys were really great too!

Arjen: I always enjoy the contact we have with Kingfisher Sky. Ivar is a great guy when you hang out, or when emailing him.

Myrthe: I think the guys from Trail of Tears were really nice.

Menno: When we played with Cirrha Niva a while back, the guys made for some interesting conversations backstage as well!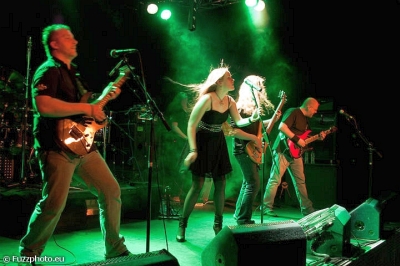 Doctor T: Some bands are quite strong in the studio, others seem to favor live performances. With your strength in the studio, do you see that capability being equally as strong live. And what are the differences for you, which do you prefer?

Myrthe: We are STRONGER live! Haha, I'm kidding, but I always feel that I'm a better performer on stage than in the studio. I am at home at the stage.

Arjen: For me, things go more automatically and natural live than in the studio as well. But Chris for example, is a more natural player in the studio, he has more experience there.

Doctor T: Clearly, I was very impressed by your initial release. It was some of the strongest music I've heard in some time. Did you do a lot of development and then just pick the best songs or are you lucky enough to have good ones every time?

Menno: Thank you again for your compliments! As for our first CD, some songs were written and did not end up on the CD. Not necessarily because they were worse quality-wise, but it has to be a good fit with the other music as well. For the new music we are writing now, obviously we have raised the bar considerably again! We can afford some more luxury now because we had more time to write songs, as it took quite some time for us to record and release our first album.

Doctor T: The artwork on this title is truly beautiful and seems to capture the essence of the music and the title on a relatively deep level. Could you talk about that artwork a little.

Myrthe: I had a really clear vision when we were creating the artwork and Brazilian artist Jobert Mello did an excellent job visualizing everything for us. From the colour scheme to the images that I wanted with every song. The cover art really captured the overal feel of the album. You can see a woman who is reaching out, trying to enter a portal (eternity, happpiness, peace) but she's being held back with iron chains by evil cupids (who stand for a bad kind of love, the kind that imprisons you). All the other images are about the individual songs. For example on the page of "Game of Madness" you can see a young woman in a straightjacket. Every page of the booklet visualizes the song it represents. It's very handy for those who are too lazy to read the lyrics;)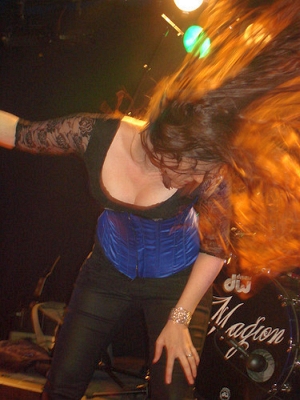 Doctor T: One of the strengths of the CD was the production. You worked with really good people. How did that come about, past associations, location or what?

Menno: David knew someone from a past band that got us acquainted with the famous Excess Studios. When it comes to Dan Swanö who mastered the CD, I just asked him through email if he could master it. He reopened his Unisound studio shortly before that, and I am very proud to have a CD that was "mastered at Unisound" sitting between all my CDs that were recorded there.

Arjen: Yes, Excess Studios Rotterdam is run by true professionals and for some of us it's just around the corner! Nevertheless, we should not forget that our guitarist/composer Chris Vrij conducted most recording-sessions and he did much of the mixing himself.

Doctor T: What are your plans near term, what is the focus. Are there plans for a followup production and if so, what will it deal with?

Arjen: Near term, we have a few very exciting gigs (supporting ReVamp and Kingfisher Sky!) to look forward to and we have some really great merchandise coming up!
Our main goal, and that goes for any serious band I guess, is to spread our music worldwide as much as possible! We're hoping to get more recognition from the fans first of all and of course from the media, booking agencies and record labels as well, so we will be able to play more live and maybe release our music through a decent company!
As said before in this interview, we're working on new material as we speak and there are plenty of songs ready to be part of a second full-length album! The general mood of this new material is again dark, gripping and dramatic. We're making plans for future recordings already and it would be awesome if a nice label would get involved!

Doctor T: How important are sites like Sonic Cathedral to you in terms of promotion? Do people tend to find out about you from sites like this or from live performance?

Menno: Well, obviously these sites are aimed at an international audience. We sell quite some CDs abroad, but we haven't got much insight how these people find out about our music. We don't notice any increase in sales after a review or interview was posted; I guess the fact that our music is available at all the illegal download sites as well is a big factor here. But still we think that sites like these are a great way to spread our name! The people working at these zines are also usually very passionate about music, and therefore interesting to communicate and co-operate with.

Arjen: Many people find out about us through the Internet in general, but it happens very often that people "discover" us at live performances and react pleasantly surprised!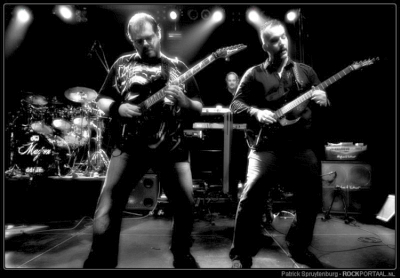 Doctor T: Well, that seems to be the general rule these days, and we certainly hope things work out for each of you and Magion in general. And we're very much looking forward to your next production. Any final thoughts for our readers here at the SonciCathedral Zine?

Magion: We like to thank Dr. T. and Sonic Cathedral for the wonderful review and for this opportunity to present Magion to all the female fronted metal fans around the globe! Please buy our CD and come to visit our shows; we promise you won't regret it!

Doctor T: And thanks to the members of Magion for taking the time to speak with us. Please visit Magion at their websites:

Official Website here: http://www.magionband.com/joomla/

MySpace here: http://www.myspace.com/magionband