Kingfisher Sky Interview
June 2008
Thomas Farrell of Sonic Cathedral chats with Ivar de Graaf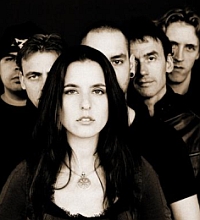 Thomas: What's the story behind the formation of Kingfisher Sky, and how did you come up with the name of the band?
Ivar: Judith & I started writing songs together a few years ago and when we finished our demo we didn't have a band yet. We first wanted to see of we could get a record company's interest. After we were signed by Suburban Records we quickly formed a band and started practicing! Judith came up with the name together with her mother who also did the artwork for our album. The Kingfisher is a small but beautiful bird with a very large and sharp beak to catch fish with. That contrast between colourful and beautiful yet sharp and vicious is something we put in our music as well. Judith had a mental image of a sky full of Kingfishers hence the name "Kingfisher Sky"
Thomas: How long did it take to write and record Hallway of Dreams? Are you satisfied with the results?
Ivar: The writing process took a few years. The actual recording took about three weeks and then another three weeks of mixing and mastering. Mixing and mastering was one heck of a job! There were a lot of different parts and sound effects. We are very satisfied with the results. It's so rewarding to hear your songs grow from a demo to a professional album.
Thomas: How is the album doing in terms of sales?
Ivar: It's doing pretty well considering we don't have much radio support and airplay over here in Holland yet. The future is still wide open because we were just released in the United States and plans for a release in Japan and the rest of Europe are already in progress.
Thomas: The Netherlands are no strangers when it comes to female fronted metal/rock bands. How has the scene over there reacted to Kingfisher Sky?
Ivar: Well, we don't consider ourselves to be a typical female fronted metal band but we do find that people who are into that scene like us so it's been very positive. We also get a lot of reactions from fans of progressive music.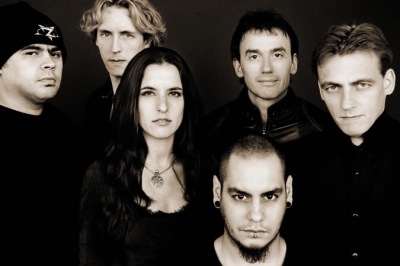 Thomas: How has the response been to you music been outside of The Netherlands?
Ivar: So far, very good. We already get a lot of very supportive messages through our Myspace and guestbook from people from the States and Japan.
Thomas: This isn't the first band to contain an ex-member of Within Temptation—though I feel Kingfisher Sky's music is much different than both Delain and Within Temptation, who both seem to create music similar to each other. How did the musical style develop, and did you consciously try to separate the sound of your music from theirs?
Ivar: It was not a conscious decision to be different. The aim for us was to make music that has all the elements we love about music without confirming to a specific genre or image. We didn't want to limit ourselves by saying :"o, this is too much like Within Temptation" or "this is too folky".
Thomas: Tell me a bit about the song writing process. From where is inspiration drawn for the lyrics on Hallway of Dreams? What are your methods in coming up with melodies?
Ivar: Many songs were created by us just sitting on the couch with me playing acoustic guitar and Judith coming up with vocal melodies. Then I start arranging and recording parts on the computer. We know the song is a good one if a vocal melody just comes naturally. We don't want to force the songwriting process to much. The inspiration for the lyrics comes from movies (especially Tim Burton movies), Greek mythology and everyday live. We try to have different subject matter in every song.
Thomas: Are there any funny or interesting events that happened during the composition of any of the songs?
Ivar: None that I can think of. The computer crashed a few times during recording but that wasn't really funny at all!
Thomas: I have to say, I really enjoyed the cover artwork for the album—it's very different than what I'm used to seeing in album artwork! Could you tell us a bit about it?
Ivar: Thanks! Judith's mother Joke Rijnveld designed and painted the artwork. She made eleven (twelve including the front) abstract paintings that capture the mood of each song. We gave her a lot of CD covers to look at and she found that most of the artwork is very typical and symmetrical. She wanted to make something original that complements our music and she succeeded! She also designed our logo of the Kingfisher.
Thomas: What are some of the major musical inspirations for all the members of the band?
Ivar: Very diverse. Judith and I are very much inspired by Porcupine Tree, Tori Amos and Kate Bush, other band members like Daan and Eric have more of a metal background like Alter Bridge and Meshuggah.
Thomas: For Judith and Ivar: I was quite impressed with both of your performances on this album! What kind of musical training have you both had? Also, what other "musical adventures" have either of you participated in besides Kingfisher Sky?
Ivar: Thanks again! Judith was classically trained at the royal conservatory of the Hague and she also sang in a rock band and a soul band. I've had a private teacher who taught me a lot about dynamics on the drum kit. I'm a rock drummer primarily but I do like to put some funk and "swing" into my style. I've played in many different types of bands from fusion to rock covers and folk music.
Thomas: Are any members of the band involved in another musical project at this time?
Ivar: Guitar player Daan has some projects he's working on (one is called Seperations) and I still play with a rock cover band on occasion but that's about it. I try not to do too many projects anymore because I used to have 6 bands at one time in the past and it's easy to lose focus with so many activities.
Thomas: For me, the track "Balance of Power" was one of the best new tracks I've heard for a while. What are some of the band member's favorite tracks?
Ivar: Balance of Power is one of our favorites as well. We also like Persephone a lot and Big Fish. Hallway of Dreams is one of our live favorites.
Thomas: I have just noticed that Kingfisher Sky has released their first music video for "November". Could you tell me about the filming of that video, and how the band decided on the song "November"?
Ivar: We chose "November" because the plan was to release the single last autumn. Unfortunately there was some delay in the making of the video. We shot the first part in a forest but later on we had to shoot some more footage in a studio because the video needed more contrasts. So now "November" is released in the summer but here in Holland the summer can easily feel like autumn ;-)
Thomas: How has touring been?
Ivar: It has been so much fun! The turn up at the shows was wonderful and the reaction from the audience was great.
Thomas: What has been your favorite gig that you have played?
Ivar: That has to be our last gig of the tour in "De Boerderij". It was a big hall with many people and there was a lot of energy that evening.
Thomas: Are there any bands out there that you'd love to tour with?
Ivar: Porcupine Tree!
Thomas: Where would you like to tour in the future?
Ivar: Because of the releases in the States and in Japan we would love to come over there to play. Maybe in the near future!
Thomas: Have you ever thought about doing a song in your native language?
Ivar: Not really. I don't think the Dutch language is very suitable for singing. A lot of bands in Holland have success singing in their native tongues but it's not our thing.
Thomas: It might be a bit early to ask, but have you all started to compose any new music? What should we all expect to hear in your future musical outputs?
Ivar: We are already working on new material. During the writing of Hallway of Dreams we didn't have the band yet so the way we write songs now is a lot more "band- orientated". It will be a bit more progressive I think but still a logical progression.
Thomas: Thanks so much for taking the time out to do the interview for Sonic Cathedral (I hope it wasn't too boring)! Is there anything you'd like to say to your fans out there?
Ivar: You're welcome and it wasn't boring at all! To all the fans I'd like to see thank you so much for your support and the messages on our guestbook and on our Myspace. We hope to see you soon at a live show somewhere!