Lydia Libido Interview
Performed in August 2013


On July 27th, 2013, the Texas-based rock quintet Lydia's Libido performed their debut concert in Burbank, California; just a stone's throw from Hollywood. Although this was their very first show together as a band, this wasn't their first time at the rodeo, as the saying goes. The band is comprised of longtime session musicians who have "paid their dues" by playing for some pretty impressive names in the music business. Lydia's Libido has all the ingredients for a quintessential "supergroup". While I was unable to attend their debut concert, I was able to talk to the band on the phone after the gig and get their thoughts on the show, the hectic pace of the days leading up to the show; where they filmed their first video, conducted photo shoots, and performed on various television and radio shows to spread the word about their new self-titled album. They shared with me not just their impressions of their audience and the whirlwind of events that have led them to this moment, but also the story of how these talented individuals found each other and formed this band.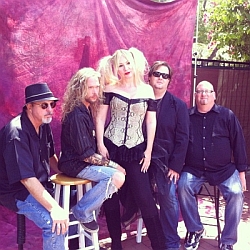 The most notable name among the group is probably vocalist Samantha Newark, a personality that '80s kids should instantly recognize; if not by name, then certainly by her speaking voice, as she was the voice of the iconic cartoon character of Jem: businesswoman by day, rock star by night! Being my favorite cartoon as a child, I was obviously already a fan of Sam's, and how I found out about this band. But Samantha was not the only "celebrity" among the group; I would soon find out that the other members of the band did everything from record with legendary acts like Ted Nugent, to screenwriting for television. So this band definitely had the chops to make some very interesting music together!
I got a chance to talk to everybody in the band (vocalist Samantha Newark, guitarist Gary McGrath, bassist Sean Ieager, drummer Andy Weaver, and keyboardist Dean Minnerly); they were all very open, friendly, and willing to answer every question I asked in extensive detail. This was the first interview I ever did where "time limits" was not an issue, and they probably would have gladly stayed on the phone with me all night if they'd been so inclined!
C: For our readers who are now just learning about you for the first time: your sound is described as "music that would make Mick Jagger blush". What exactly do you mean by that? ;)
Samantha: It's quite naughty; it's fun, it's cheeky music. It's definitely got a lot of sexual undertones. Fun rock 'n' roll that's pretty sexy.
Dean: If someone asked me to describe the music, I would say there's a noticeable drive to it. Not an edge, but a sharp edge in a lot of ways; every song has a "wink, wink/nudge, nudge" edge to it. What we're trying to do is; basically, allow people the freedom to not have to be politically correct for a little while in an entertainment setting.
C: Does the name "Lydia's Libido" play on that concept, or is there an actual story behind the band's name?
Samantha: Gary came up with the name. It actually has a Muppets reference, which is so freakin' awesome. I'm gonna have Gary tell you that story.
Gary: [The name] came from 2 different places: without both of them, they wouldn't click. I went back to college last year to get my nursing home license. One of the girls there was named Lydia, and I'd never heard the name before. She sort of "took me under her wings", and introduced me to hard rock, etc. She admitted to me that she was a virgin, and that she had decided to give her virginity to her boyfriend. The next time I saw her after that, I [jokingly] asked her how her libido was. So the alliteration of "Lydia's Libido" clicked with me. The next night I was watching The Muppets, and Kermit was singing the song "Lydia the Tattooed Lady"; I decided that would be a great name for a band. I threw the name out there to another person I was setting up this band with, and he thought it was great too. We were looking for a singer that was like a cross between Joan Jett and Ann Wilson, so when Samantha came in, she was just perfect. She made it distinctive and unique.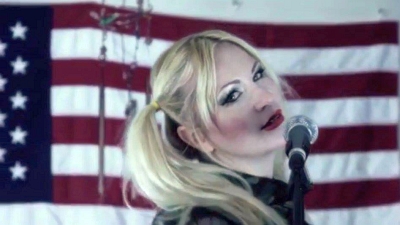 C: All the bandmembers are each well-accomplished musicians and entertainers in your own right. How did all of you get together?
Samantha: Well, my introduction to Lydia's Libido was actually through the cartoon character [that I played]; a really sweet Jem fan, her name's Amy. She said that she had a really good friend who was a musician, and was looking for a singer for this project, "would you be interested?" I said I'd love to talk to him. We ended up having a great chat on the phone, and the rest took off like lightning. We ended up recording the record pretty quickly, and here we are, playing our first show tonight. It was synchronicity. We're having a great time.
Gary: Amy [Rhoades; host of KJEM Radio] hooked us up. The rest is history.
Andy: I've known Gary for about 15 years; we played together a lot before he moved to L.A. During that time, I've been playing around Dallas/Ft. Worth and doing tours with various bands, etc. When he came back earlier this year, he said he had these songs/lyrics that he had been writing, and asked if I'd be interested. I said "sure", he gave me a call in May and said he had a group of people together, needed a drummer, and I was his first call. I said I'd do it; I listened to the stuff, we worked it out, all these opportunities started happening, and we said "let's roll with it".
C: Likewise, because you're all seasoned musicians with various projects and musical styles of your own, in what ways does Lydia's differ from other things you have done?
Samantha: For me, personally; being a session singer in Los Angeles, I sing all kinds of stuff. I think just being a lover of music, I just dug the songs and I really liked the vibe. I'm kind of a chameleon in that way, so it felt good to just kind of jump right in and be "Lydia", my alter-ego. She's kind of edgy; she's a little more "Pizzazz" than "Jem".
Andy: It's very cool to use all of our skill and use them so effortlessly on one project. You've got a core group that works together; 4 strangers that come together with a common bond in music, it's working, and we're not gonna rock the boat. We're great at what we do, and respectful of each other. That's really the key. We've been through band fall-outs.
Gary: All of us have had music careers in which we never really got to just let loose. It was either music catered to this or that and was always restricted to a degree. This has no limitations or restrictions.
C: This is your very first album, which is already gaining a good deal of momentum not only from Sam's built-in Jem fanbase, but from local radio stations in Los Angeles and other various corners of the online community. Is this a "one-time only" collaboration, or is this something you all see yourselves continuing with?
Andy: We're totally in it; we're doing it and excited to see where this leads. We all have other things we're involved in, but we're gonna follow this little journey.
Samantha: I'll still be very connected to my solo endeavors; I'm currently recording songs for my third solo album. I'm running with this now and it's so much fun. I don't feel the need to rush and do both. We're having such a good time; I'm running with Lydia and loving it. At some point I definitely will put my solo record out, but no plans immediately. We're totally in it [Lydia's Libido], we're doing it; we're excited to see where this leads. All of us have other things that we're involved in, but there's many days in a year, so we're just gonna follow this little journey that we're on together. We all love each other's company and we're all having a fun time with the music, [and] people are really digging it. So we're in it. There's more to come from Lydia's Libido, for sure.
Gary: We're gonna keep going with this; we're doing a European tour [summer 2014] and Japan [spring 2014], and some private parties during the holidays. We're going full force for a while and seeing where this rollercoaster goes.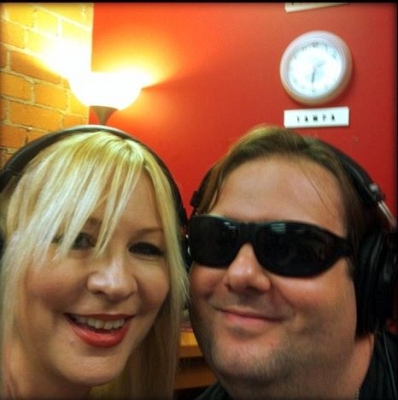 C: Tell us a little about the writing/recording process.
Gary: The writing of the record was a lot of fun, and it was so quickly. Dean and I put a lot of the songs together, and then Samantha came in and sang one of the songs. We bowed down before her and said, "you're in". She started writing lyrics, we wrote some, and then we got our drummer and it evolved to this neat situation. The songs got completed in a matter of 3 days. The whole record was recorded, written, mixed, and mastered in 36 hours.
Dean: These first seven songs are a collaboration between Gary, Samantha and myself. Granted, each of us played more singular or directive roles on some, but it was completely a team effort. All the new songs we're working on will be the result of input from all five of us. Everyone has writing and arrangement skills as well as expertise with their instruments. The recording revolves around Gary. He is the engineer and producer of our work. Again, we'll all have input but he will assume that mantle.
C: You just played your debut show, performing these songs in front of audiences for the first time. What was the crowd reaction like?
Samantha: I used to live in the Burbank area, so this was a hometown show for me.
Gary: The crowd reaction in Burbank was fantastic! Couldn't have gone better.
Dean: The crowd was fantastic! Incredible responses to all our new work as can be seen and heard on videos we've posted taken by people at the show.
Andy: They loved it! It was really fun! We like the songs, and you just never know until you throw them out how people are going to respond. They were digging it. We were happy. Makes us want to write songs.
C: Now that you got the first-show jitters out of the way and will next be playing in front of your hometown audience in Texas, how are you feeling?
Andy: It's gonna be great to be back home with this project.
C: And of course, the question everyone wants to know, for those of us who couldn't be at the show, or who don't live near the areas where your next shows will be: is there any chance of a more extensive tour in the near future?
Samantha: A lot of stuff is being thrown our way right now. Possibly Europe in July [2014]. We definitely want to hit the road and play for people in the States, for sure. We love America too!
Gary: We are hitting the road [this fall] paying our dues as a new band, after all it doesn't matter who you are; you have to prove yourself as a unit. And it is so far a good run of a 9 city tour: Dallas, St. Louis, Nashville, New York, Chicago, Cleveland, Houston, Fort Worth, Albuquerque, Los Angeles… [Edit: Tour dates for the "My Little Blue Pill Tour" can be found on the band's website.]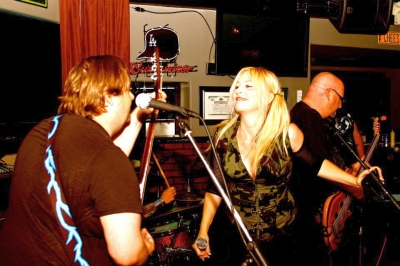 C: You also spent your time in Los Angeles filming the video for your first single, "Release Me". Any exciting tidbits about the filming that you'd like to share with our readers? Perhaps maybe a hint of when we'll get to see the video for ourselves?
Samantha: We had so much fun! We shot a "garage band style" because we wanted to get the "live performance" feel; but then we have spin-off montages of fun stuff. We shot the single last night and worked with an amazing makeup artist [Xanthia Pink]. Fun time. I can't wait. I think we'll get a cut of it on Tuesday. Hopefully it'll be out soon and that you'll enjoy it!
[Edit: the video is now online at the band's official website, and they are currently filming their next video for the follow-up single, "Steal Your Soul".]
C: Was it an easy choice when picking the first single, or is choosing singles a bit of a chore, like it is for some bands?
Gary: The way this record came to be: Dean and I had one song with a country singer in mind. We gave it to some industry friends; they loved it, and said if you gave us more of this, we'd really push it. "Release Me" was the song, so when we added Sam, they jumped at it. We let the audience choose the second single; we put it up on Soundcloud, and whichever got the most plays was the next single: "Steal Your Soul". That song was a big community effort; Dean wrote the majority of it, but Sam's performance was so sexy on it.
C: "Steal Your Soul" appears to be the fan-favorite across the board. What's the story behind it?
Dean: We laid down the tracks initially last fall before Gary moved back to Texas. I work in films and TV at Universal Studios. After my season ended last June, I went to Texas; we finished the song, and started putting the lyrics down. Gary wrote lyrics on some songs, I co-wrote some, but this is one I did myself. I had an idea of what I wanted to do. I'm a very visual type of writer. I like people to be able to see what they're hearing; a lot of imagery. Some of what we did on that; we based the entire song on a woman of incredible strength, luring over all the weaker people—men—around her. She's basically describing how she's going to be in complete control of anyone who wants to be with her: her world, her way. We even took a scene from a Quentin Tarantino movie [From Dusk 'Til Dawn] where a central character was dancing with a python. I put a couple of stanzas together describing the scene. We played it against the movie, and it actually timed perfectly against that scene! So I try to paint that image into the minds of those listening to the song. I want them to experience the song, not just listen to it. That's what our single is about.
C: (For Sam:) Even though you played the role of Jem, the song "Pour me Another" totally reminded me of Pizzazz [the Jem character's arch-nemesis]. Were you channeling your "inner Misfit" on that one?
Samantha: Absolutely! I was. I was always actually secretly wishing I could be Pizzazz in some way, because she's having all the fun. The good girls are always jealous of the bad-ass women. The awesome thing is that women get to be all of it; we just don't often do it.
Gary: None of us really knew the cartoon; we knew of it, but none of us had ever seen it. So I think that took the edge off of her, and she felt she could just be Sam and not whatever people's preconceived notions were of what she should be. It allowed her to form this alter-ego and not have a tie to anything she did years ago.

C: How long have each of you been playing music and who are some of your biggest influences?
Dean: I started playing at 5. I started learning bass at the end of high school and through college. I stayed through it ever since. Now I can devote all my time to music, and this band is doing well. There's so many things happening in such a short time. The reactions we're getting, the response we're getting...it's just happened very fast, very intense, very encouraging. I'm looking so forward to helping this band grow.
Gary: I have been playing music for 25 years…I feel old now…My influences are very broad. Everything from ABBA to ZZ Top; from classical to metal. I look at music the same way as I do girls: all races, all sizes, all creeds; they all look good to me! Some turn me on, some do not; it just has to tickle my fancy.
C: Since music is not your only form of artistic expression, what are some of your non-musical influences that you feel has a strong impact on how you approach songwriting and music in general?
Andy: I pull from a lot; I also do graphic design, it's all art to me. I pull from all sorts of things. All of the above. Like any artist, we pull from our surroundings. I'm a very visual person, so I can be inspired by driving down the road and catching something interesting. You never know when inspiration's gonna hit.
Dean: I've always been a writer; I was writing short stories as a child. For a time, after I moved to California, I was a writer for Star Trek: The Next Generation. Gary and I have co-written a screenplay for a feature film that we hope to get made sometime in the near future. Writing has always been a passion for me, as well as music. If you have one as a passion, it's a great advantage. If you have both, you're blessed.
C: (For Sam): What is some advice you would give to those girls who grew up on Jem and wanted—and maybe through this band, still want—to emulate you? Or the new generation of girls that have been turned on to the show through their parents and want to be like you? What's your advice for those girls out there who want to form their own band?
Samantha: [Jem] had a hell of an influence on a lot of people, and I just love to hear that, because it definitely encouraged kids to think outside of the box; [especially those] who didn't want to be a doctor or a lawyer. They were right-brain kids, they wanted to be creative; [the show] really spoke to that, and I think it just encouraged a lot of people to follow their passion. That's a very cool thing to be a part of. One of the best things I ever did for myself was to seek out people—I still do it—seek out people that know more than I do, that can teach me. I think if you're teachable, and you're constantly trying to better yourself with your craft, and you're surrounding yourself with more experienced musicians…I look for mentors, I've always looked for mentors. I really try to observe and ask questions; you know, that's how you learn. And also, to live outside of your comfort zone and take risks and be willing to, you know, have it not work out sometimes. That's how you grow; I think you've got to be brave to be in this business, you really do. But it is so awesome; if you have a passion for it, you've gotta go for it, because there's nothing like it. As difficult as the journey's been sometimes, I wouldn't trade it for anything. I love what I do, so I really encourage people that are talented to go for it!
C: (For Sam): Recently I interviewed singer Pamela Moore, and we talked about "growing old gracefully" in a business that can sometimes harshly judge a woman's looks. You're both women in your mid-'40s/early '50s, and we just talked about the double standard that seems to exist. Like thinking that women past a certain age cannot be sexy onstage, which is an image that the both of you have embraced. What is your response to such criticism?
Samantha: I wouldn't listen to it. I think it's all perception and folks will have their opinions. I think as long as you're being authentic and not trying to be something you're not, then who cares? At the end of the day, you've just got to do with what you love. I think Americans are so obsessed with youth and age; and in other European countries, women that are in their '60s are considered exquisite and beautiful. It's something that's kind of ridiculous in this culture. And also, we need to be kind to each other as women and support each other. We're all in this together. Life is short enough, you know?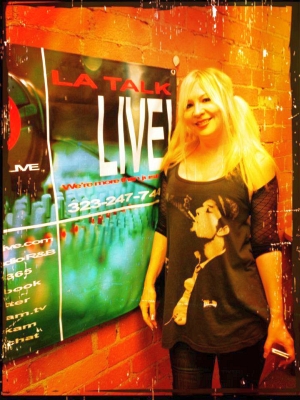 C: If you could live "a day in the life" of any musician, living or dead, who would it be?
Samantha: Wow! There are so many! I'm a huge K.D. Lang fan, because she has the most exquisite voice on the planet. I think she's my favorite singer of all time.
Andy: I never really thought of it like that. I think it would be kind of cool to live a day in the life of Paul McCartney; in the early years [of the Beatles] when they were just getting huge. I would have loved to see what they had to go through together, as a team.
Dean: I think probably Mozart. He was considered a genius, even as a child, but also considered eccentric or mad by his contemporaries. I personally always felt that it was a persona that he took on to allow him freedom and license to get away with things that no one else did at that time in history. I would really like to know what was in his head not only as a musician, but as a person. How he was able to do what he did; maintaining his genius while having this eccentricity.
C: If you were to take any "Jem and the Holograms" song and give it a Lydia's Libido makeover, which one would it be and why?
Samantha: That's a hard question! I've always been partial to the original Jem theme. I think it's awesome. I just think I'll never forget when I saw the cartoon with the music and the opening theme, and how I was, "oh my God, this is totally awesome!" It's my favorite song from the entire series; there are other ones, but that would be my pick, for sure.
Dean: My daughter grew up watching it; I never knew anything more than that she liked it. But I really hadn't thought about it until I met Sam and found out her history. I have watched a few episodes online since then, but don't know the catalog of songs.
C: Any "final words" you'd like to say to all your fans out there?
Samantha: Hi [to everyone] out there! Stay outrageous! See you soon!
Dean: We are a fresh, edgy new sound and just a lot of fun to watch and hear! Bring towels to the gig; we're gonna make you sweat! We're having a blast!!! All of you will, too! Cheers!
Andy: Howdy!
Sean: I love you. Want some pie?
Gary: Peace, love, music, and joy!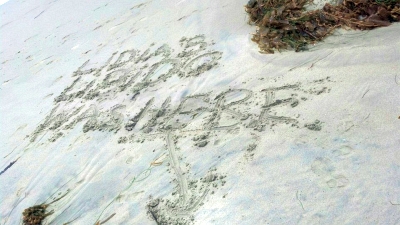 Photos provided courtesy of the band's website
Special thanks to Amy Rhoades and Craig Phillips of KJEM Radio