Ex Libris – CD Release Show @ W2 Poppodium Den Bosch (Netherlands)
Saturday 18 January 2013
The moment of truth for Ex Libris. The first official show playing the new Album Medea live. OK there was a try-out on January 11, but this was the official CD presentation gig.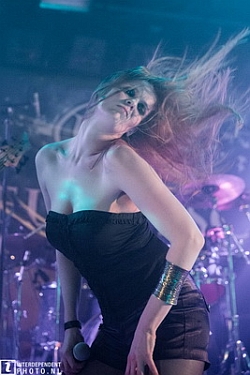 For this show we had to go to W2 Poppodium in Den Bosch. The stages are located in the former Willem II cigar factory. After a reconstruction in 2001, the name changed to W2 Poppodium. It was a good venue for this quite informal CD presentation for fans, friends and family. For those that supported the crowd funding campaign with the full package, 2 tickets where included in the perk. It's always nice to see family (parents, sisters and brothers, …) who support the musicians.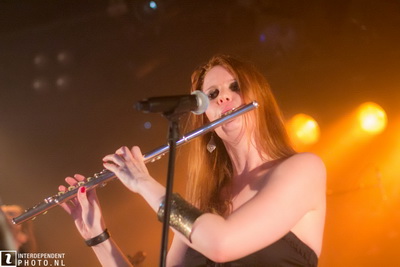 Ex Libris invited German friends to play as support. These friend are forming Effloresce. For me a new band, but not for SC. Doctor T. already wrote a review of their album Coma Ghosts in February 2012. At the moment they are in a transition phase. Front lady Nicki (vocals, flute), Tobi (drums) and Dave (guitars) were present on the album. Chris (guitar) is a new face in the line-up. As there is no bass player at the moment a good friend joined the stage, Peter den Bakker. He did a wonderful job knowing another challenge was there for him in the following gig this evening.
Effloresce was an excellent choice. The music they were playing during the extended support gig (45 minutes) can be described as a fusion of progressive rock and progressive metal. This is reflected in the songs performed from their album, just 4. The shortest song was 7:11 (CD time), the closing song (16:32). The stage performance was great. Effloresce 'suffered' a little bit from the focus on the music that you often see in progressive rock. The show is a little bit static. I can understand that the music is the main reason to choose to go for a concert however the visual aspect should also add a dimension to the show. Luckily Nicki added some action to the show. A little dancing/moving and head banging was a pleasant addition. Performing without shoes on a little carpet, she surprised with clear fragile vocals in a wide range and some sudden screams and grunts. She has a good control over her voice. She changed settings very quickly and apparently very easily. The longer songs also gave the other musicians the opportunity to show their skills. The changes of rhythm, themes and moods brought varied drums (from rhythmic support to pounding drums) and guitars (fragile delicate solos to heavy riffs). It was appreciated by the audience. It does not often happen that the audience asks a support band for an encore, but that happened here. Usually support is seen as an appetizer and should not take too much time as fans are waiting for the headliner.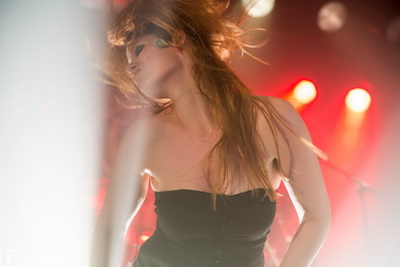 Set list:
CRIB
Spectre Pt.I (Zorya's Dawn)
Swimming through Deserts
Shuteye Wanderer
Now was the moment everybody was waiting for. I had the album Medea already before Christmas. As I liked it very much (see the review @ SC) I was looking forward the hear it live but also a little bit worried if they would meet the level live. Dianne van Giersbergen (vocals), Paul van den Broek (guitar), Koen Stam (keys). Eelco van der Meer (drums) and again Peter den Bakker (bass) didn't disappoint. Moreover they made it a great experience. It was challenging for them too, they were exhausted after the set that comprised the whole album as it is released, the set list is the album list.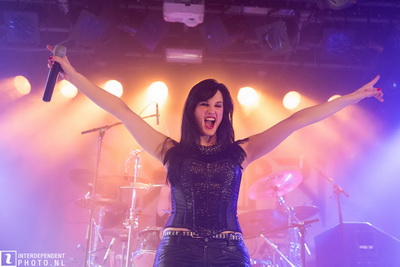 The album Medea is based on a Greek tragedy with quite some highs and lows (see for a more full description the review). That offers (the members of) Ex Libris more than sufficient opportunities to explore in the music. The show started with a 'recorded' intro that gave the (male) musicians the time to get on stage and when settled take over. At 'vocal time' Dianne came to the stage dressed in black. Although Ex Libris has also a lot of progressive rock elements, they are more dynamic on stage but definitely not over the top. Although Dianne has long(er) hair, she never does head banging. However her facial expressions are a show in itself. Her set of facial expressions is extraordinary, similar to her voice. Medea has as mentioned many highs and lows and with that also a wide variety of moods and emotions. Expression and voice are always aligned with the music and have added value.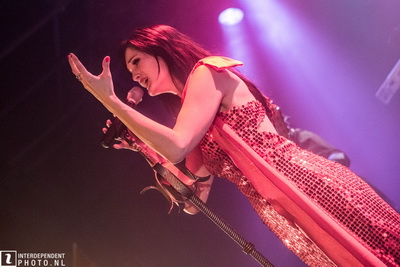 And yes, I know the vocalist always gets the most attention. That's why they are mostly called front man or front woman. For sure when it's someone like Dianne. In the middle part of the show she had changed to a very beautiful red dress (her Ex Libris color). That started a discussion which one was nicer.
Eelco is not in the front row but he's relevant for the band with his outstanding drums. Koen is also in the back hidden behind his keyboard and a little 'overlooked' by the lights, but his role is also important. In the front row Peter did his second great job and Paul proved that his excellent guitars is not just studio work. The total added to the great album an extra dimension.
Ex Lbiris is more than capable in performing the album live at the same level as the recorded version.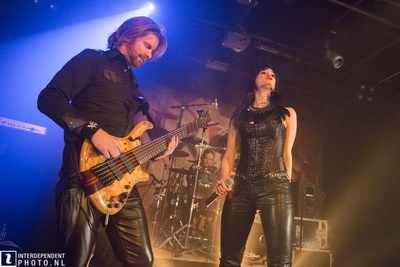 Set list:
Medea
Murderess in Me
On the Ocean's Command
My Dream I Dream
Song of Discord
A Mother's Lament
Daughter of Corinth
A Tale told ...
From Birth to Bloodshed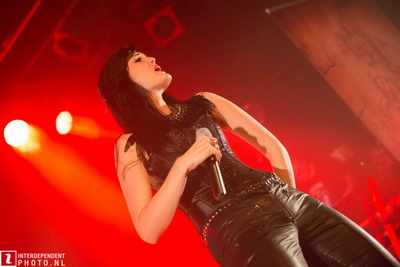 Photos: SC FaceBook page
Larger and different photos
At the after party there was sufficient time to have a drink and talk with the members of the bands and their support (though sadly the bar closed at Midnight). It was also good to see Ariën van Weesenbeek (Epica) talking with Eelco afterwards. All in all it was a great evening with excellent music and great people.
Luckily both gigs were filmed (with permission) by MarLeo Video and the footage in HD can be found on YouTube. An example (Intro - Medea):