Dead Man's Curse, Trillium & My Favorite Scar
@ 013 Kleine Zaal Tilburg (Netherlands)
Thursday 14 November 2013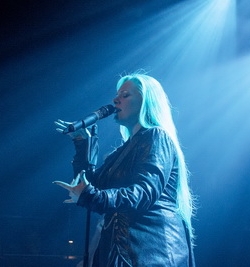 Tonight a well known name in the symphonic metal scene on stage in 013! Trillium is the band formed around Amanda Somerville, the American singer who worked with bands like After Forever, Epica, Kamelot and Avantasia. She toured as a substitute for Simone Simons with Epica in America but is also successful with her solo album Windows. In 2011 she founded Trillium to bring all her stage experience into an impressive mix of gothic, symphonic and progressive metal.
In recent years it has been hard to miss My Favorite Scar because they played as support for bands like Nickelback, Megadeth and Kiss The alternative dark rock of this Dutch band can easily measure up to big American rock bands like Alter Bridge and Shinedown.
These phrases were found in the promotion of the event at the venue's website. It was an interesting mix of styles in one gig. Alternative and progressive might be interchangeable, but symphonic metal and rock is not always a good combination for fans. 013 made it even more complex. The published time table had a disclaimer, as Trillium and My Favorite Scar are co-headlining, the order of the bands might change. In practice it worked out well. It was obvious that some of the visitors came for the more Metal (Trillium) and others definitely for Dark Rock (My Favorite Scar).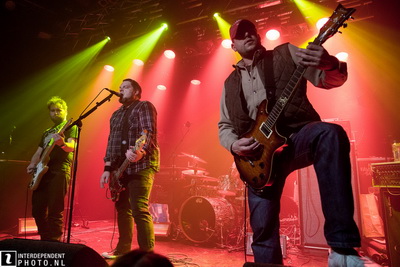 Before we got the headliners, the support was by Dead Man's Curse. In 2011 they played as support for Korn. Their music can be described as solid and infectious heavy rock, rooted in 90 's grunge. Using the experience from their previous bands, the four individuals decided to combine forces and formed Dead Man's Curse. As they say for themselves; "No fancy haircuts, no over-paid producers, no eye-liner. Just four guys that play heavy music.". The person you can't miss is Geert Kroes (vocals - bass) and he's supported by Mark Weerts (drums - vocals), Serve Olieslagers (guitar) and Jaap Lagerweij (guitar). Their show with straightforward heavy rock was a good appetizer for what was to come.
And yes, the line-up was changed. Trillium was up next. Amanda Somerville (vocals) was surrounded by a small set of excellent musicians: Paul Owsinski (guitar), Mark Burnash (bass) and Hans In't Zandt (drums). In one song Tom Pluijmaekers (drums) appeared on stage. The music was catchy and melodic but at the same time also dark and compelling metal. It was a good set appreciated by the audience. Trillium really animated the crowd with a dynamic interactive show. They played mostly songs from the album Alloy and two other songs.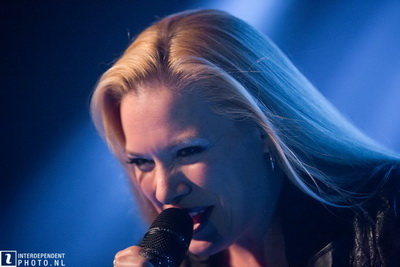 Starting with "Machine Gun" (the most popular Trillium song on Spotify) Amanda immediately set the standard. "Set a Fire" with dominant drums and clear singing set the crowd on fire. For those who are interested, ; a new Kiske/Somerville album was also announced during the tour. Midway through the concert, "Utter Descension" created a temporarily slowdown to prepare for the second part. Trillium closed with "Coward," a song with heavy riffs and clear vocals and interesting twists for all. A well balanced set that was appreciated.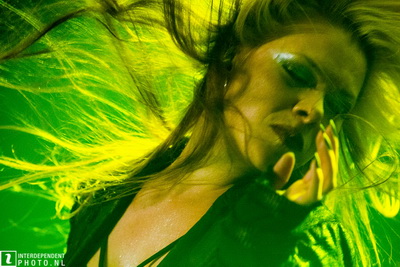 Set list:
Machine Gun
Mistaken
Set a Fire (from Kiske Somerville)
Utter Descension
Mayday (from Windows)
Purge
Bow to the Ego
Path of Least Resistance
Coward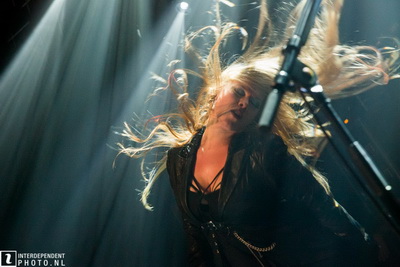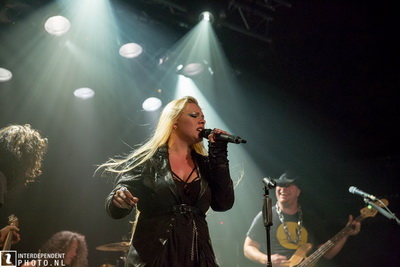 After Trillium it was time for My Favorite Scar. As mentioned earlier, some people came just for Amanda and didn't stay for the skilled Dutch band, and they missed a good show. The band is formed by Jeroen van Riet (vocals), Daan Janzing (guitar), Patrick de Kok (bass), Evan Reed (guitar). The regular drummer Roel van Helden was for a couple of gigs replaced by a well-known guest. This evening was the first time Martijn Peters (Stream of Passion) made his appearance. He did a great job.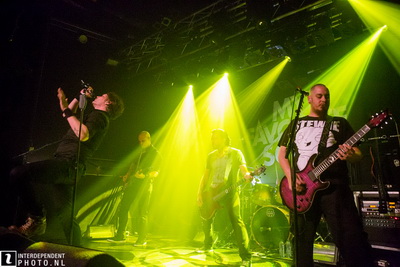 Most songs of the heavy set from My Favorite Scar were from the recent released album Wide Awake Part I (2013). The band calls the music Dark Rock but it can be named by the same token Dark Metal. With the opening "My Enemy" the scene is set and the most noticeable distinction is the singing; clear low/midrange vocals mixed with raw "screamy" type vocals. Different but fitting with the pounding drums and heavy riffs. Midway in this set was also 'a break' with the slower "It's Not Love". The Rihanna cover "Diamonds" was an intro to the a heavier last part. The show closed with the straightforward good sounding "Like a Loaded Gun," a title in sync with the opening song of Amanda.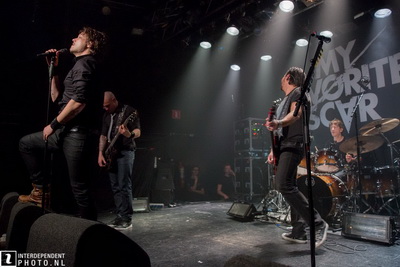 Some good recordings of next day's gig in ECI Cultuurfabriek (Roermond) are available on YouTube.
Set list:
(Intro)
My Enemy
Time to Wake Up
The Great Deceiver
Angel Eyes
It's Not Love
Diamonds (Rihanna cover)
Liberty is Dead (from My Favorite Scar)
What a Waste You Are
Like a loaded gun
After the show was sufficient time to have a drink and talk with the members of the bands. I was the lucky one who won the goody bag that was for people who promoted the event on Facebook. Included was the album Alloy. With the band present I could get it signed directly. The good and dynamic shows, the cozy and well sized stage area in 013 and the very informal open atmosphere afterwards made it a nice event for all, audience and musicians.