MFVF 11 – Music Review
Wieze, Belgium October 18 – 20
We covered some of the acts that performed at MFVF XI in another article that looked at some of the newer names. In this article, we'll take a look at the rest, there were a total of, well, depends on how you count them. There were actually 12 groups performing on Saturday, 10 on Sunday with Liv Kristine opening the event on Friday evening followed by individual performances by the Eve's Apples girls in small groups. So, in this article the Sonic Cathedral staff will talk about the rest of the performers.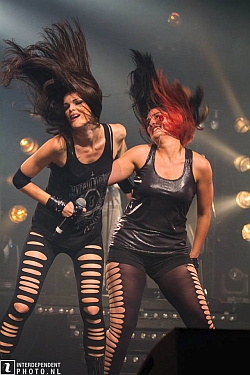 Clementine & Laura (Pictured)
John Thornburgh
Eve's Apples: Eve's Apple is/was an organization that promotes and supports female metal singers, but on the first night of MFVF XI, it also became a supergroup organized by Maxi Nil (of Visions of Atlantis and now Jaded Star). Twenty-one members of Eve's Apples (listed below in the set list) joined together for a fantastic performance of rock and metal classics, along with a full band of Greek metal musicians (also listed below). It was wonderful to start the festival with songs that have been part of life's soundtrack for both the musicians and the audience. The show also put more talent and charisma and gorgeousness on one stage than I've ever seen before.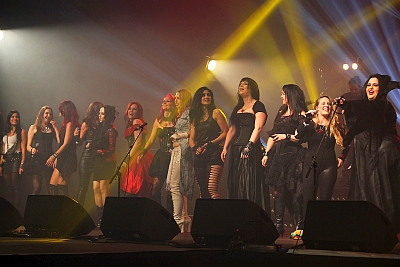 Pink-haired American VK Lynne (of Vita Nova) started the set off with a bang, singing Warrant's "Cherry Pie" with fellow American Mary Zimmer (of Luna Mortis) and German Lisa Middelhauve (of Lisa Middelhauve!). Next up was la belle française Clémentine Delauney (of Serenity) and stunning Chilean Laura Vargas (of Sacramento) performing "Burning" by Accept. After that came the first of two Black Sabbath classics, "N.I.B.," sung by Spartan warrior Karolina Pacan (of Skeptical Minds) and Greek Sanna Salou (of Dimlight). Sanna and Laura later retook the stage for "Rock You Like a Hurricane" – and they did – with Lindsay Schoolcraft (of Cradle of Filth) and Grace Méridan (of Candlelit). It was cool to see more North Americans on stage (Lindsay and Grace), and I must say being in Cradle of Filth seems to suit Lindsay very well; she borrowed her Cradle look for the Apples' show.
All of the songs are listed below, so I won't mention each one here, but they were all excellent. I loved every minute of the show. Perhaps the single best performance of the set was Marcela Bovio and Wisconsin's own Kassandra Novell's rendition of "Stargazer" by Rainbow. Dio has big shoes to fill, and they did him proud. They should really consider releasing this song. I was also very happy to hear two of my favorite bands included, Judas Priest and Iron Maiden, courtesy of Iliana Tsakiraki (Enemy of Reality), Mary Zimmer, Zuberoa Aznarez (Diabulus in Musica), Aylin Gimenez (Sirenia), and Heidi Parviainen (Dark Sarah). Also of note was "Paradise City" by Guns 'n Roses, performed by rocker Annamaria Cozza (of November 7) and the aptly named Angel Wolf-Black (of Seduce the Heaven). Stepping away from the world of metal and drawing inspiration from a pioneer in female rock, Charlotte Wessels (of Delain) did a fun rendition of Janis Joplin's "Mercedes Benz" with Maxi, Aylin, and Mariangela Themurtas (of Tristania). That song also paired the current vocalists of Sirenia and Tristania, foreshadowing some of the weekend's coming firsts.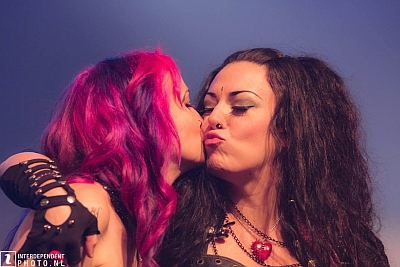 The set closed in spectacular fashion with all twenty-one Apples on stage, singing "All We Are" by Warlock and "Stars" by Dio (Hear 'n Aid). These songs were an inspired choice; the Apples sounded great together; and it was fun to see how much they love each other. MFVF couldn't have gotten off to a better start. I really hope they do this again next year!
Eve's Apple Setlist:
1.WARRANT-Cherry Pie -VK LYNNE-LISA MIDDELHAUVE-MARY ZIMMER
2.ACCEPT-Burning-CLEMENTINE DELAUNEY-LAURA VARGAS
3.BLACK SABBATH-NIB-KAROLINA PACAN-SANNA SALOU
4.THE WHO-Behind Blue Eyes-MARIANGELA THEMURTAS-MAXI NIL-CHARLOTTE WESSELS
5.LED ZEPELLIN-Whole Lotta Love-ANNAMARIA COZZA-SANNA SALOU
6.GUNS N ROSES-Paradise City-ANNAMARIA COZZA-ANGEL WOLF BLACK
7.JUDAS PRIEST- A Touch of Evil-ILIANA TSAKIRAKI-MARY ZIMMER
8.METALLICA-The Memory Remains-LISA MIDDELHAUVE-GRACE MERIDAN
9.WASP-Idol-MAXI NIL-VK LYNNE
10.SCORPIONS-Rock You Like a Hurricane-LAURA VARGAS-GRACE MERIDAN-SANNA SALOU-LINDSAY SCHOOLCRAFT
11.BLACK SABBATH-Solitude-HEIDI PARVIAINEN-ILIANA TSAKIRAKI-ZUBEROA AZNAREZ(playing the flute only)
12.RAINBOW-Stargazer-MARCELA BOVIO-KASSANDRA NOVELL
13.ALICE COOPER-Poison-CLEMENTINE DELAUNEY -VK LYNNE
14.LED ZEPELLIN-Rock n Roll-MAXI NIL-MARY ZIMMER
15.QUEEN-The Show Must Go On-ANGEL WOLF-BLACK-KAROLINA PACAN
16.IRON MAIDEN-Wasted Years-ZUBEROA AZNAREZ-AYLIN GIMENEZ-HEIDI PARVIAINEN
17.JANIS JOPLIN-Mercedes Benz-CHARLOTTE WESELS-MAXI NIL-MARIANGELA THEMURTAS-AYLIN GIMENEZ
18.WARLOCK-All We Are-ALL APPLES ON STAGE
19.DIO-Stars-ALL APPLES ON STAGE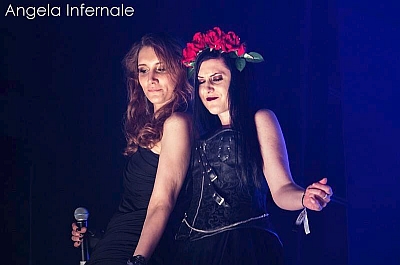 Eve's Apple band:
Jimmy Kats (The Silent Wedding, guitar)
Ilias Boozerman (Sorrowful Angels, bass)
Johnny Thermos (The Silent Wedding, keys)
Philip Stone (Enemy of Reality, drums)
Steelianos Amirides (Enemy of Reality, guitar)
Serenity: Serenity's best songs have often featured female guests vocalists, and with the addition of France's Clémentine Delauney as a permanent member this year, the Austrian band became eligible to play at MFVF for the first time. This was a win-win! Serenity's music is epic and melodic, with strong lead guitars, relentless rhythms, and soaring vocals. While not female himself, singer Georg Neuhauser has a beautiful, powerful voice that fans of female-fronted metal are apt to like. (In addition, I always tell people that Serenity is a must-listen for Kamelot fans.) Meanwhile, Clémentine has a gorgeous voice reminiscent of Sharon den Adel on The Silent Force. She adds a fantastic new element to Serenity's sound, as heard on their new album, War of Ages. I hope her role grows on the next album. She's also great fun to watch live: she has beauty, grace and energy to spare, and she's an awesome headbanger.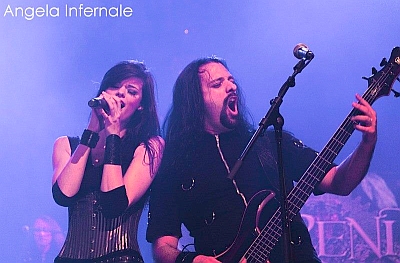 Doctor T
Liv Kristine: Liv actually played twice, once as the opening act on Friday night and then again on Saturday with Leaves Eyes. Busy girl, and she was backstage with the hooligans at Oktoberhallen a lot too. Her set Friday was different from Leaves Eyes material, maybe a bit more indie/rock in style. But, there are people who favor her solo material, I have several releases myself and find them quite enjoyable. But, with her voice, nothing sounds bad. Among the titles performed were "Paris, Paris" and a solid rendition of "Skintight". In addition, the crowd was treated to a fine rendition of some Theatre of Tragedy material, something not really expected. Titles included "Venus" and Image.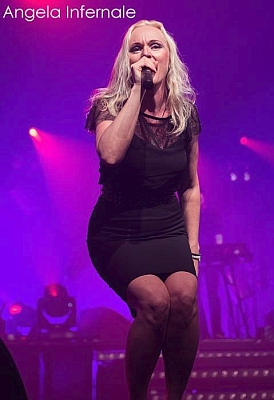 Imperia: Imperia, and the incomparable Helena Iren Michaelsen performed on Saturday afternoon. You know, there's typically not a lot of sex in this musical style. . . until Helena shows up on stage. She appeared in a skintight slinky black dress that did little to hide the curves, and then provided one of the more entertaining segments of Saturday's performances. This was the first time I ever saw Helena perform live and I expected a sexy, reserved performance. . . but that wasn't the way it happened. Helena, and her excellent band, performed several of their more popular tracks . . . and Helena exhibited as much energy on stage as anyone, jumping around and interacting with the crowd. And backstage, she was just as active, being one of the more heavily in-demand pictures for everyone who could get close, myself not included, unfortunately.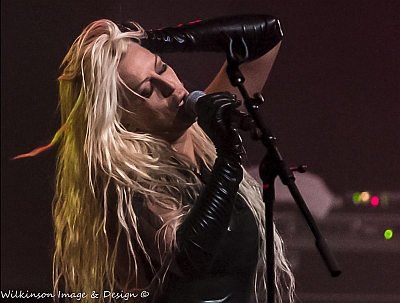 Asrai: Asrai was a last minute replacement for Visions of Atlantis once VOA notified festival personnel that they would not be able to perform. Fortunately, this group has been around for a while and have a wealth of material from which to draw. The focus is twin sisters Karen and Margriet Mol, one singing, the other handling drums. This is one of the more Gothic looking bands in the area, and their performance was everything I was expecting. The band also features a female keyboardist, who I found interesting as both a singer and in her primary role. I hadn't always heard the focus on her vocals on recordings. They played several tracks I've always enjoyed and clearly were crowd friendly. Solid Gothic.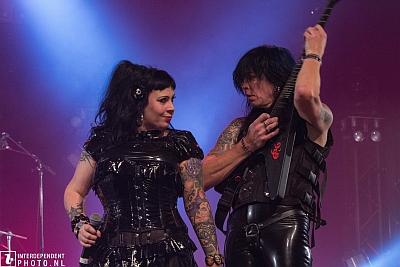 Kontrust: Kontrust is a favourite of several SonicCathedral folks, but I wasn't all that familiar with them myself before their performance. I'd seen their music video Bomba and was expecting a bunch of Germans from a beer hall, probably not my cup of tea. But, their actual performance was very different. This was a stage band; they put on a well-rehearsed floorshow to go with the music, which was driven by both a male and female vocalist. They even used stage props and tied the floorshow directly to the music, which was much better than I was expecting. It's interesting how we get perceptions about groups from limited exposure, and how those perceptions can be very incorrect.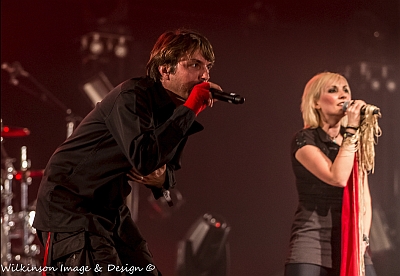 Leaves Eyes: This was one of the few bands I'd seen previously, in the US, so I was somewhat familiar with their live performance. And Leaves Eyes IS symphonic metal, everything you can want as well as it can be performed. They didn't disappoint. I didn't recognize all the material, much of it came from their next release (or is it out now), but there were certainly a few that everyone recognized including My Destiny performed by Liv and Alex. This bunch rarely leaves the crowd anything less than satisfied, and they were truly satisfied here.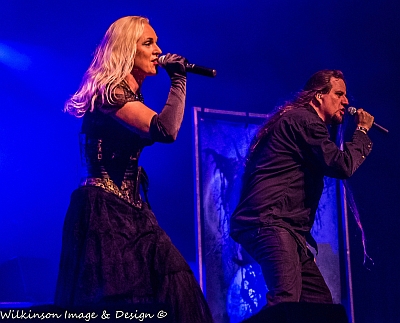 Lacuna Coil: Lacuna Coil was the final act on Saturday night. They've been around for a while, and they chose a relatively interesting approach for their performance, they played the entire Karmacode release from 2006. That was a big one so most people knew most of the music, which made singing along pretty easy. Some complained about technical issues relating to the lighting, I didn't notice since I was pretty much sitting in Cristina's lap happily snapping away. Of course, this late at night, with the amount of beer consumed, and the mass of humanity you had to fight to see the stage, I can't believe anyone actually was conscious enough to notice. They sure looked good to me, but I was in the bag.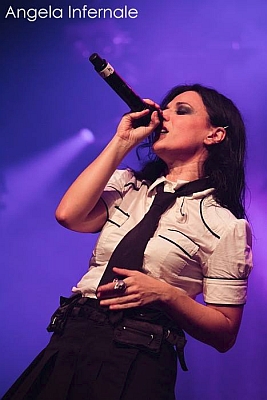 Hell City: This was an act I wasn't all that familiar with. But I did leave with one interesting impression. The band is a total metal act, with a vivacious Belgian front woman who ripped the crowd up with a passion. You wonder with an act like this if they're just playing a part and, if in person they're just regular folks. Well, I ran into them during one of my er, infrequent trips to the beer line and damn, they were just like they were on stage. Front woman Michelle Nivelle acted like we were old friends and was just as bouncy as she was on stage. That's not to say the lady can't be sultry, she can as she demonstrated on the entrance to Ice Cold Rage. Belgians are people you really want to party with, ain'a.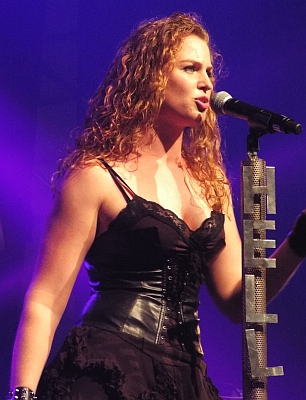 Cadaveria: There probably wasn't anyone I was more anxious to see then my favourite Italian. I've covered her CD releases, done interviews, listened to her music for a very long time. But, she's a videographer and most of her videos are productions, not live performances, so I had no idea what to expect. When she appeared on stage, it was a different breed of singer, total black, including a face veil. And, her performance was way beyond anything I could have expected, and I expected a lot. She had the crowd dancing and head banging with her mixture of clean and growling vocals. No one does it better, wish I had a video to point to but, take my word, this was a highlight. I had my picture taken with one performer, Cadaveria was it. And it's a good one.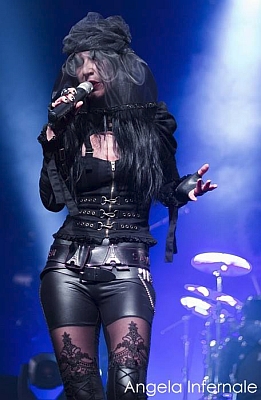 Anneka van Giersbergen: There are those of us who argue that this style of music originated largely with Anneka, back in her days with the Gathering. And she hasn't lost a step or a note since then. I think this was her first visit to MFVF, and a lot of people were looking forward to it, myself included although I'd seen her recently in Chicago. This is as professional an act as you can get, her music, her interaction with the crowd is unparalleled, although she sure sounded better than the crowd. Probably that cheep beer thing again. But, for those who hadn't seen her previously, she was everything you wanted. . . and more.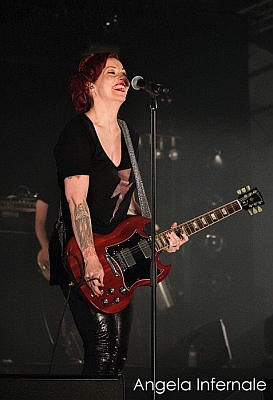 REVAMP: Well, you certainly didn't need much incentive to catch this part of the show. Floor Jensen's recent association with Nightwish only added to the interest but most people knew they were about to see one of the greatest voices in this genre. She didn't disappoint, and neither did the band. Floor appeared in a brilliant red dress and provided one of the most high energy presentations I've ever witnessed. She pranced through a variety of titles, interacted with a seriously responsive crowd and generally did what Floor Jensen has done her entire career. As the band closed out their set, the large crowd made it clear they were in no mood to say goodbye. . .. and their wishes were addressed in the not too distant future.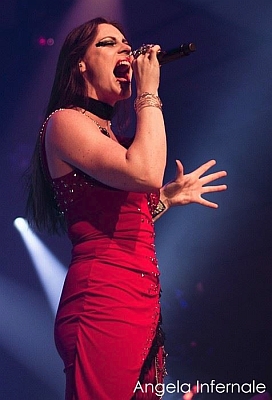 Tarja: Kind of hard to over emphasize the importance of Tarja. To put it into perspective, I shared a side of the stage during her performance with a number of Eve's Apples. . .and more than a few of them were in tears overcome with emotion. She was the headliner for a reason, and her performance closed out the show. The music was up to expectations, but those expectations were vastly exceeded when the former Nightwish singer was joined on stage with the present Nightwish singer. More than a few jaws dropped as Floor Jensen appeared dressed in black to join the diva on stage. The old and the new then joined forces in performing the old Gary Moore classic "Over the Hills and Far Away" a song more closely associated with Nightwish these days. As they embraced at the conclusion it seemed a fitting end to what had to be the finest of the 11 MFVF events to date.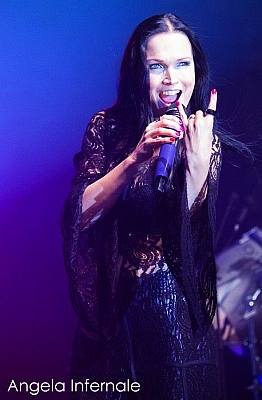 Robin Stryker
Stream of Passion: The word that comes to mind when thinking about Stream of Passion's set at MFVF is "tender". I am not even sure why. Bassist Johan van Stratum leaped and raced around the stage like a man possessed, the vibrations from the subwoofer cabinets were enough to rattle a filling loose, and it's not like the band chose to only play ballads. But still, the feeling of the show struck me as tender and rather intimate. Perhaps it was seeing tears streaming down the face of a certain Eve's Apple (who will go unnamed) which set the tone, but Marcela Bovio's voice carried a heart-stirring poignancy that I had not experienced with previous shows. Stream of Passion mostly played songs from The Flame Within and Darker Days with one (or perhaps two) songs from their 2005 album, Embrace The Storm. Alas, the set ended all too quickly, and we were jolted from our musical reverie back into the real world.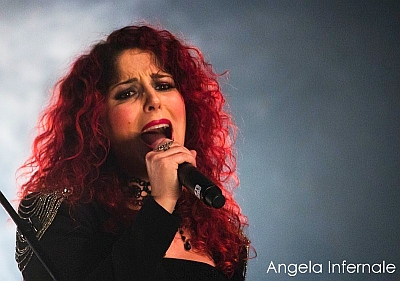 Delain: Delain was high on my list of must-see bands at MFVF, so I staked out a prime viewing spot in the side-stage area, amid a sea of Eve's Apple members. Because the band planned to use flash pots and pyrotechnics, this was one of the few shows where festival security would not allow us to stand at the foot of the stage. But no worries … we took our places a safe distance from the stage for Delain's 80-minute set. From the first notes of "Mother Machine" until the final bars of "We Are The Others", I was caught up in a maelstrom of wind-milling hair and a chorus of Apples singing along to every word. Looking out at the sea of faces, the audience was equally caught up in the show. Delain played a nice cross-section of songs from Lucidity, April Rain, We Are The Others and Interlude, but the show-stoppers were Charlotte Wessels' duet with Sharon den Adel (Within Temptation) on "No Compliance" and Sharon singing Within Temptation's "Restless". That, right there, was worth a plane ticket to Belgium!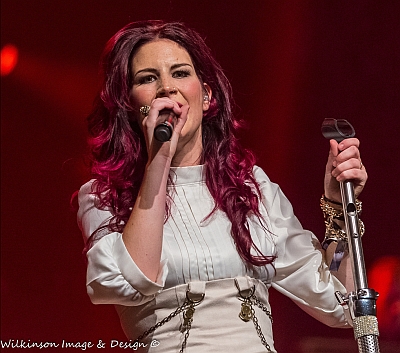 Kobra and the Lotus: Considering that the Canadian border is less than an hour away, there was something deliciously odd about flying all the way to Belgium to catch my first Kobra and the Lotus performance. I had been anxious to see KATL live, and they definitely did not disappoint! The band delivered a full-throttle show of anthemic songs off their self-titled album, including personal favorites "Welcome To My Funeral" (the song that hooked me on the band), "Sanctuary" and "50 Shades Of Evil". MFVF attendees also had the privilege of being the first to hear "Warhorse" off Kobra and the Lotus's upcoming album. (If all goes smoothly, fans can look forward to a new album in 2014.) Frontwoman, Kobra Paige, dominated the stage like a Fury crafted of leather and scorching metal, straight from a blast furnace. Hair flying, hands reaching, voice booming, Kobra urged the audience to abandon themselves to the fist-pumping music. And they did. Oh yes, they did!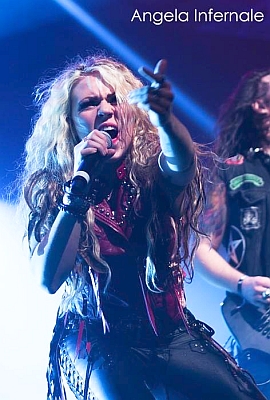 Well, there you have it. A lot of talent, a lot of entertainment, clearly worth every dime. And for those with VIP tickets, there was the added benefit of being backstage with the bands for a significant period of time, opportunities to meet, interact with and get to know some of the people we listen to on a regular basis. It's going to be hard to top this one next year, but we all have faith in Helcanen Val and her troops, so, see you at MFVF XII in 2014, Oktoberhallen.