Beyond God & Eve's Fall @ Podium 10
Bladel (Netherlands)
Friday 15 November 2013
In my review of the EP Dark Light of Dawn I wrote that I was looking forward to a live show of Beyond God. So I received an invitation from Ferry Guns for their first show. It was initially intended to be a public rehearsal but at the end it was scheduled as a real show. Eve's Fall was added as headliner for this gig.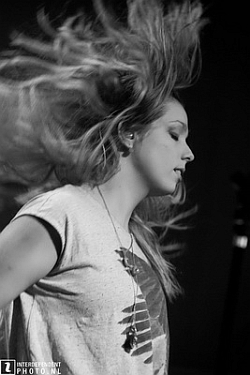 Podium 10 is a small cozy venue in a small village not too far from the Belgian border and close to my home town Eindhoven. It's great that every (little) place has at least one (small) venue for live performances. It opens quite some opportunities for (upcoming) bands like Beyond God. Because of the intense infrastructure of the Netherlands there a lot of those options. The downside is that there are also many shows and people are not that willing to travel for a show. Thus it gets fragmented and the number of visitors is sometimes very low.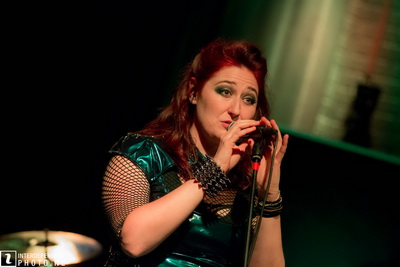 Anyway, for Beyond God and Eve's Fall there was a nice professional environment to play. Although it was a free concert, there were no queues to get in. The people present (including the members of the two bands) already had a good time before the show. It was nice to meet the bands upfront. I met Ferry Guns (drums) there and was able to talk a little about how things went and that they are looking forward to start playing. Cynthia Knoch (vocals) was relaxed and nervous at the same time. Although she's quite experienced in performing for a huge audience, being in a small venue with a new band that plays public for the first time … I already knew that Peter den Bakker (Ex Libris) who played bass on the EP preferred to focus on Ex Libris and other activities and was replaced by Lukasz Kubaszak (bass). It was nice that Peter was present to support the band at their first show. Another VIP guest was Dianne van Giersbergen (Ex Libris, Xandria). To complete the band: Twan Smolders (guitar).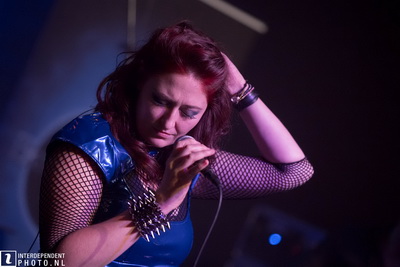 If you're in a local place in Brabant (the state Bladel is in), it almost always starts 15 to 20 minutes late (het Brabants kwartiertje – Brabant's quarter). And yes, this was the case here as well. The show started with a usual intro. As it was a small venue Cynthia was waiting next to the stage and came onto the stage during the intro. Because of the overall setting we already had seen her in her nice stage dress, that surprise moment wasn't there. The first song was as you might expect the opening song of the EP "Destination Darkness". It sounded live more impressive and mature then on the EP. Cynthia's voice can be warm, clear and sensitive and has a wide reach. Her performance at that song was great. In the beginning the band was a little static and 'uncomfortable' on stage but that improved during the set. After two new songs, "Sail Away" and "Send A Child", the second song of the EP "Memories" was played. It's hard to recall songs you hear for the first time, but "Memories" was not new for me and I liked the live version. After the cover "Viva la vida" (Coldplay) Beyond God continued with "Sonambula", "Prince Creep" and "Ghost Ships". The final song was "Passion" from the EP. Now the band played more confidently and that also impacted the passion that was brought into that song. Cynthia impressed with her excellent voice and her animated facial expressions The orchestration (computer) sounded great but doesn't bring action on stage. As said in the review, adding some real up-tempo songs would bring more action in the show. The band showed their potential and can look back to a good first public performance.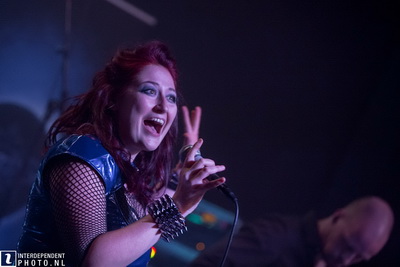 Now Eve's Fall was on. Eve's Fall present a catchy and accessible mix of hard, modern metal with strong influences from pop-music. They have clearly more experience performing. The way they solved some small technical inconveniences was very professional. The catchy up-tempo music also makes it easier to bring action on stage. Add to that the very active (sometimes hyperactive in a good way) Liesbeth Cordia (vocals) and the show becomes very energetic. The band: Bart Limburg (guitar), Johan van Heusden (guitar), Jeroen Gahrmann (bass) and Josha Nuis (drums).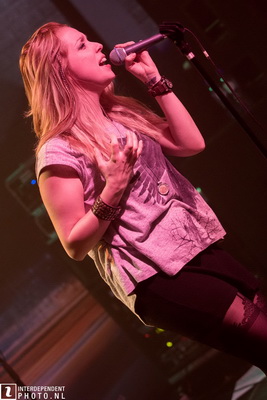 Eve's Fall have released in 2013 a full album From Here On. The fresh and varied sound is a product of the different musical backgrounds of the members. I'm not sure about the influence of Ad Sluijter (ex-Epica) who joined on two tracks ("Her Absence" and "Long Forgotten") on the album. When doing my homework, another name was mentioned on the album; Myrthe van Beest (Magion) was involved with the lyrics of "Reflection".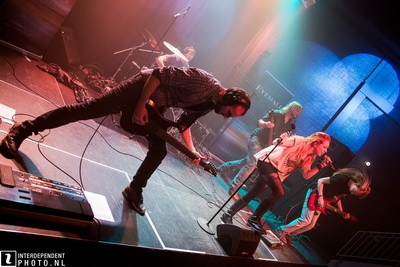 All songs performed at the show were from the album. The set list: "Her Absence", "The Spiral", "No Compassion", "Enough!", "Log Forgotten", "Flawless" and "In Denial".
The set was chosen very well. The nice and clear voice of Liesbeth fit well to the slower melodic parts as well to the heavy riffs. Good examples are "the Spiral" and my favorite "In Denial". The other members of the band had their part in the energetic show.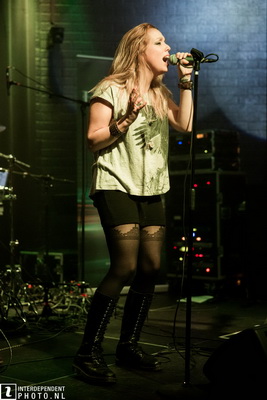 After the show was sufficient time to have a drink and talk with the band members. This very informal open atmosphere made it a nice event for all, audience and musicians. Looking forward to see how both bands will evolve. Both have already announced upcoming gigs.