Metanoia Gothic Symphony Rio de Janeiro (Brazil)
When in Rio de Janeiro for work, I thought it might be interesting to look for a Metal concert to experience the Brazilian way. And a (nice) adventure it became. The metal scene in Rio (and in Brazil) is quite small and my "work" friends over there were not that familiar in the scene. So requesting upfront for options didn't bring any suggestions. When in Rio I did some searches on the web. There I found a Facebook link to Metanoia Gothic Symphony. When checking on the bands, they appeared to be all three female fronted. A match too good to be true. OK, taking into account the FB likes they were definitely local bands. Anyway, I could start my adventure. As you might know, Rio has some less safe areas. When asking some information about the location of the event at work, almost all people I asked started to look very worried. My Brazilian friend (organizing the conference/workshop I was attending) said it was better not to go. My experiences with metal heads are very positive until now, why should it be different over here. So it contacted Joab Farias, who had created the FB event. He confirmed that it was close to a less safe area (Favela) but when you would act carefully it should be safe. With the hotel I arranged a reliable taxi driver that would bring me, guide me in and pick me up and bring me back. With that plan, my friends were less worried but still recommended that I not go. But I'm happy I did.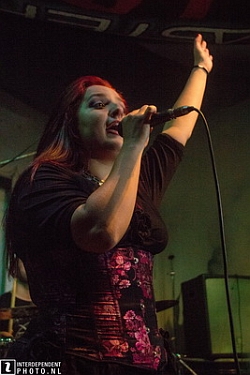 Metanoina (Underground) is a venue in Bonsucesso, quite outside the touristic area. It's a small, nice and totally differently decorated location than what you will find in Europe. According to European Standards it was not that well equipped. Speakers were located on (oil) drums and some connectors looked like home-made. But with some small inconveniences and quite some delay with the sound check (also because bands arriving late) all was working. I'm not sure how many people there were but my guess is 150 to 200 people. And what was very nice, it looked like a family reunion. Everybody greeted and /or hugged when arriving. I don't speak Portuguese and was clearly not part of their community; still quite some people came to me to shake hands. Conversation was limited because not many people were capable of speaking English but a few tried. It might be interesting to check out the Metanoia Underground website and FB page to get to know more on their background.
Metanoia Gothic Symphony was a free event with three bands; Revengin (Brazil), Mysttica and Eternyx. Also surprising, the preparation of all three bands was quite minimal. The instrumentalists prepared during sound check and I was not aware of any preparation of the singers if you ignore the half song that was done to complete the sound check. When not on stage, band members mingled under the audience.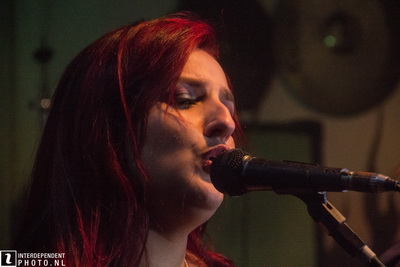 Revengin opened the festival later because there were some challenges with power and connection options. When it all worked, the show started. Front woman Bruna Rocha (vocals) has a good voice for the mid and high range. In the low end (grunts) she was supported by Thiago Contrera (guitars) and Hugo Bhering (drums). Other band members are: Pedro Henrique França (bass) and Diego Silva (keyboards). Revengin played mostly songs from their album Cymatics released in 2012. I got the album as a present from the band and I'm very happy with it. It's in my car audio since I'm back from Brazil. And I spend quite some time in my car. It's a very well balanced album with surprisingly a kind of familiar sound. A raw melodic mix of very varied parts keeps your attention. If they wouldn't have played two covers at the gig, it would have left me guessing why I felt this familiarity. With them playing the After Forever cover "Monolith of Doubt" I knew. I hope that they will be able to play at some point under more optimal conditions because the music deserves it.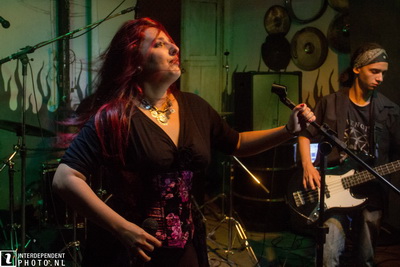 Set list:
Nine Chains of Sorrow
Beyond the Existence
Accident of Birth (Bruce Dickinson)
The Lost First One
Capricorn
Monolith of Doubt (After Forever)
Minerva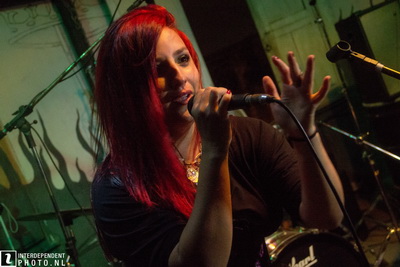 The second band was Mysttica. They position themselves as a doom / death / gothic band. The band was struggling a bit with the conditions. Bia Coutinho (vocal) had some challenges to get into the right balance with the music. The band was also unlucky because Vivi Alves (keyboards) was not able to join this gig. The present members Bia, Johnny Dower (bass, vocals), Leon Brand (guitar, vocals) and Andrew Cosme (drums) offered the crowd a show where drums played a dominant role. Bia takes care of the high end singing and Johnny and Leon for the grunts. Except some not really good clips on YouTube I couldn't find any way to recall their music. Set list: Ballet of the Souls, My last Breath Vital, Castle of the Ambitions, Empire of the Sun, Delirium and Gates of Hell.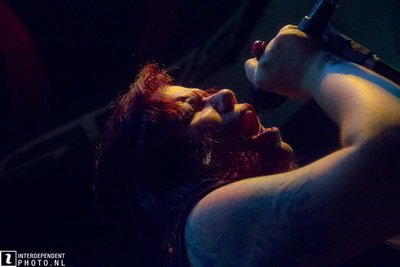 Now it was time for the third and last band; Eternyx. For sure it had the most fans in the audience. Both ladies, Aline Vandrack (vocals) and Luana Braga (bass) were quite popular. To make the band complete, the other members were Vinícius Detoni (guitar), Júlio César (keyboards) and Léo Birigui (drums).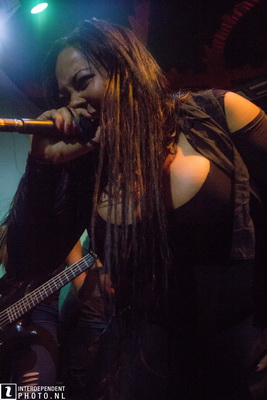 Eternyx brought a very lively show and the interaction with some fans was sometimes a little bit hilarious (to our/my standards) but here I assume it was the Brazilian way. All songs were from the recently released album Unknown Way (I got a free copy from the www.eternyx.net). The songs composed by Luana have a varied musical structure with sufficient space for the instrumentalists. Drums, guitar and keyboard and challenge each other is the songs for the lead. With this it's not really predictable and keeps you interested what would come next. The drums, on stage by Léo (not mentioned on the album), were a solid base for the up-tempo (part of) the songs. Júlio supported the symphonic flavor and Vinícius added interesting riffs and solos. The voice of Aline did not match my assumed expectations, since she didn't go operatic. However, her strong raw metallic voice was in balance with the songs. The fans in the venue reacted very enthusiastically to the show. The band hardly needed to invite the audience to participate.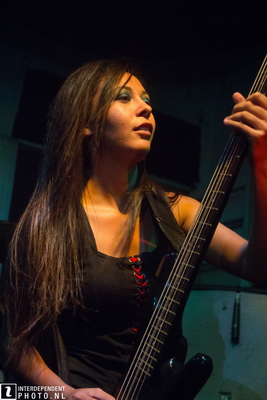 Due to all technical issues and other delays, I missed the last two songs of the Eternyx set. My taxi driver arrived at the agreed upon time and didn't wanted to stay there longer than needed so I had to go and had almost no possibilities of saying goodbye to my new friends. Set list: Lake of Tears, Death Angel, Facing my Fears, Traveling through my Madness, Unknown Way, Everybody wants to go back Home, Independently of You and Walking to Death.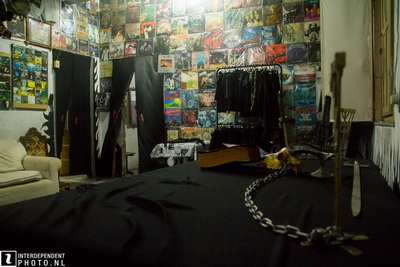 Returned to my hotel in a "safer" part of Rio I could look back on an adventurous trip to a metal concert with interesting local bands. I experienced the local Brazilian way of enjoying a concert and made quite some new friends / contacts in Brazil. A well spent evening with Revengin as a nice discovery.