Live-report: Tristania @Lyon France(10/11/2013)
Tristania are currently on tour with Dark Tranquility to promote their latest album Darkest White, and came to Lyon for the first time on November 11, 2013. I had the opportunity to see them three times in 2011 during the Out of the Dark Tour, but it's always a pleasure to see them playing in your hometown, in particular when a new release is out.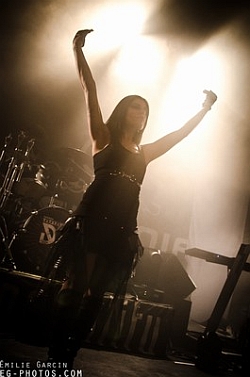 Darkest White was generally speaking warmly welcomed by reviewers and the audience, and I also love this album. Then I couldn't wait to see them playing songs from it.
The first song played that night was "Number", directly taken from Darkest White. Tristania immediately livened things up with dark and troubling grunts by guitarist Anders Høyvik Hidle, who then gave way to vocalist Mariangela Demurtas later in the song. Walking and jumping in rhythm with the music, she also stood beside the other musicians from time to time to headbang and move with them. Mariangela thanked the audience in French between two songs, which always made people glad to hear.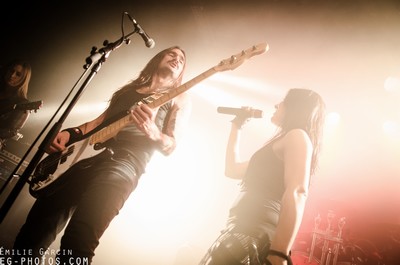 Tristania played ten songs that night. Half of them were taken from the Darkest White album, three songs were from their previous album Rubicon, and the three other ones were big classics: "Beyond the Veil", "Mercyside" and "The Shinning Path", which was also the last song of the set. As announced a few days before the concert, we were also delighted and lucky to see Virginie Goncalves from Kells as a special guest for the song "Exile" (Kells went on tour with Tristania in 2012), who interpretted the song in a great way, alternating verses and choruses with Mariangela.
One of my favourite songs from Darkest White, Darkest White (same title as the album), was also played - Mariangela left the stage at that moment to give way to Kjetil and Anders. Clean voices and grunts alternately followed each other in a perfect harmony. Together Mariangela, Kjetil and Anders were very complementary, each singer providing their part respectively, which gives a very interesting dimension to Tristania: each voice has its own personality, all of them bringing a different dimension to the songs, as it was the case with my favourite Tristania song "Beyond the Veil" for example - as Mariangela's voice softens the atmosphere, Kjetil brings a kind of deep and frightening side until Anders breaks the glass with his growls and grunts. He was also regularly accompanied by bass played Ole Vistnes who also does backing vocals from time to time.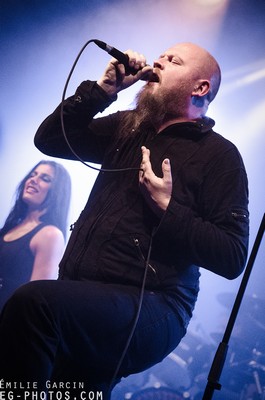 The audience apparently loved Tristania. Most of people were raising their hands, moving them along the music, and I even saw people doing a moshpit, this was quite impressive. To sum up, Tristania put on a fantastic show. Mariangela is a very versatile singer and is a worthy successor to Vibeke. A pity they didn't play a longer set, but I really hope that next time they'll play as headliner so there will be even more of their music to enjoy.
Setlist:
Number
Night on Earth
Himmelfall
Exile
Beyond the Veil
Mercyside
Requiem
Darkest White
Year of the Rat
The Shining Path