Kells @Towerfest, Violay
28/09/2013
Almost one year after I went on tour with Kells as their merchandiser, I finally attended again one of their shows. For those who have never heard about them, Kells are a French Metal band that have released three albums so far, the last one being Anachromie, which was released in Janurary 2012. Since that moment, Kells toured a lot in many cities to promote it, and the current tour is the final one since they're already working on their fourth album.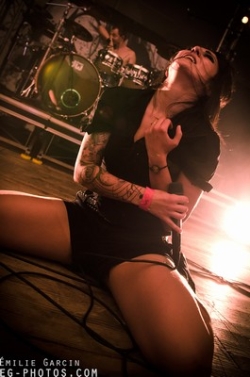 That night, Kells were playing as headliners in a festival in Violay: Towerfest. The show started quite late in the night – midnight – but the audience had stayed to see them. The four other bands that played before were all male-fronted Metal bands that I had never heard of before.
The first song that was played was "Bleu", which is also the first song of the album Anachromie. One of my favorite songs: when it starts, the little charming notes give you the impression that you're going to listen to a beautiful and childish ballad, until you heard the first percussions. Then the musicians came to the stage, followed by vocalist Virginie. And from the first seconds, she starts moving and headbanging, as if she was possessed by each note of the lyrics that she sings (therefore taking photos of her is always a real challenge!).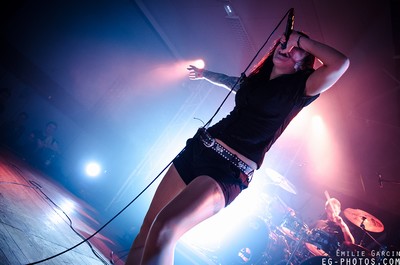 Something incredible is that she doesn't sing one bad note while she moves. She's also able to alternate sreams, grunts and melodic voices without any difficulty as we could hear in "Se Taire" or "L'heure que le Temps va Figer" for example. Meanwhile, melodic but violent guitars go along with her, while the bass maintains a constant and deep rhythm.
Another strong point of Kells is the abundant interactions between the members. While Virginie sings and looks at the audience, guitarist Pat and bassist Laurent go side by side and even near drummer Kevin to exchange smiles and fun. The guys and especially Virginie also communicate a lot with their fans, giving them their hands and singing while looking at them in the eyes.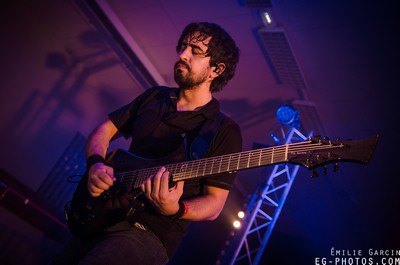 As I said earlier, Kells are working on the fourth album and already have some songs composed and ready. And that's how they started playing an unknown song called "Sommeil Infini". Well, it's hard to describe a song that almost nobody has ever heard before, but from what I remember, the chorus in particular is very melodic and is still in my head. It seems that the audience enjoyed it a lot too, always asking for more and more songs.
Most of the Anachromie songs were played that night: "Le Manège Déchanté", "Addictions", "L'autre Rive", "Emmurés" etc… A drum solo was also performed with verve by Kevin Plutta in the middle of the set. The audience was very enthusiast and responsive to his efforts, and cheered loudly at the end of the solo. Then after a few songs came "La Sphère" (which features Candice (ex-Eths) in the studio version), a rousing song for a delighted and crazy audience – a boy near me was even standing on his knees, saying to Virginie that he was nothing compared to her. This was really funny and the band loved it.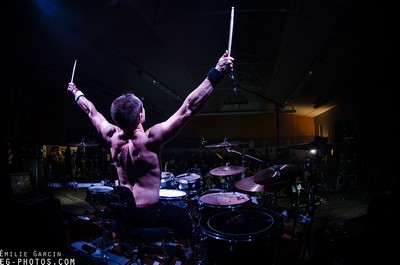 Then the last song "Lueur" started. Really? Did I say the last song? Well, that's what everybody believed, even me. I especially love this song performed in live since Virginie tells everyone to sit down repeating "assis, assis, assis, assis" ("sit down, sit down, sit down, sit down") while the other musicians wait until the very last person is at ground… Then and suddenly, she tells everybody to stand up and jump, which creates a great mass of energy. And of course the whole band does the same. I always enjoy this moment.
While everybody believed that the concert was over, Kells had a last surprise: another song from their upcoming album, which is called "Irrationnelle". A song that features screams and melodic voices and that is of course and as always sung in French.
(photo 5)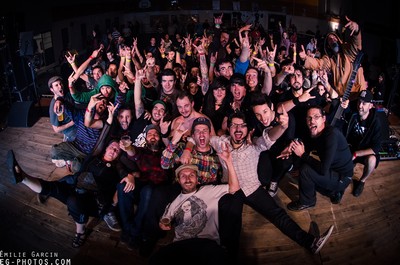 In the end, I definitely had the impression that the audience was one of the best audiences that I had ever seen at a concert of Kells. Even after this very last song people continued applauding and asking for more songs. But well, it was almost 1:30 a.m., and sadly every good thing comes to an end. And what a good thing. I definitely enjoyed this concert even though I would have liked to hear "L'écho", the ballad of Anachromie that I love. Anyway, the setlist was very good and Kells played about an hour and ten minutes. They're one of the very few modern Metal / Metalcore bands that I really love, they manage to mix melodies, low and high grows with clear and melodic voices, which is probably what makes them so special.
Setlist
Intro
Bleu
Se Taire
Illusion d'une Aire
L'heure que le Temps va Figer
Le Manège Déchanté
Sommeil Infini
Addictions
Drums solo
L'autre Rive
Nuances
L'Asphalte
Emmurés
La Spère
Lueurs
----
Irrationnelle