Delain North American Tour + Kamelot & Eklipse
Written by John Thornburgh, C., Sara Letourneau, Max Levites, and Ron Garman
September 31, 2013
Since so many of the Sonic Cathedral staff were able to attend the epic North American tour of Kamelot, Delain, and Eklipse, we thought it would be fun to write a live report combining our various perspectives and adventures…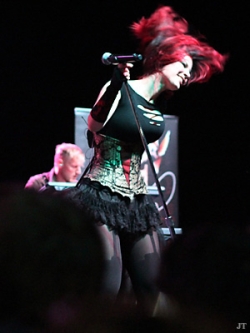 Ron (Baltimore, September 3): The Soundstage in Baltimore was treated to an evening of music presented by Kamelot, Delain, and Eklipse. After the Meet and Greet with Kamelot, we were treated to the last part of Eklipse's sound check. Eklipse, the lovely quartet of ladies from Berlin opened the concert with Massive Attack's "Teardrops on Fire." Their presentation was lively, full of energy, and well received. Other songs performed included Adele's "Set Fire to the Rain," "Cry Me A River," and "Assassin's Creed." The intricate parts played by the ladies wove around a pre-recorded rhythm track. I could really appreciate Eklipse's music considering my background in music.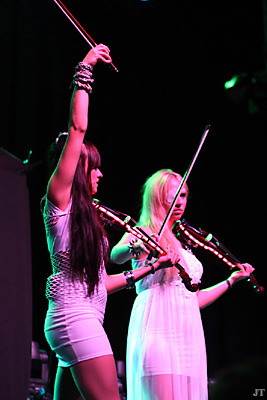 After a short break, it was time for Delain to take the stage. While waiting for Delain, I had the opportunity to talk with the winner of Delain's Street Team contest for the Baltimore concert. Delain performed an awesome set including a variety of songs from their previous albums Lucidity, April Rain, as well as songs from We Are the Others. The group was energetic and Charlotte displayed her great voice and led the crowd in much jumping, fist pumping and head banging. Delain ended their part of the concert with "We Are the Others," my favorite Delain song for now. The crowd was a definite participant during this song and most of the songs performed. At the end as they took their bows, you could definitely see that Charlotte was pleased with the response of the crowd.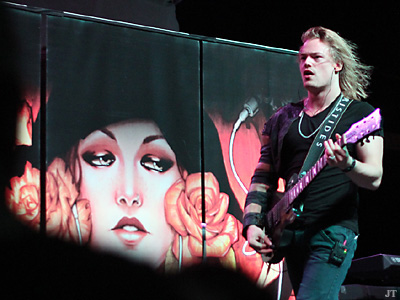 Kamelot, the main act for the night performed a variety of songs from their albums, especially their last album "Silverthorn." This was my first time to see Kamelot with their new lead singer Tommy Karevik. Also featured at times during the concert was Alissa White-Gluz, whom I had the honor of meeting during the Meet and Greet. The show was full of energy with Tommy leading the crowd in a lot of jumping, singing, and fist pumping. Alissa held her own vocally in her parts with several costume changes. The added bonus for the evening included Eklipse performing on stage on "My Confession" and Miss E and Helena performing with drums on "March of Mephisto." What also made the song special was seeing Viola run by me with a camera so that she could take pictures of Miss E and Helena on stage. The crowd was really appreciative of the performances and many hung around, (me included), to meet Eklipse and Delain. What an evening!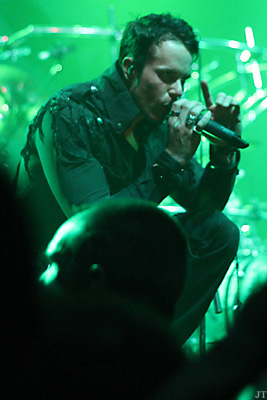 Max (Philadelphia September 5): "Cool, Kamelot's coming!" I thought when I first heard the tour announcement. Then I looked closer at the poster and looked at the opening bands. Delain! I was so ecstatic I actually fell out of my chair, and seconds later, I'd already bought my VIP ticket. This was in March by the way. Six months later, I met up with fellow SC writer Justin Boyer and we stood in line at the Trocadero barely containing our excitement for the show. Eklipse was first, and though they're not metal, their orchestral interpretations of popular songs and the slight gothic touch they add to them were not at all unpleasant.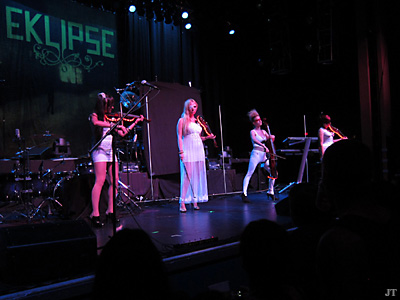 But I was ready for Delain, and though neither keyboardist Martijn nor drummer Sander were there to join the band's first show in Philly, the band was still able to blow me (and the rest of the crowd) out of the water! I'm not even exaggerating when I say they stole the show. Charlotte was exactly on point with her vocals, as were Timo and Otto on their respective instruments, and the band's stage presence was absolutely captivating.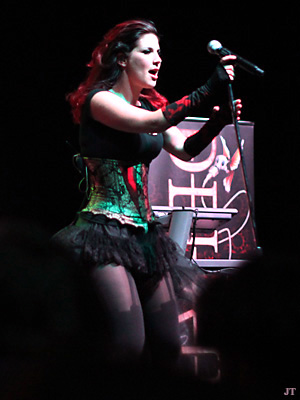 Kamelot was, of course, as fantastic a live band as expected. It was not my first Kamelot show, but even so, they put on a great performance. Tommy sang his heart out, his voice so full of emotion and power that it gave me goosebumps, while the rest of the band did everything they could to work the crowd, not that the crowd needed any help. It seemed as if everyone in the venue, bands and audience, enjoyed themselves immensely that night. I couldn't think of a better lineup, and I hope both bands come back again soon!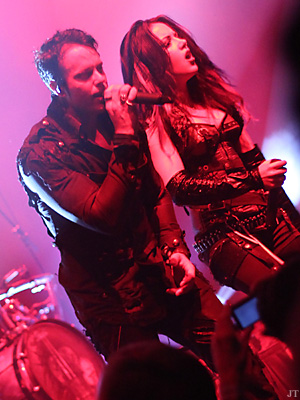 Sara (Worcester, September 7): I'd been thrilled for months about seeing the Kamelot's North American tour with Delain and Eklipse. This lineup was like a dream come true for fans of melodic metal on this side of the Atlantic – that's how rarely we get them! And the September 7th show in Worcester, Massachusetts proved to be a magical night. Eklipse took the stage first and wowed the sold-out Palladium crowd with their eye-catching outfits, LED-lit string instruments, and intricately arranged cover songs. The melancholy and cinematic beauty of their music fit in very well with the heavier acts that came later on. I enjoyed Eklipse's set so much that, when it ended, I bought a copy of the quartet's debut CD A Night In Strings.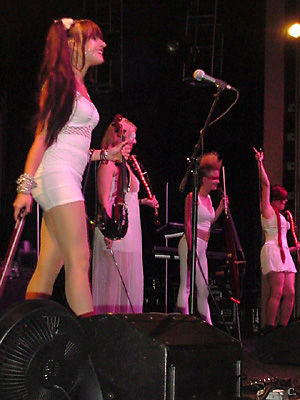 Delain came next, and although I'm not a huge fan of their music I was pleasantly surprised by their performance. The entire band, especially singer Charlotte Wessels, brought a ton of energy and enthusiasm to their 45-minute set, which consisted mostly of songs from their past two albums April Rain and We Are The Others. The audience's response? Wild cheers, singalongs, and shouts of "When are you coming back?!"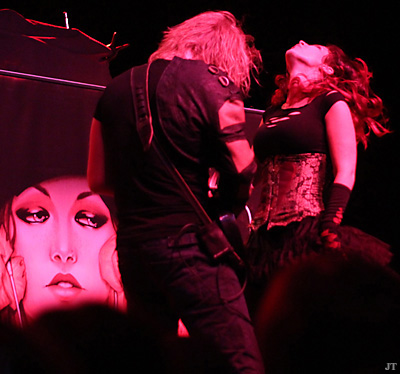 All that paled in comparison, however, to the fever pitch that peaked when Kamelot entered the room. The band played an exciting mix of fan favorites, "dusted off" classics that hadn't been played in a while, and songs from their most recently album Silverthorn. What makes Kamelot such a great live act, though, is that its members are entertainers as well as musicians. They constantly interact with the crowd and with their own bandmates during their shows. And their use of special guests (Charlotte during "Sacrimony") and backing vocalists in costume (Agonist frontwoman Alissa White-Gluz) adds a theatrical touch. The only (minor) disappointment of the night was that Eklipse didn't come out to play with Kamelot for "My Confession," as they had on other nights of the tour. It might have been due to the small stage size of the Palladium's upstairs venue. And with the show sold out two nights beforehand, it can mean only one thing: Let's get Kamelot to the larger downstairs venue next time!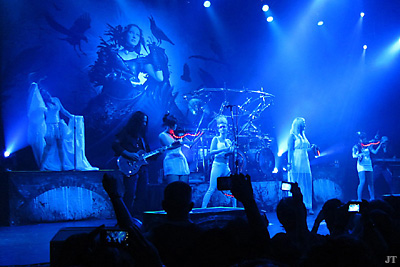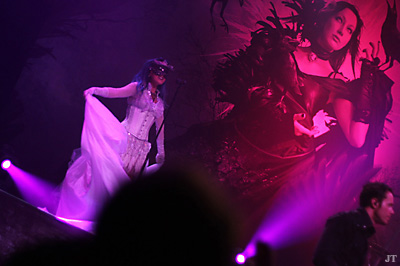 C. (Anaheim, September 21): Eklipse: I was extremely impressed by this band. They have a very subdued yet powerful stage presence; "less is more" is the best way to describe their performance. There is little more than the 4 of them dressed in matching colors, with their respective violins/cellos. They have just as much punch as a metal band; putting a classical music twist on pop music favorites, from '80s staples like "Sweet Dreams", or modern-day hits like "Cry me a River". Anyone who is a fan of strong females in music, or of symphonic/classical elements in music should put Eklipse on your concert "to-do" list.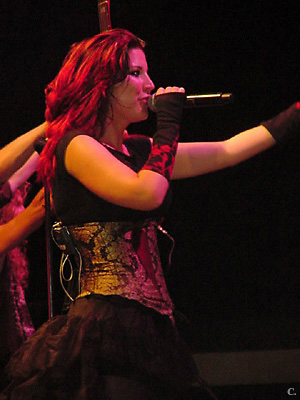 Delain: I've been a fan of Delain since the first album, but I had long since resorted to the idea that they'd be another of the many European bands that I'd never get the chance to see live. So when I heard they were opening for Kamelot, I knew I had to take the opportunity; because who knows if they will ever get another chance to come back? They were worth the long wait! They sound just as tight and polished as on the studio albums, yet there is a raw energy and spontaneity that only a live show can capture. I'd even go so far as to say that Charlotte's voice is even more powerful in the live shows than on their studio recordings; her vocals so clear and strong I would not be surprised if they could be heard down the street! The rest of the band was just as energetic during the entire 10-song set; lots of jumping around, headbanging, and running across the stage throughout. Getting to hear Delain classics like "Sleepwalkers Dream" and "The Gathering", along with newer favorites like "We Are the Others" and "Electricity" was a real treat. After Kamelot's set, Delain met with fans outside in the lobby area; where all of them were very friendly and willing to talk with fans, sign autographs, and take pictures. It was during this time that Martijn mentioned that Delain will be returning to the States, but does not know as of yet when that will be. I think it's safe to say they will experience quite the warm welcome from their U.S. fans when they do return!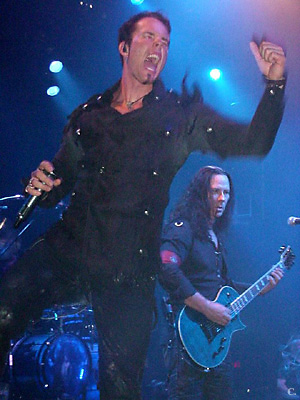 Kamelot: What can I say about Kamelot that hasn't already been said? This was my third time seeing them (twice last year opening for Nightwish); yet my first chance to see them as a headliner. To be able to witness the full scope of what their shows as opening acts hinted at, it was quite the experience! Is it possible that Tommy Karevik sounds even *better* now than he did then? Probably, because he's had another year with Kamelot under his belt since then, and even though he's still being introduced as such, he's far from being "the new guy" now! Not to mention that on this tour, the setlist contained more songs from the latest album, Silverthorn (last year, the album was not officially released yet, so they'd only performed the single "Sacrimony"). Alissa White-Gluz took over the singing duties previously performed by Amaranthe vocalist Elize Ryd, and Alissa's clean vocals were just as lovely as her guttural voice is fierce. Eklipse joined the band onstage for the song "My Confession", and the two bands showed the audience just what "symphonic metal" is all about! However, for me, the highlight of the show was getting to hear my all-time favorite Kamelot song, "EdenEcho". I think I left a part of my heart somewhere at the Grove when the opening notes of that song hit, and then Tommy took that song to levels previously unknown when he hit the most impressive high notes in the bridge. I think for me, Kamelot is going to become one of those bands that I will want to see every single time they come to my neck of the woods, and with any luck, that will mean many more times to come!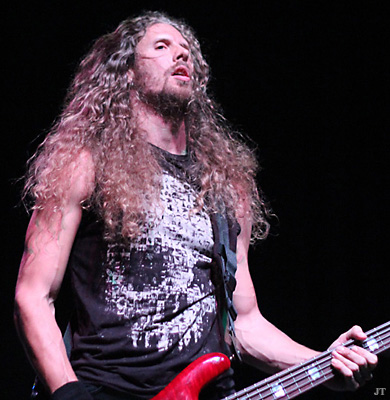 John (Anaheim, September 21): Delain's first Southern California concert was amazing and awesome. I have seen Delain twice in Europe (see reviews here and here), and once in Atlanta (at their first U.S. concert, ProgPower USA), but I couldn't wait for their first U.S. tour! They didn't disappoint. Charlotte sang to perfection, and was full of energy and charm, as always. She really got the crowd moving, even though I'm sure many of them were there for headliner Kamelot. Charlotte also remains one of the best headbangers around -- moving passionately and joyfully, with a smile on her face. And I loved her beautiful and flirty dress, which reminded me of a line from Delain's new song, "Breathe on Me": "Trying to stay cool as I'm approaching you; hitching up my skirt, as I start to flirt." Meanwhile, Timo and Otto sounded great on guitar and bass, and I enjoyed their synchronized headbanging and encounters with Charlotte. I was also very happy that Martijn was able to join the tour before Anaheim; his keys define Delain's music, and his intense playing is fun to watch. Kudos also to guest drummer Ruben Israel filling in for Sander Zoer, who is awaiting a child. Ruben sounded great, but I did miss Delain's usual double bass drums.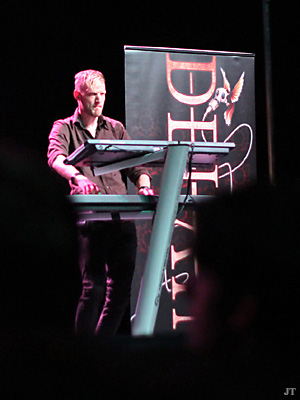 Delain was not able to play as many songs as when they headline, but they were given a good amount of time. "Mother Machine" made for a dramatic start, and "Not Enough" was perfect toward the end, both for its title and intensity. Other highlights included "The Gathering" and "We Are the Others." If time had permitted, I would have liked to hear more from Lucidity ("Sever," "Frozen," or my favorite "Pristine"), and it would have been nice to insert a ballad amidst all the high-energy songs, both to show off Charlotte's voice and to create a sense of contrast. But choices had to be made. Hopefully Delain will come back soon as a headliner!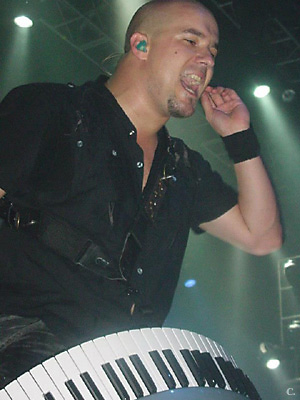 After the show, it was really cool that the whole band came into the venue lobby to meet fans, give autographs, and take pictures. You can tell that Delain is a band that really cares about its fans. And of course I was happy and impressed that they remembered that they last saw me in Lelystad, The Netherlands, last Spring!
I also want to say a few words about headliner Kamelot and opening band Eklipse. Kamelot put on an amazing, high energy show. Tommy is just perfect as Kamelot's new singer, in terms of both voice and presence, old songs and new. Meanwhile, Thomas was a guitar virtuoso as always; Sean was a madman on bass; and it was fun to see Coen Jansen of Epica filling in for Oliver on keys while the latter is off having a baby with Simone Simons. Alissa White-Gluz (of The Agonist) also did a fantastic job as Kamelot's guest female vocalist. She is most famous for her growls, which she used to great effect in "March of Mephisto," but she also sang throughout the set with a beautiful and powerful clean voice. Finally, I also quite enjoyed German string quartet Eklipse, who opened the concert. Their music is mellower than what I usually listen to, but their performance was dramatic and edgy. It was also cool that they retook the stage with Kamelot to play "My Confession" as they do in Kamelot's epic video.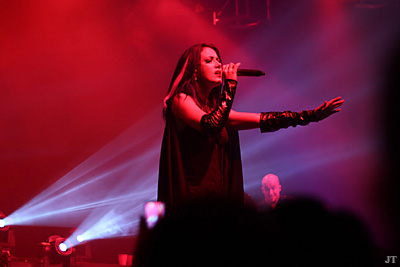 All in all, it was amazing night, and I was very happy to share some favorite European music with my California friends.
Anaheim Setlist:
Eklipse
Teardrops
Assassins Creed
Set Fire to the Rain
Where the Wild Roses Grow
Cry Me a River
You Spin Me Right Round
Sweet Dreams
Delain
Mother Machine
Go Away
Get the Devil Out of Me
Virtue and Vice
Electricity
Invidia
Sleepwalkers Dream
Not Enough
The Gathering
We Are the Others
Kamelot
Rule the World
Torn
The Great Pandemonium
Veritas
Center of the Universe
The Human Stain
Song for Jolee
EdenEcho
Drum Solo
When the Lights are Down
Sacrimony (Angel of Afterlife)
My Confession (with Eklipse)
Keyboard Solo
Forever
(Encore)
Bass Solo
Ghost Opera
Karma
March of Mephisto