Dame Nation - Metal and Apples
Reggies, Chicago - Photo Credits: Eric Sales
August 15, 2013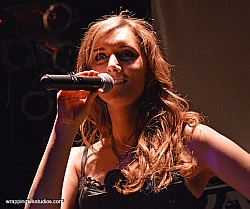 2 Part Article:
Kassandra Novell -
The green room at Reggie's was hot and humid, and it's hard to say whether that was due to the climate or the irresistible sex appeal (a-peel, har har har) that my Eve's Apple Sisters naturally carry with them everywhere. Before any of us took the stage, we spent a little time together in the basement green room rehearsing our Eve's set which was due to hit the stage at 9:20 p.m. I'll let someone else review the Eve's Apple performance.
Melissa Ferlaak with Plague of Stars was compelling to watch. I'd never seen Melissa perform before other than at MFVF X when she joined Zuberoa with Diabulus In Musica for a song. This time I had the pleasure of watching her prowl the stage with her own band. She has an enthralling stage presence and her brothers up there made it a great first-exposure. I could eat her voice and be full for a week. Grace Méridan (Candlelit) even joined them for a song titled "In The Pines." Grace and Melissa played off of each other exceptionally well. I especially enjoyed Melissa's sassy stares at Grace. If anyone wonders what makes a good singer, they'd do well to watch Melissa. It's more than just a stellar voice, it's definitely attitude, and her cup runneth over.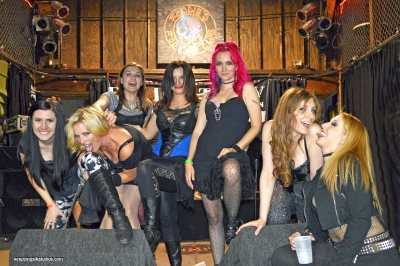 Luna Mortis headlined the event. This was a bittersweet performance as it was Luna's last show. I've been a huge Mary Zimmer fan since The Ottoman Empire days, and a part of my early years with my first metal band was spent sharing the stage with them. Mary, of course, owned the stage with power and conviction. Everyone's playing was, as they say, "dead nuts." Finding two finer guitarists (Cory Scheider and Brian Koenig) in the same band would be a challenge akin to, IMO, finding the Holy Grail. Their drummer Adam Maltby was a recent addition brought in for their two final farewell shows. He's an incredibly pro and positive performer and this music seems to be in his blood from how natural his playing was. Chad Novell, their newest member, joined shortly after Jacob Bare publicly announced his sudden decision to depart. You wouldn't have guessed Chad had only three weeks to prepare for Dame-Nation V by his energy or his agility around the technical writing of the LM tunes.
I count myself blessed to be among those monster singers in Eve's Apple, and to know their talented musical brothers by them. I'd highly recommend attending Dame-Nation VI… I wonder who will be on the bill next year?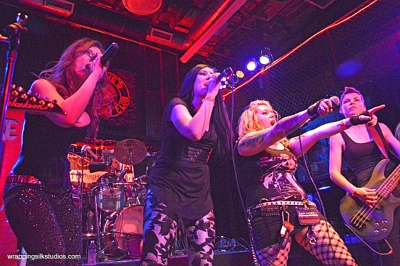 Doctor T -
The Journey Towards a New Beginning was a really two events, in more ways than one. First, there were two stages with different bands appearing on each. And second, although there were some really interesting bands on the scene, there was an equally interesting number of Eve's Apples. And sometimes, the two groups were on stage together in different combinations. When they weren't, they were buying yours truly beers, so I'm a little hazy on everything that occurred, but I'll give it my best.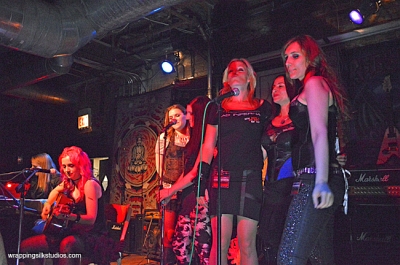 Like I said, there were actually two stages, each one hosted by an Apple. The stages included:
The Music Joint Stage (from beginning to end)
Killtherobotsdead
Genotype
Expired Empire
Eve's Apple (Lindsay, Grace, Mary, VK, Aziza, Kassandra, and Melissa)
Scarlet Canary
Reggie's Rock Club Stage (from beginning to end)
False Hope Fades
Plague of Stars
Phosphene
Deadmanswake
Luna Mortis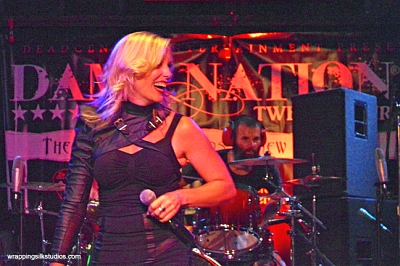 There were a variety of styles, some metal, some harsh metal, some beautiful metal. . and some REALLY lovely talent. Some of these bands were a little young, but others, Plague of Stars and Luna Mortis especially, were vets. But there were some other solid performances. Scarlet Canary looked good and I enjoyed Killtherobotsdead. Expired Empire was more traditional Chicago and False Hope Fades was definitely not, although they were more than a little entertaining. Phosphene demonstrated some interesting musical combinations and a solid vocalist, Expired Empire and Genotype provide energy.
But, what I will remember most were the Apples. They didn't spend months rehearsing this event, either among themselves or with the other bands they performed with so it would have been easy to expect the occasional disaster. Never happened. The girls made it look easy and they damn sure had fun doing it. This may be the biggest congregation of Apples this side of MFVF so it was a significant gathering of talent. The participating ladies included Mary Zimmer, VK Lynne, Lindsay Schoolcraft, Melissa Ferlaak, Grace Meridan, Aziza Poggi (Aria Flame) and Kassandra Novell (The Mill Dogs).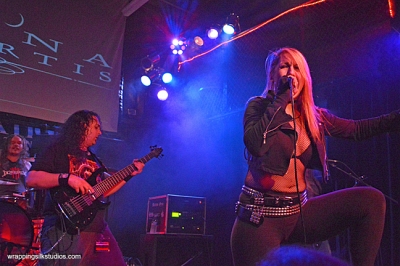 Of course the evening was more than just the lady vocalists. This was Chicago and they've known their guitars in Chicago for a long time. There were a bunch of them performing there this night. Maybe the most impressive, IMO, was the afore mentioned Chad Novell on bass for Luna Mortis who shook the building like a small nuclear device. And yes, he is the significant other of Kassi. I've known him for a while now, never before heard him perform. What a sound.
Beyond Luna Mortis, I'd have to agree with Kassi that Plague of Stars, with their dynamic lead vocalist Melissa Ferlaak were the clear highlights. Melissa seemed to be on stage pretty regularly and, if you like Femme Metal, you never tire of a talent like that. She rocked the house and provided a stage presence that is hard to describe. A class act, one of the best.