Seven Kingdoms – Live at JB McGinnes
New Castle, DE
8/15/13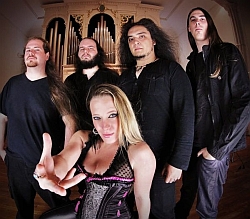 Nobody ever plays in Delaware. Dela-where? (Sorry, had to.) Stuck between the more lucrative scenes of Baltimore and Philadelphia, there's usually no reason to. So imagine my surprise when Seven Kingdoms, a power metal act from Florida, announced a gig in a small pub in New Castle, just down the road, and on top of that, they'd be supported by two other local female-fronted metal acts. Obviously, I jumped at the chance, and drove the short distance to JB McGinnes, ordered myself some $1 tacos and a beer, and prepared for a night of great metal.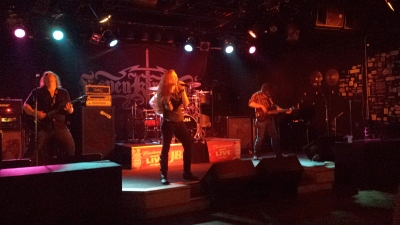 First up was MindMaze, a 4-piece from Allentown, PA who've garnered significant interest among the staff here at Sonic Cathedral. Playing a mix of classic, power, and progressive metal, MindMaze dove into their set and rocked like there were far more than twenty people in the crowd (what'd you expect? This is Delaware…). Vocalist Sarah jumped around the stage, hitting those Halfordian high-notes and banging her head, engaging the crowd, while her brother Jeff played some killer solos on the guitar. They definitely seemed like they were having a lot of fun performing, even for the small audience, as they played through songs off their debut album Mask of Lies. Overall, they put on an excellent show, and I look forward to seeing them again!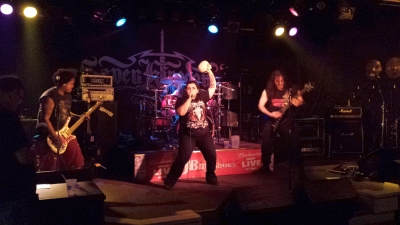 After MindMaze was a band called Old Man Savage, a male-fronted band from south Jersey. They weren't bad, but not very memorable. I was, however, interested to see the next band, Infernal Opera, another local Pennsylvania band who I've actually never heard of, but I'm always interested to see what local female-fronted metal sounds like. I was not disappointed! Their occult-flavored style of metal was energetic, and lead singer Volpe brought the theatrical element to the show, starting and ending the set dressed in a hooded cloak and generally gesturing wildly with the music. On one song she even brought out a skull (appropriately named Jorik) to wave around while she sang, growled, and belted high notes, demonstrating impressive versatility. Alas, poor Jorik. Had he been alive he would've definitely enjoyed this show.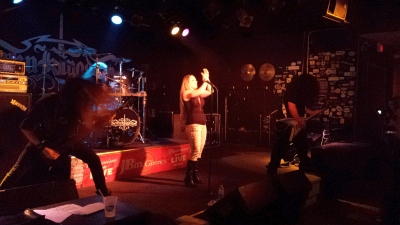 It was already past 11 pm, and finally it was time for Seven Kingdoms. The band dove straight into "After the Fall," Sabrina dancing around the stage and banging her head along with her fellow musicians. The set was full of epic solos, powerful vocals, and lots of headbanging, and even the small crowd filled the bar with energy. The set was mostly comprised of songs from their new album, The Fire is Mine, but ended it with two songs off of their self-titled album. I'd say I was sad to see their set end, but it was so late that I was definitely ready to go home. Still, it was an enjoyable night of great metal. Who knew this area had such great talent!