M'era Luna Festival Review
August 10th & 11th, 2013 Hildesheim, Niedersachsen, Germany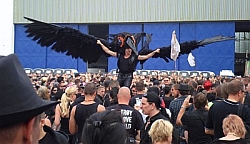 "Where is Waldo" is usually a pretty difficult game to play, but imagine putting Waldo into a crowd of people where everyone else is dressed in black. That may seem like a rather unlikely scenario, but once a year exactly this happens at M'era Luna in Hildesheim, Germany (minus Waldo). Though not a Metal festival, it offers a good deal of Metal and related genres, along with a variety of electronic styles. This year the festival sold out with about 25,000 visitors, beating its own record of around 24,000 in 2010. Just like in the past years there were not only bands to watch but also numerous of other treats: Fashion shows, club nights, a medieval market/village, readings and signing sessions left nothing to be desired. And once you hear who was headlining this year's fest you'll realize why attendance was obligatory: Nightwish made this their very last show before going into hibernation mode.
Molllust
M'era Luna is not particularly known for having a lot of female fronted bands. That's why I was in for a surprise when the band opening the festival did in fact have a female singer. Molllust from Leipzig, Germany won a newcomer contest to play M'era Luna, and they describe their own style as Opera Metal. Given vocalist Janika's voice quality this description is definitely accurate, but it is still quite misleading. If you simply expect Metal music with an operatic voice, then you've been lead down the garden path, because their music is significantly more than that. Instead of using symphonic elements, i. e. orchestral arrangements, they have a cello and a violin live on stage, along with a piano. The latter is played by Janika while singing, which is quite an unusual sight on stage.
They solved their problem of having a slot of only 20 minutes by cutting down some of their songs to fit in an extra one. The overall impression they made was definitely decent. For a band whose first release was not even a year ago they were well attuned to each other (musically and performance-wise) and without the additional research I wouldn't have noticed they are such a young band. There are of course a few things that leave room for improvement, but they seem quite capable of achieving this. It should be interesting to see them again, maybe in another year's time.
Molllust Setlist (Thanks to Janika of Molllust for providing this)
1. Tanz des Feuers
2. Sternennacht (slightly shortened)
3. Ave (shortened)
4. Spiegelsee
5. Alptraum
Desdemona
This is definitely not a new name here on Sonic Cathedral, but it was totally new to me. With their Industrial Metal they may represent a minority within the Female Fronted Metal scene, but for M'era Luna they were a perfect fit. Their music is extremely danceable, a definite plus at this festival, and heavy at the same time, making them walk the line between Goth and Metal music. This type of music is actually rather common in Germany, and a lot of similar artists were playing M'era Luna this year. What is not so usual is to have this musical style with female vocals, which was a welcome change for me and probably for quite a lot of other people as well, judging from the reactions the band got.
Singer Agnieszka sweeps over the stage like a little, bright red storm, while the guys rock their instruments, creating an extremely dynamic performance that quickly infected the crowd. Even with all the dancing, jumping, and headbanging Agnieszka was still in full command of her strong voice throughout the set. Then, the band had not one, but two very special treats and ingenious promotion ploys in store for the audience during the last song, "XXX". They had someone hand out an entire box of "Bring In All" single CDs. And they were gone quickly. Meanwhile Agnieszka came off stage and took a little walk through the crowd, which made quite the culmination of an energetic set that should have brought the band a lot of new fans.
Desdemona Setlist (Thanks to the band for providing this)
1. In Flames
2. Devil's Game
3. Bring In All
4. Poison
5. Rush
6. Jealous Sky
7. Euphoria
8. XXX
Nightwish
I have a confession to make: Back in 2005, when Nightwish parted ways with Tarja Turunen, my first thought was that I wanted Floor Jansen to join the band. There was just one problem: She was still in After Forever, and I definitely didn't want them to split (we probably all know how that ended). And even though I was a fan of Anette Olzon I have to admit that Nightwish is now more complete to me than they ever were before, including Tarja's times. That being said, this performance was a really happy and a really sad one for me. I was happy to see them with Floor for the first time (I have no explanation for the delay), but at the same time it was their very last show for an unspecified period of time. They concluded their 1.5 year tour this very night, and announced they would now go hide in a cottage that might as well sink to the center of the earth. Something tells me they're not planning in resurfacing any time soon.
As it was a festival set they played only 12 songs, which is about two thirds of their usual set length. But that was one selection of songs (see below)! As the very last band of the festival they were highly anticipated, and the infield was packed. The intro had a good deal of the crowd screaming and clapping already (something you can't take for granted at festivals), and when they kicked off their set with "Dark Chest Of Wonders" an outburst of headbanging followed. They continued with "Wish I Had An Angel". The combination of these two opening songs reminded me very much of the Once tour back in 2005. Up next was "She Is My Sin", a song that I would never have expected. Marco commented on this unusual occurrence by explaining that the new face (Floor) was going to sing some old shit now. This was not the only gold dropped throughout the show. Both Floor and Marco impressed with their German, Floor with her counting skills (1-2-3), and Marco with a tongue in cheek comment on how he knew how to say 'I love you', which unfortunately turned into 'Ich liebe Wurst' (I love sausage). Using it as a transition by asking whether you could say that to a girl or if it was "Romanticide" may not have been the smoothest thing to do, but he shall be forgiven.
It is safe to say that this show's setlist was a best-of-Nightwish, with a few songs missing. While "Everdream", "Nemo", and "Bless The Child" made it on the list and left everyone breathless, other songs such as "Wishmaster" or "Slaying The Dreamer" didn't make the cut. This setlist was probably still the one with the most drive that they ever played. With absolutely no ballads or drags in between this set was like a roller coaster ride for all senses. They had almost their complete stage setup, with the big screen in the back and the flames and fireworks. If the visual impression wasn't enough to send your mind to system overload, Floor's voice took you to ever new heights and left you in complete disbelief. Add Emppu's guitar solos and imagine the final product. They ended with (quote Marco) "The Last Ride Of The Tour", which made you realize the finality of this last piece. While they were playing the song a light, soothing rain (get it?) started trickling down on the crowd with drops glistening in the stage lights. The band took their leave of the audience to "Imaginaerum"(song), and on their way to the backstage area they were accompanied by screaming and clapping that only started to die down when the stage techs came to clean up.
Nightwish Setlist:
1. Dark Chest Of Wonders
2. Wish I Had An Angel
3. She Is My Sin
4. Everdream
5. Storytime
6. I Want My Tears Back
7. Nemo
8. Bless The Child
9. Romanticide
10. Amaranth
11. Ghost Love Score
12. Last Ride Of The Day
13. Imaginareum (Outro)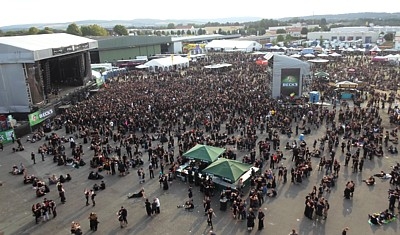 With this very emotional moment this year's M'era Luna festival ended for me. As this is usually the last festival of the season for me, I always anticipate it with mixed feelings. It is always sad to see the festival season go, but it is also nice to end it with a bang, which M'era Luna most certainly is. This year it was another great experience with amazing bands, great shopping opportunities, and a loads of entertainment in general. Some bands have already been confirmed for next year, and so far the lineup is looking pretty good with Faun, And One, Letzte Instanz, and more. Count me in!