Fantastyval Wouwse Plantage (Netherland)
Saturday 13 July 2013


If you've never been to a fantasy festival, I only can recommend you to go to one if you have the opportunity, especially something like Fantastyval. The name is chosen very well, and includes elements of all it wants to achieve; Fantasy oriented, with tasty food when staying the whole day and a festival with good music for all on two stages. The music on the small stage (het Boomcafé - The Tree Café) is folk oriented. The Wouw Stage is more symphonic oriented. This is not that strange if you know that Elly Stolk organizes the festival in the tradition of the late Wim Stolk, a fantasy writer and initiator of the band Maryson, which played symphonic rock based on his books Master Magician. I can recommend checking out the albums Master Magician and On Goes the Quest. When I had a chat with Marcela Bovio (Stream of Passion) the week before, I also found out that SoP played twice at Fantastyval (2009 and 2011).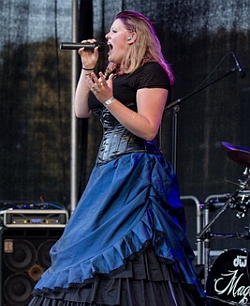 On Saturday the festival started in the morning, too early for me. When I arrived, Kelten zonder Grenzen (Celts without Frontiers) played Balfolk Music. I'm not an expert in this type of music, but it inspired people to start dancing (free-style and what they told me was Balfolk). I used the time before the next band for strolling around and using the opportunity to make some nice pictures of the people at Fantastyval. A great number of people were dressed up referring to various fantasy themes. It's impressive how much time people spend creating their beautiful costumes.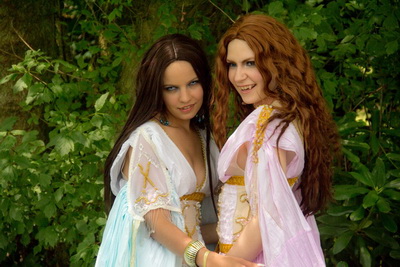 The two young Dracula Princesses (winners of the Saturday Costume Competition) made their dresses themselves based on some examples they saw in movies and on the web. Other types of costumes were steampunk, knights and warriors, Lord of the Rings characters, etc. The venue, Wouwse Plantage, an estate with beautiful old buildings and trees, fit the atmosphere perfectly. And the weather was excellent, sunny and warm until late in the evening.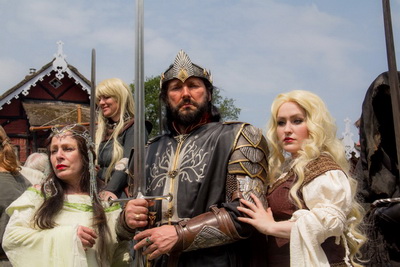 More and larger photos of Fantastyval
The next band that played on the Wouw stage was a local symphonic rock band called MaxiFusion. They played an interesting set with their own compositions. The name of the band fit nicely with the music. It 's symphonic referring to mythology in the lyrics, but overall a fusion of pop, rock, folk and metal. The lineup of this female-fronted band was Lynn Gees (vocals), Manon van de Winkel (guitar), François Verschueren (drums), Jack Reinieren (bass) and Stefan Oome (keyboards). The attractive voice of Lynn, the symphonic keyboard, rocky drums and bass with the melodic guitar made it an enjoyable show.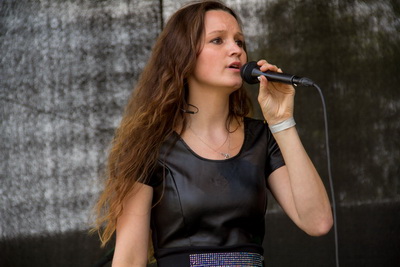 More and larger photos of MaxiFusion
The British folk band The Wild Geese and the Dutch symphonic rock band Ice filled up the period to the main course, Magion. I also used the time to sample the tasty part of the festival just like a lot of nicely dressed people with costumes that had some similarity with the dress of the vocalist of Magion.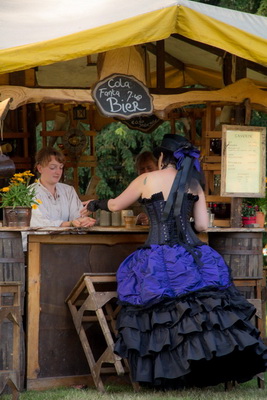 Before the show I also had an opportunity to talk a little bit with Joop de Rooij (Keyboards) and Nienke Verboom (vocals). We talked about music, shows and of course about Myrthe van Beest (Vocals). Nienke is replacing Myrthe on this gig because of her pregnancy. It's too close now to do a show. But, as we talked about Metal Female Voices Fest in October, Myrthe will be back on stage there. Magion is eager to play at MFVF XI although they are scheduled early and do have limited time. It gives an opportunity to be there, and being an early starter sets the standard. Nienke is a back-up if needed, and would love be at MFVF (also with her band MindShade); nevertheless she hopes Myrthe is really able to perform at MFVF because that will be a highlight for Magion. Joop was pretty sure that Nienke would do a good job based on the rehearsals. In the meantime there will be no gigs for Magion; their focus is on a second album.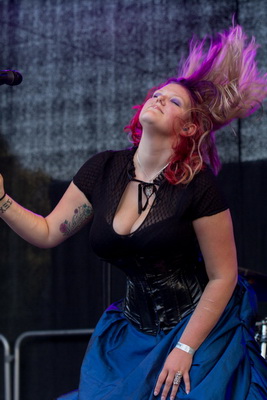 A little bit after 8PM the closing show of Fantastval's first day started. The male band members entered the stage: Joop de Rooij (keyboards), Arjen van der Toorn (guitars), Chris Vrij (guitars), Menno Bruggeling (bass) and David de Waal (drums). The opening song was the instrumental "Tabula Rasa", also the opening song of the album Close to Eternity. Then Nienke appeared to complete the band in a dress that matched Fantastyval to open with "Thirteen", the second song the album. Although a little bit nervous after a good start Nienke got more confident and made a very good performance. She is of course different than Myrthe but the match with the band was great . Then the show went on with two unreleased songs, "Untrue" and "Ever and a Day". These songs gave a good impression of what is to come on the new album. In line with the first album, symphonic keyboards, pounding drums, strong vocal lines and both aggressive and melodic guitar riffs.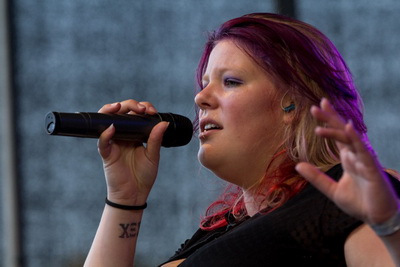 The sound engineers did a good job; the sound was great. As Fantastyval is also a family event, after a long day it was not that crowed anymore. But Nienke invited everybody to come closer and to make a party. And it became a party.
The show went on with two songs of the album "War of Hearts" and "Greed". The last two songs were again new ones "Shallow Grounds" and "Masquerade". Magion did a great show in a great ambiance and gave the audience what they wanted.

More and larger photos of Magion
I had a good time at Fantastyval, good food in a great ambiance, beautiful (dressed) people, opportunities to make nice photos and a great gig at the end. I look forward to attending next year's edition of Fantastyval and from a music perspective reviewing the upcoming Magion album.