Rockharz 2013
July 11th - 13th Where: Ballendstedt, Harz region, Germany

This year Rockharz Open Air marked its 20th anniversary, and it also achieved another success: While the visitor count was around 11,000 in the recent years, it was 12,000 this year, meaning an increase by 20%. It is attracting a rising number of people from outside of Germany and is thus becoming more and more international. Compared to other festivals with 51,000 to 101,000 (or even more) visitors it is still comparatively small, but offers a lineup worthy of the big ones. This gives the festival a pretty unique standing in the scene as it combines the perks of a small festival with the ones of a large one. You will probably never get lost, and chances are you won't have too much trouble finding your friends again. Meanwhile you can still see bands such as Kreator, Iced Earth, Accept, Soulfly, and Avantasia (just to name this year's bigger names). Fans of Female Fronted Metal don't come away empty-handed either, as we saw last year (see review here) and as was proven again this year. Arkona, Delain, Van Canto, and Eluveitie all had decent length sets, and as a cherry on top Amanda Somerville was performing a two hour set with Avantasia.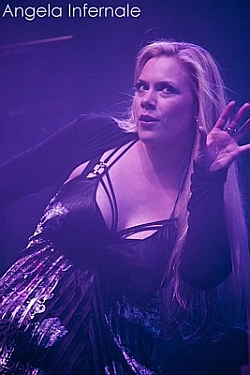 This time the the festival had come up with a very special treat: A guided backstage tour for members of the press. Getting an impression of all the work that's going on behind the scenes will definitely make you understand some things better and also make you realize what a huge project a festival really is.
We started off right behind the stages, which are right next to each other and are used in a rotative system. While a band is playing on one stage, the other one is being prepared for the next band. This reduces the breaks in between bands to as little as five minutes and also allows you to watch all the bands you want to see, with no overlaps, at all, ever. Next came the stage crew camp, which was surprisingly small. The whole setup is done by just about 20 people, which came as a surprise. The major part of the backstage area consists of supply routes and facilities, such as cooling trucks, the band and crew catering, and parking for bands and equipment trucks. Now if you thought there would be a huge area for the bands, with artificial palm trees and a tiki bar you are mistaken. The band area was surprisingly small, as many of the bands don't even have time to stick around and can basically just stay for their set until they have to move on.
A probably very German thing was happening on the nearby airfield (that is actually in use and not shut down during the festival). An exhibition for innovative technology focusing on music festivals was showing new solutions for water supply and waste water management, garbage disposal, sound pollution, and other relevant topics. One goal is to design a stage that can withstand storms, so as to prevent disasters with collapsed stages that have been happening all over the world. But now to the bands.
Arkona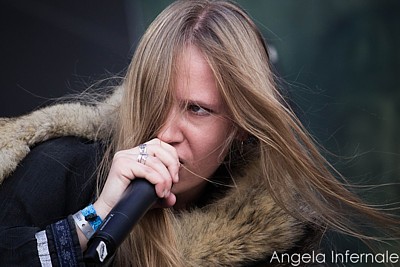 It should be beyond debate that Arkona's shows are not just musically pleasing but also extremely entertaining. This is mainly due to Masha's energy on stage, that only few vocalists can compare to. Her dedication goes so far that she wore her wolfskin on stage even on this hot summer day that left a good deal of the crowd sunburnt.
As soon as Arkona got on stage they took over the audience without having to struggle. From the first song people were dancing and moshing in the pit, and later on in the set they also managed a pretty decent wall of death. The band definitely had a bunch of their own fans in the crowd, which became apparent when a few people held up a sign in Russian. Speaking of Russian, there was a major problem that presented itself early in the set. If you're not too familiar with the band's songs, and you don't speak the language, how are you going to keep track of the setlist? Luckily I ran into Sergei after the show (aka hunted him down) and had him scribble down the list (see below).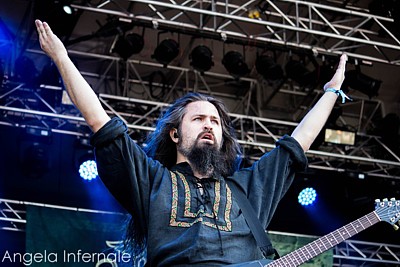 They started off with "Kolo Navi" off of their album Rus, diving right into the heavier realm of their music and showcasing Masha's rough vocals before her clear ones. As this song also features their epic side it was perfect to show even those who had never heard of Arkona what the band is all about. They stayed on the epic path with their next song, "Zakliatie", with its catchy chorus that doesn't require knowledge of the Russian language and therefore had people sing along. With their fourth song they changed direction and played the first folkier and danceable song, "Pamiat", which features some typical, folky flute parts, but still doesn't lack heaviness. A moshpit was inevitable. This was only topped by "Stenka Na Stenku", which just asks for a reenactment of the video (just youtube it).
Setlist: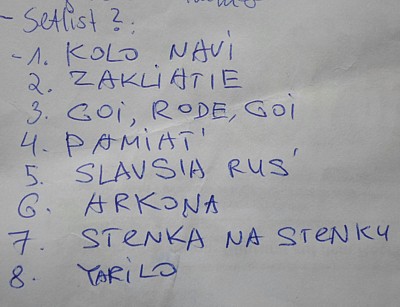 Delain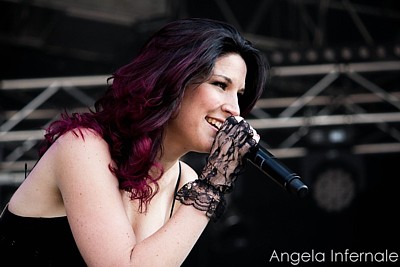 Delain don't really need an introduction anymore, as they have become one of the most popular Female Fronted Metal bands in the past years. They were easily one of the bands that got a bigger share of attention, both from the audience and the photographers. I've only rarely seen that the photopit has to be cleared by the security, but with Delain this was the case.
The first song was "Mother Machine", which conveniently comes with an intro of its own, making it the perfect song to start a live set. The crowd all but erupted when Charlotte hit the stage and the band went straight into the heavy opening riff. Next came "Go Away" with its epic orchestral parts in the beginning and its catchy chorus. With the whole set the band seemed to always one-up themselves by playing songs that were always a little more epic and a little more catchy than the one before. This strategy definitely worked on the audience, who got more and more engaged in the music until even the people at the beer booth in the very back were cheering along.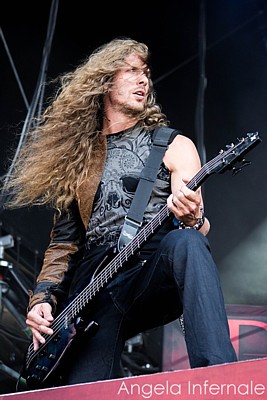 With "Pristine" they went back to their first album Lucidity from 2006. This song really showed the development the band has gone through since then. While their music has always been high quality their newer songs are definitely more straight-lined, with fewer edges, and seem to be part of a wholesome musical concept. Yet, played live the mix of older and newer songs still seems homogenous and doesn't disrupt the set. With the next two songs, "Virtue and Vice" from the 2009 April Rain album and "Sleepwalker's Dream", another one from 2006, they stayed in the old times for a little bit longer before going straight back to their latest full length release, We are the Others (album) from 2012. The same-titled song seemed to be what everyone had been waiting for; when the band ended their set with it loud cheers rose from around.
Setlist: (Thanks @ Bernhard for the setlist!)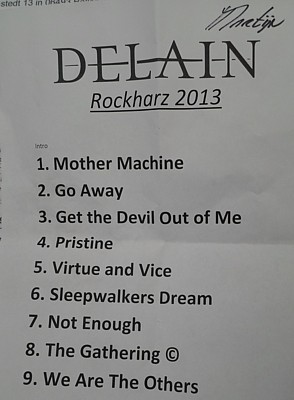 Eluveitie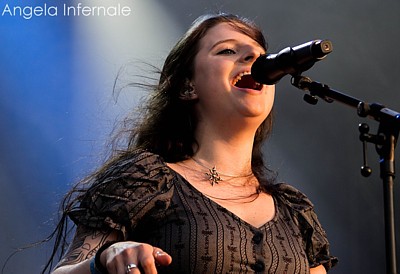 Though not technically female fronted this band is one that Sonic Cathedral has come back to again and again. The main reason for this is charismatic and talented Anna Murphy, who does backing and sometimes lead vocals, and also plays the hurdy gurdy (seriously, how awesome is that?). After an illness that lasted a few months she is now back in old shape, there was no doubt about it at Rockharz.
Their set hasn't changed too much since their latest studio album Helvetios came out. They still start off the show with the first two songs on the album, "Helvetios" and the (partly) Gaulish "Luxtos". Something that seems to happen a lot at Eluveitie shows is that the audience sings along the songs in Gaulish language just as much as they sing along the English ones. This dedication is something the band has earned with their steady output of highbrow Pagan Metal. "Luxtos" is also one of the songs that showcases Anna's voice nicely (as most of the songs sung in Gaulish are). Her real time to shine came four songs into the set, though, when the band played the ballad "A Rose for Epona". Except for a rather small part in the middle Chrigel leaves the vocals completely to Anna, whose use of voice is particularly varied in this song. She covers everything from soft and vulnerable sounding notes to powerfully catapulted, strong tones.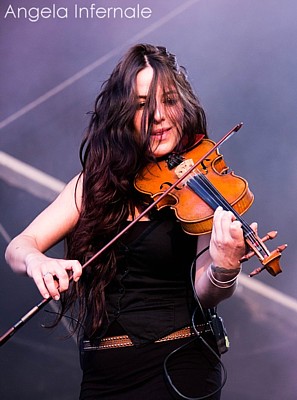 Later on in the set came a surprise. That Anna also does some screaming is old news, but usually that is restricted to a few songs, one of them being "Quoth the Raven". When they played "The Siege", however, Anna all but shocked (in a positive way!) with suddenly taking over one of Chrigel's parts. And she nailed it! Up next was "Quoth the Raven", which, as mentioned before, also has her screaming. When it was time for the line 'Hear my wings caressing the wind, hear my cry!' the entire crowd seemed to be screaming along with her. This was already close to the end of the set, which so far had consisted mostly of songs from Helvetios and some off of Everything Remains as it Never Was. The audience was waiting for one very specific song, though, and got it as the second to last one. When the band started playing "Inis Mona" (found on Slania) the crowd erupted, and none of the other songs got this much singing along. Last but not least, as they say, came "Alesia". Even though Eluveitie have a lot of other songs that would probably have made a better ending of the set it was good to get another song with Anna in the lead. Even after this 13 song set she was still in top shape, which wiped out the worries about her and her recent illness. She is definitely back!
Setlist:
1. Helvetios
2. Luxtos
3. Gaulish War
4. A Rose for Epona
5. Meet the Enemy
6. Kingdom Come Undone
7. Home
8. Uxellodunon
9. The Siege
10. Quoth the Raven
11. Havoc
12. Inis Mona
13. Alesia
Van Canto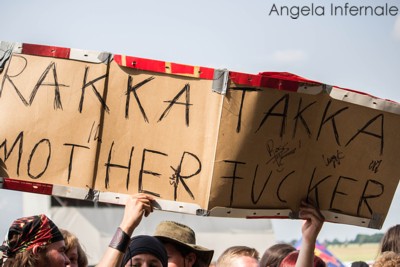 This German a capella project has come farther than you'd ever expect such a band to come. As the genre suggests their music consists only of their voices (and a drum kit), which they combine with actual male and female lead vocals. Their tag-line 'Rakka-Takka, Motherfucker' seemed to be the motto of the day for many people.
Their set started with "If I Die in Battle" from their 2011 Break the Silence record. The most interesting song of their whole set came second already. With "Wishmaster", obviously a Nightwish cover, they went straight for the soft spot in every Female Fronted Metal fan's heart. This song is of course a very tricky one to sing, and even though vocalist Inga is no Tarja Turunen she did a decent job at it. Next was "Neuer Wind", a rare German song, and an experiment that has worked out quite well. With "To Sing a Metal Song" and "Rebellion" they went to their 2010 album Tribe of Force. The latter song, a Grave Digger cover, was one of the more demanding ones musically, so to speak. The band seems to put a lot more effort into recreating songs that are originally played on real instruments than they put into writing their own musical/voice arrangements. This is a shame, as their covers always turn out quite good and their original songs could use this dedication.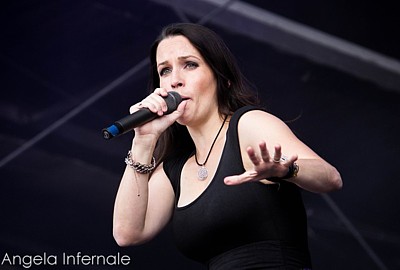 "One on Ten" was another song that featured some solo parts for Inga. Overall, it would be nice to see her have some more of those. They do however know well how to use her voice as an atmospheric background device and enrich their choruses with her clear, high vocals. Whether you like this kind of music or not is of course up to you. It is probably something that takes some getting used to first. Yet, there was no doubt that the crowd enjoyed the band's set, as all the "Rakka-Takka, Motherfucker" cries proved.
Setlist:
1. If I Die in Battle
2. Wishmaster
3. Neuer Wind
4. To Sing a Metal Song
5. Rebellion
6. One to Ten
7. Lost Forever
8. Fear of the Dark
9. The Mission (incl. Master of Puppets)
Avantasia with Amanda Somerville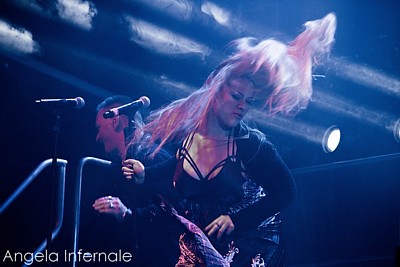 Avantasia, a metal opera rather than a band, is really not female fronted at all. This is why this part will be rather brief. What it does have are two well known female singers that have parts in some of their songs: Sharon den Adel and Amanda Somerville. The latter joined for the full two hour set they played at Rockharz, just after they had all returned from Japan.
Avantasia was headlining the festival, meaning they were the main act of the final festival day, and pretty much everyone had come to see them. Amanda was bursting with energy right from the beginning, always rocking out and headbanging. Even though she was just singing in the background for the major part of the show she was like a beacon on stage that caught your eye. Her vocals nicely balanced out all the male voices too.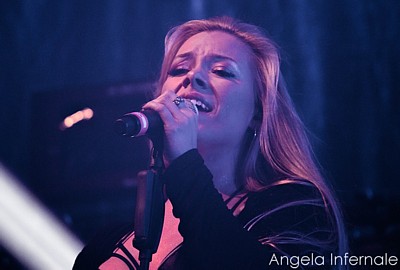 About two thirds into the set they played "Farewell", one of Amanda's lead songs on stage. She was taking over for Sharon den Adel, who did the vocals on the studio version. She had a lot of interaction with Tobias Sammet, founder and main lead singer of the project. She also had quite a lot of solo parts in "The Wicked Symphony", which came a bit later. This is also one of her studio songs with Avantasia. Having her as part of the show definitely enriched the whole performance. This was not just due to her vocal virtuosity, but also because of her amazing stage presence and energy. And as there is really not much more to say, please accept these pictures as a bribe to overlook the lack of information.
Setlist:
1. Spectres
2. The Watchmaker's Dream
3. Each Out for the Light
4. Avantasia
5. The Story Ain't Over
6. The Great Mystery
7. Dying for an Angel
8. Promised Land
9. Farewell
10. Shelter from the Rain
11. The Wicked Symphony
12. Scarecrow
13. Twisted Mind
14. Lost in Space
15. Sign of the Cross/Seven Angels
Rockharz was definitely the highlight of the festival season this year, and will probably remain it, too. This festival offers a great atmosphere, an amazing line-up, and still maintains its decent size. There is a sense of togetherness which bigger festivals lack. You can see bands walking around like it's the most natural thing, and among the press people the work doesn't mean you can't have fun too (yes, we did a wall of death IN the photo pit). Unlike last year, when leaving your tent without rubber boots was not an option, the weather this year was stellar. If the tales of the organizers are to be believed, this was the first time in 20 years.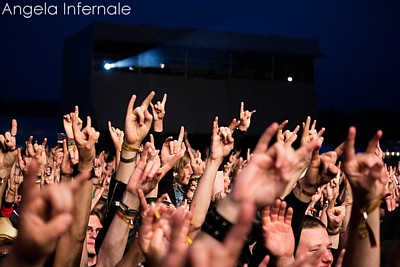 Unfortunately, even though we didn't have the bad weather as an excuse this year, we never made it up on the Devil's Wall, a natural rock formation at whose foot the festival takes place. Maybe next time. One of the best moments was definitely when I ran into Martijn from Delain, who was just talking to one of their fans, who had seen the band for the 63rd(!!!) time. When I told Martijn that my review was for Sonic Cathedral, he replied in his almost impeccable German that he really liked our magazine. And in the end this is why I keep writing reviews.
Check this link for ALL of the PHOTOS taken by Infernale Photography
Special THANKS to Christian for keeping track of the bands set lists.