Evenpath + Asylum Pyre
Yverdon-les-Bains (31/05/2013, Switzerland)



Émilie: After a three-hour travel with my friends of Evenpath, finally we've arrived to "Les Citrons Masqués" in Yverdon-les-Bains (Switzerland), where they're going to play tonight with Asylum Pyre and two male Metal bands: Helllander and Hellsight.
For those who don't know them yet, Evenpath is a band from Lyon (France). So far they release a 4-track EP called IX5VI2, and this night was their first concert in Switzerland. That is to say that not many people in the audience already knew them, and playing in front of an audience that has never heard of you must be something stressing and difficult. Moreover, this concert was the occasion for Evenpath to introduce their new guitarist Julien to the public.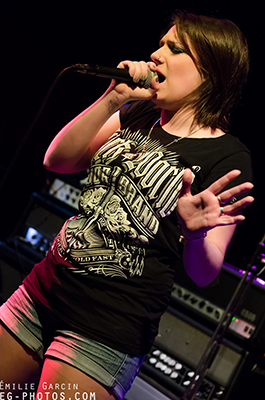 Evenpath started their set with Glory, a powerful song that I filmed, and probably their best song for starting their shows in my opinion: this song is full of energy and the keyboard samples are very present. The Swiss audience that had clearly come for Helllander was immediately captivated, and warmly welcomed Evenpath.
Right after the first song, Sarah Liodenot introduced her band to the audience and then "Mess'anger", a calmer song followed. Sarah's voice was high and clear, while Kévin Montoya (bass) and Julien didn't hesitate to stand side-by-side playing in sync. Julien was already feeling good playing his first show with Evenpath. Drummer Marc-Henri Fitoussi was playing lively beats on electronic drums – he and the other bands had no choice but to use them because the noise level couldn't be too loud as respect for the neighborhood. However it sounded really nice, and the difference with real drums wasn't that noticeable.

After "Mess'anger" came "My Ninth Life", a song that isn't present on the EP followed by "The Nightmare". By this point, the audience was definitely captivated by Evenpath. People were jumping, moving, and some of them were even headbanging and moshing! This was incredible. So far I've attended the only three shows that Evenpath played, and it was the first time this had happened. Evenpath were obviously very glad of this great reception and therefore Sarah kept interacting with the audience encouraging them to raise their fists and jump...and the audience responded with enthusiasm.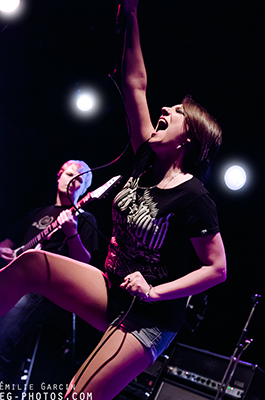 Two other songs were played: "The Virus" (another song that isn't present on the EP) and "Haven" as the final song of their sent. Sarah sang with intensity, and the whole band definitely enjoyed the show that lasted 30 minutes. I really think it is something great when people who don't even know you make the effort to listen to your music and make their best to make you feel comfortable while you're playing in front of them. We hope that this new line-up will stay stable, and I have no doubt that Evenpath will grow up with time and self-confidence.
Set list:
Glory
Mess'anger
My Ninth Life
The Nightmare
The Virus
Haven
After Evenpath, a Swiss band with male vocals called Helllander took the stage. They are a really good band, and most of the audience had come to see them. Unfortunately, many people left before the French band, Asylum Pyre, started. This was such a pity since Asylum Pyre is a really nice band on CD and on stage.
Anyway, no matter how many people were in the audience, Asylum Pyre played their show with intensity and dynamism, as expected for their first concert in Switzerland. I had already seen them twice before that show: once at H'elles on Stage in Lyon last October and another time two weeks ago while they were playing with Myrath. Their singer Heidi has been in the band for about a year, and she has always got a great presence on stage. Asylum Pyre released their second album, Fifty Years Later, a few months ago, and most of the songs that were played that night were taken from it.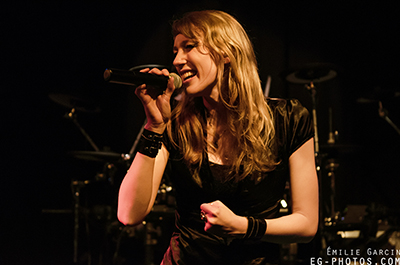 The concert started with three songs taken from Fifty Years Later, which were played in exactly the same order as they appear on the album. Heidi introduced her band to the audience, and then followed "Laughing with the Stars" that was the only song that night taken from Asylum Pyre's first album, Natural Instinct?. Even though some people had left the venue after Helllander played, the ones that stayed were delighted. Guitarist Johann also does male vocals, and his deep and low singing blends very well with Heidi's clear and powerful voice.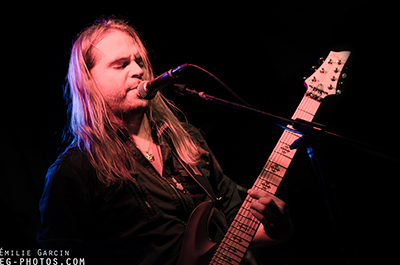 Asylum Pyre played "Against the Sand", followed by "Fifty Years Later". Well, I had already listened to the album several times , but "Fifty Years Later" had never spoken to me in any particular way. I don't know what it was, but something happened that night with this song. I found it even more beautiful than usual -- the melody touched me with a great strength, and after returning home, I decided to listen to it again and also to read again the lyrics. They are full of imagery and I can definitely say that "Fifty Years Later" is one of the most beautiful ballads I have ever listened to, and I'm not exaggerating. Sometimes, this kind of thing happens, and you don't really know why. You listen to an album, but are not especially touched by "this" song, but once in concert you "re-discover" it and are literally captivated, maybe because it's interpreted with more emotion or in a different way. I call this the magic of concerts…
Then followed "Just Before the Silence", my favorite song of the album Fifty Years Later. It's a very punchy and lively song, Heidi's voice is strong and energetic and melds very well with Johann's singing. Then Asylum Pyre played "These Trees", the driving single of the album. The chorus of this song's got a very spellbinding melody and stays in your mind for hours after you hear it! Heidi held out her mic to the audience so people could sing it, and people started again singing it even after the song was over. This was really funny.
"The Herd" concluded this concert and Asylum Pyre was warmly applauded by the audience, and was followed by another Swiss band with male vocals called "Hellsight". For their first concert in Switzerland, Asylum Pyre did it really well and there's no doubt they found new fans there. I strongly recommend for you to listen to their music and to buy their albums if you've not already done it, it is worth it.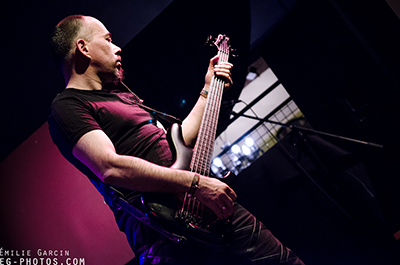 Set list:
Will You Believe Me?
Dead in Copenhagen
The Frozen Will
Laughing with the Stars
Against the Sand
Fifty Years Later
Just Before the Silence
These Trees
The Herd
John: I travelled from Paris to Switzerland to see Asylum Pyre and Evenpath, and was very glad that I did! I had become interested in both bands earlier in my year in Paris and was really happy to have the chance to see them live (plus I had never been to Switzerland before, a very nice country). I had met Evenpath vocalist Sarah Liodenot at a Kells concert, and she subsequently sent me their EP Ix5vi2, which I am reviewing for Sonic Cathedral. Meanwhile, a friend had recommended that I buy Asylum Pyre's second album, Fifty Years Later. I did, and loved it.
I think both bands were even more impressive live. Evenpath started out the evening playing to a Swiss audience that had clearly come to see a beloved Swiss band (male-fronted Helllander). It seemed that most of the audience did not yet know Evenpath (from Lyon, France). But Sarah and company rose to the occasion, and within a few songs had the crowd moving and chanting. It was great. The band also played really well live, and Sarah's live vocals were even better than on the EP – with more variety and more intensity. The band also played some great new songs not on the EP.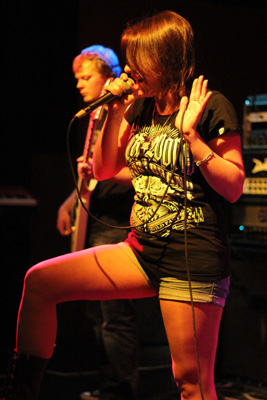 Later in the evening (after Hellander) came Asylum Pyre. Their symphonic metal is incredible, and Chaos Heidi's vocals made the hairs on my arms stand up. Her voice is right up there with Sharon den Adel and Charlotte Wessels for me. Her voice also blends very well with the clean male vocals of guitarist Johann Cadot. There are many great bands that blend beautiful female vocals with male growls, but not so many that blend beautiful male and female vocals. Asylum Pyre does this really well. (Serenity is another example.)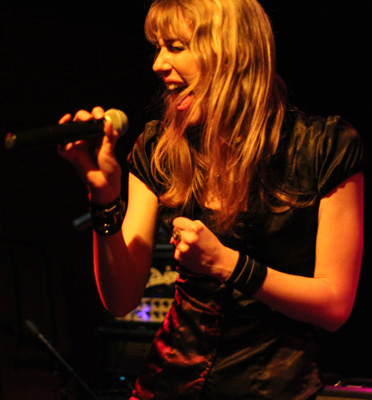 I also want to mention that I was impressed with male-fronted Hellander, who were new to me. Their energetic "power heavy metal" is a lot of fun, as is their lead guitarist/singer Van Raiser, who is a metal madman.