Eths - In Concert
April 2013 - Lyon, France
This was my first time seeing Eths in Lyon. You might have already heard of them -- their former singer was Candice Clot, until she left the band last October to Eths fans' utter despair. Then she was successively replaced by Virginie Goncalves (Kells) and Nelly Wood-Hasselhoff as temporary singers. One month ago, their permanent singer was finally revealed: Rachel Aspe, who's already well-known in France because she took part in the televised France Got Talent.
That night, I had the chance to see Eths playing their first gig with Rachel. Before going further, I admit I'm not a great fan of Metalcore and went to the concert out of curiosity. In the past I had already seen Rachel performing in November 2011 as guest singer with the French band Kerion, and had been impressed by her talent and her deep grunts.
After the two support bands (Aqme and Black Bomb-A), the audience was getting more and more impatient to see the new face of Eths and to see what Rachel could show us and what she was able to do. Just before the show, I was able to catch sight of her while she was standing at the right-side of the stage. She looked quite anxious, looking at the roadies and musicians who were setting up the stage. And some minutes after that, the show started.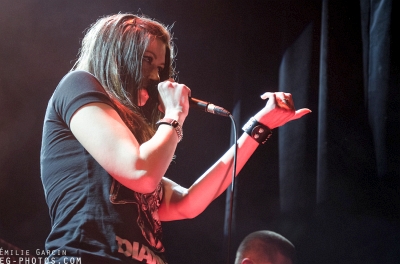 The first song that was played was "Sidus", an energetic song from the newest Eths album III. All the musicians entered the stage followed by Rachel, who was warmly welcomed by the audience, applauding her and staring at her. From the first notes, it was obvious that Eths had found their voice: in front of us was standing a young (but impressive) singer, who had did not fall short of Eths' former singer Candice. Rachel had obviously mastered the art of grunting -- like a sleeping power that suddenly awoke on stage -- which immediately removed the audience's initial apprehension.
Concerning the setlist, many songs that were played were from Eths's last album III, including the driving single "Adonai". Some songs from the old albums such as "Le Mâle" and "Ondine" were also played. Rachel was extremely focused, as if she didn't want to fail one note, as if she wanted to give the best impression possible for her first concert with Eths. She barely moved, but from time to time, gave faint and shy smiles to the audience, thanking them for their warm support and welcome. The other musicians were very implicated too although Guillaume (the second guitarist) was missing, officially because of a wound to his hand. Also, the sound of the instruments was sometimes a bit loud compared to Rachel's voice, such that we could sometimes hardly hear her, especially when she was singing with her clear voice.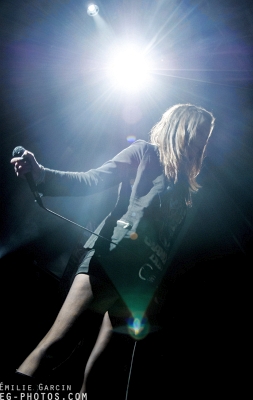 The audience was hot and very enthusiastic, and the atmosphere was energetic. But still it was obvious that Rachel was very anxious for her first gig with Eths, and that was normal! She didn't dare to speak a lot for example; instead, guitarist Stéphane was interacting with the fans and asked them at the end of the show to make a circle pit, which everybody (except the first row and me, didn't want to hurt my dear camera hehe) followed. At the end of the concert, the whole audience was screaming Rachel's name, and it was really touching to see her being so moved that she had tears in her eyes.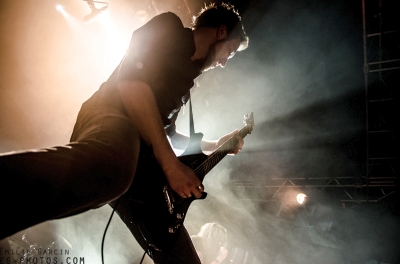 I think that, by finding Rachel, Eths won their bet: finding a new identity, and making people accept it. We will also see if she will be able to be as talented a lyrics writer as Candice. Finally, I'd be really interested in seeing Eths again in some months to see Rachel's evolution and the collusion between all the members. Let's wait and see (and hear)...
Setlist:
Sidus
Melena
Le Mâle
Détruis-Moi
Ondine
Voragine
Adonaï
Bulimiarexia
Harmaguedon
Samantha
Je Vous Hais
Encore:
Crucifère
Hercolubus