Lana Del Rey Live in Paris
April 27, 2013


I took a break from metal for one night to see Lana Del Rey in concert, and I'm going to deviate from Sonic Cathedral's core mission to write about it here because I think many other female-fronted metal fans are likely to appreciate her as much as do.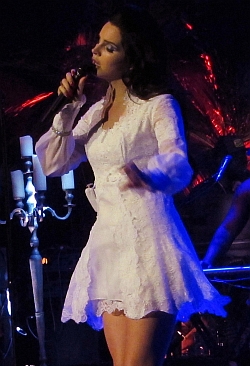 Lana is definitely my favorite non-metal musician. For one thing, she expresses more metal attitude than ten average metal songs. Watch her video for "Ride" to see what I mean. For another, she has an incredible voice. On her albums, it is beautiful and expressive, and often deep and husky. Live, she frequently sang higher, and I thought it was often even better than the albums, right up there with my favorites, Sharon den Adel and Charlotte Wessels.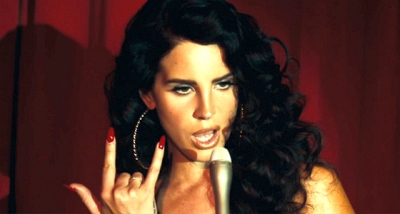 Lana's concert started with some high vocalizations reminiscent of Sharon, and then she launched into her song "Cola" with its attention-getting line, "My pussy tastes like Pepsi cola." I can't help but like someone who would write that line, and sing it. From there, Lana proceeded to play all her best songs, including my favorites, "Ride" and "Born to Die." "Ride" started with the opening scenes from the song's epic music video, and "Born to Die" recreated the look of its video with stone lions and a projected cathedral. In some ways, Lana got her start on YouTube, and the visual aspects of her music remain very important. In addition to the visuals and her voice, I also love Lana's lyrics, such as these from "Ride": "I hear the birds on the summer breeze; I drive fast, I am alone at midnight. Been tryin' hard not to get into trouble; But I, I've got a war in my mind. So, I just ride, just ride; I just ride, I just ride….I am fucking crazy. But I am free."
Lana also sang "Summertime Sadness," which should be known to Within Temptation fans due to their cover. Though Within Temptation is my favorite band, and I quite like the cover, I have to say I prefer Lana's version of "Summertime Sadness" because it sounds sad, matching the story of the song. Within Temptation transformed it into a happy song , focusing on the at least ironically upbeat part of the lyrics, such as "I'm feelin' electric tonight; Cruisin' down the coast, goin' about 99; Got my bad baby by my heavenly side; I know if I go, I'll die happy tonight."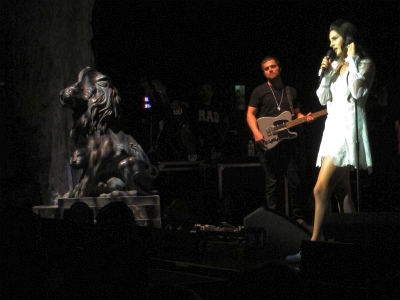 Lana concluded her set with a rousing rendition of "National Anthem," featuring heavy electric bass. Her band played an extended instrumental outro while she came down into the crowd, greeting just about everyone on the front row and giving autographs. The crowd went wild. I didn't queue up hours early with her most hardcore fans, so I wasn't up front, but I still thought this was a cool thing to do. Interestingly, she simply played her last song and stopped, with no encore.
Musically, Lana's songs emphasize her beautiful voice, with the other instruments serving as background to set the mood. Sometimes I think it might was well be a cappella. But Lana had a very good band with her live. They added a nice electric guitar solo to "Body Electric," and I already mentioned the heavy bass for "National Anthem." There was also a grand piano, which featured prominently in the piano ballad" Million Dollar Man," and about ten musicians overall.

Lana's set was also visually captivating, with gold-framed video screens in the back, an art deco chandelier, spotlights, and the grand piano and lions that I mentioned before. Of course, Lana herself was the main attraction. People sometimes say (with good reason) that some female metal singers look like models, but Lana is a model, with exquisite features and gorgeous waist-length hair. Compared to metal singers, however, she is very subtle. She doesn't headbang or run or jump or climb. Her facial expressions are understated too. As a result, she was able to drive the crowd crazy just by flashing a quick, small smile every so often. Her clothes were also simple: a short white dress that was sexy but classy and elegant, and not cheap like so many pop stars. Her white sneakers made her seem a bit more casual (as did the soda she occasionally sipped out of a paper cup with straw and plastic lid).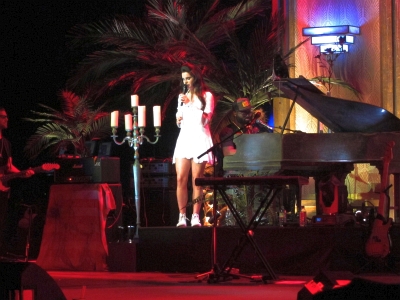 Lana was also very gracious, saying what an honor it was to play for the first time in Paris' iconic Olympia theater, which she had previously attended as a spectator. She also transformed the crowd's chant of "Lana, Lana" into "Paris, Paris." And she seemed very happy to interact with the fans up front, transforming a large concert into an intimate one for her and some of the audience.
The evening was also interesting to me as a person who frequently goes to metal concerts and hardly ever goes to pop concerts. The venue was super fancy (I'm told it is Paris' most prestigious), and I saw hardly any black t-shirts in the crowd (I wore my black Delain "We Are the Others" shirt). Plenty of people did wear jeans and not-black t-shirts, but others were dressed more elegantly. I also guess pop fans take more drugs than metalheads; I saw three people pass out and be carried away, something I haven't seen in twenty-some metal concerts in Paris. But in the end the crowd wasn't all that different: they were people who love music and who were thrilled to see one of their musical heroes.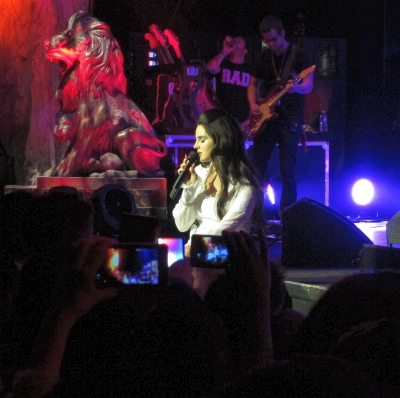 Bottom line, I'm happy to say I'm a metalhead fan of Lana Del Rey.
Setlist:
Cola
Body Electric
Blue Jeans
I Love Paris (Cole Porter Cover)
Born to Die
Carmen
Million Dollar Man
Blue Velvet
American
Without You
Knockin' on Heaven's Door (Bob Dylan cover)
Ride
Summertime Sadness
Burning Desire
Video Games
National Anthem