Delain + Kingfisher Sky
Live in the Netherlands
March 9, 2013

Having seen Delain twice at festivals (ProgPower U.S.A. and Metal Female Voices Fest), I was interested to see them play a headlining show in their home country of the Netherlands. Based on schedule, I chose the show in Lelystad, a small town about 45 minutes east of Amsterdam by train.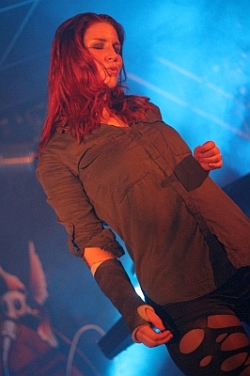 The show was great! The town was small, and so was the club (Poppodium Underground), so it was very intimate. I was able to get up front and stand inches from the band, looking them all in the eye as they converted passion into music. This easily made up for not having the pyrotechnics and lasers that the band had at MFVF.
The setlist was perfect. Really, it was a "best of" setlist rather than a We Are the Others setlist. To be sure, We Are the Others got well-deserved attention, including with the punchy opener, "Mother Machine," but the other two albums were not neglected. Second up was "Stay Forever," a driving single off April Rain. Before long the band turned to the beautiful ballad from Lucidity, "See Me in Shadow," followed soon thereafter by my still-favorite Delain headbanger, "Pristine," also from Lucidity. The band continued to alternate through its albums for fifteen songs, closing with a powerful rendition of "Not Enough" from We Are the Others. For the encore, they played the fan-favorite "The Gathering" and the title track "We Are the Others."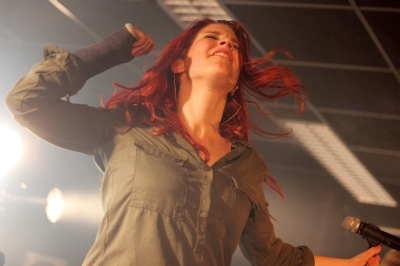 This "best of" setlist made me think that Delain is gearing up for its upcoming tours in Japan, South America, and North America, where many in the audience will no doubt see Delain for the first time. If so, I think this is a good idea. My only suggestion would be to add "Frozen." The band may be tired of that song by now, but it really is a good song, and one that I often choose to introduce someone to Delain.
In any event, the home crowd also seemed very happy with the songs, and there was a ton of energy in the packed club – headbanging, fist pumping, and jumping.
Charlotte Wessels sang to perfection, and handled her mic with ease despite a broken arm. (See my Sonic Cathedral interview with her for more on that; I was able to interview Charlotte in person before the show!) Likewise, the band rocked hard, with tight sound and lots of expression. Bassist Otto Schimmelpenninck did a fine job growling for "Pristine," "Virtue and Vice," and "Sever," while guitarist Timo Somers showed that he has quite a nice singing voice on "The Gathering." In fact, I wondered whether Timo should try singing "Sever." Otto growls well, but I think I would prefer clean vocals for that song, like the original. The sound was also excellent. I watched part of the soundcheck and saw how hard everyone was working; it paid off.
After the show, I had a chance to chat with Delain keyboardist/founder Martijn Westerholt. He was charming and friendly, and excited about Delain's first U.S. tour, which will happen with Kamelot in September. He was also excited about going to Japan and South America this Spring. In fact, all the band members just seemed happy. And well they should. With a new label (Napalm), a new album coming in May (Interlude), and new lands to conquer, things couldn't look better for Delain.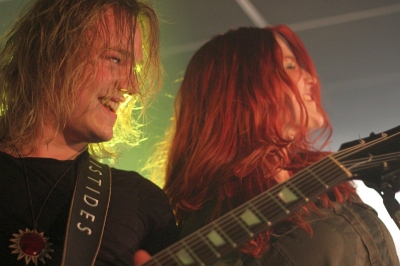 But Delain wasn't my only treat for the night. Kingfisher Sky opened the show with a beautiful, mostly-acoustic set, including two acoustic guitars, a cello, and a scaled-down drumset, along with electrics bass and keys. Kingfisher Sky is the band formed by early Within Temptation drummer Ivar de Graaf. I had listened to them before but never seen them live, and was truly impressed. Singer Judith Rijnveld has a fantastic live voice, and I really enjoyed the finesse of their music. In addition, I was standing directly in front of cellist Maaike Peterse, and watching her play added to the beauty of the experience.
I also enjoyed talking to lots of Dutch fans. Most Dutch people speak perfect English, and they are very nice, so this was easy. All in all, the concert was well worth the trip. And I have already purchased tickets for Delain's September show in Anaheim, California. I can't wait!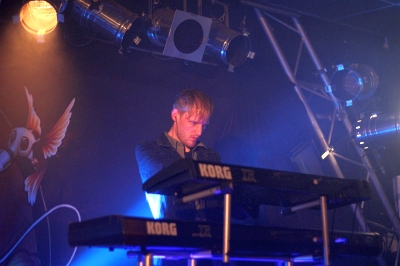 Delain's full list of upcoming shows, along with links to buy tickets, can be found here.
Delain's May release, Interlude, can be pre-ordered here.
More and bigger photos of the Lelystad show can be found here: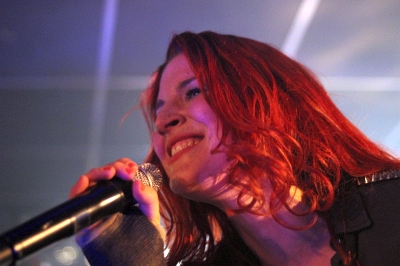 The full setlists were as follows:
Delain:
Mother Machine
Stay Forever
Milk and Honey
Virtue and Vice
See Me in Shadow
Electricity
Pristine
April Rain
Sever
Get the Devil Out of Me
Invidia
Control the Storm
Generation Me
Sleepwalkers Dream
Not Enough
Encore:
The Gathering
We Are the Others
Kingfisher Sky:
Balance of Power
Hallway of Dreams
Edge of Insanity
Rise from the Flames
Big Fish
Through My Eyes
Craving