Eindhoven, the Netherlands, March 23, 2013
There is really only one word to describe Epica's 10th anniversary concert: epic. The band imported an entire symphony orchestra all the way from Hungary to the Netherlands for the occasion; they sold out Eindhoven's 4500-capacity Klokgebouw and also streamed the concert live around the world, performing for fans from over 50 countries; they played for three hours and included almost all of their best songs; and then they partied with fans until 3 a.m.!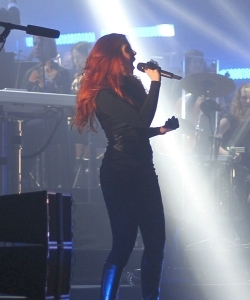 It was also really nice to see and hear how happy and grateful the band was. Epica has worked very hard over the years to earn their many devoted fans (e.g., through tireless worldwide touring), and as much as anything else, this concert was a thank you to those fans. I think this is why they gave us so much – the long setlist, the after party, and more. Simone Simons (vocals), Mark Jansen (guitars/growls), and Coen Jansen (keys) all took the mic at various times to express their gratitude (in English, given the international audience). For myself, I also felt very lucky to be able to share Epica's celebration. My year in Europe has included so many amazing events; it will be hard to go home in just three months!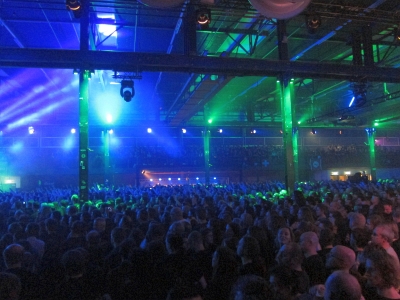 The evening began with entry into Klokgebouw , a former Philips factory with steel girders and a very high ceiling. The riveted columns were lit by colored spotlights and looked very cool, like something from a Batman movie. While we waited for the concert to start, there was a video with birthday greetings for Epica from other musicians. Then it was time to start. The orchestra and choir appeared first, and played an introduction. Then the band took the stage, launching into "Monopoly on Truth," from the band's latest album, Requiem for the Indifferent. But this concert was meant to encompass all ten years of the band's history, and the band then turned to the classic "Sensorium" from their first album, The Phantom Agony.
The blending of band and orchestra was flawless. Symphonic metal is, of course, much harder to pull off with a live orchestra, and Epica pulled it off quite well indeed. I heard that they played several full shows in rehearsal in the week leading up to Retrospect, and it showed. You could really hear the orchestra's instruments amidst the metal, and the sound was rich and full, sometimes even better than the studio albums. Notably, this was the same orchestra and choir as The Classical Conspiracy album (the Extended Reményi Ede Chamber Orchestra, conducted by Zsolt Regos, and the Choir of Miskolc National Theatre).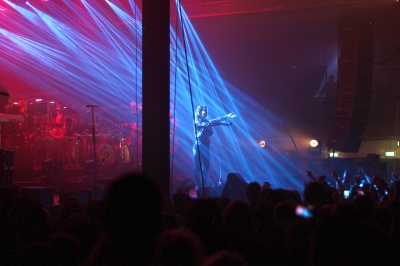 Overall, the sound quality was exceptional. Lead vocals, choir, guitars, and orchestra were all clear and powerful. The bass and drums were also thunderous without becoming distorted or drowning out everything else. This was, of course, perfect for headbanging and fist pumping! One song where I especially appreciated the thunder was "Design Your Universe." Mark sounded like Thor as he screamed over the bass and drums in that song. He also gave the song a good introduction, saying we can all make our own world. With a show called Retrospect, it's no surprise there was a bit of retrospection.
One advantage of the long setlist is that we got to hear almost all of Epica's epics; usually, they have to pick and choose among songs like "Design Your Universe," "The Phantom Agony," "Serenade of Self Destruction," "Chasing the Dragon," "The Obsessive Devotion," and "Cry for the Moon." Here, we got them all, plus "Consign to Oblivion," of course. The band could not end their 10th anniversary show with anything other than their perennial closer, which is also still my favorite Epica song. But all of these songs were great. "Cry for the Moon" is now better than ever; Simone now sings it perfectly live, and the keyboard counterpart during Mark's growls has been much improved. (In the original, it sounds too much like someone playing a videogame in the background to me. Sorry! But it's perfect now.) Likewise, "The Phantom Agony" was performed especially energetically, and Simone's vocals on "Chasing the Dragon" were exquisite.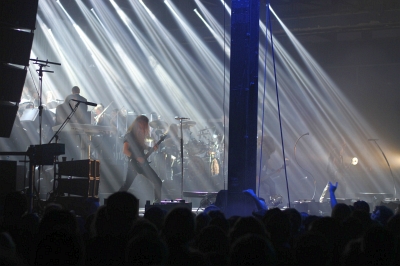 In addition to the epics, we also were treated to the beautiful and personal ballad "Delirium," about Simone's past illness, and to several majestic orchestral pieces, including Vivaldi's "Presto" and Pergolesi's "Stabat Mater Dolorosa." The latter featured the powerful operatic vocals of guest Floor Jansen (of Nightwish, ReVamp, and After Forever). This was actually my first time to see her live, and it was a treat. She returned later to sing "Sancta Terra" in a duet with Simone. Having two of the best vocalists in metal, and two of the best headbangers, side by side was just fabulous!
Another song with guests was the classic headbanger, "Quietus," where former Epica members Yves Huts (bass), Jeroen Simons (drums), and Ad Sluijter (guitar) rejoined the band. They seemed to be very happy to be back on stage with Epica. The band and orchestra also combined to play a bombastic rendition of Williams' "Battle of the Heroes" and " Imperial March," another one of my favorites. And there was even a new song written especially for the occasion, called "Retrospect." I was just sorry that they did not play "Pirates of the Caribbean," which I love on Classical Conspiracy. But even with a three-hour setlist, choices must be made, as witnessed by other Epica classics that were played only as part of an orchestral medley (including "Feint," "Fools of Damnation," and "Mother of Light").
Throughout it all, Simone's vocals were beautiful and powerful. I'm sure it's no small feat to sing so long so well (even with a few orchestral breaks). Her vocals have just gotten better and better over the years, on both new songs and old. The only small exception I noticed was the beginning of "Never Enough," where I've seen her struggle a bit before. I'm not sure why; it doesn't seem as hard a song as the others. Maybe it's just too poppy. Anyway, the occasional flaw just proves her vocals are human, unlike some pop stars.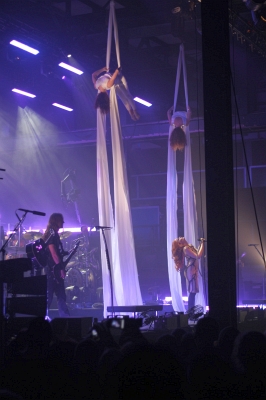 The fire and light show was also beautiful and spectacular, almost mesmerizing. Epica had more lights than I've ever seen at a concert, with lots of different colors and moods, and exciting new pyrotechnics. This really served to enhance the energy of the music.
Even so, I have to say there was less spectacle than you might expect for a anniversary show, and certainly less than Within Temptation's anniversary show last November. The only guests were Floor and the former band members, and the only visual element other than the lights and pyro were two aerial silk acrobats during "Chasing the Dragon." I would have liked more; for example, after watching the video of bellydancer Mahafsoun performing with the band on "Serenade of Self Destruction" in Vancouver last Fall, I would like to have seen that. But I suspect the band made the deliberate decision to emphasize the music, and I'm sure they spent most of their budget bringing a 70-piece orchestra and choir all the way from Hungary. I think this was the right call for their fans, with whom Epica seems very in sync. I heard several fans who attended both Epica's Retrospect and Within Temptation's Elements say they preferred Epica's anniversary show. Certainly, Epica made better use of its orchestra, giving them a more prominent role and insuring that you could hear them better. The audience, too, was more focused on the music. Unlike some Epica gigs I've attended, there was no mosh pit, and no crowd surfing that I saw. Sometimes these things are inspired by the music, but other times (such as at Summer Breeze) I think the crowd surfers aren't really listening to the music at all and are just looking for amusement. I'm happy to listen to the music and watch the band.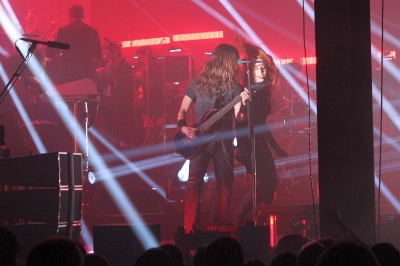 When the concert ended, the evening was not over. Epica graciously hosted the entire audience for an after party with DJ, who spun great metal tunes old and new, including Nightwish, Within Temptation, Delain, Iron Maiden, Judas Priest, and Dio, among others (and also "Girls Just Want to Have Fun" by Cyndi Lauper!). There was also plenty to eat and drink, merchandise to buy, and other fans to meet. I ran into several familiar faces (including Marcela Bovio of Stream of Passion) and also met some Facebook friends that I'd never seen in person. Eventually Epica also joined the party, and mingled with fans. I had a chance to say congratulations to Coen and take a friend's picture with him. But fans also gave the band some space to celebrate. I saw guitarist Isaac Delahaye enjoying a quiet dance with his girlfriend. Everyone seemed really happy. It was truly a special evening.
The live stream audience around the world, including at least two Sonic Cathedral staffers, also loved the concert. T.S. Johnson commented, "I just witnessed what could be the greatest Epica show in the history of Epica. I wouldn't even know where to start to describe just how great it was." Justin Boyer said, "It quite literally took my breath away. All three hours of the stream was equally as epic as a Lord of the Rings film." High praise indeed.
And the good news for fans is that the band confirmed that their ten HD cameras were not just for the live stream, but for a coming DVD. Finally, an Epica concert DVD! I've long wanted to see their Paradiso DVD, which got caught in limbo when Epica parted with their old label. It would be really cool if that concert could be included as a bonus with the new one. Perhaps there is hope since Epica just managed to negotiate a re-release of The Phantom Agony, which has also been out of print for several years. But regardless, the Retrospect DVD will be a must buy for anyone with any interest in Epica or symphonic metal.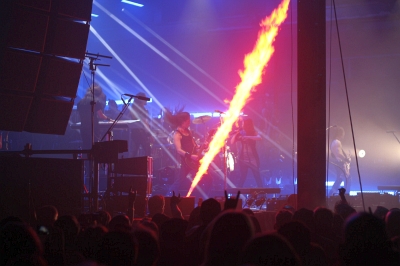 Finally, a note about photography: I am sorry I did not get better photos including closeups. I was lucky to be granted a photo pass by Epica management, and mistakenly assumed that this would allow me to get up close. Instead, that space was occupied by Epica's video cameras. Photographers were put on a raised platform off to the side at medium distance. This was fine for the other photographers, who brought huge zooms. But knowing there was going to be a party until 3 a.m. and limited lockers, I made the call not to bring a zoom. Bad decision! So I shot the concert using my 50 mm f/1.8 lens, which has worked very well at concerts from the front row. Having never really used this lens at a distance, I also discovered another problem besides mere lack of zoom. Since faces were so small, and the lighting was so unusual, my autofocus really struggled! Many of my pictures turned out not to be in focus. But the one thing I did right was to take lots of photos, so I think I still got some good ones, which capture the overall look and feel of the show. And I can also say I'm a writer first and photographer second (and fan before either), so it does make sense for me to concentrate on experiencing the event rather than handling lenses. Even so, if I had it to do over, I would have brought a zoom (and will next time)! But it doesn't really matter. You can find some amazing Retrospect photos on Facebook and the web, from photographers such as Mc Sharq and Jeroen Aarts.More of my own photos can be seen at this link.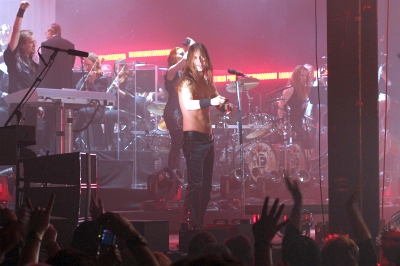 Setlist:
Introduction (orchestral)
Monopoly on Truth
Sensorium
Unleashed
Martyr of the Free Word
Chasing the Dragon
Presto (orchestral)
Never Enough
Stabat Mater Dolorosa (orchestral)
Twin Flames
Serenade of Self-Destruction
Orchestral medley (Feint, Fools of Damnation, Mother of Light, Kingdom of Heaven, Run for a Fall, Deep Water Horizon)
The Divine Conspiracy
Delirium
Blank Infinity
The Obsessive Devotion
Retrospect
Battle of the Heroes, The Imperial March (orchestral)
Quietus
The Phantom Agony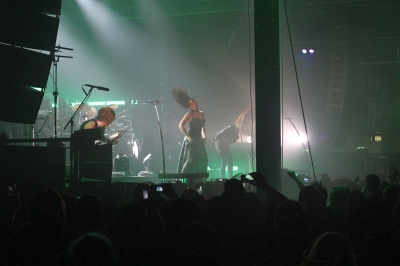 Encore:
Cry for the Moon
Sancta Terra
Design Your Universe
Encore 2:
Storm the Sorrow
Consign to Oblivion