Halestorm - Live at the Electric Factory
Philadelphia, PA – 12/27/12

How appropriate that my first concert back in the US after my three-month stint abroad would be my hometown heroes, Halestorm. Lzzy mentioned that it has been a dream of theirs to headline the Electric Factory in Philadelphia, a venue where many of today's most prominent acts (Muse, Lady Gaga, P!nk, etc.) played before exploding to fame. Well, not only did Halestormbook a headlining gig at the Electric Factory, but they sold it out as well! And so, about three thousand fans (many of whom had just waited for hours in line, enduring below-freezing temperatures) were about to witness a very special show.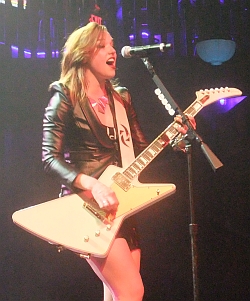 That night, Halestorm acted as their own opening band. The show started with an acoustic set, with Lzzy coming out alone in a beautiful white dress and playing the unreleased "Rose in December" on the piano. Soon after, Arejay, Joe, and Josh joined her in performing "Private Parts" and "Beautiful With You," the former a bonus track and the latter a song they'd never played live before. It was a pleasant surprise to see the softer side of Halestorm during this set and to see the band smiling and interacting with the crowd as they performed stripped down versions of some of their more ballad-y tracks as well as covers of Heart's "All I Wanna Do Is Make Love to You," AC/DC's "You Shook Me All Night Long," and Fleetwood Mac's "Gold Dust Woman." Lzzy sounded great and got a chance to show off the sweeter, more vulnerable side of her voice.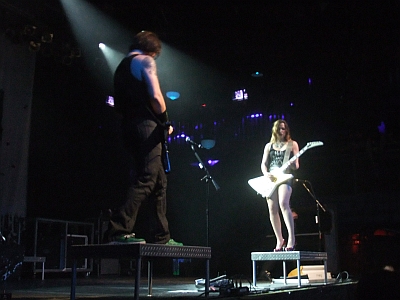 This part of the show (the "Jekyll" part of their "Jekyll and Mz. Hyde" show, as they dubbed it) lasted about an hour, approximately the length of their full set when I saw them in Paris back in October, but the crowd was eager for more, and after a short break, the lights dimmed and the band came back out in full-on rocker mode, diving right into "Mz. Hyde." The band spent the next energetic hour-plus pounding through a mixture of their heavier hits (including their recently Grammy-nominated "Love Bites (And So Do I)") and a few more covers, this time hitting Guns N' Roses, Judas Priest, and Skid Row. Here and therethe crowd was treated to a few amusing anecdotes about the band or the songs, with Lzzy trying her best to lovingly embarrass her brother Arejay, who himself managed to pound out an amazing drum solo part-way through the set. Before their encore, after the band came back out to chants from the crowd, Lzzy mentioned she couldn't believe that they'd been playing for two hours already and that we, the audience, still wanted more! Sadly, "more" only meant two more songs, but while the crowd was still riled up as they heartily sang along to "Here's to Us" and "I Miss the Misery," the band was probably exhausted by the end of their 29-song set.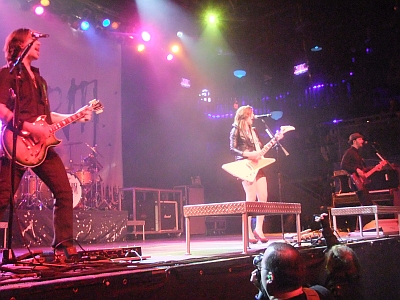 Overall, this was definitely a show to remember. Though this was probably the biggest (certainly the longest) show the band had ever played, it still managed to be an incredibly personal and intimate performance. Not to mention such a varied setlist, with songs from both albums as well as unreleased tracks, demos, and some awesome covers. There's no doubt that big things are in store for Halestorm, and I'm glad I got to see them play such a show before they get too big to do it again!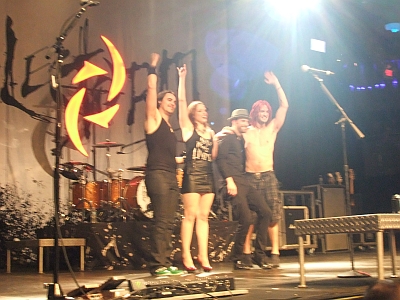 Setlist:

"Jekyll" acoustic set:

Rose in December
Private Parts
Beautiful With You
I'm Not an Angel
All I Wanna Do Is Make Love to You (Heart cover)
You Shook Me All Night Long (AC/DC cover)
Bet U Wish U Had Me Back
Hate It When You See Me Cry
In Your Room
Gold Dust Woman (Fleetwood Mac cover)
Better Sorry Than Safe
Break In
"Mz. Hyde" set:

Mz. Hyde
Love Bites (So Do I)
Freak Like Me
Dirty Work
Out Ta Get Me (Guns N' Roses cover)
Daughters of Darkness
What Were You Expecting
Dissident Aggressor (Judas Priest cover)
Rock Show
Familiar Taste of Poison
Drum Solo
Slave to the Grind (Skid Row cover)
You Call Me a Bitch Like It's a Bad Thing
It's Not You
I Get Off

Encore:

Here's to Us
I Miss the Misery