Anneke van Giersbergen - An Acoustic Night in Paris
Live at La Scène Bastille, December 2012
Words cannot describe the excitement I felt when Anneke van Giersbergen announced a special acoustic show in Paris during my last week of my semester there. What a way to end my trip! To add to my excitement, a local band by the name of Arkan was scheduled to open up the show with an acoustic set of their own. It was a band I had just gotten into and was (originally) quite sad that I wouldn't get to see live during my stay, but as luck would have it, all my dreams came true!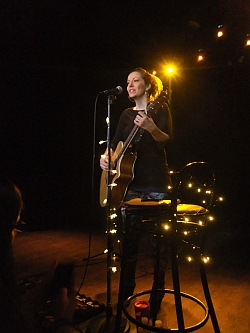 And so, Arkan took the stage for their set. The band generally plays a middle eastern-influenced type of progressive metal with both male grunts and female vocals, kind of like a heavier Orphaned Land. However, given the nature of this show, the crowd was treated to an acoustic musical journey to the Middle East, led by the light ethereal vocals of singer Sarah. Despite the lack of riffs or growls, she had to keep herself from headbanging during the set, but still giving into the music once or twice. They ended the show with an energetic cover of an Arabic song to which Sarah got up and belly-danced while the guitarist took over the vocal duties.
After the show I bought the band's most recent album, Salam, and I must say that, though it's quite a bit more brutal than the acoustic versions of the songs the band played that night, it's quite a good record. Arkan is definitely a band that fans of Orphaned Land or Myrath should take a look into. Even if you're new to "oriental metal," as they call it, they're still definitely a band worth checking out and keeping on your radar.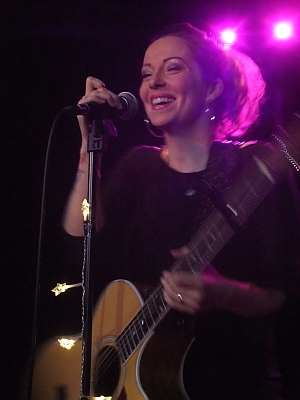 Now it was time for Anneke. No one can doubt that this woman is as much a legend within the female-fronted metal scene as Tarja, Cristina, or Floor, and no one can deny the influence that the Gathering had on metal music, so naturally, my original image of her was completely contrary to the goofy, adorable, and humble girl who came out onto the stage with nothing but a guitar, a mic, and some tabs scribbled onto notebook paper. In fact, she's yet more proof of my hypothesis that all Dutch people are inherently adorable.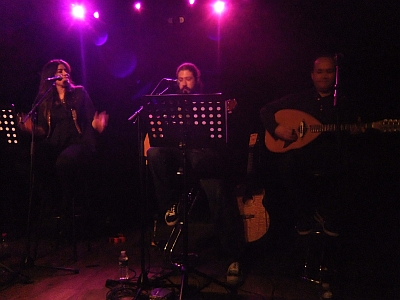 But of course, it's Anneke's voice that drew me to this incredibly intimate concert, and when she sang, I got chills. There is no doubt that she is one of the most amazing vocalists alive (I'd argue second only to my personal favorite, Marcela Bovio). This opinion was most certainly solidified at this show as Anneke played a varied set of her own songs from all three solo albums, some songs from her time with The Gathering, and a good amount of covers. Despite some awkward trouble with a loop-machine (I don't know the technical term for it…), the set was fantastic and there were songs after which the crowd would not stop cheering. Some personal favorites from that night were her original songs "Circles," "Hey Okay!," and "Beautiful One"; her versions of The Gathering's "Locked Away" and "My Electricity"; and a beautiful cover of Cyndi Lauper's "Time after Time." I just wish she'd played a few more songs off of her most recent album, Everything is Changing, and perhaps replaced one of the covers with another song by The Gathering.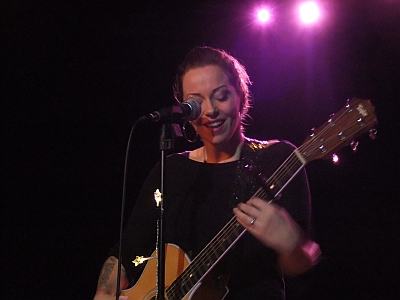 It was great to see Anneke play such an intimate show, and since it was my first time seeing her, I think I may have been spoiled for life. She sounded great, joked around with the crowd, and won everyone's hearts that night. I hope to see her again soon!
Setlist:
Beautiful One
Yalin
Locked Away (The Gathering cover)
Not the Most Pretty Girl
Circles
I Want
Hey Okay!
4 Years
Time After Time (Cyndi Lauper cover)
My Electricity (The Gathering cover)
All I Want is You (U2 cover)
Songbird (Fleetwood Mac cover)
You Are Nice!
Encore:
Drowning Man (U2 cover)
Jolene (Dolly Parton cover)
The Power of Love (Frankie Goes to Hollywood cover)