Within Temptation's 15th Anniversary Elements Concert
Antwerp November 13, 2012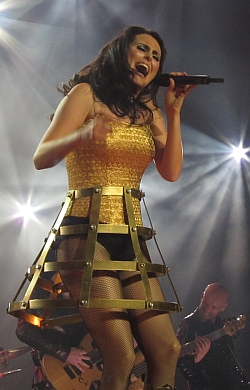 Within Temptation's Elements concert was beyond awesome. Afterwards, I was nearly voiceless and almost speechless, but it was the perfect anniversary show, capturing fifteen years of magic and the best of old and new. Sharon den Adel's voice was flawless; the band was on fire; and the orchestra was majestic. WT also played my favorite songs, including "Candles" from the first album, and had perfect sound, the best fire and light show I've ever seen, and the most pumped up crowd (of maybe 21,000 from over 50 countries) I've ever been in. After standing and waiting for over seven hours and having nothing to eat or drink from noon to midnight, I managed to get a perfect spot near the stage, and it was worth every minute of waiting. When the show ended, I wished I could immediately go back to the beginning.
The two-hour set list was excellent. The band started energetically with the two heaviest tracks from their latest album, The Unforgiving, namely "Iron" and then "In the Middle of the Night." This mixed things up compared to the recent Unforgiving tour, which always started with "Shot in the Dark." The band then played two Unforgiving singles ("Faster" then "Fire and Ice") before turning to some classics ("Our Solemn Hour," "Stand My Ground," and "Angels"). After that came four rarities: "The Last Dance" and "Say My Name" (two bonus tracks), "Never-Ending Story," and my favorite, "Candles" from Within Temptation's first album, Enter.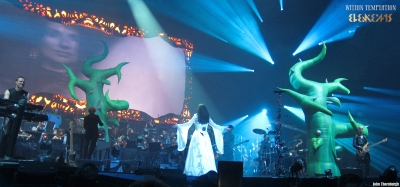 After that, the band made a sharp turn from the doomy "Candles" to the dance metal sound of "Sinead" and of three covers ("Titanium," "Summertime Sadness," and "Grenade").
Next came another block of classics, "The Promise," "Memories," and "Mother Earth," followed by an encore of "What Have You Done," "Our Farewell," and "Ice Queen," which was restored to its traditional end-of-concert position after being played mid-concert during The Unforgiving tour. The band ended the concert with "Stairway to the Skies" in a second encore, as they did on the last tour. This song definitely has a nice sense of closure.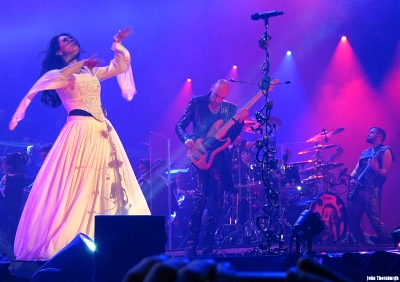 I know some have criticized the set list as not being fully representative of Within Temptation's fifteen years, and in particular some have questioned the inclusion of three covers, but I disagree. If any album was shorted, it was probably The Heart of Everything, but that album was already the focus of the Black Symphony concert. I'm also happy that WT chooses to play the best song of that album, "Our Solemn Hour," rather than the singles, and I really appreciated hearing rarities like "Candles," The Last Dance" and "Say My Name." Yes, I would have also liked "Enter," "The Other Half of Me," and "Jillian," but I understand choices had to be made. Regarding the covers, I had never even heard these songs before WT covered them (since I mostly just listen to metal), but I enjoyed them, and I suspect WT is looking for new musical ideas by doing covers outside their genre. That's good because I want WT to last and do another anniversary show in 15 more years, as they said they would. In fact, I think this concert was as much about the future as the past. (Incidentally, I have subsequently become a big fan of Lana Del Rey after seeing the video for "Ride").
I was also really happy with the guests for Elements. These included first and foremost Robert Westerholt, who returned to the stage with the most dramatic entrance ever, descending from the very high ceiling on a platform, playing his guitar and looking fierce. I loved seeing Robert again, but was also glad that his live replacement Stefan Helleblad continued to play (along with Ruud Jolie). WT thus had three guitars like Iron Maiden. I was also thrilled when Robert's brother Martijn (of Delain) took the keys for "Candles," a song written when Martijn was still in WT. Joining Martijn on "Candles" were also growler George Oosthoek, who has a long history of dramatic performances with WT, and original WT guitarist Michiel Papenhove. Original WT drummer Ivar de Graaf also returned to play acoustic guitar on "Never-Ending Story," and Isabella Scholten joined Sharon for a beautiful rendition of "Our Farewell." In addition, there were drummers adding to the drama of "Candles" and beautiful dancing girls during the dance songs. And of course there was the Il Novecento Orchestra, which added to the magic.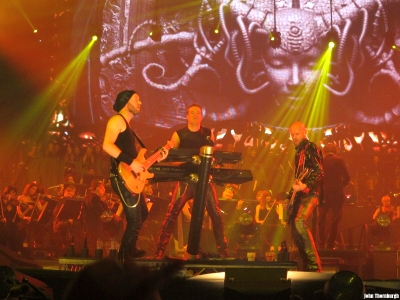 The staging and effects of Elements were spectacular. No band in this genre has approached what WT gave us in this show. The light show was like The Unforgiving tour times 10. Plus, WT made ample use of various flame throwers, "ice" launchers, and fireworks. I was so close to the huge fireballs that I had to check to see if I still had eyebrows afterwards! Being next to the ice launcher was also quite an experience.
Beyond the fire and ice and lights, I've already mentioned how Robert entered from the rafters. I was also really happy that they brought back the inflatable beanstalks from the Mother Earth tour, since I had seen those on video but never gotten to see them live. Sharon also had huge angel wings for "Angels" (with a wingspan of maybe 25 feet); there were dancers on stilts for "The Last Dance"; and there was great video of the band (both the concert and also 30 minutes of home videos before the show started) and also a video story about a robot who comes to life for Elements. And the stage included a huge ramp extending deep into the audience, allowing many more people to have a close view.
Sharon's dresses were also spectacular. My favorite was the classic white dress from the Mother Earth tour and video; I don't think she's worn that in about ten years, and it is beautiful. She also wore cool new dresses, including one that featured a gold bodice and a hoop skirt without the skirt (reminiscent of some dresses worn by Alina Dunaevskaya of Markize). Some fans have complained that this dress is not Sharon, but frankly Sharon has always pushed her boundaries, and she looked great in it. And judging by Facebook photo traffic, lots of people agree. Sharon's hair was also beautiful. My only wish is that she would have headbanged a bit more, but I understand this may have been difficult in these costumes. And she did do the "Sharon dance" with her arms and hands!
Within Temptation sold out Anwerp's Sportpaleis, which seemed like the biggest sports arena I've ever been in. This is very impressive for a single-band, non-festival event in this genre. And as I mentioned, the crowd was also the most energized I've ever seen. As a result, I was nearly clobbered when Ruud threw a guitar pick in my direction!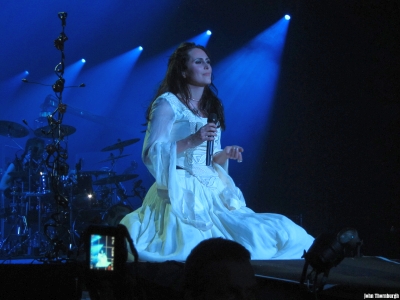 Antwerp itself was a great bonus. I had never been there and found it really beautiful and interesting.
It appeared that the concert was filmed (with many cameras), but I've heard rumors there are no immediate plans for a DVD. I certainly hope a DVD is released; not to do so would be a tragedy. If the issue is funding, the band should really find an investor, or look to crowd funding. I also don't think they need to do as much video editing as Black Symphony. This concert will speak for itself.
Within Temptation is my favorite band, and this concert confirmed that fact once again. I've seen some incredible concerts, but this was the best concert ever for me.