Nightwish – Live at the O2 Academy Brixton, London

Note: to avoid rabid fanboy ramblings, feel free to skip the first three paragraphs.
Admittedly, in the past few weeks, I've become a little disenchanted with Nightwish as a band. Never the music, of course; they remain my favorite band in that respect and probably always will, but after seemingly brutally giving the boot to yet another singer, I've begun to think that perhaps the boys' egos are getting just a bit too big (if it's even possible for them to get any bigger…). Anette had fought so hard for her spot in the band and was still thrown out after just one rather unfortunate public disagreement (note: this is pure speculation on my part. I have no idea what the full story really is).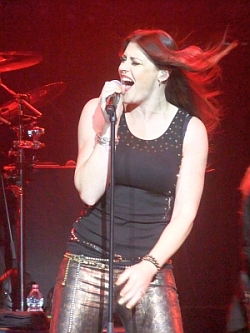 For me, at least, the announcement of Anette's departure came out of nowhere, and I have to confess I spent that night in bed in a fetal position, holding back tears, trying to find some solace in listening to I for the umpteenth time. Perhaps I overreacted just a tiny bit, but hey, when your heroes let you down, it's normal to be a bit depressed. Perhaps this is how some people felt after Tarja's departure back in 2005. And though I adore Nightwish's back-catalog as much as any fan, I discovered Nightwish with Anette and have always supported her as the band's front woman, no matter what anyone else said.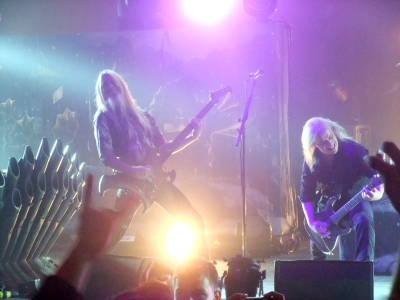 That said, I felt a bit guilty being so excited to see Nightwish performing with the one and only Floor Jansen, the one singer in the world who I think could beat Tarja at her own game. I missed Anette, of course, but let's get real here. Floor-freaking-Jansen. Excuse my rather blunt language in the following clause, but seeing Floor singing for Nightwish is like a symphonic metalhead's wet dream.
So I took the train from Paris to London and found my way to Brixton, where a rather unfortunate fiasco involving Ticketmaster had me end up in line three sides of a block away from the entrance. But believe me, that wasn't nearly the end of the line. It was almost worth it seeing everyone else's faces as they rounded yet another and saw the line stretch further and further on. Even by the time I got to the doors, the queue stretched around the block, back to the box office, and beyond! But let's get to the show, shall we?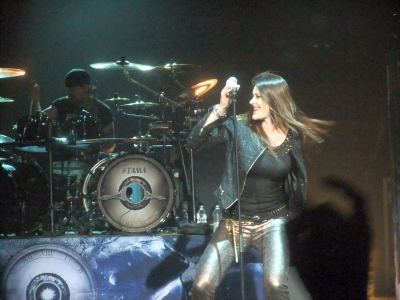 First up was Swedish industrial metal act Pain, who Nightwish bring on tour with them pretty much every time they tour Europe. Why? I don't know. It might've had something to do with Anette and Pain's bassist Johan (conspicuously absent at this performance) being together, or maybe Pain is just a fantastic opening band. Either way, the latter is true. The Swedes put on a fun show, playing a medley of their hits mixed in with some songs off their upcoming record You Only Live Twice. The crowd warmed up to them pretty quickly, with many singing along and jumping around. The band certainly did their job; the crowd was warmed up and ready for Nightwish.
The lights went down and the crowd erupted in cheers and applause as the first notes of the intro began to play. First Jukka, then Tuomas, then Emppu and Marco came out to even louder screams from the audience, who were now clapping with the beat, and leapt right into "Storytime." Then Floor walked out onto the stage with a big smile, mic in hand and singing with all her heart, and the crowd got even louder. Next up was "Dark Chest of Wonders," and wow, did she sound fantastic on this one, going full-operatic during the bridge. Marco and Emppu ran around the stage, interacting with each other and the crowd as the band powered through a set of what seemed to be their greatest hits, continuing with "Wish I had an Angel" and "Amaranth". As the show continued, the band moved flawlessly between fast paced songs like "I Want My Tears Back," wherein we saw a rather epic exchange between Emppu on his guitar and Troy Donockley on the pipes and whistles, and slower tracks like the jazzy "Slow, Love, Slow" and an acoustic version of "Nemo" (honestly, I would have preferred to hear the original version…).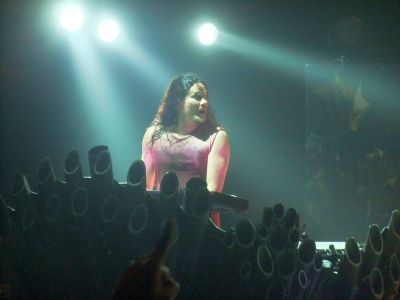 The setlist was made up mostly of songs from the Imaginaerum and Once albums, with a few from Dark Passion Play and only one from Century Child. Given that they had Floor behind the mic now, it would've been nice to see them play some more songs from their older albums. Who can doubt that songs like "Wishmaster," "Bless the Child," or "Stargazers" would have sounded phenomenal sung by Floor? That's not to say what they did play didn't sound great, of course. I'd argue Floor sang "Ever Dream" better than Tarja ever could have, but even that had nothing on "Ghost Love Score," a song I never thought I'd hear live the way it was meant to be heard. Yet, here I was, with goosebumps all over. It was simply magical. When the song ended the audience cheered and cheered and wouldn't stop, leaving Floor nearly speechless. The crowd loved her! Even fans who didn't know who she was before the show were won over. As someone I met at a later concert told me about the reactions of those who didn't know her:
When she first came out, they thought "wow, this girl is tall." And then she started singing, and they thought "wow, this girl can sing!" And then she started headbanging, and they thought "wow, this girl f**king rocks!"
Still, there were a few moments during the show I found myself missing Anette. Say what you want about her, but there are songs that no one can sing like she did. Strangely enough, they weren't the ones you'd normally think had that special Anette touch; Floor sounded equally amazing singing "Slow, Love, Slow" and "Scaretale." It was songs like "Storytime," "Amaranth," and "Last Ride of the Day" which Anette had really made her own and even the amazing Floor Jansen couldn't really capture that same feeling, as fantastically as she may have performed them that night.
Unfortunately, as Floor herself said, every show has to have an end, and so this one did, as the band said goodbye to the crowd and, for some reason, left without an encore. Either way, it was an unforgettable show. I know it probably won't happen, but Floor, if you're reading this: please join Nightwish permanently. I can think of no better front woman for the band, I really can't.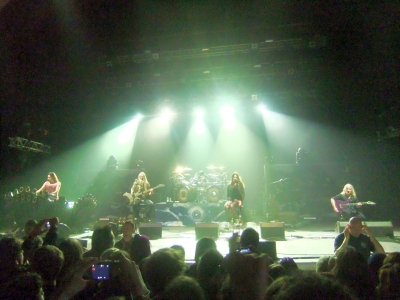 Setlist:
Intro
Storytime
Dark Chest of Wonders
Wish I Had an Angel
Amaranth
Scaretale
Slow, Love, Slow
I Want My Tears Back *
The Islander *
Nemo *
Last of the Wilds *
Planet Hell
Ghost River
Ever Dream
Over the Hills and Far Away *
Ghost Love Score
Last Ride of the Day
Imaginaerum (Outro)
* with Troy Donockley