Halestorm - Live at the Nouveau Casino
Paris, France - October 5, 2012
Halestorm has been quite a success back in the US, and despite the fact that the band and I are from the same state, and they play in my area all the time, I have never actually seen them live. Then again, for some strange reason, I was never really into Halestorm before. Perhaps it's because Revolver Magazine flaunts them like some precious diamond, putting lead singer Lzzy Hale in their Hottest Chicks in Metal feature for years in a row now. Or maybe it's because I heard that they used (a vehemently censored version of) one of their songs on Glee. Who knows? But since I was in Paris, and they were going to be in town, and I also happened to have free tickets (a big thank you to John Thornburgh!), I figured I'd check them out.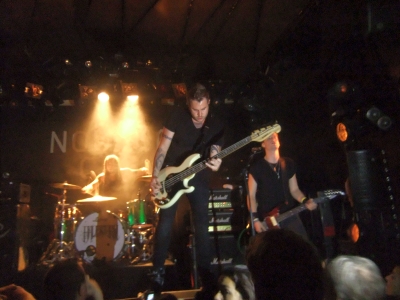 The show kicked off with a British trio by the name of Zico Chain. Though the band plays a rather bland, generic type of hard rock (which still wasn't particularly bad), their presence on stage got the audiencebanging their heads andmoving a bit. I've seen much, much worse when it comes to opening bands, so I was happy that this act played a decent set and did their job and warmed the crowd up.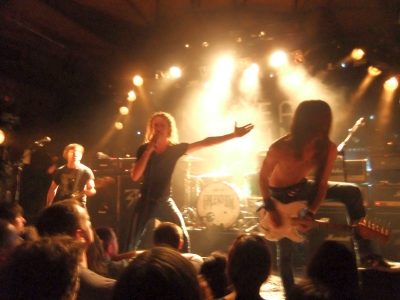 The next band was another British group called Heaven's Basement, who got the crowd going by taking us all back to the 80's (a decade which the Parisians seem to love) with their own modern brand of glam metal. Vocalist Aaron Buchanan jumped and danced around the stage like someone straight out of an 80's music video while the band pounded out a few anthemic rockers and guitar solos that were clearly a hit with the audience. Even for someone who doesn't really like that more classic sound in my metal music (yes, I admit it…), there's no denying that this band is a lot of fun to watch.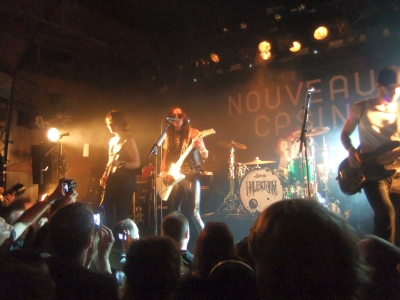 Now the crowd was truly ready for Halestorm. Lzzy and the band took the stage with delight on their faces (perhaps they'd just found out that the show had sold-out) and dove right into "Love Bites (So Do I)" to screams and cheers from the crowd, who were clearly excited to see Halestorm play in their country for the first time. I've complained (only a little bit) about French concert-goers, who generally don't move all that much, in my previous reviews, but this crowd had their hands up and their heads banging throughout the entire set! The crowd and the band fed off each other's energy and everyone was having a good time.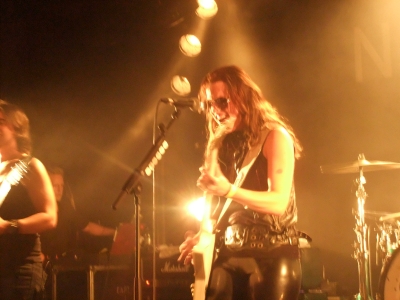 Lzzy engaged with the crowd between the songs and overall, despite the cold she said she had, sounded great throughout the night. She even took the stage alone with a keyboard for an acoustic performance of "Break In," only faltering a bit on one high note. She certainly proved that night that, despite what Revolver Magazine might lead you to believe, she's more than just a pretty face with a guitar. The set ended appropriately with "Here's to Us," during which Lzzy, Heineken in hand, led the crowd in waving their arms side to side, seemingly thanking the crowd for what she herself described as "the best show of the tour." It was certainly a great night, and Halestorm really does know how to put on a show. Now I definitely have to catch them playing in Philly next time around!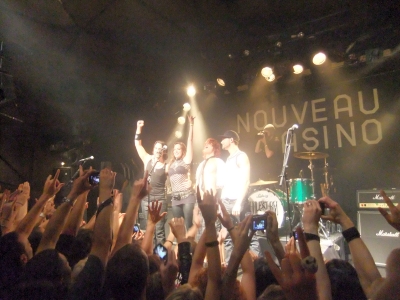 Setlist:
Love Bites (So Do I)
Mz. Hyde
It's Not You
Freak Like Me
Familiar Taste of Poison
Break In
Out ta Get Me (Guns 'n' Roses cover)
Slave to the Grind (Skid Row cover)
Rock Show
Drum Solo
You Call Me a Bitch Like It's a Bad Thing
I Get Off
Encore:
I Miss the Misery
Here's to Us