Therion / Elyose / Antalgia
Live in Paris - October 2012


Since this is my first review for Sonic Cathedral, I should probably introduce myself briefly. I'm a longtime metal fan, growing up with Iron Maiden and Judas Priest as favorites. In the last several years, female-fronted metal has become my passion. My top three are Within Temptation, Delain, and Epica.
I'm currently lucky enough to be living in Paris for a year. Coming from San Diego, California, where I often wait months between concerts, I'm like my daughter in a chocolate shop. I've been going to two amazing concerts per week!
This week started with Swedish metal legends Therion, celebrating their 25th anniversary. They put on a marathon two-hour set that showcased their impeccable musicianship. They sounded as good or better live as they do on CD.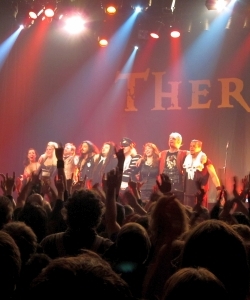 Lead Therion female vocalist Lori Lewis (from the U.S.) is amazing. She has a crystal clear operatic voice, and nailed such songs as "Son of the Sun" and the introduction to "Son of the Staves of Time." She also has great stage presence and was much more prominent than on the Live Gothic DVD. She was also a bit of a tease, asking the audience if we wanted more, and when we said yes, asking if we wanted a lot more. When we screamed yes, she deadpanned, "we'll do what we can." She also used her American French to good effect. Meanwhile, lead male vocalist Thomas Vikström is an incredible tenor. He can also do baritone, scream like Rob Halford, and play flute! His role in the band has expanded too, and this is welcome, though I did miss Mats Levén's more rocklike voice on the Iron Maiden-sounding anthem "Son of the Staves of Time." Therion's third vocalist, Thomas' daughter Linnea, is also excellent, taking the lead on some songs and harmonizing with Lori on others. Other standout songs of the night included "Lemuria," "Gothic Kabbalah," "The Blood of Kingu," and songs from Therion's new album, Les Fleurs du Mal. About the only song I missed was "Birth of Venus Illegitima."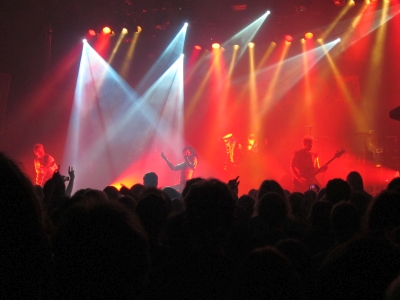 Christofer Johnsson has led Therion for 25 years. He took the mic to explain that their label didn't want to publish Les Fleurs du Mal. So he borrowed 75 thousand euros to buy back the rights and is self-publishing, selling the CD at shows. Needless to say, I bought one. As Christopher said, bands not labels should decide what they sound like.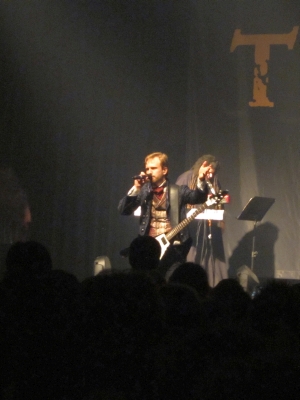 The Therion crowd was large and enthusiastic, and very animated without the banding having to do too much prompting.
Another highlight was a live belly dancer, complete with Isis wings, something I'd seen Therion do on DVD. She was really good, performing during songs such as "Rise of Sodom and Gomorrah."
Opening for Therion was Elyose from Paris. Therion's high standards of musicianship extended to the bands they picked for support. Elyose sounded amazing live. They also had a dramatic presence on stage (with lighting to match their album cover) and connected well with the home crowd.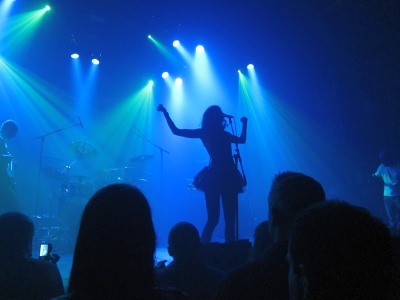 Elyose singer Justine Daaé is very impressive, with a pure voice reminiscent of Sharon den Adel (a big compliment from me) and the poise of a dancer on stage. She was also fun to meet and chat with after the show. Some of Elyose's music sounds like trance metal, including the title track of their first album, Théogyne, which I think is cool. I've also enjoyed dance metal from other bands like Omega Lithium and even Within Temptation. I need to find a club that plays it.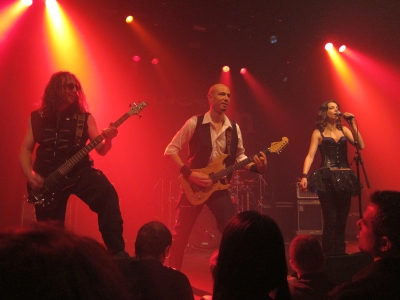 The first band of the night was Antalgia, from Spain. They were new to me, but also really good. Antalgia's singer Bella Dianez had a powerful voice and was a good headbanger. Another standout was Antalgia's lead guitarist Igna Jover, who did some very nice solos.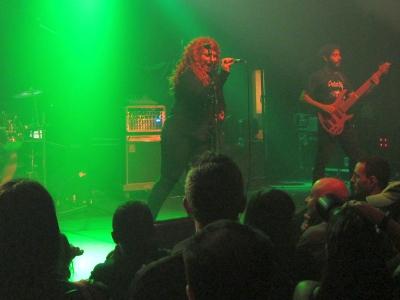 The venue was Le Bataclan, a legendary Paris venue built in 1864. It is cool looking, with a large standing floor, elevated bar, and balconies above. My only complaint for the night is that the sound was not up to the level of the smaller Paris venues I've visited recently (Le Divan du Monde and Glaz'art). The sound was boomy, pretty much what I'm used to in the U.S. but not perfect like the others.