Whyzdom Interview:
Doctor T speaks to Whyzdom founder Vynce Leff & other members about their tour performances with Delain and their appearance at the Metal Female Voices Festival.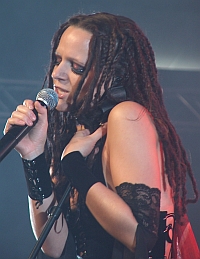 Photos by Tim Tronckoe Photography , Whyzdom & Sonic Cathedral
Doctor T: Vynce, your music tends to be somewhat complex, how does that translate to live performances?
Vynce Leff: Well, in live performances, we focus on energy and emotion. It's a very different thing to hear a CD and to see live music. When you see what happens on stage, your eyes are guiding your ears, meaning that you can identify more easily who is playing what. And looking at the musicians, the corporal expression creates a link between them and the audience. That's why we try to play as often as possible with our choir (The Dark Whispers Choir). Though the recording might be more precise, the fact that you can see them really singing, is a completely different experience.
Moreover, Telya being an actress, there's a lot of emotion carried by how she delivers the songs, from a visual viewpoint.
Doctor T: The band has been touring with Delain, how has that experience been working out?
Vynce Leff: We played once before with them in Paris last April. We really love them, both musically and as friends. Of course the stage was very small, so we had to share the space and put the drum kit very near the edge of the stage, but that was part of the fun. Then Rik contacted us to take part of the French and Spanish tour this October, and we immediately accepted of course. The tour was absolutely awesome. Delain is a fantastic band, especially when it comes to live performance. And once more, they have been incredibly friendly… even asking us to come on stage with them at the end of the last show of the tour. This went straight to our heart, really. Moreover, we had the choir with us in Paris, which was really great. They also performed live in Belgium for the Metal Female Voices Fest on the 17th of October.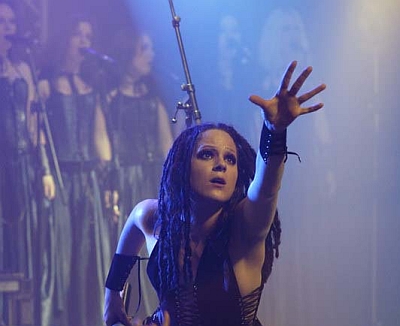 Doctor T: Yes, and for those that missed it, watching Telya replace Charlotte Wessels as the singer for Delain for a couple shows due to illness was also interesting. It can't be that easy filling in for someone on short notice like that.
Vynce, we discussed your use of English lyrics previously, however, you use Greek and Latin as well. Could you talk to that issue and why you have chosen to write in those languages instead of French?
Vynce: Oh, about Greek and Latin, they are the "classical" languages. Almost all western composers, one day or the other, have written their own Requiem, their own Mass. They all are entirely written in Latin and Greek. You can generally find pieces called "Requiem", "Libera Me", "Stabat Mater", "Kyrie", etc, etc... It was a real source of inspiration, since the lyrics often deal with subjects that are exactly those we have in the Brink.
Now, the reason why we sing in English comes from an old story. I used to write songs in French, but no French label wanted to sign my band at that time. I had to send my demos in England, and I finally found Cyclops Records. They did like our music, but they asked us to work on an English version... and of course, I accepted that. Then I began working with some British artists, and the singer of one of my former bands was the Scott vocalist Jenny Lewis... so it was natural to write in English for her. I never switched back to French since then.
Doctor T: In my review on this site, I talked extensively about the lyrics on From the Brink of Eternity. Could you talk a little about how you came up with those themes. Was there some personal interest there or how did you originate the topics?
Vynce: Ah, I was particularly happy to see that you digged them, really. They generally come from personal obsessions... and one thing that I must confess, I am afraid of dying. I mean it, and I think that writing songs about people confronted to death was some sort of catharsis. Some of them come from nightmares I really had, and that I could not forget. For example, The Train comes from an old nightmare, I am in a train and people (looking like ghosts) try to catch me. I run all along the train and have only one idea, getting out of it. I eventually succeed, but then I realize that the ghosts were my friends and my family and that they were trying to help me, because the train is life, and getting out just means dying. This is very strange, because normally, you never really die in dreams. But I did in this one. That's why I could never forget it, and that's how this song was written.
One thing you might have noticed though, is that I often need to finish songs with some sort of hope. This has always been very important to me.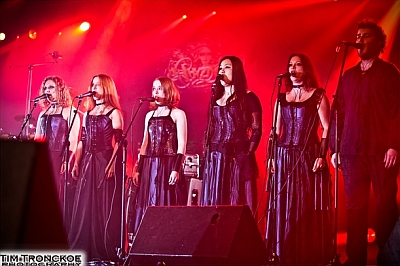 Doctor T: Telya, you are described as an actress/singer. Your performances clearly express a theatrical capability. Is that a conscious effort or is that just a natural presentation style?
Telya: Yes, I have a theater degree from "Le Cours Florent" (a quite renowned school for theater in France). I've always wanted to have an artistic career. This probably comes from the fact that I've been living in a musical environment since I was a child. My mother, who was vocalist in a choir, transmitted this passion to me very early. At a certain time, I had to choose between music and theater for my studies. Finally I opted for theater, not only because I love to give life to characters on a stage, but also because I thought it could improve the way I sing and also teach me how to express feelings and emotions better. In that sense, I really learned a lot... and it became indeed quite natural very quickly.
Doctor T: How does the acting influence the singing, or does the singing influence the acting?
Telya: Well there's a tradition, in French music, to behave like an actor when you sing. You might have heard of great French (and Belgian) singers like Charles Aznavour or Jacques Brel. In each song, there are very strong characters, with strong emotions, and they really come to life inside the music. I think that probably, this French particularly influences my singing in some way. So when I sing, I really play to give life to the character. That's why acting or singing is not so different for me – except from a technical viewpoint of course.
Doctor T: Vynce, we talked about the use of the choir previously. Could you talk a little about that component and how it was developed? Specifically, who are the choir and how are they used?
Vynce: Yes, the choir plays an important role in the songs. It's not only there to give more power to the overall sounds, but it is the voice of destiny indeed, sometimes talking to the main character of the song, sometimes witnessing the action. That's why it's been there from the very beginning. The songs couldn't simply exist without choir.
More specifically, we have six vocalists with us: Stefanie Raffaello, Sorsha Angelheart, Elen Hervochon, Linzzy Yeon, Isabelle Mity and Cedric Verna. And on the CD, you can hear 6 vocalists plus Telya, Nico, Marc and me. They all are incredibly skilled, some of them being professional singers actually who generously offered to help us because they did like our music.

Doctor T: Where do you find the members of the choir?
Vynce: Well, basically, I use the Internet to find vocalists. There are a lot of them interested both by metal and classical music near Paris. The problem is that much fewer of them know how to read parts and have good vocal capabilities. So it took quite long to find all those that you can hear on the CD… and it's even more difficult to have them singing live, because the better they are, the fuller their schedule is… I think that now, we have the dream team with our 6-piece choir!
Doctor T: The orchestration is also a major part of the music in Brink. Could you talk about the development there and the role orchestration takes in the music.
Vynce: Orchestration is actually my passion. When I started the project, I clearly wanted to mix metal and orchestra, with absolutely no synthesizer. All the ambiances are created by the orchestra. Moreover, while in gothic metal the orchestral part is often limited to introductions, or to simple strings parts, I wanted to use all the resources of that big ensemble. That's why you can often hear the instruments playing "staccato" with strong rhythmic counterparts with the guitar. You can also hear the winds, the brass, and orchestral percussions. They're not simply playing "on top" of the rest, but their melodic lines are really intertwined with the rest, so that the orchestra is not a "bonus", but a real part of the band.
Doctor T: How difficult is it to get an orchestra to perform with you, and how do you develop the parts for them to play?
Vynce: It's terribly difficult. The parts of the Brink request very skilled musicians, at a professional level. They don't consist of long sustained notes, but of rhythmic and melodic lines, with many modulations and different articulations. We are in the process of recruiting musicians for live performance, but it's really difficult. The problem is similar to recruiting the choir, the best musicians are rarely available, and when they are, they rarely accept to do it for free… and you have to keep in mind that a young band like Whyzdom has almost no budget. But we remain confident, because, very often, musicians like our music and want to help us in some way.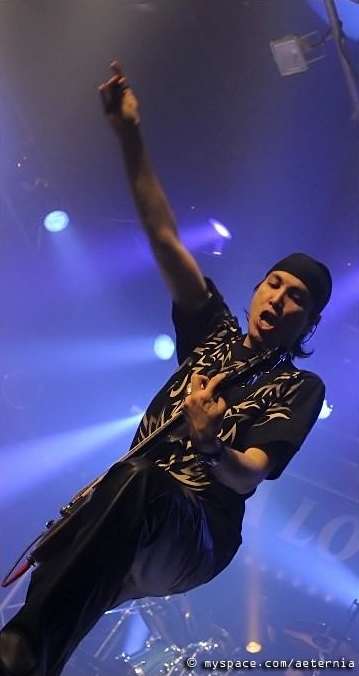 Doctor T: Again with the lyrics. Each song seems to have a distinctly individual theme. There is also a classical component to several of those songs. How do the classics influence the Whyzdom music and which classical influences have been most influential?
Vynce: Surely, I've been influenced by Greek theater, and by my classical studies. Lyrically, the role of the choir is very typical of that. It is also true musically speaking. You can hear influences from different époques in Brink. Essentially derived from the romantic and contemporary. I don't like too much baroque and classical music. The romantic period starts approximately with Beethoven who influenced a vast number of composers (and even film music composer, he he). I love Brahms, Dvorak, and Wagner. But I'm even more influenced by Ravel, Debussy, and Stravinsky, who opened the door to new sounds, with more complex harmonies. This is very important, because in Brink, if you try to analyze the song, you will find that the harmonic construction is not straightforward. I generally try to avoid musical "cliches", and the melody is written to give consistence to the hidden harmonic complexity.
And finally, I must say that I'm very fond of contemporary music. This can be heard in Daughter Of The Night part I... but expect even more in the next album!
Doctor T: On that note, what are your thoughts about a follow-up album at this point, what directions would you like to explore in the future?
Vynce: I already started to write some songs for the follow-up album. When I read all I've written so far, it seems that the general theme of the album might be around people feeling lost and abandoned in confusion, in search of the meaning of their life. Regis already composed several songs, and I have tons of guitarist and orchestral ideas to develop myself. There's also something different I want to introduce in this album, more melodic guitar lines. Not "guitar heroic" soloing parts, but ones that would act like a second singing voice – a bit like what you can hear in "Freedom".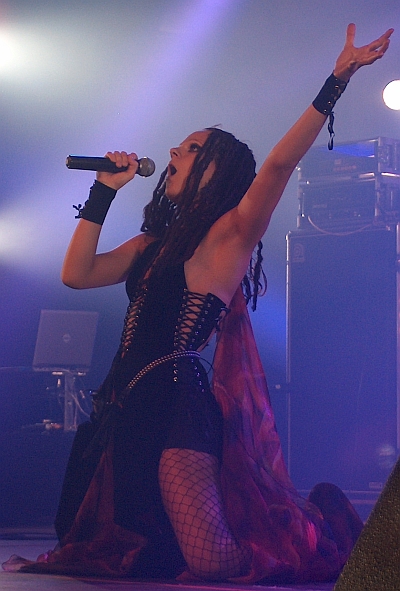 Doctor T: Telya, Nicolas, Marc and Regis, how has your experience with Whyzdom differed from past musical experiences, or has it?
Telya: Well, I had some musical experiences in other bands and in a musical. But this was the first project that sounded serious, with a whole visual and musical coherence. For a young singer like me, it was incredible to have the opportunity to be Whyzdom's lead singer.
Nicolas: The main difference between my past musical experiences and with Whyzdom is that now I'm playing music that some people really like. I used to play somewhat complex music (progressive), and the audience was so narrow that I had the feeling to play music only for other musicians. This was frustrating. It's incredible to feel that what you're playing can really touch people. That's what happens with Whyzdom.
Marc: I took part in many very different musical projects, in many different styles including classical, house, metal and variety. Whyzdom is the only one gathering my two main passions: classical music and metal. So Whyzdom is naturally the project the closest to what I really am. I found in the artistic inspiration of Vynce something very close to mine!
Regis: Yes, the main difference is that our music is appealing a wider audience than anything I ever played before - from metal to progressive rock. And finally, the band is working so well together... Something like a "dream team", you know...
Doctor T: Telya, has the Whyzdom experience affected your other career interests, acting, for instance. What do you see in your future?
Telya: Oh yes, it did! I feel much more confident now and working with Vynce taught me a lot more about how interpreting songs and even roles in different situations. But for the moment, I must say that I'm really focusing on Whyzdom. It takes so much time and energy that I had to stop some other projects. I really don't know what the future will bring me. All I hope is that I'll have more and more often the occasion to sing our songs live!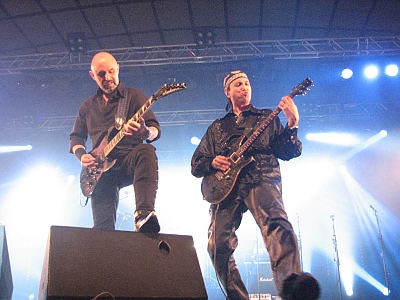 Doctor T: In general, Whyzdom's music tends to be more thematic than other bands I'm familiar with. Has this impacted your involvement with the music, and if so, how?
Telya: The universe of Whyzdom helps you as a musician to show a very intimate part of yourself. The thematic and theatrical aspect of the band puts you in a role, like an actor. This role is a very peculiar way to show some feelings you wouldn't be able to show otherwise.
Doctor T: And that's very obvious in your performances. Any final thoughts before we conclude?
Vynce: Ah yes, we would like to thank our label (Ascendance Records - Lee & Sam) who put their trust in our work. We would like also to mention that we played at the METAL FEMALE VOICES FEST, the 17 October show. This event is the most important event for female fronted metal bands, and we were very happy to be able to play there! A big thanks to the organizers (Phil & Val) & sponsors including Sonic Cathedral!
Telya: Thanks a lot for the interview. It's great to have the opportunity to express ourselves about our work!
Marc: I'm very happy to hear that some American people like our music. One of my dreams is to cross the ocean to come and play in the US! I hope it will eventually happen with Whyzdom!
Regis and Nico: "Thank you" is the only thing that comes to our mind now! We hope to meet you all soon!
Doctor T: And thank you, Vynce, Telya, Marc, Regis and Nico for speaking to us about Whyzdom. We wish you all the best and hope to see you on this side of the Atlantic in the very near future.
Please visit the bands website: www.whyzdom.com
Photos by Tim Tronckoe Photography , the band & SC are used with permission and many thanks.