Autumn Interview
Sara Letourneau chats with Marjan Welman of Autumn
2009 has proved to be a definitive year for Autumn. With growing confidence, the Dutch atmospheric rock/metal band released its fourth album "Altitude," an inspiring and slightly progressive evolution from 2007's "My New Time." Since then, Autumn has been busy with shows all across the Netherlands, some summer festivals, and a recent club tour in Germany. Audiences have received "Altitude" with open arms, yet there's one new element they've embraced even more fondly: The voice and presence of new singer Marjan Welman.
In Early October, Sara Letourneau of Sonic Cathedral chatted with Marjan about all things pertaining to Autumn. There was plenty to discuss: "Altitude," the band's active touring schedule, upcoming events, even some reflections on the band's international following and the difficulty of filling the shoes of former Autumn singer Nienke de Jong. Read on to learn what Marjan had to say about all this and much more.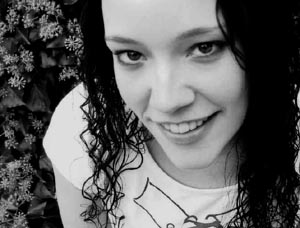 Sara: Marjan, you've been the face and voice of Autumn for over a year now. How are things going so far?
Marjan: At first I was so nervous, about almost everything. Even when we were rehearsing. You have to get to know the guys, the old and new material. Now, a year later, I feel really at home. I love the guys and what we're doing so much!
Sara: Autumn is a fairly established band that's been around for several years. How did it feel at first to join a band with a solid fan base that has been accustomed to hearing Nienke's voice since the beginning?
Marjan: It was pretty scary. I mean, Nienke is a very good singer, so I felt a bit weird at first to follow in her footsteps, wondering if I would be good enough. After a while, I tried not to think about it so much. I'm a different person with a different voice. The only thing I can do is do my absolute best, and hope that the fan base would "put up with me." But I must say, the fans made me feel very welcome. Thank you again!
Sara: How did you meet your future band mates? I remember reading somewhere that your other band Elister once played a show with Autumn.
Marjan: I already knew Autumn and visited a show every once in a while. And yes, we played at a festival together, on stages across from each other. Mats and Jens told me later that they heard me sing and that they thought I might be the right person to do a side project with. Very funny to think about it now, a few years later. It was Elister's first big show, if I only knew how big that gig would be for me in the future.
Sara: Let's go back to the day you auditioned to be Autumn's new singer. Take us through that experience – the invitation to try out, your feelings before and after the audition, and the day you found out you were that lucky singer.
Marjan: I still get a grin on my face thinking about it! I already kind of knew Jens through Myspace. We sent a mail now and then. Then all of a sudden, he sent me a mail asking if he could get my phone number. I was very curious about why he wanted it. He explained the situation to me and asked if I would like to audition. It didn't take me long to think about it.
Well then, the day of the audition, I took the train to Assen where Jens was going to pick me up. Again, I was very nervous. I was wondering if I would be good enough, if they would like me. And on top of that, we had car trouble. I almost thought it was a sign! *laughs* When we finally arrived at the rehearsal room, the guys made me feel very welcome and at ease instantly. I sang the first few nerves away quickly and had a blast!
Then I had to wait. That was probably the hardest part of it all. Fortunately, they didn't leave me hanging that long. Jens called me on one beautiful morning. I was still asleep (slacking student), and he woke me up saying, "Hi M2! What's up?". I didn't have a clue what he meant. But he explained that all band members in Autumn are numbered. There's J1, J2, J3, J4, M1, and M2. I didn't get it at first, but then I finally did. I think I damaged Jens' hearing! *laughs*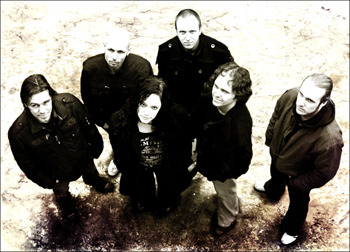 Sara: Did Nienke give you any advice or words of encouragement when you came onboard?
Marjan: Actually, I haven't talked to Nienke much. I've seen her a few times after I auditioned, but that was mainly because someone thought it would be cool to plan a gig with Elister as support and Autumn as headliner. And this was before anyone knew I auditioned; what are the odds?
Sara: Your first show with Autumn was at Wave Gotik Treffen in 2008. How did it go? Were you nervous? Excited?
Marjan: I was both. It was all fine when we were in the car driving to Leipzig. But when we arrived at the venue and I discovered how big it was, I almost fainted. *laughs* But when I put one foot onstage, I had so much fun I forgot it all. It's funny, though. Now when I look back, seeing some stuff on Youtube, I can see how nervous I was. And, of course, how much fun I had!
Sara: Around the same time as your first concerts with Autumn, the band was in the middle of writing material for "Altitude." How were you involved in the songwriting process for the new album?
Marjan: When I joined the band, the songs were already almost finished. I was very much involved in adapting vocal lines and harmonies. They told me from the beginning that I could also adapt some of the lyrics so I could sing them in a more flowing kind of way. So I did have my share of writing, but I think when it's time for a new album I'm going to leave a more specific mark.
Sara: Why was "Altitude" chosen for the album title?
Marjan: In my opinion, the entire album is a kind of bird's eye view of today's society and life in general.
Sara: How is "Altitude" different from "My New Time"? What was the band hoping to accomplish with this new album?
Marjan: First of all, it's got me on it! *laughs* But that's surely not all. From what I understand, the guys wanted to perfect the musical direction they had taken with "My New Time." On "My New Time," the songs are compact and filled to the brim with emotion. On "Altitude," we wanted to let go of the 'let's squeeze it all that content into 4 brave minutes' dogma. The songs on "Altitude" have more layers and surprises, and therefore it needs a few more spins before the coin drops. This is sort of a risk. "Altitude" was born from the realization that all Autumn members favor albums that we have to grow into. Those are the albums that stay. We were confident that music lovers would be triggered to discover what "Altitude" has to offer, and that they might enjoy the album for a long time.
Sara: What are your favorite songs from "Altitude" and why?
Marjan: Two of my personal favorites are "Altitude" and "A Minor Dance." These songs, for me, have so much atmosphere in them. When I sing them, it feels like I actually crawl into the songs.
Sara: I read on Autumn's website that three songs from the new album ("Skydancer," "Horizon Line," and the title track) are linked by a certain theme. Could you explain this theme and why Autumn felt this was important to address this idea to its audience?

Marjan: I actually don't believe that Autumn finds it important to address any idea in particular. These songs just happened to have one common divisor: The sky. As a liberation, a hazard, a mystery, a frontier, and a symbolic environment that has fascinated and inspired men through the ages. It is the biggest 'thing' we will ever see, and is therefore rewarding to write about in different contexts. And what do you know... The album just happens to be called "Altitude." :)
Sara: Being the vocalist, were any songs on "Altitude" challenging for you to sing due to technique or emotion? If so, which ones?
Marjan: Well, the entire album was challenging for me, seeing how I've never recorded an entire album before. Apart from that, it was an adventure discovering the range of my voice and trying to put the emotion in the songs they deserve.
Sara: Earlier this year, Autumn released a video for "The Heart Demands." Why did you choose this song for a video?
Marjan: This was actually a hard choice. I guess we chose this song because it has everything in it that is otherwise distributed over the entire album: A good chorus, interesting lyrics, pointy riffing next to elaborate chords, and some odd time signatures co-existing with straight 4/4 beats. Pow!
Sara: Tell us a little bit about the video. Where and when was it shot? Why a live performance video instead a concept video?
Marjan: Making cool stuff is an expensive business these days, and since we had to decide quickly, we decided to take matters into our own hands. We chose the song, approached a friendly camera crew, and picked a convenient place for the shoot (Rock Temple in Kerkrade, Holland). After that, our bass player Jerome edited the entire video himself! Hooray! We are planning to make a concept video for another song... but that might take some more time to accomplish…
Sara: Autumn has performed numerous shows and festivals since "Altitude" was released. How have those gigs gone?
Marjan: I have loved every single one of them! I love being on stage with Autumn. We always have so much fun! Now I also have the feeling I really 'know' all the songs, which makes doing gigs even more greater.
Sara: How have audiences responded to the new songs, and to you as the new singer?
Marjan: Overall, the audiences have responded very cool! I think they first had to get used to the new songs, but so did we. But we really had some awesome reactions! Thanks, everybody.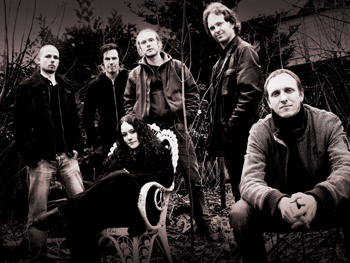 Sara: Any funny or embarrassing moments from Autumn gigs that you'd like to share? :)
Marjan: Well ehm... Mats forgot to change guitars once in the heat of the moment. He handled it very well by making it look like it was all part of the show... and that's rock 'n roll!
Sara: How was Autumn's recent headlining tour in Germany? What did you like about playing several shows in a country other than the Netherlands?
Marjan: Germany is my new favorite place in the world. German audiences are so polite and happy. I really had fun doing the gigs and talking to fans after the shows! Can we come over again?! Yes, please.
Sara: This year's Metal Female Voices Festival is coming up soon, too. You must be looking forward to that! Does Autumn have anything special planned yet for that night?
Marjan: I'm really looking forward to that! I heard it's an awesome festival. Autumn have been there, but unfortunately I've never had the chance to go there before. This is a great first! Anything special? Well if I would tell that now it wouldn't be special anymore, now would it? Expect some heavy riffing.
Sara: You've also done a co-headlining show with Stream of Passion and have a similar show scheduled in October. Why do you think Autumn and Stream of Passion are a good match as co-headliners?
Marjan: I guess that the personalities fit together well. Serious musicians, without big attitudes. We naturally mingled from the first moment. United, we hope to provide the audience with the best there is to be found in female-fronted rock and metal.
Sara: Most of the material that Autumn's played at their recent shows is from "Altitude" and "My New Time." However, the band still performs some of Autumn's older songs such as "Gallery of Reality" and "Summer's End." Have you had an opportunity to listen to the band's first two albums, "Summer's End" and "When Lust Evokes the Curse"? What do you think of their earlier sound?
Marjan: I have listened to "Summer's End" and "My New Time." I must say I don't really know any material from "When Lust Evokes The Curse." I have to be honest, I already liked Autumn before, but "My New Time" is my favorite album of those three.
Sara: We briefly mentioned your other band Elister earlier in the interview. Tell us a little bit about the band's history, its other members, the kind of music it makes, etc. And, how is Elister's music different from Autumn?
Marjan: Elister is a more mainstream pop/rock band. It's more easy listening, I guess! We started out as a cover band and ended up making our own music. We're four people with completely different mindsets. This makes it hard sometimes, but also very fun to work together. We know each other since we were teenagers.
Sara: You also were asked to sing on the song "E=MC2" on the latest Ayreon record "01011001." How did this happen?
Marjan: I sent in a demo when Arjen [Lucassen, mastermind behind Ayreon] asked for unknown singers when he was recording "The Human Equation." He did reply that he liked it, but I didn't get the job. I recorded the demo in my bathroom, so the quality wasn't that good. After a while, I had some decent recordings with Elister, so I decided I was going to give it a shot and just send him another demo. He told me he really liked the song "Heights." He didn't reply immediately, so I thought that he just didn't think it was good enough.
Then on a Sunday, I decided to check my e-mail, and to my great surprise I discovered I had a mail from him! He told me he wanted me to sing a chorus on his new CD. I was so happy! I think my boyfriend thought that I hurt myself because I was shouting! *laughs*
Sara: I understand Arjen is one of your favorite musicians. What was it like to work with him?
Marjan: I was scared and intimidated, but Arjen is so extremely nice! He really took the time to make me feel at ease before he started recording. On top of that, he's really funny, so we really laughed our asses off!
Sara: Looking ahead, what are Autumn's plans for the rest of 2009 and going into next year?
Marjan: Well... we will be making a start with "Altitude's" successor. Furthermore, we will play some more heavy rockin' shows. Aside from that, we are planning some band activities that are not music related, since we live far apart and rarely get the chance to hang out and drink beer before or after a show. Cool...
Sara: People all over the world are constantly discovering Autumn and your voice. How does it feel to know that fans in the Netherlands, Belgium, the US, Japan, and other countries enjoy the band's music and appreciate your artistry?
Marjan: It feels really weird that people all over the world can listen to it! I love it! On Myspace, I had some reactions from all over the globe. It feels surreal and wonderful!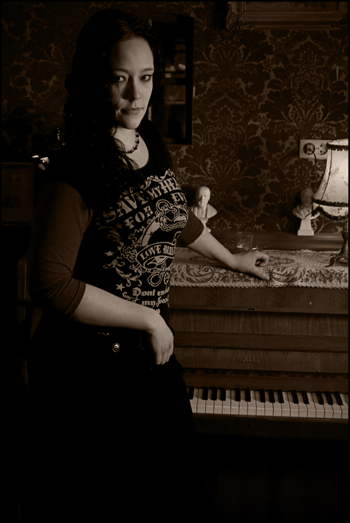 Sara: In closing, what would you like to say to Autumn fans and Sonic Cathedral?
Marjan: Please come and check us out live. You won't be disappointed... 'cause we'll push ourselves and each other over the edge every single time!
Sara: Thanks very much for your time! Good luck with "Altitude" and the rest of your shows this year!
Marjan: Thank you for the great questions!
Many thanks once again to Marjan for answering our questions and also to Peter Schapp of PIMP Management for arranging the interview.
For more information on Autumn, please visit the following websites:
Autumn's Official Website: www.autumn-band.com
Autumn on Myspace: www.myspace.com/autumnband