Witchbreed Interview
Sara Letourneau chats with Ruby Roque of Witchbreed
Witchbreed has been carving its name into the female-fronted metal scene ever since Ascendance Records announced its signing of the band in 2008. Today, the Portuguese quintet is circling their country's club and metal festival circuit, playing its dark and (no pun intended) bewitching brand of progressive black metal. And, it always helps to have a high-quality album under your belt. In Witchbreed's case, this album is "Heretic Rapture," an outstanding debut and a sure candidate for one of the best femme metal albums of 2009.
Recently, Sara Letourneau of Sonic Cathedral had the chance to interview Witchbreed vocalist Ruby Roque. The two ladies talked about Ruby's broad taste in music, dreaming big, and people's first impressions of Witchbreed's unconventional musical approach. Even some big names in metal were thrown around: Waldemar Sorychta, Doro, and Iron Maiden, just to name a few. Why? Read on to find out!
Sara: Tell us about Witchbreed. How did the band get started?
Ruby: The band was started by Ares, [former bassist of Portuguese black metal band Moonspell], and Dikk. They had this vision for years, and they were looking for the perfect singer. They didn't even know if they wanted a female singer or a male. So I guess it was a long quest. Then Ares found me, I did an audition, and I got the spot. That was the beginning of Witchbreed!
Sara: How did the band get the name Witchbreed?
Ruby: It came from a Marvel comic book. Ares was reading this Marvel book, and there was this "witchbreed," a breed between the devil and a witch. We liked the name, and so Witchbreed was born!
Sara: Sonic Cathedral fans got their first taste of Witchbreed on the 2008 compilation "A World of Sirens." Why did you choose to feature "Brotherhood of Fang & Claw"?
Ruby: To be honest with you, I don't remember if it was the band or the label that chose to use that song. Either way, at that time, we just got signed with Ascendance Records, and "Brotherhood of Fang & Claw" was a strong and new song added to Witchbreed, so it made sense to be that song!
Sara: Tell me how Witchbreed was signed to Ascendance Records. I read somewhere that you heard from the label after they heard your demos of "Brotherhood of Fang & Claw" and "Rebel Blood" online. Is that true?
Ruby: Yeah, crazy story! Still very true. That night we changed our Myspace, new layout, new pics, and new songs. A few hours later, we got two deals, one of them from Ascendance Records, so we signed with them.
Sara: Ruby, you have one of the most impressive female voices on the metal scene. How did you start singing?
Ruby: I don't remember… My father was a guitar player, my whole family is very musical, and my cousin plays bass in Moonspell. So... I guess I was always singing around the house, a lot of noise in my parents' house. *laughs* But my first metal band, I think I was 14, and it was great! I was born in a small island called Madeira Island. The metal scene there was very small, and still is, so I was probably the only girl doing the metal thing, singing (non-operatic stuff) there. I was very discriminated by people, because I was very young and my mom is very religious and people would tell her that I was worshiping the devil and sh*t like that. She laughed, but still I lost a few friends because their parents didn't want them around me. But yeah, I started to sing really young. They used to call me Doro. I wonder why!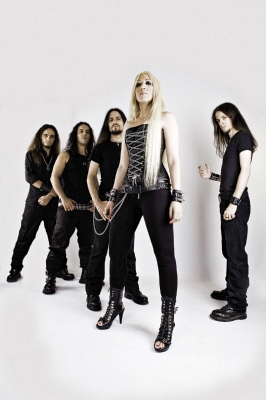 Sara: How did you get into metal music?
Ruby: Hum… I think I was about 10 when I saw my first metal concert. It only lasted about 10 minutes. *laughs* It was my cousin's band back then , when they started to play, and I saw all those guys head banging. I was like, "Wowww!!!" Well, the mayor didn't like it. He sent the police to shut it down! *laughs* Then it was easy. My older sister bought some CDs, and I was hooked!
Sara: You and I are friends on LastFM, and I noticed you have quite a broad taste of music: Black Label Society, Mariah Carey, Guns 'N Roses, The Gathering, Tori Amos... Do you think it's important for singers to have open-minded about music? Why or why not?
Ruby: Yeah, of course. I'm a metal head, but most of all I'm a music lover, and I admire what's good. I pity for those who cannot see or listen beyond one type of music. If you are open-minded towards music, you can compose unique songs, and that's precious.
Sara: Let's talk about your band's debut album, "Heretic Rapture." Witchbreed announced that as the album title just after signing with Ascendance Records. Why this title?
Ruby: I will quote what Ares said: "'Heretic Rapture' stands for that exactly, a contrast of carnal and spiritual ecstasy, be it religious or not. It's like merging two distinctive worlds of senses into a provocation of dogmas and rules. It's a defying and mystifying paradigm for the world we live in. We took a 'fantasy' kind of route just to make it bearable, otherwise bare naked human reality is too depressive and effortless."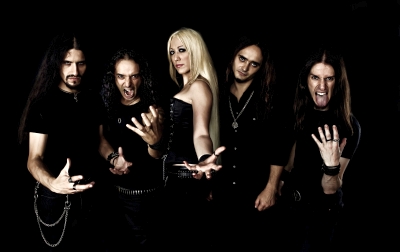 Sara: What are your favorite songs on "Heretic Rapture"?
Ruby: I must say that my favorites are "Ruby Light of the West" (because I see a lot of me in it), "Heretica" (a lot of dark and sad emotions when I recorded that song), "Eden's End" (it's strong and defines the name Witchbreed), "Symphony for the Fallen" (the new path for Witchbreed), and "Firethrone" (I get goosebumps every time I sing that song live).
Sara: Two of my favorite songs on the album are "Thy Eclipse" and "Rebel Blood." Could you tell us a little about both songs – the lyrics, the writing process, anything else that interest fans?
Ruby: "Thy Eclipse" was a new song made for the album. It is a new phase of Witchbreed and shows a new "us". The lyrics always talk about paganism, fantasy, and the occult. Writing that song was natural, I guess, it's called evolution. "Rebel Blood" was made when we got from a three-member band to a five-member band, and it also marks a change in the band, another evolution! It's a great track.
Sara: The album outro, "Heretica," is quite beautiful, especially since you're singing in your native Portuguese. How did your band get the idea to finish the album this way?
Ruby: Portuguese people are very musical, and after finishing the album we had to put something for our people. So we did "Heretica," a very sad song, and strong at the same time. It's like our Portuguese "fado."
Sara: You worked with a legendary producer on "Heretic Rapture": Waldemar Sorychta. Why did you choose him?
Ruby: Well, Ares worked with him before and knew his qualities. So it was very easy to choose. He had all we needed to help us do an upgrade on our songs!
Sara: What was it like to work with Waldemar?
Ruby: It was very, very easy. He's a great guy, always at ease, great sense of humor, and very professional when it comes to making music! I hope that we can work with him again.
Sara: Paulo from My Enchantment did some guest grunt vocals on "Heretic Rapture." How did this collaboration come about?
Ruby: Paulo is a friend of the band since the primordial of Witchbreed and before. So we are huge fans of his vocals. It was an easy choice.
Sara: I understand Witchbreed ran into some technical issues while working on the album. What happened?
Ruby: Yes, we did, and that delayed the album. We had two computers dying on us while we were recording… It was a real pain in the arse.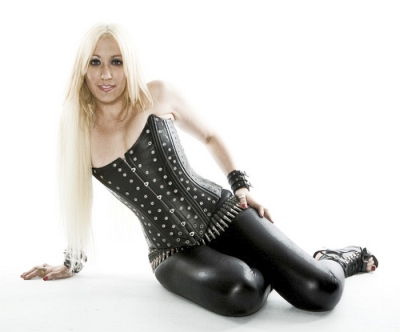 Sara: So it must be very rewarding for you and your band-mates to have "Heretic Rapture" released for fans to purchase. How do you feel now that it's out?
Ruby: For me it was a dream that came true… And for them, I guess it felt really good, after all the hard work they put in to it! Now I just feel accomplished.
Sara: Witchbreed got a high compliment recently from another metal legend. Bruce Dickinson (singer of Iron Maiden) played "Rebel Blood" during his BBC Friday Rock Show, and he sounded impressed! What did you think of that?
Ruby: Yeah, we also were impressed that he cared! We were so happy, because Iron Maiden is a main influence in the band. So we were so flattered when Bruce Dickinson told such nice things about us. Thanks, Bruce! You are the man!
Sara: Speaking of Bruce Dickinson, Witchbreed covered Iron Maiden's song "Children of the Damned." Why this song? Are you and the other Witchbreed members fans of Iron Maiden?
Ruby: A "Witchbreed" is a child of the damned! And yes, we are fans of Iron Maiden!
Sara: You've played a couple shows since releasing "Heretic Rapture." How have they gone so far?
Ruby: They went pretty good, actually. We are enjoying it a lot, showing the new material to the audience and see that they like them and headbang to it. It's great!
Sara: One of Witchbreed's most recent gigs was the Festival Ilha do Ermal in your home country. Ermal's not a small festival, either – four days and 45 bands, including Korpiklaani, Blind Guardian, and Firewind. How was that to play at a large festival with many other well-known bands?
Ruby: Well, to be honest, it wasn't that good. I mean, the place was great, the public amazing, but the organization didn't treat the bands that good, at least the ones on the second stage. Either way, we focused on the public, and it was worth it just because of them.
Sara: Which songs are the most fun to play live?
Ruby: "Firethrone," "Symphony for The Fallen," and "Thy Eclipse."
Sara: How have people responded to Witchbreed's music after hearing the band or seeing you live for the first time?
Ruby: I guess people get surprised. That's the first impression. They don't expect us to be that heavy or powerful. Mainly because I am a woman and, you know, some people still have that thought, that if you have a woman singing in a metal band it will be soft. Wrong. *laughs*
Sara: If you could pick any band for which Witchbreed would be an opening act, which band would you choose? Why?
Ruby: Iron Maiden, just because we dream a lot!
Sara: What other plans do Witchbreed have for 2009?
Ruby: 2009 is for exposing "Heretic Rapture" to the world, playing and promoting.
Sara: In closing, what would you like to say to the readers at Sonic Cathedral?
Ruby: Well thank you for having the patience to read the interview, and I hope that you guys give us (Witchbreed ) a chance. So buy the album "Heretic Rapture" and rock on! HAIL THE WITCHBREED!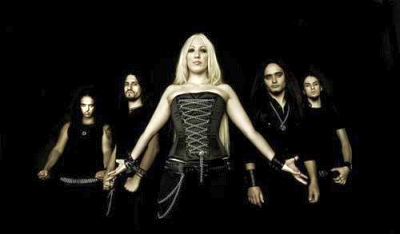 Thanks very much for your time, Ruby and Witchbreed! Sonic Cathedral wishes you the best with "Heretic Rapture" and your upcoming shows this fall!
For more information on Witchbreed, visit the following websites:
Witchbreed on Myspace: http://www.myspace.com/witchbreed
Ascendance Records (Witchbreed's record label): http://www.ascendancerecords.com/