Kells Interview
Sara Letourneau chats with Virginie, Patrick, and Jano
The French metal scene is buzzing with several female-fronted bands, including the melodic nu metal quartet Kells. This band has been slowly making a name for themselves, thanks to an appearance at the 2008 Metal Female Voices Festival in Belgium and the opening slot on the French leg of Epica's 2008 headlining tour in Europe. This year already looks to be Kells' biggest year ever. With a new album "Lueurs" and a busy tour schedule that takes them all over France and neighboring countries such as Switzerland and Spain, Kells has become one of the bright new stars in femme metal.
Recently, Sonic Cathedral's Sara Letourneau interviewed Kells singer Virginie Goncalves, guitarist Patrick Garcia, and drummer Jean "Jano" Padovan. They talked about "Lueurs," the band's touring schedule, and what sets the band apart from other female-fronted metal bands out there right now.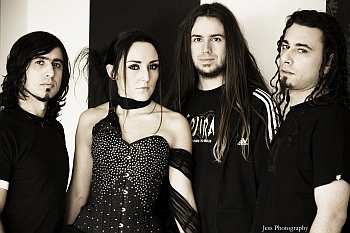 Sara: Tell us a little about Kells. How did the band get started? Who are the current members?
Virginie: The origin of Kells comes back to 2001. I've created it with Patrick (guitars) and Fabrice (keyboards). We three composed the whole "Gaïa" album. We recorded it in 2004, and it was released in 2005. Then, in order to take the road with this album, we welcomed Jeremie Vinet as a bass player, and Guillaume Dagnaud as a drummer. In 2006, because he had a job that took his time, we welcomed Laurent as Jeremie's spare. Eventually, Laurent became our main and official bass player in 2007. In 2007, two other changes in the line up occurred. Fabrice, our co-founder, left the band because he was to become a father, and Guillaume also left to marry. So, we welcomed Jano as a new drummer. We did not feel like replacing Fabrice. We four – Jano, Pat, Lo and I – composed the whole "Lueurs" album.
Sara: How would you describe Kells' music? What bands have influenced your sound?
Jano: Heavy, big riffs that kick your ass, and melodies that drive you away! I've always listened to music with melodies, in any style, that could be rock, metal, electro, or hip hop. My main influences are Muse, Korn, and punk rock bands like Strike Anywhere and Uncommonmenfrommars.
Virginie: Our music is "nu symphonic metal." Our guitar/bass/drum parts completely sound nu metal like Korn, Deftones, Limp Bizkit, etc. And we add symphonic orchestrations that make us sound completely different from other female fronted metal bands such as Epica, Nightwish, etc.
Sara: Virginie, you have a unique voice that is very impressive. When did you start singing? And, how did you decide that you wanted to perform rock/metal music?
Virginie: As far as I can remember, I've always sung! When I was five years old, I even went to the conservatory! But I truly decided to perform metal music once I met Patrick.
Sara: One of the highlights of Kells' music is that you sing all of your songs in your native language: French. What is the reason behind this?
Virginie: Everybody sings in English! Lacuna Coil (Italy), Epica (Netherlands), etc. Everybody from whatever country. It was a means to be different.
Patrick: It brings a new sonority in that style.
Jano: We always take care of the sound of each word, not to fall into basic variety that we are good at in France! We try to sing in French, but with English sonorities.
Sara: How does the band write its songs? Do you compose the music first and then the lyrics, or vice versa?
Virginie: We compose the music first, and the lyrics after!
Sara: Where do you find inspiration for your lyrics?
Virginie: The first inspiration is in the music itself. Once the song is musically completed, it always leads me to a theme. I find inspiration in everyday life. There are so much things to talk about. I often talk about what is shocking to me, but also of what is wonderful, hehe.
Sara: "Lueurs" is Kells' second album and shows how your music has flourished since your first album "Gaïa." What was your goal with creating "Lueurs"? How did you want it to be different from "Gaïa"?
Jano: Harder, better, faster, stronger!
Virginie: The various shows we had performed during the "Gaïa" tour made us think we needed some more energetic songs to have more fun on stage.
Sara: How did you choose the title for your new album?
Virginie: In French, "Lueurs" is not only a "fading light," but also it is connoted with hope. Everything is not always dark, there is always a sparkling light somewhere.
Sara: What are your favorite songs on "Lueurs?"
Patrick: They have all something good, but my favorite is "Avant que tu…". I'm very proud of its arrangement.
Jano: "Avant que tu…" definitely, because of its power, its melody. There's something more in this song.
Virginie: I cannot choose one. I would say, in order of appearance, "Avant que tu…," "Délivre-moi," "Lueur," "Ailleurs," and "Sans teint."
Sara: "La sphère" is the first single from "Lueurs." Why did you choose this particular song for a single?
Jano: This song was one of the first songs we composed, that made us realize the orientation we wanted the band to take. So it appeared to us as an evidence.
Patrick: Because the featuring with Candice of Eths is very interesting!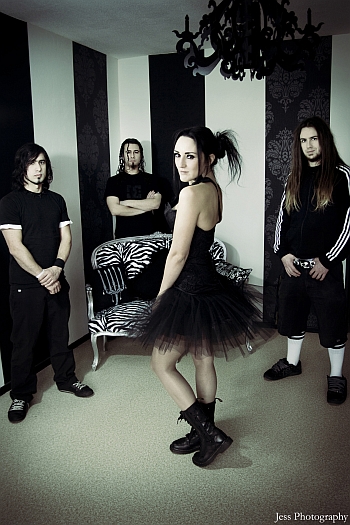 Sara: Let's talk about that collaboration with Candice [vocalist of French metalcore band Eths] on "La sphère." How did this happen? What was it like to work with Candice?
Virginie: We met Candice in 2005, in a Belgian festival where they were headlining. We were sharing the same lodge, so we had the opportunity to get to know each other. We kept in contact, and when we composed "La sphère" in 2007, we immediately thought it would melt perfectly with her growl. We asked her if she would like to feature on this song, and she accepted immediately! The recording was very cool with her, she's so nice!
Sara: Tell us about the video clip for "La sphère." Where did you shoot the video? It looks like it was filmed inside a castle.
Pat: Actually, "La sphère" was our first video. It was shot near Paris, inside the Bonnelles castle.
Sara: I have to ask about the cover artwork for "Lueurs." It's beautiful and very eye-catching! Who created it? And, how does it connect to the music on the album?
Jano: We, in real life, really enjoy life. We always do stupid things just to have good times. So, we wanted to cut this dark side of the metal, to show people the light above darkness.
Virginie: The artwork was made by Oraku Designs.
Sara: You have already performed several shows to promote "Lueurs." How have they gone so far?
Jano: We have a lot of fun touring. We meet new people, and our music is always welcomed wherever we go! It's so magic to convince people every time, it pushes us to go on!
Sara: How has the audience responded to the new material?
Jano: Really good! People of all kinds, from true old metalheads to young dudes, they all join the pit to headbang and have fun! We really tried to turn our sound to make the gig a party.
Virginie: Our album was among the 30 best sells during almost one month!
Sara: You opened several shows last autumn for Epica's headlining tour. What was that like?
Jano: We met so much people. This was incredible, playing every night in sold-out venues with big sound systems. We had only 30-minute shows, and we had to convince the public in this short time. We were wondering if Epica's fans would like us, but it seems they enjoyed us, and so we did, too!
Sara: Kells has also shared the stage with well-known metal bands such as After Forever, Paradise Lost, and Apocalyptica. How does it feel to have the opportunity to play in front of a wide variety of metal music audiences?
Jano: It forces us to be better every time in order to convince different kind of metalheads. But, we like to go where no one is waiting for us! It's more exciting!
Sara: You also played at the Metal Female Voices Festival, the premiere festival for female-fronted metal bands, in 2008. How did that go? How did it feel to be one of the winning bands from the 2007 MFVF warm-up show?
Virginie: It was wonderful! So many people there! Winning the warm-up was just a big pleasure! That meant the public trusted in us!
Sara: What are your plans to continue promoting "Lueurs"? I've seen your touring schedule, and it takes you all over France and into some neighboring countries through the end of this year.
Jano: Live shows are our motivation to play music. We like to jam and record, but we definitely are addicted to the atmosphere of live shows. We love to share with our fans. This feeling is unique. Every gig is different. You never know how it will turn, which problems will happen, how people will react. It's really exciting!
Virginie: Another way to promote "Lueurs" is the broadcasting of our video on TV. We appeared on every channel (MTV, etc.). So, we plan to shoot a second video!
Sara: Your fanbase has grown over the years and includes people whose first language is not French. How does it feel to know you can connect with fans despite the language barrier?
Virginie: It is just wonderful to see we have Italian, Mexican, and other foreign fanclubs!
Jano: It's a call to go away and meet everyone everywhere to taste all beers around the world!
Sara: What is the female-fronted metal scene like in France? Sonic Cathedral readers are already familiar with Markize, Whyzdom, Dylath-Leen, and Penumbra. Are there other French "femme metal" bands that we should take a listen to?
Jano: Listen to Eths. It sounds like nothing else in France. The musicians are incredible, and frontwoman Candice sings like no one else.
Sara: Have you noticed an increased interest in the female-fronted metal scene over the years?
Virginie: I have noticed an increased interest in the female fronted metal scene since Evanescence's [first album] "Fallen." It opened the genre to a wider audience.
Sara: In closing, what would you like to say to fans and to Sonic Cathedral readers who are just learning about Kells?
Jano: Don't set fire to your farts until you are experienced or ask me to show you. Cheers!
"Merci beau coup" to Kells for taking the time to talk to Sonic Cathedral! Good luck with "Lueurs" and this year's shows!
For more information on Kells, visit the following websites:
Official Kells Website: http://www.kells.fr
Kells on Myspace: http://www.myspace.com/kellsgaia