Cristina of Lacuna Coil Interview
Bridgeport, Connecticut - April 21, 2009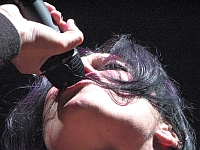 Jason: You're back with your first album in three years. How has the experience been creating the new album?
Cristina: Well the album itself has been created. I mean the songwriting took about six months not really three years. But of course we had to promote Karmacode and to be on tour to promote the previous album. Well we were talking basically on that tour about listening to different stuff, even soundtracks. Having different experiences in life. So everything went on Shallow Life which is our new album.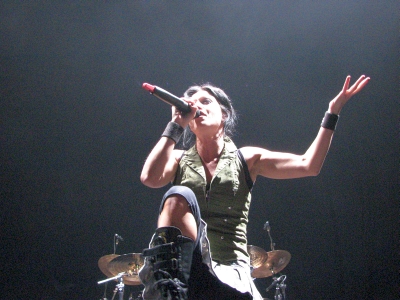 Jason: What are the first thoughts that come to your mind about the new album?
Cristina: Well the first thing that comes to my mind is excitement. Because of course this is the big day and we're going to see from this point where our music is going to lead us. I have a lot of expectations because I think it's a great album. It's definitely representing where Lacuna Coil are in 2009. I hope it's going to go well because we totally deserve it.
Jason: You changed your direction a bit on this album. How would you describe it?
Cristina: I would say it's an evolution. It's not that we completely changed because our roots are still there and it's pretty clear. I actually think that there are a lot of old vibes that can remind you of stuff even from Comalies or Unleashed Memories our previous albums. I think it was the natural evolution for the band. It was just like three years in between Karmacode and Shallow Life. The fact that we changed producer. The fact that we changed the recording studio. We recorded the album in a different place. For the first time we recorded it in the US. I'd say that it's just like a spontaneous evolution of the band.
Jason: In addition to Lacuna Coil you've done work as a guest singer.
Cristina: Yes.
Jason: How was it to work with all those artists?
Cristina: Well I did a song with Megadeth which was the remake of A Tout Le Monde which is one of their classics from the album Youthanasia. Then I did the guest with a song with the band Apocalyptica. It's a song called S.O.S. Anything But Love. The last one I did is with an American band called Alterbridge which a lot of people know. They asked me to do a duet with Myles who is the singer. I just did it with pleasure because I love all the three bands so for it's been an honor.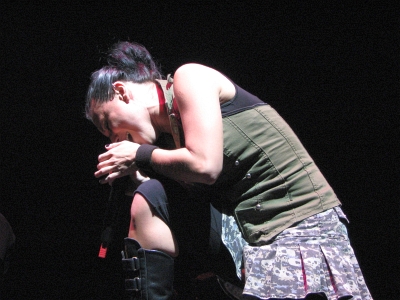 Jason: So it was a good experience working with different bands?
Cristina: It is. It is because you have the chance to experiment something different and it's always a challenge because you're basically singing a song which is not strictly yours with some vocal parts that are not written by yourself. So it's kind of cool to try to do something that doesn't really belong to you and try to give your voice to create something that belongs to other people.
Jason: Do you have plans to do more in the future?
Cristina: Not at the moment but it's something I would definitely enjoy to do.
Jason: Have you thought about doing something with Jim [Root] with either Slipknot or Stone Sour?
Cristina: Not really. Not really because we want to keep the private things separate from our jobs.
Jason: On the last album you did a cover of a Depeche Mode song. They are also releasing their new album this week. How does it feel to be putting out an album the same week as them?
Cristina: Well of course speaking about album sales it's not going to be good because we are going to be confronting with Depeche Mode (*laughs*) but at the same time I mean I love the band so I am happy that they are still releasing records. I am still 100% happy that we did a cover of a good song which is Enjoy The Silence.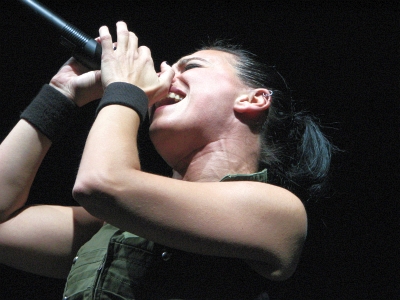 Jason: You also participated in Rezophonic this year.
Cristina: Yes.
Jason: With that experience as we saw on the Visual Karma DVD you went out to Africa.
Cristina: Yeah. I mean I haven't been there yet. I was supposed to go but I had other tours to do so I haven't had the chance to go in Kenya yet. I've been invited to go a couple of times and I will definitely go sooner or later. Just to see how things really are. You know everyone I know who has been there told me that their opinion about life completely changed and I believe that. So I'm really honored that I'll be a part one more time with this project because they're releasing another record probably next year and they asked me again to be a part of it. I'm really happy to do that.
Jason: Back to Lacuna Coil. You're on your first tour in the Shallow Life cycle. You're playing with Disturbed.
Cristina: Yep.
Jason: On the Music As A Weapon tour. How has the tour been going so far?
Cristina: The tour has been going great. All of the venues are packed and the reaction, the response from the crowd is always amazing. We're playing two of the new songs. One is Spellbound which is the first single off the album. We're playing Not Enough as well. So it's kind of cool to test directly. Especially with a new crowd which is not like a whole Lacuna Coil crowd just to see how the reaction can be. To test directly what they can think of the new songs. Their reactions are amazing. They love the song. They jump. You can tell that they are enjoying them. So we're having a great time. And then we already knew Disturbed and we knew Chimaira and Killswitch Engage which are on this bill as well. So it's nice you know. It's a good time here on tour with friends.
Jason: With the album coming out this week, how is everyone the band feeling?
Cristina: Well to be honest we have been excited for a while because today is the release date in America but the album has been out for a few days like in Italy for example and in Europe. We've been so excited for the whole length you know. Before the recording. Through the recording. Arriving to today that we've kept this level of excitement no matter what (*laughs*). So we definitely know that we'll have a lot of work to do anyway to promote the album. We're stronger than ever. We're more hungry than ever. For more shows and more.
Jason: With the album you worked with a different producer than you had in the past. How did that come about?
Cristina: We just felt it was the right time to change things a little bit because at a certain point an artist needs to evolve into something different and most of all an artist needs to learn something different. So Waldemar was an excellent metal producer but we just wanted to see how we could be with a different teacher and Don was the perfect guy. He totally believed in the potential of the album because all the songs were written before we entered the studio. He's been able to take the best out of each member and he squeezed us as lemons in the recording studio to give our best. I think you can totally hear it. The whole production is amazing. Every instrument, every voice comes out the best.
Jason: In general both Andrea and your vocals have improved. How much came out during the recording of the album?
Cristina: I think we just evolved our songwriting. I think that in all these years we just learned to keep the essence of every song instead of being too boring and repeating ten thousand times the same part. With that I'm not saying that the other album were like that but I definitely feel like we learned to keep the songs more simple but more intense at the same time. Now we're focusing on one message. We're focusing on one intention for every single song. We don't tend to squeeze ten thousand ideas in just one song.
Jason: In addition to evolving you also kept some of your roots in a lot of the songs.
Cristina: Absolutely. I think that this album it's like a sum of what we did in the past and what we are doing and what we will be becoming as well. More than ever it's like a mixture of old and new because probably Karmacode was more doing, trying to be more in a new direction. Definitely Shallow Life is keeping these old roots but adding the modern touch.
Jason: As far as touring, after Music As A Weapon ends do you have summer plans yet, plans to come back to America?
Cristina: Well we'll come back to America for sure. I cannot give you dates right now because we have to play all the summer festivals. So this is going to be the first plan. Then we're planning right now also so as soon as everything will be sorted out we're going to post it on our pages so everybody will be updated. We'll come back for sure.
Jason: On the Karmacode touring cycle you took mostly supporting slots. Will you do the same for Shallow Life or would you like to add more headlining shows this time?
Cristina: It always depends from the chance you get because of course if you have the chance to support a big band it's always helpful for the band because you can play in front of a huge amount of people and people that never heard about the band. So in terms of promotion it's always worth it. Of course we want to do our headlining tours as well because we love our fans and we want to perform more for them. So it really depends from everything that will come to the table. We'll do our headline you know sooner or later (*laughs*). I hope we will. We will (*laughs*).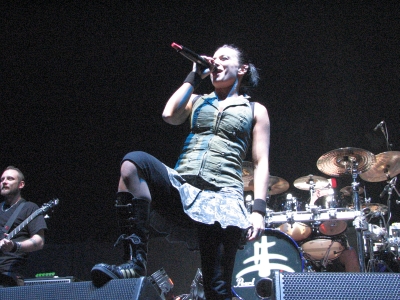 Jason: You released two versions of versions of the album. One comes with a bonus song. How can fans get Oblivion?
Cristina: I believe there is a limited edition with Oblivion. I don't know is it the Japanese. The Japanese version with digipack.
Jason: Will it be available on iTunes for people who want to pick it up?
Cristina: I don't know. I think it's not available yet but I believe that sooner or later it maybe will be so they can get a copy.
Jason: On your last tour you played Virtual Environment in concert before it was released as a single. Do you plan to do something similar with Oblivion or other bonus songs to give fans a chance to hear them?
Cristina: I don't know. We're definitely planning some surprises but we don't know yet what they will be. We didn't decide the setlist of future shows because now we're completely focused on the Disturbed tour so we're still thinking about the European festivals. It also depends on how much time we have because it's hard to pick out one song from every album because so far it's not just one album to choose from.
Jason: You're up to five studio albums.
Cristina: Yeah (*laughs*). It's hard to make everybody happy.
Jason: With the album coming out this week. How would you describe the style of what people will hear when they listen to Shallow Life?
Cristina: I would say it's definitely more rock than the previous albums. Maybe it's a little bit less metal and more rock but still heavy. You know some of the songs it's pretty clear that we love this kind of music no matter what. It was just a question to try to do something different because of course you know the old records are still there. We didn't really need to do a Comalies part two or a Karmacode part two because that would make no sense. To be honest I think it's not helping the integrity of an artist to repeat himself. That wouldn't be honest because you change in life and listen to different style stuff. You grow up as a person. So I think it's better to be honest with yourself and do what you want to do. Honestly I'm really happy that our fans are growing up with us.
Jason: What will people look forward to the most when they pick up the new album this week?
Cristina: I know that a lot of people was just expecting us to release an album because they have been waiting for us to release something new. What I would tell them is just to listen to it without prejudice or without listening to any other opinion of other people. It's something personal and it doesn't matter whatever they hear and whatever they read. If they like it or not they can never know it until they pick up the record and they listen to it.
Jason: What influences went into Shallow Life?
Cristina: Too many. Too many because most of them are probably coming from your subconscious part because maybe you just watch a movie and you like the soundtrack and in a way it stays inside you and you take it out when it comes to the point that you have to write something. It's not that we said "ok, we love Metallica, let's write a song that sounds like them" or "we love this". We didn't do anything on purpose. We just started writing. We went to the practice room. We just jammed a bit and every time we were coming out with an idea that we loved we just kept it. I cannot really focus on specific influences.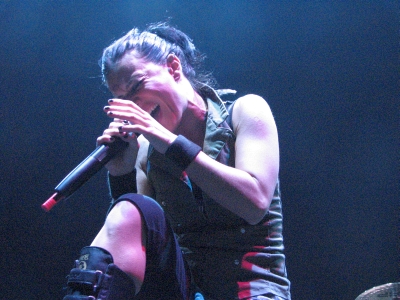 Jason: What about the theme. This is supposed to be a concept album.
Cristina: Yeah. That was more of like a general idea because Shallow Life is not really like a concept album in the way that every song talks about a different thing and has a specific story. We just realized that in general life is pretty shallow at the moment. Everything has to be perfect. That you have to look good. You have to be perfect every time. In a way it's kind of sad because sometimes you know you just have to get focused and give your best when it's the case that you have to stand up for something. At the same time there are some shallow aspects of life that are not completely negative. Like if you want to be fancy for an afternoon and go out for shopping with your friends. That can be fun even if it's shallow because of course nobody really needs ten thousand pair of pants or shoes. But it really depends on how you look at it and we like this duality. We always love contrast.
Jason: Speaking of having to look perfect. Being a female frontperson there are expectations put on you for magazines and photoshoots. How do you feel about these young women looking up to you and your style that is put forth?
Cristina: That's exactly part of the duality. I mean if you look at me when I wake up in the morning you don't see the Cristina that is on the cover of the magazines. That is what I want to make clear for everybody. You know it can be a good thing to look up. There is a lot of work behind that as well. It's still me but of course there is the makeup. There is the hair. You also have to consider the normal life and the normal person which is completely different anyway. So I think I will be myself. I'll continue to be myself and to play with my image anyway. They don't have to expect anything from me. I'll surprise them (*laughs*).
Jason: You also get to converse with your fans due to your column in Revolver.
Cristina: Yes.
Jason: How has that been to interact with people through the magazine?
Cristina: It's awesome because you feel like an Auntie. Just listening to people and giving your point of view and giving advice. It's pretty cool. It's pretty cool because sometimes you realize how important is your little help. You don't even realize. You just like write down an answer to a mail and for them it's everything and they feel stronger and they actually can take decisions that maybe they weren't taking before. So it makes me feel great when I get mails telling me "Thank you very much for replying on my letter. It made me took this decision and I'm really happy. You were right". It's pretty rewarding.
Jason: Beyond that in general you have a good interaction with fans.
Cristina: Sure.
Jason: You're pretty accessible when it comes to talking with fans and e-mailing fans. Meet and greets.
Cristina: Yeah.
Jason: That's always been an aspect of the band and of you. How much do you like that?
Cristina: We love it. As much as we can stay in touch with them we do it. I mean I have a myspace page. I have a facebook page. You know there are chats in both pages and every time I have time I just chat online or we post blogs just to tell them what's going on. Of course it's pretty much impossible for us to keep in touch with everybody and this is not being rude. It's technically impossible for us to do that. But whenever we have the chance like after the show people is hanging out by the bus we just jump off and we sign autographs and we take pictures. We love to do that. We just can't do it all the time (*laughs*).
Jason: Your fans seem to appreciate that.
Cristina: Yeah. I mean I hope so. I mean I think so. I think they do (*laughs*).
Jason: The female music scene has changed a lot since the days of Unleashed Memories and Comalies.
Cristina: Yep.
Jason: A lot of bands have broken up. Now you guys are in the forefront and are one of the top bands which is different than a few years ago.
Cristina: Still together (*laughs*).
Jason: How is it to be the band that other bands are now looking up to?
Cristina: It's pretty cool. I mean it's great because life is a circle so you know it's good to have newcomers now that are inspired by our music and they will probably have the same in a few years. It feels great and it feels great that we are still together as a band because it's pretty rare to be real friends in real life. Not a lot of bands get that.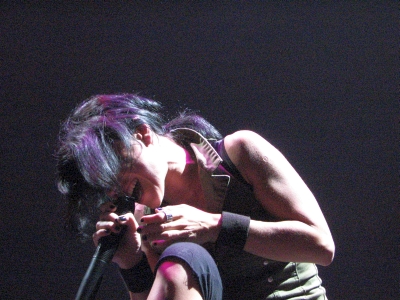 Jason: For you personally, what are your goals in the next year?
Cristina: Well in my private life I just bought a house so probably my goal will be to make it nice because I have to start from zero you know. From scratch (*laughs*). So that will be my plan at least besides all the tours. That will be my main thing (*laughs*).
Jason: And music wise?
Cristina: Music wise I don't know. I mean besides the fact that I am completely focused on Lacuna Coil there are no other plans. Like no solo albums or anything like.
Jason: Just keep working on Lacuna Coil?
Cristina: Yeah.
Jason: And get Shallow Life out there to be heard?
Cristina: Absolutely. By everyone.
Jason: I think that people are going to like Shallow Life.
Cristina: I think they are going to love it. They just have to listen and they are going to love it right away (*laughs*).
Jason & the staff of Sonic Cathedral wish to thank Cristina Scabbia for this interview opportunity. Best of luck Lacuna Coil !!!
For more information on LC please visit http://www.lacunacoil.it or http://www.centurymedia.com/