Macbeth Interview 2008
C. interviews Fabrizio of Macbeth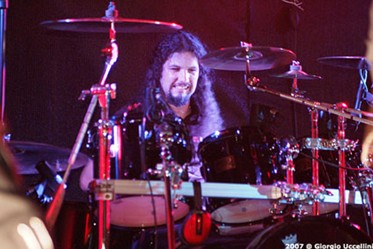 With the new release of a Macbeth album also means that it is time for another S.C. band interview! The band has been extremely busy touring all over Europe since the release of their latest album, Superangelic Hate Bringers late last year. It was great to meet back up with Macbeth drummer Fabrizio, and catch up on all that has been going on with the band since our last interview together in '06. We talked about everything from the band's stint at the Metal Female Voices Festival, to trying to solve the age-old mystery of why annoying songs get stuck in our heads. Always to-the-point and fun to work with, Fabrizio lets us in on the world of Macbeth and all things pertaining to it.
Questions about the new album:
C: Let's get the most obvious question out of the way…what is the inspiration behind your interesting album title? What does Superangelic Hate Bringers mean?
Fabrizio: The title is really important to communicate to audience and to people. I guess the title explains the duality of everything. Contemporary society has a double face: what you see and what you find behind everything. We always make works in which music, lyrics and visuals are hand in glove. So, with Superangelic Hate Bringers we want to spread something original with a new image and sound for the band and a solid, heavy musical background. Angels may bring also hate, it happens everyday in life. We use to say that "all that glitters is not gold", the concept behind is similar...We live in a world where trust is really precious, where there's a trap in every word and facts are not as it seems. A world full of lies.
C: Give us a little insight to the recording process. What kind of differences were there in the songwriting process, if at all, than from Malae Artes?
Fabrizio: We worked in three different studios at the same time. While part of the band was at New Sins studios in Italy the keyboardist was working on synth and keyboards in a private studio in Reykjavik (Iceland) and a part of the band was in a studio near Milan. Andrea was the guy who recorded keyboards for our first two albums...he is just collaborating with Macbeth sometimes for arrangements.
C: You and Max have really formed a great songwriting team. Was the chemistry instantaneous or does it take a little work from both of you?
Fabrizio: I played and worked with Max for years, we're good friends, we have different musical tastes and it seems to be good to work together.
C: You have proclaimed this to be your "greatest album ever". What is it about Superangelic Hate Bringers, to you, that makes it stand apart from your other works?
Fabrizio: I guess this is the second step towards more modern spheres that we tried to experiment with Malae Artes. Superangelic Hate Bringers is a big step ahead if compared to our old albums. We finally have a good production and this time we went straight to final result. This is an album that's really difficult to get you bored as it is really varied. About our new sound I can say that our symphonic element is still present although enhanced by very aggressive guitars and very good voices melody.
C: In the liner notes of the album, it says that Beirut and its people inspired the song "Veils". What's the story behind this unique track?
Fabrizio: "Veils" is a prelude, a kind of intro to "H.A.T.E." that is the only song in the album that deals with a kind of "social theme". We love this song and we love to play it on stage because is a kind of liberation, a war chant. It was inspired by the live in Beirut experience. Lebanon is a very beautiful place where a lot of very beautiful people live, but as you is a place where war and violence are behind the corner...I was surprised to see a lot of young people working on amazing projects but always ready to move to other places 'cause of the situation of their country.
C: Any other songs on the album that hold significant/personal meaning?
Fabrizio: I love every single song in this album, is hard to choose.
C: Usually, Fabrizio is the one who writes the band's lyrics. How did Morena's contribution to "(The World) In my Mind" come about?
Fabrizio: Is the second time that Morena writes lyrics for the band…the first was for Malae Artes…just to collaborate and also 'cause she loves that song.
Questions about the album's release & touring:
C: To my knowledge, "Without You" was the first video Macbeth has ever done. What was that like, shooting the video? Any funny/interesting stories to share?
Fabrizio: Yes, "Without You" is our first video. The shooting of the video was an amazing experience; it was hard and funny at the same time. You know, on stage we play without "acting" but during the shooting you must play and act with right movements.
C: Any plans for another music video or single release?
Fabrizio: Actually we're working on the new album...so, we'll work on the new video but for the first single of the next one!
C: How, as a band, do you decide your "singles"? Do you tend to go with your instincts of what songs you believe in the most, or does fan input have a say in it?
Fabrizio: Usually is the song that the whole band likes the most. ;)
C: What has your touring schedule been like in '08? What are your touring plans like for the end of the year and beyond?
Fabrizio: We played in cool festivals this year like Metal Female Voices fest in Belgium than we reach for the first time UK. We just have few gigs in Italy before working on the new album songwriting.
C: Malae Artes opened a lot of doors for you, as a band, to reach your audience from different parts of the world. Tell us about some of those experiences, and if there are any new places you're excited about seeing or have seen on the recent tour.
Fabrizio: I guess the best places I remember and I would like to come back to as soon as possible are: Mexico and Lebanon. I love the audience that comes to see concerts in that places. People are really crazy and they love our aggressive sound! We also appreciated the warmth of the crowd in Belgium this year and I must say the next year we would like to come back to UK again. About new places I would like to reach China and obviously United States.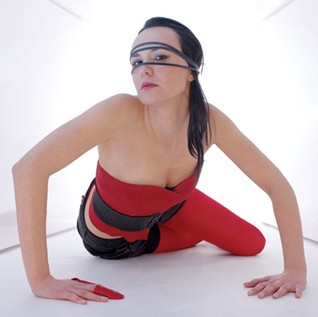 C: How was the tour [2 years ago] with Epica? Were many fans introduced to your band through this tour, and how many, do you think, already knew your music?
Fabrizio: We share the stage with Epica in different festivals but the show in Milan two years ago was just a concert…we weren't on tour with them. Anyhow was a cool show. ;)
C: On this tour, how is the crowd reacting to the new stuff thus far? What songs off the new album do they seem to enjoy the most?
Fabrizio: People like very much our new sound. We received very good feedbacks. We got a lot of new requests to plan live shows in different countries so we are very happy.
C: Likewise, which songs off the new album do you like playing live?
Fabrizio: The last one is an album with a lot of powerful songs so, I can say the most is good to be played live.
C: We've talked about this in another interview, but for our SC readers who didn't see it…any thoughts on releasing a live album or DVD?
Fabrizio: Not now. Maybe will have the chance to record more live shows and then release an official DVD but this will be not the next step.
C: How do you feel about being on the bill at Female Metal Voices Fest this year?
Fabrizio: Is a nice fest and of course an occasion to meet fans and friends. This is the second time we performed on that stage! The performance of this year was really appreciated as we're little different if compared to other female fronted bands on the bill.
Questions about the current femme-metal scene:
C: Since Macbeth has experienced a decade of existence, what are some things you can tell us about the growth of the femme-metal scene since you began? Does it seem harder/easier then or now to get exposure for the band?
Fabrizio: In ten years we saw the growth of the scene, now there are hundreds of bands doing the same kind of music, shooting the same kind of pictures, working to get a sound similar to the "big names" of the scene...Macbeth tried to be out of this group as we think you must have something original and fresh to share with audience. To get exposure you must work really hard and find your sound or have a huge amount of money to be promoted more than all the other bands…'till now we choose the first way.
C: On the same token, many bands in this genre that started around the same time as you have experienced bandmember changes, highs and lows of success, etc. Certainly Macbeth has had their share, but what, do you think, keeps you going when some bands seem to fall apart?
Fabrizio: Maybe some bands don't have something interesting to say or to share with people, and also 'cause music is a part of everyday life, so if you have some problems, your music will have some problems…
Silly questions:
C: In recent music news there was a band saying that they would like to perform on every continent. How would Macbeth rock a show in Antarctica?
Fabrizio: We're always ready to bring our music everywhere. So, why not?
C: What is your worst musical nightmare?
Fabrizio: A moment with no inspirations.
C: What is your funniest/craziest moment on tour or with the band in general?
Fabrizio: When we're touring we find friends and nice people we like to invite to our parties or in the backstage after shows. Then after the show if we're drunk, crazy moments come in a flash of a moment. For each concert I remember stupid situations of funny stories you can imagine! ;)
C: For you, what are the most annoying songs that you can't get out of your head?
Fabrizio: The Italian pop stuff we hear on radio everyday.
C: Why do you think it is that all of us have a tendency to get songs stuck in our head that we can't stand?
Fabrizio: I don't know exactly, but is useful for musicians.
C: Name 3 songs (they can be by you or anyone else) that you think define you.
Fabrizio: "Wherever I May Roam" (Metallica), "'Till Death do us Part" (Madonna), "Poison" (Alice Cooper).
Questions about the band's past and future:
C: In our last interview, we delved a little into Macbeth's history as a band, but this time I'd like to go back a bit further. How long have you been playing music? Tell us a little bit about some of the earlier bands you were in. What ultimately led you for form a band like Macbeth?
Fabrizio: I play since 1992; I was in a ton of bands. One of my first bands was called Blockhead; we used to play cover from metal bands as Metallica, Pantera, Sepultura, Megadeth and many more. Then after cover bands I joined bands working on their own songs…I remember: Exhumation (death metal), Black Truth, (hard rock), Crudelia Demon (glam/rock), Fading Entity (epic/power metal).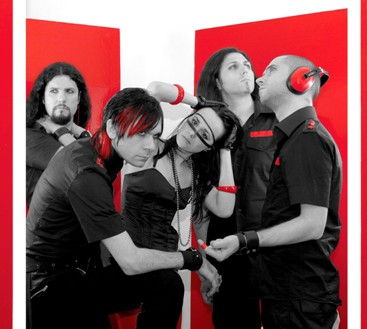 C: Macbeth has been together a long time. Is there any need, like some other bands, to engage in solo projects or guest appearances on other bands'/artists' albums? Or do you get enough out of Macbeth to where that has not really been considered? What is your take on artists who have outside projects from their primary band?
Fabrizio: Personally I get enough out of my band. ;) Maybe in the future, 'cause I think is interesting. Morena was the only one in Macbeth that collaborated with other artists during the last two years. One of that was the charity project Rezophonic featuring many Italian artists like: Movida, Bluvertigo, Linea 77, Deasonika, Le Vibrazioni, Extrema, Lacuna Coil , Articolo 31, Negramaro, Verdena, Negrita and many more. Morena performed onstage with them, singing a bunch of songs including "Can You Hear Me" usually performed by Cristina Scabbia.
C: In closing, it's been 10 years now since the release of your first album, and Macbeth has come a long way. Did you picture yourselves at this point then, and where would you like to see yourselves musically 10 years from now?
Fabrizio: I saw a lot of changes during years. The audience, music market, internet. I guess I tried to follow an evolution as musician, to find always something interesting to share with fans and people. I love all our records because they represent what the band was in the moment we recorded that stuff. I hope to follow this path for the coming years and I will work on this project 'till I will be happy to compose songs and to let other people know my art.
C: Thanks Fabrizio, it's always a pleasure!
Fabrizio: Thank you very much C. and S.C. for this interview!
Official pictures courtesy of Fabrizio and the band's website: www.macbeth.it