Ayin Aleph Interview
Doctor T. interviews Ayin Aleph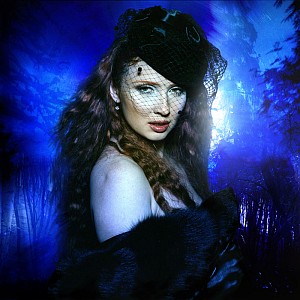 Ayin Aleph is a classically trained Russian living and working in France. She has produced several works but has a significant interest in female fronted metal as well as video and film. Her music takes a number of forms, ranging from classical piano to Baroque Gothic. She discusses this direction with Doctor T of the Sonic Cathedral staff:
Doctor T: You have a classical music preparation, how has this prepared you for your current career?
Ayin Aleph: I have never prepared myself. It came progressively. Firstly I stopped my career of pianist and I started to search for what interested me more. I always showed a deep interest for painting, architecture and all types of art that are the treasures of European culture. I have performed plays in theatre and some French movies as well. I became what I am today thanks to the background of all these art expressions. I didn't want to be only a pianist, to shrink my efforts only into piano because I have so much love for different art expressions. I began to sing and learn baroque opera and I even was involved in working in pop music, electropop, rock and even rap once. It was a good experience but I felt that my sense of music needed something that "weigh" more and just after the shooting of my first video "VALPURGIS NIGHT", while I was looking at the result (very far from the electrorock musical ambiance I was involved in at this time), I understood that my images were much more metal than rock. So I have dressed this "muse" in metal and believe me this wedding dress was really for her… So I was obliged to change all the musicians and to record again the track and change its arrangements. And things evolved this way until now.
Doctor T: What prompts a Russian to relocate to France, does it have to do with career considerations or personal?
Ayin Aleph: I didn't make a specific choice actually to live in France or in any other country because during my youth in Russia, I had absolutely everything. I was already a star at the age of 8. I arrived in France by hazard, for personal and not really interesting reasons. Then circumstances of life brought me to metal. If someone would have told me seven years ago that I would become a metal girl, I wouldn't have believed him at all. However, in life, I never follow my brain (because it's the weakest part of human being) but only my emotions and I go where my needings bring me.
Doctor T: Could you talk to the direction of your music, how would you describe it, what terms would you use?
Ayin Aleph: I already described my music with my videos and lyrics. I would describe it as baroque metal. Of course music plays the first role but she relies on a visual support, on lyrics, and on the way I use my voice which means that I speak with the notes and I yell in an anti-classical operatic way.
Doctor T: You use an interesting combination of musical styles, how did this develop?
Ayin Aleph:Everything was developed naturally. It's the shadows of movies, paintings, sculptures, and books, all gathered, that are crossing over my modest talent. I am like a tool that puts in shape this musical exposition with all this backgrounds to express how much I love these influences… I can give you an example: if you really love something or someone, you can not describe nor explain it; you love it and that's all.
Doctor T: What types of listeners do you attract with your music, who are you speaking to?
Ayin Aleph: I mostly attract metal and gothic people. After "AYIN ALEPH I", I have recorded an acoustic metal album. It pleases many people, and even the jazz people. In fact it's for all of those who enjoy my melodies because music is for me the creation of a melody like the birth of Venus.
Doctor T:The Russian music scene is developing in a number of directions, do you continue to look at that environment or do you focus on a Western European perspective?
Ayin Aleph: I have never looked at the Russian scene: neither for rock, nor for metal or any other genre. And all what I know of it doesn't really interest me now and seems even foreign to me. It means that it doesn't touch a single cord of my interiority. In the same time I don't know that much of it. I was mostly educated through western European influences and I am happy of it. But I always keep a part of my roots though the other things that I learn were not Russian at all. In fact, only my birth, a part of my education and my past are Russian. But in my church it was built a lot of floors above this past, since then.
Doctor T: You seem to have a significant interest in the video medium, do you see this as an integral part of your artistry or just a corollary direction?
Ayin Aleph: It's a full part of this music. Without this universe, I don't think that I would use my voice in the way I use it, that I would do the same kind of arrangements.. (because for me, in certain part of my vocals and my arrangement style, it is closer to cinematographic art). In my live performances, I make appear my cinematographic part with my music. Understand me: if you don't live in this cinematographic universe, you can not sing and play this music as it has to be in order to sound. Another singer can sing my songs but it will loose its value. It should be interpreted permanently in this cinematographic cauldron that I propose only with the music without hungriness.
Doctor T: Does an American listening audience interest you or are you primarily interested in the European public?
Ayin Aleph: I have a different interest for the European audience compare to the American. In the US, it is another sensibility, reception and it's a great metal culture, very different. For me, it is going to be a real joy and a great success if the American audience is going to like and bathe my muse in love. For the European audience, I also feel that I am not a common person. It is really interesting for me to have shows in the US in order to discover how the people are going to be receptive to this palette of cries.
Doctor T: What directions are of interest to you in the future, where is the Ayin Aleph sound headed, what are your musical plans?
Ayin Aleph: I hope that my direction will be deeper in the metal music. Obviously along with the progress of my music, I would like to change its sound to make it heavier (for instance in certain songs, I use four different bass lines, 150 backing vocals and 20 piano lines). It means that I don't only wish to be heavier but to be more global and have a greater sound. If I find possibilities, I will record a metal opera by using some different styles of metal except progressive metal, symphonic metal and commercial metal. And if I find the money, I will shoot a movie based on this opera…
Doctor T: You seem to have a significant amount of control over your creative efforts, how does that effect the musical direction?
Ayin Aleph: The real story is simpler. At the beginning I didn't want to realise myself the arrangements neither manage the recordings, editing and mixing. However when I started with the musicians, some of them didn't want to do the efforts and I was obliged to do myself all the arrangements and even create the guitar solos. They mostly took the sit of interpreter, unfortunately for me. Some musicians wanted to do some efforts but it didn't correspond to the universe. The same thing occurred with the actors and extras of my videos. Believe me it is not because they are not good, but until now I didn't have the chance to work with someone that brings his personality in this universe, in a sense that he will belong to this universe. Of course I worked with a lot of good people, but if you look at the inspiration material, the guitar solos, and almost everything, it is sadly coming out me only and you can easily hear it. I am still waiting for the people that will help me to take out my little cathedral from the depths of the sea to the surface.
Ayin Aleph is currently anticipating some American appearances. We look forward to seeing her in the US and throughout North America. Sonic Cathedral wishes her the best of luck.